Diversification is the Key for Ski Resort Hotels
By Simon Hudson, Endowed Chair in Tourism and Hospitality, University of South Carolina
Over the last decade or so, mountain resorts have made significant capital investments in developing alternative activities to downhill skiing and snowboarding. These activities range from the high-energy (like ice-skating, fat biking or snow-tubing) to the more passive (such as moonlit snowshoeing or hot air ballooning).
Three factors are driving this diversification of winter sports. Firstly, an analysis of market trends suggests that an increasing percentage of those who take winter sport holidays on a regular basis do not ski at all. Secondly, even avid skiers are typically skiing less. On average, they are somewhat older and new high-speed lifts enable a skier to attain his/her physical stamina quotient much more quickly. Lastly, climate change is having a negative impact on snowfall for many resorts, especially those at a low altitude.
In fact, the National Resources Defense Council argues that without any intervention, winter temperatures are projected to rise an additional four to 10 degrees Fahrenheit by the end of the century, with subsequent decreases in snowfall amounts and shorter ski seasons. Given the predicted and increasingly serious effects of climate change after the 2050s, downhill skiing and snowboarding may become niche products in the second half of this century.
As a result of these changes, winter resorts, as well as the hotels operating in them, have realized that they have to offer more activities than just skiing, both on­ and off-snow, and on a recent visit to the ski areas of Utah, I was fortunate enough to stay at a couple of quality hotels responding to these trends.
The first was Washington School House, in Park City, one of the town's newest luxury boutique hotels. The hotel's website features 18 winter sport activities (see table below), ranging from the high-energy sports of bobsledding, ziplining, heli-sking and dogsledding to the more sedentary activities of yoga, hot-air ballooning and a therapeutic soak in 'The Homestead Crater' a 55-foot tall, beehive-shaped limestone rock that nature has hollowed out and filled with 90-96°F water.
Winter Sports Activities at Washington School House in Park City, Utah
(Source: Washingtonschoolhouse.com)
The Alpine Coaster - Ride in one- or two-person toboggans through the aspen glades on the coaster's elevated track as it winds through nearly 4,000 feet of breathtaking curves, bends and loops
Bobsled Rides on "The Comet" at Utah Olympic Park Ride with a trained pilot through 15 curves, reaching speeds up to 80 mph, and pulling close to 5Gs of force over the equivalent of a 40-story vertical drop
Cross country ski - Ski though Park City's gorgeous tracks for one of the best workouts of your life - all skill levels welcome
Dogsledding - A unique experience for you to play with the pups, learn how to drive the sled and spend the day experiencing an interactive family adventure
Fly Fish Fish on the Provo River, Weber River or other area streams and creeks on a custom, guided trip
Flying Eagle Zipline The Park City Mountain Resort allows you to soar to new heights all winter long on this two-person ride full of fun for both kids and adults Heli-Skiing - Takes the advanced skier and snowboarder to new heights. Head into the mountain areas where you can ski and board in untouched snow, cutting through deep, fluffy, Utah powder Historic Mountain Tours - Takes you through Park City's intriguing mining town past with a complementary guided, historic, on-mountain tour of the Park City Mountain Resort The Homestead Crater - A 55-foot tall, beehive-shaped limestone rock that nature has hollowed out and filled with 90-96°F water. Swim, scuba dive, snorkel or enjoy a therapeutic soak
Horseback Ride - Ride through breathtaking scenery as you traverse through the pristine mountain terrain of Park City
Hot Air Ballooning - A thrilling experience that takes you a mile up in the sky for amazing views of Park City, the beautiful Wasatch and Uinta Mountains and Salt Lake City
Ice Skate - One of Park City's two skating venues - a great way to enjoy time together off the slopes
Sleigh Rides - A unique winter excursion and can be combined with special dinner experiences, even in a - Viking Yurt - where the thrill of being the only ones dining on the top of the mountain is breathtaking
Snowmobile - Experience unsurpassed views, unmatched scenery, the best snowmobiles, and professional guides committed to excellent experiences and your safety
Snowshoe - Through the absolute stillness of the winter woods, whether you are looking for a scenic aerobic experience or just a peaceful escape Tubing A downhill blast for the whole family, with lift-served tubing lanes and snowy play areas for the little ones
Utah Olympic Park - Invites you to explore the place where Olympic dreams came true in 2002 and are still motivating today's aspiring Olympians
Yoga Adventures - A one-of-a-kind adventure off the ski hills, yoga paddleboarding or a yoga and snowshoeing trek is sure to entertain your adventurous spirit
Michael Gregory, General Manager at Washington School House suggests that it is a general trend in the industry overall that the amount of people that are getting involved in skiing is declining: "So we want to be ahead of the curve and see that we provide options for the non-skiers." Gregory says that most of the companies providing these alternative activities will reach out to him. "We do have packages where we do incorporate activities but in general we just want to let guests know of all the possibilities aside from skiing. A lot of the staff around the hotel are also very active, too, doing many of the activities that we are advertising, and that helps." Gregory says that snowshoeing, in particular, has been really popular, as well as traditional mountain hiking. "Stand-up paddle-boarding in the Homestead Crater is very popular and also many families take kids out to the crater just to experience it. We also have snowmobiling expeditions just outside of town," he adds. The average stay at the Washington School House is four nights in the winter, compared to two in the summer.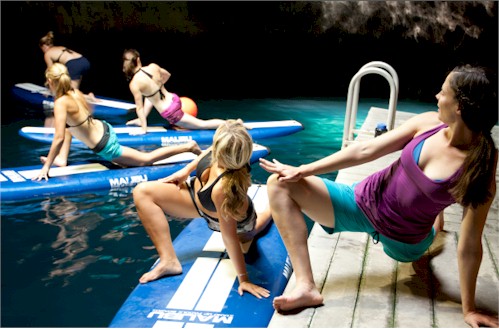 Yoga on Paddleboards
The second hotel I visited that is diversifying its offerings to winter visitors was The Montage, Deer Valley. Here, alternatives to traditional downhill skiing run the gamut from cross-country skiing, snowcat and helicopter skiing, to snowshoeing, tubing, ice-skating, snowmobiling, dog sledding and train rides. For the 2014-15 winter season, The Montage produced a Winter Wonders guide (see below) with a full list of 30 activities in Park City that are ideal for non-skiers.
Dan Howard is Director of Public Relations for the hotel and says that the trend towards people engaging in activities outside of skiing inspired The Montage to issue this new brochure. "It's very straightforward - we wanted to answer the question 'I would love to go to Deer Valley but I don't ski' - and now we have given them things to stay here for two weeks," Howard explains. "We even offer a Montage to Moab day trip to hike and mountain bike, break up the ski trip and get a change of scene - it's by private plane and so you get back to the Montage by dinner time. It's only a 45-minute flight but it would be impossible to drive there and back in the same day."
In contrast to the Washington School House, The Montage organizes most of these activities itself from its Compass Sports shop. "We curate them for our Montage guests, ensuring first that there is a high standard of quality and level of service," says Howard. The program of activities began in the summer, he adds, but they then began to realize that winter guests were also looking for variety. "We started to see that having all these things to do means the grandmother can come, and so, too, can the grandchildren. Multi-generational winter vacations are definitely on the up."
Howard admits that winter vacations at The Montage are usually motivated by skiers but that many of these skiers would not bring the family without alternative activities. "We needed to have a program to show guests that they will be satisfied regardless of skiing. They have to know this in advance otherwise they wouldn't risk bringing a family. They start to learn about all the options after a few visits."
The spa at the hotel remains a key feature and attraction for the hotel. "It is the largest spa in Utah, and is a huge part of Montage culture," says Howard. "Our associates really take the time to personalize the experience - no two spa treatments at the Montage are anything alike." Howard says a very high percentage of guests use the spa. "We charge no daily fees as we want to encourage people to use it; imposing tall walls of cost discourages people. We have complimentary instructor-led classes every day to keep people in their health routines. We want people to leave feeling better than they came."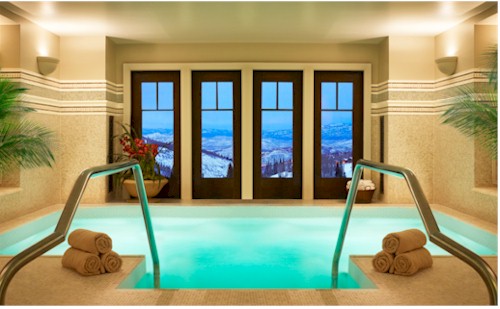 Montage Spa
And it's not just the complimentary facilities, the Montage has also used prime hotel space to house the huge spa complex. "We have dedicated the heart of the hotel to the spa - that's a commitment. Other hotels would have made that area into guest rooms. Most hotels tend to use unusable spaces for spas," Howard says. The spa has a signature treatment called SURRENDER in which the first 45 minutes is a conversation between a dedicated therapist and the guest to review health, exercise, diet and hereditary factors prior to being prescribed with a specialized spa 'diagnosis regimen' that is specific to the guest. All of the notes are maintained in the Montage database so that guests traveling to other Montage properties can continue their spa routine without needing to repeat themselves or start from the beginning.
Both Gregory and Howard avow that, although it may be the winters that originally draw people to Utah, they often come back in the summer and fall in love with the area. In fact, Howard says that some guests end up purchasing property at The Montage to experience the mountains all-year-round, and the hotel has a dedicated property sales and management team on site. "We want our guests to feel so completely at home here that they ultimately want to buy a property in order to have more 'Montage' in their life", says Howard. With all the activities going on in the area, they will certainly never get bored.
Simon Hudson is a tourism aficionado, exploring the world, spreading his passion for travel, and enlightening audiences on every kind of travel research from winter sports to film tourism. He has written eight books, and over 60 research articles, many of them focused on tourism marketing. He is the Endowed Chair for the SmartState Center of Economic Excellence in Tourism and Economic Development at the University of South Carolina. Dr. Hudson can be contacted at 803-777-2705 or shudson@hrsm.sc.edu Extended Bio...
HotelExecutive.com retains the copyright to the articles published in the Hotel Business Review. Articles cannot be republished without prior written consent by HotelExecutive.com.