How Combining Social, CRM and Behavioral Data Can Impact Your Digital Marketing
By Tim Sullivan, Chief Sales and Marketing Officer, Cendyn
We are living in a world of exponential data growth. Recent research from IBM claims that 90% of all data created since the dawn of humanity have been created in the past few years. Think about that for a minuteÖ In the digital space, the volume and speed of data generation is so great it has created a multitude of challenges for businesses around the globe. How can your marketing efforts keep up?
The challenges begin with the huge volumes of data that are being generated, only some of which are being captured. And, the data being captured are often stored in disparate silos that don't talk to each other. In a recent survey of senior level marketers 87% said that they rely on data to do their job well but only 45% believe they have sufficient access to data, and 60% said that there are neither processes implemented, organizational structures in place, nor the deep analytical skills needed to execute a comprehensive data strategy. The Big Data revolution has left a majority of marketers under-resourced and unprepared to handle the rising tide of data, unable to take meaningful action and generate any measurable results.
Think of the tremendous amount of data that is generated by your customers as they move through the Guest Lifecycle. While making their travel plans they may visit twenty different websites and interact with your brand dozens of times across multiple digital channels before they actually book a room: search, social, mobile, web, video, email, etc. And once they book, there are multiple touch-points across a myriad of hotel technology systems: CRS, PMS, CRM, Call Center, and Loyalty. Then they arrive on property and engage in a range of services and activities that are supported by more technology and systems: POS, Spa, Golf, In-room, Mobile App, etc. And finally, when they check out, we send them a satisfaction survey, encourage them to write a review, and to share their experience across social media. At every step along the way there are opportunities to create successful interactions with your brand or property through the use of data, or lose the guest and the revenue they represent to a competitor.
Many hospitality companies are not yet fully realizing the power of data-driven digital marketing because they have failed to implement a comprehensive solution capable of acquiring, managing, and effectively taking action on their data. This is why we all still receive email campaigns that begin with "Dear Guest," immediately conveying that the exact same message was blasted to thousands of others, with no thought given as to who we are or why we travel. This is also why a loyal repeat guest and social media brand advocate when checking into their favorite hotel or brand for the umpteenth time, are often still asked, "Have you stayed with us before?" Hotels and brands have the data somewhere, but they don't, or can't, do anything with it. In its current state, it's dumb data just waiting for someone to unlock the tremendous value it represents. This is one of the hospitality industries biggest opportunities.
Implementing a comprehensive data-driven marketing strategy can turn dumb data to smart data, allowing you to take action and generate impactful results. There are four key components to implementing a data-driven marketing strategy:

Centralize

You need a technology infrastructure in place to capture ALL data sources in a central data warehouse, to provide a single comprehensive view of your guest across the entire Guest Lifecycle. You will still have multiple systems in place for handling different parts of your operations, but they must be integrated to a central data warehouse or CRM platform that will capture acquisition, pre-stay, booking, on-property, and post-stay activities. This will provide a single view of guest history, value, behavior, desire, intent and engagement. Only then can the data truly be leveraged to drive digital marketing efficacy and guest loyalty.
Analyze
Reporting, analytics and business intelligence software is a key component to unlocking the value of your data. These tools allow you to segment, visualize, and analyze your data in meaningful ways. Real-time dashboards that bring operational and marketing performance data together in a single view can make all the difference with so much data to manage. Dashboards can be customized for each department or job function, and provide an up to the minute view of revenue, occupancy, REVPAR, ADR, geographic distribution, guest feedback, campaign performance and more. The centralized and integrated system described above will enable you to capture and analyze your guest's activity across all digital channels and touch-points.
Humanize
The most important component of the plan is the human element. You need to have people who can find insights, make meaning of the data, and take action. The data will stay dumb and meaningless until it is combined with human intellect and insight. This requires a new skillset and a new way of looking at your marketing plan. At our agency we no longer hire Media Planners; we hire Data Analysts and Digital Strategists who are able to navigate and capitalize on a data-driven digital media ecosystem.
Optimize
Working with large volumes of data adds layers of complexity to your digital marketing operations. You need to have clearly defined and repeatable processes in place that enable effective action, the ability to track and measure results, and to optimize performance.
Why is this so important? There is serious revenue at stake. A data-driven approach to digital marketing ultimately drives significantly higher marketing ROI and loyalty for hotels and brands. Once a foundation is in place you can begin to deliver highly-targeted, personalized, and interest-based messages to your guests based on a profile that now includes stay history, monetary value for room and ancillary revenue, demographics, location, social media reach and influence, survey and review feedback, behavior, lifestyle, and engagement data. Now you can define business rules for automatically triggering personalized messages based on any data in that profile. It all becomes actionable. The data becomes smart. And once you have your first-party guest data centralized and actionable, you can begin to combine it with a wealth of third-party data sources to perform sophisticated look-alike modeling and predictive analytics to find more consumers who look like your best guests and get your message in front of them as well. This strategy eliminates the guesswork from your marketing efforts. What better way to grow your audience than by targeting new consumers whose preferences and behaviors are most similar to your best customers - customers with whom you've had the most success.
Here is a real-world example: We recently ran an A/B test with one of our data partners (ADARA). We combined our first party CRM guest profile data with their travel intent and behavior data to measure the performance of data-driven, audience-targeted advertising against ads running on premium travel content.
The Data
Both companies' extensive data sets were analyzed, and segments were selected from each to create the ideal target audience for driving a hospitality conversion. Cendyn/ONE utilized CRM data including demographic, geographic, lifestyle, and preference, while ADARA evaluated loyalty, booking, search, and behavior data to determine the most appropriate profiles.
The Insight
Working with a major five-star resort client, we designed an A/B test campaign that pitted premium content targeting (Campaign A) against data-driven audience targeting (Campaign B). Both campaigns leveraged the same demographic and geographic targeting based on profiling of the property's best guests, but Campaign A was placed on premium travel content sites while Campaign B was targeted to audience profiles leveraging the combined data sets (our smart data).
The Action
To provide complete parity for A/B testing we ensured balance across all campaign variables via centralized tagging and revenue tracking, even impression delivery, and identical creative, messaging, and campaign time frame.
The Impact
The results were definitive and wildly exceeded expectations. The data-driven audience-targeted campaign (Campaign B) drove 275% more visitors into the booking engine, generated 121% more revenue, at a 31% higher return on investment, and a 34% higher conversion rate.
It's an exciting time to be a hospitality marketer. We are in an environment today where, through the use of data, every message across every digital channel can be personalized and interest-based, with dynamic content, images, and pricing that speaks directly to each recipient and their unique preferences. The messages can also be delivered in context to the consumer's current stage in the guest lifecycle, as well as to whatever device they are using to access content.
Taking it a step further, we can bridge the digital and physical worlds by providing that same data to your front-line staff to ensure that every face-to-face interaction with every guest is also personalized, informed, in context to where they are in their stay, as well as situationally aware based on guest sentiment and behavior. Here is a real-world situation that highlights the opportunity. If Ms. Smith is a guest in your hotel who was on Twitter at 2am complaining that she could not sleep because of the noise coming from the rooftop pool party, which greeting would you choose for her when she arrives for her 8am spa appointment the next morning?
"Good morning Ms. Smith! Did you sleep well?"
Or
"Good morning Ms. Smith. I am sorry we kept you awake last night. I spoke with our General Manager and he asked me to apologize for the inconvenience and let you know that today's treatment is on us."
The choice is yours and it will impact where Ms. Smith chooses to stay next time she travels.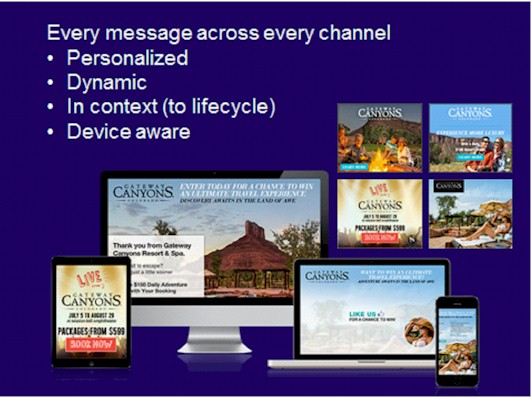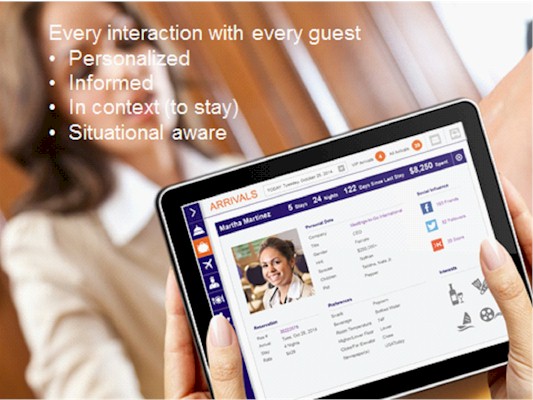 As the Chief Sales and Marketing Officer of Cendyn, Tim Sullivan oversees global sales, business development, marketing, product management, and client success. Previously President of Cendyn/ONE, where he brought an integrated hotel CRM and digital marketing platform to market, he is now responsible for Cendynís global expansion and strategy for the Cendyn Hospitality Cloud. During his eight-years with the company, Mr. Sullivan has played a key role in helping transform Cendyn into a cloud-based software and services company that is revolutionizing the hospitality industry. Prior to joining Cendyn, Mr. Sullivan founded Godengo (now GTxcel) to create a national online advertising network and content distribution platform for luxury lifestyle magazine publishers. Mr. Sullivan can be contacted at 561-419-2014 or tsullivan@cendyn.com Extended Bio...
HotelExecutive.com retains the copyright to the articles published in the Hotel Business Review. Articles cannot be republished without prior written consent by HotelExecutive.com.