From Product Placement to Branded Entertainment
Hotels Finding New Ways to Cut Through the Clutter
By Simon Hudson, Endowed Chair in Tourism and Hospitality, University of South Carolina
Product placement is the insertion of brand logos or branded merchandise into movies and television shows. Since television viewers have a tendency - and now the technology - to zip through or avoid commercials, product placement has become increasingly popular. Tourism and hospitality marketers have been quick to take advantage of this growing trend. British Airways was one of the first companies to be endorsed by James Bond in his movies, and Virgin paid a large amount for a promotional tie-in with the 1999 film Austin Powers: The Spy Who Shagged Me. Destinations, too, have begun to see product placement as an opportunity to gain exposure. Many are keen to persuade producers to make films, television series or commercials in their country or region.
Branded entertainment on the other hand is a relatively new term to describe a more contemporary, sophisticated use of product placement, and can been defined as the integration of advertising into entertainment content, whereby brands are embedded into story-lines of a film, television program, or other entertainment medium. The term has been widely used by the advertising industry for some time, and usually involves co-creation and collaboration between entertainment, media and brands. Examples of brands creating entertainment are Coca-Cola, BMW, and Ford, who have all adopted the role of program producer.
According to a recent survey by the Custom Content Council, branded entertainment is a $44 billion business, with the pace of change and innovation accelerating. It has been suggested that the rise of branded entertainment within contemporary media culture marks a fundamental shift from intrusive advertising pushed at uninterested audiences, to advertising of such merit that the audience actively seeks it out.
Rather than focusing on a sales-driven message, key to the short-term economic metrics of conventional advertising, branded entertainment has the ability to build long-term relationships with consumers, deepening brand loyalty among targeted groups. Successful branded entertainment does not mean infusing important product messages with appealing images. It is more about connecting and developing an emotional appeal.
There has been a fair amount written about product placement, but there are subtle differences between product placement and branded entertainment. These differences can be illustrated by way of a continuum that expresses the level of brand integration with the storyline or plot (see Figure 1). At one end of the continuum with no brand integration, there is passive product placement, such as the prominent depiction of the Coca Cola name in the program American Idol. Such placements are less effective than other types of placement. At the other end of the continuum, the product is integrated into the storyline for the program or film, a strategy that can be much more effective.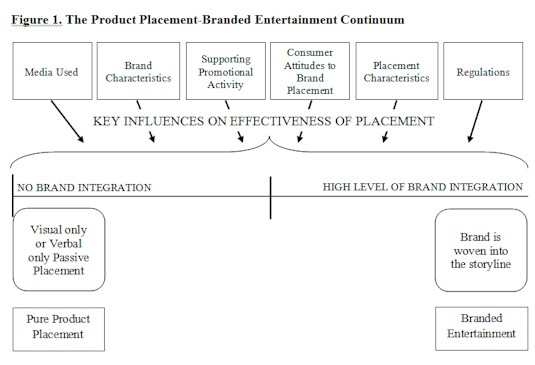 An episode of the CTC drama The Eleventh Hour, for example, featured Nicorettes woven into a story about a character trying to stop smoking. Making brands intrinsic elements of plot lines like this, distinguishes branded entertainment from the traditional use of product placement. In the past, advertisers sought to place products in shows as soon as they became hits. Now, advertising deals are happening alongside the creative development. Programming sponsored by and produced for single advertisers offers them benefits like exclusivity, reduced clutter and the ability to incorporate products into scenes in ways that do not seem blatant or contrived.
The model suggests that there are certain key factors that influence the effectiveness of both product placement and branded entertainment. The first is the media used, and although both marketing tactics have in the past been distributed through traditional media, they are now particular prevalent through the Internet. A second major influence is the brand characteristics, with not all brands lending themselves equally to placement. Many traditional business-to-business marketers express little interest in brand placement in TV or films, whereas fast-moving-consumer-good manufacturers like Coca-Cola, Pepsi, Procter & Gamble, Nike Inc. and Motorola Inc. are much more active. It has also been suggested that brand placement will be more effective for established brand names that are easily identifiable, and for brands that have a unique personality.
The level of supporting promotional activity will also influence the success of a placement campaign. It is now common for companies to put significant advertising and promotional weight behind brand placements. Partnerships between production and advertiser contribute to the relative increase in production costs, whereas for the advertiser, it can prolong the effect of the placement outside the film or show, and even sometimes allow an identification that would otherwise gone unnoticed. Successful joint placement and marketing campaigns include the James Bond launch of BMW's Z3 in the Bond films, Jeep's support of the movie Sahara, and Mattel's partnership with the Cartoon Network.
Consumer attitudes to these marketing tactics are also worthy of consideration. The vast majority of studies conducted on the subject also confirm an overall tolerance for product placement, and even an appreciation of the approach in certain cases of successful integration. However there are demographic and cross-cultural differences in consumer responses to brand placement. For example, European movie watchers object more than North Americans to brand placement, but there is a general acceptance of brand placement in Asia-Pacific. Placement characteristics are also critical; when and how brands are woven into the storyline can often be more important for effectiveness than the number of viewers. Research suggests that memory of the placement is likely to be higher if the placement is meaningful and that there is a connection with the plot. The seamlessness of the brand placement is an important factor in judging its success. In addition, how a brand or product is used and by whom is important. Characters on the screen that share brand use with viewers can contribute to the relationship between audiences and characters, and a brand's association with a celebrity can increase its credibility.
Finally, although brand placement is generally accepted as a communications tool in the US, stricter regulations make it less common in other parts of the world. In France, for example, strict regulations are placed regarding brand placements, and in the UK, producers and broadcasters cannot take inducements as regulators attempt to enforce clear distinctions between programming and advertising. And in Italy, laws that ban 'surreptitious advertising' look unkindly on product placement. In Asia however, less rigid regulations have allowed branded entertainment to develop rapidly.
Hotel marketers have been using product placement to reach target markets for some time. Marketers at Atlantis Resort in The Bahamas for example, have turned to product placement in films as a part of their marketing strategy. Major scenes for the James Bond movie Casino Royale were shot at the Atlantis resort, as were key parts of After the Sunset starring Pierce Brosnan. In the hit film Meet The Parents a poster advertising the Atlantis is clearly visible in the background of airport scenes. An episode of Jessica Simpson's Newlyweds was also filmed at the 2,300-room hotel.
Another hotel that has appeared numerous times in the media is the Plaza Hotel in New York. The hotel was heavily featured in the 1992 movie Home Alone II: Lost in New York. The ever-resourceful Kevin manages to stay at the Plaza, situated on Fifth Avenue at 59th Street. Then-hotel owner Donald Trump makes a cameo appearance in the movie, directing Kevin to the lobby. In one of the film's more memorable scenes, when the hotel staff accuse him of credit-card fraud, Kevin eludes them by sliding through the Plaza's lobby into a waiting elevator. To make the scene logistically possible, the film crew had to remove the wall-to-wall carpeting, exposing the original tiles. When Trump saw the beautiful mosaics, he instantly fell in love with the look and insisted it remain that way after filming, which it did until renovations in 2005 began. A regular fixture in New York-set movies, the Plaza is also heavily featured in the original 1981 Arthur, as well as Hitchcock's classic North By Northwest.
One more recent - and interesting - example of hotel product placement was the Hyatt's appearance in Morgan Spurlock's POM Wonderful Presents: The Greatest Movie Ever Sold. The movie takes a critical look at the world of product placement and was fully financed through product placement of various brands. Among the companies that participated, Chicago-based Hyatt Hotels paid $700,000 to 'sponsor' the film, knowing it was buying into a documentary devoted to criticizing product placement. "There will be a lot of questions about why we participated," said John Wallis, Hyatt's global head of marketing and brand strategy. "It may be a risky move by Hyatt, but worth it for the buzz. It's harder for advertisers to catch the public's attention, and not every online video goes viral. And consumers aren't watching TV the way they used to." In a tie-in promotion called Hyatt Hotels Greatest Movie Contest, Hyatt asked contestants to submit a video movie trailer or scene or just a written description of a scene that features a product placement idea. The Grand Prize was a trip to the Hyatt Regency Aruba for a week and a JetBlue airfare.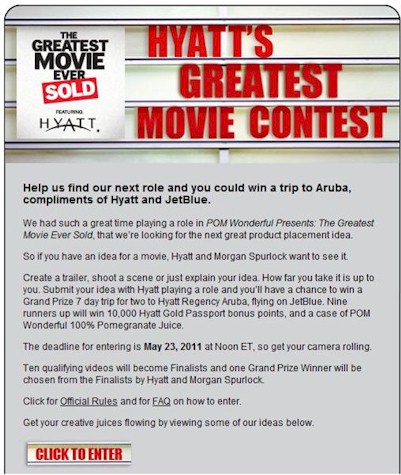 Some hotel marketers have begun to move away from traditional product placement, to more strategic branded entertainment in order to attract guests through the medium of film and television. A 2008 marketing campaign from Ritz-Carlton and American Express, for example, featured three short original online films to promote the brands to younger guests. The films were all expertly done. They were sleek and provocative productions, luxuriously set at Ritz-Carlton properties and subtly incorporated the Amex card in each. One film focused on customer service and service recovery in particular. Called 'The Delay', the film features a young woman on a weekend getaway (after a boyfriend has broken-up with her) to see a Duncan Sheik concert. She suffers a flight delay that causes her to miss the event and the airline also loses her luggage. The story is about how everything begins to get better after she arrives at the Ritz-Carlton. In the final scene, the hotel concierge really goes above and beyond by arranging for Duncan Sheik to come to hotel to play for the woman.
Finally, another more recent example of a recent branded entertainment initiative comes from Las Vegas, where MGM's Aria Hotel played a central role in the 2013 movie Last Vegas. MGM strategically 'engineered' the movie to take place in their new hotel, a marketing ploy that benefited both the Aria and the film directors, who both wanted to showcase the 'New Vegas', where the architecture had to feel hip, upscale and beyond the expectations of the four main characters in the movie, played by Robert DeNiro, Michael Douglas, Morgan Freeman and Kevin Kline. Director John Turtletaub said: "We wouldn't have shot in Vegas unless we could have made the kind of arrangement we made with MGM Resorts. We needed so much. And the movie really needs to turn Vegas into a character. Without the kind of access we got, it would have been impossible to do that".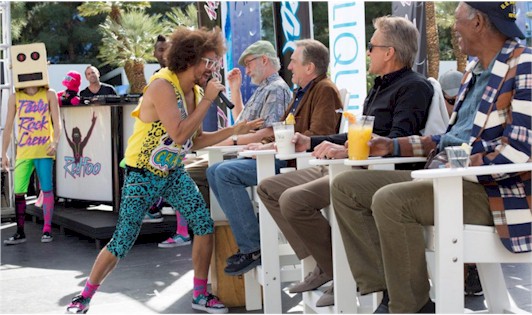 There is certainly need for further research before one can conclude that all hotels should allocate marketing funds to partner with film and television producers. As product placement and branded entertainment become increasingly pervasive forms of marketing communication, they may lose their novelty and become subject to the clutter that has characterized advertising over the last few decades. It will require the monitoring of the effectiveness of these strategies over time to determine whether and how such developments come to affect viewer attention, recall and attitude. A recent white paper that analyzed the branded entertainment sector in depth stresses the value of brand-created experiences as one of the most effective tactics for building consumer engagement. Hotel marketers are in a strong position to take advantage of these trends given the fact that what they are selling is experiences. It is hoped that this article can serve to encourage more hotel practitioners to look beyond traditional marketing channels to appeal to potential guests in evermore captivating and engaging ways.
Simon Hudson is a tourism aficionado, exploring the world, spreading his passion for travel, and enlightening audiences on every kind of travel research from winter sports to film tourism. He has written eight books, and over 60 research articles, many of them focused on tourism marketing. He is the Endowed Chair for the SmartState Center of Economic Excellence in Tourism and Economic Development at the University of South Carolina. Dr. Hudson can be contacted at 803-777-2705 or shudson@hrsm.sc.edu Extended Bio...
HotelExecutive.com retains the copyright to the articles published in the Hotel Business Review. Articles cannot be republished without prior written consent by HotelExecutive.com.