Amenity Design - Evolution or Obsolescence
By Eric Rahe, Principal, BLT Architects
Guests are back even if rate is not. New construction in select markets has returned and significant renovations are occurring across all asset types. With each new cycle there is a need to refresh current amenities and at the same time incorporate changes to make amenities relevant and appealing to your guests. One challenge for operators and designers is how to understand how recent lifestyle and demand shifts are driving change.
According to Trip Advisor's 2014 Trip Barometer report, 77 percent of guests say that amenities are important to them when booking a hotel. In contrast, in the same survey only a quarter of hoteliers surveyed believed that amenities offered have an impact on bookings. This potential misreading of demand showcases an additional challenge that hotel owners and operators face as they strive to design amenities that guests want while balancing the demands of their renovation budgets.
Hotel amenities vary widely depending on the type of property, the location, the target consumer and the return. Consequently, identifying trends across the industry can be difficult. For every owner who wants to convert guestrooms to meeting rooms, there is another who can make the business case for converting a conference room into a fitness and wellness space. Additionally, while some amenities are considered non-revenue producing but necessary to fill rooms, other hotels have crafted amenities that draw not only new guests but local residents to their property.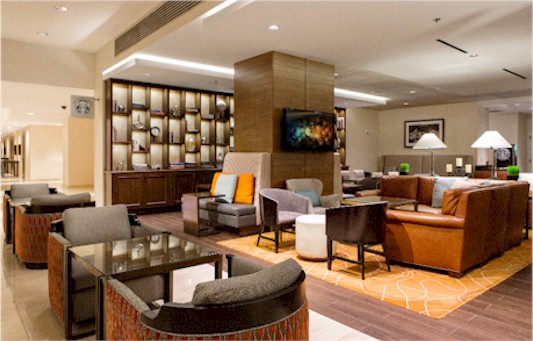 MarriottNewark Lobby Lounge
Room refreshes featuring a custom boutique interior, mixed-use reception and social lobbies, smaller flexible meeting rooms, and in urban markets, signature restaurants featuring celebrity, at least local, chefs are all trends being incorporated into the current renovation cycle. Each of these amenities alone is a subject for discussion. But this article will focus on how changing attitudes toward work and wellness are affecting hotel amenity design and, in particular, how business centers, spas, pools and fitness centers are changing and, in the case of at least one amenity, may be evolving toward obsolescence.
Business Centers
With the ability to relax on a bed or chaise with a laptop and ever evolving mobile technology why bother with a business center? More than one operator with whom we have worked has asked this question. In the past, business centers consisted of a small room to the side of the lobby where guests could pay for a certain amount of time to utilize a desk, computer and Wi-Fi services. If a kiosk to print boarding passes is conveniently located, than other in a convention hotel or for the occasional guest traveling without technology, there seems little reason to dedicate much real estate to a business center.
However, two factors suggest this amenity may still have a role to play. Even though we may appear to be self-absorbed with our phones and I-pads we still want to be so around others. Individual carousels are evolving into lounge or casual library environments with varied comfortable seating, a few high quality work stations with fax, scanners and printers and warm textures and colors. These business work spaces are being designed to feel more welcoming and less corporate. In addition, the space needs to be flexible and transitional, offering multiple ways to format the space.
A second component of the current hotel work zone is the small conference or board room. Large enough for four to six, maybe eight individuals, these spaces nicely complement a property's large meeting space or hospitality suites and many operators tell us produce bread and butter revenue. As businesses continue to embrace the convenience of mobility and find less of a need to have conference rooms in-house, hotels are seeing more of a demand for small multiple meeting rooms. If a hotel is centrally located, it has the ability to rent out premium meeting space to local businesses which are not necessarily hotel patrons.
Technology does not need to be integrated into these smaller rooms but available for rent with robust Wi-Fi. Modern updates to the traditional business center equipment are being designed to include new laptops or desktop computers equipped with current software programs, as well as scanners, printers, copiers and fax machines that are being made regularly available for guests. Additionally, many hotels have an on-call IT staff person who is available to assist with technology-related questions.
With some speculating that the mobile phone will soon transition to other devices that we wear it is hard to predict what technology to incorporate into your business center, but as our desire to be social remains strong and the line between work and stay continues to blur a lounge type space with adjacent small conference rooms seems a safe and profitable investment for this renovation cycle.
Pools
Like business centers, the value of a pool as hotel amenity is being questioned by operators. Expensive to develop and expensive to operate, the old adage that "we need to have a pool to entice guest booking even though they will not likely use it" is no longer the standard.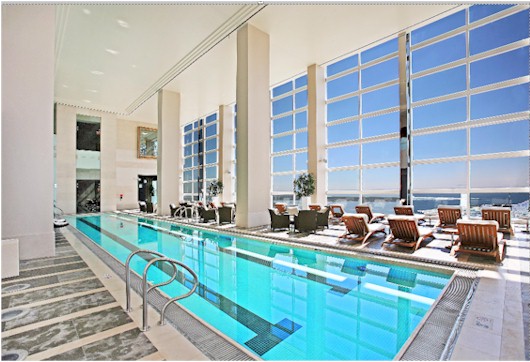 Water Club Pool
Pools will continue to be an important amenity in resort and leisure hotels where the pool experience can be transformed from relaxation into exclusive nightclubs and VIP areas for guests to socialize. The uniqueness of the pool and its design helps to define the hotel. Many limited service hotels will continue to provide pools given their typical mix of business and family leisure travel and market competition among their peer group. Occasionally, in certain urban locations, hotel pools can be opened to local residents although continued competition from stand-alone fitness centers that typically have a broader range of offerings, including bigger pools, makes this a unique situation.
However, for many business and urban hotels the cost and space required does not warrant the investment. For operators who are continuing to invest in a pool, the ability to transform the space into a social area, for example, with an adjacent outdoor garden, is a prime design consideration. In other cases, operators are replacing existing pools with revenue producing spaces such as meeting and conference rooms with outdoor decks reserved for events.
So while disappointing the occasional swimmer or family, operators moving away from pools are not ignoring wellness as a demand of their guests but are turning to more robust fitness, spa and wellness features throughout the hotel to attract and maintain business.
Fitness Centers
In the past, fitness centers were defined as a poorly lit small room with two bicycles, two treadmills and a set of weights. But with a continued interest in fitness, even if more in desire than action, guests' expectations have evolved as has the design of fitness centers as an amenity. Larger spaces with more and varied cardio machines along with multiple weight machine stations and free weights are being complemented with rooms for yoga and stretching.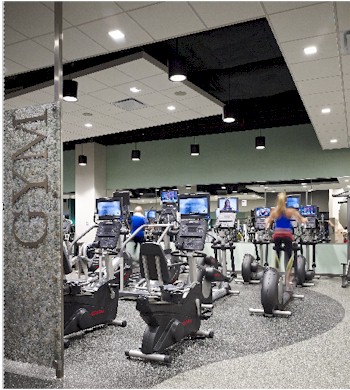 MindBody Gym, Atlantic City
Ideally a room with a view, the color palette is warm and inviting; materials are of high quality and include rubberized athletic flooring and wood in yoga areas. Conveniently placed towels, earphones and refreshments help to accessorize the room and lighting is both functional and a design element in itself. In existing hotels, ceilings are sometimes removed and replaced with decorative grids to increase the visual height of the room. One design consideration not always on the owner's radar and not visible to guests is properly designed mechanical systems. The most appealing environment can still be a bad guest experience if the room is too hot or too cold or not adequately ventilated.
Fitness centers designed to differentiate the hotel can drive guest bookings and we believe this amenity will continue to be a solid investment in this renovation cycle and beyond.
Spas
Of the amenities reviewed in this article, spas provide the most likely differentiator for a hotel amenity package. The spa as an amenity has changed from the past and most resort, full service and luxury hotels now take into consideration the addition of a spa to service not only its guests, but the local community as well. Centrally located hotels have the ability to generate revenue from clients outside of the hotel if its amenities can compete with the other spa options in the area. It is important to consider expectations and the typical clientele that the hotel will be attracting in the area. Will it be more of a business hotel or a leisure destination?
Today, spas are expected to deliver an experience. The design of the spa needs to be "Zen-like" with the ability to transition the guest into total relaxation, and serve a lucrative purpose in high-end or leisure oriented hotels. Because these amenities are staff intensive some operators outsource to a third party but for other operators of smaller or limited service hotels, the cost may not be warranted, and partnering with a local spa off property may be the best delivery of this amenity.
But with the continued and increasing interest in wellness, even without a spa on property, spa-like experiences can be incorporated into the individual guest rooms. For example, rainfall showers and high-end bath products allow the guests to feel like they are in a spa without actually being in one. At the next level, filtered air and vitamin infused showers are being offered as part of a complete wellness guestroom experience. Additionally, spa amenities are becoming more mobile with staff who visits your room to provide the treatments.
The Future of Hotel Amenities
Each of these amenities will continue to evolve in the future. After determining what will impact bookings and attract guests to their properties, hotel owners should consider how not only to provide the desired amenities but work with their designers to design flexible spaces so hoteliers can be prepared for the inevitable future changes in guest demand and amenities.


Contributers to this article

Donna Lisle is a LEED certified Senior Associate at BLT Architects in Philadelphia, PA. Her expertise in architecture and interior design stems from over 20 years in all aspects of design, team and project management. She has been responsible for the design and management of major hotel resorts, residential projects, pharmaceutical facilities, institutional and government research buildings, and academic institutions.



Karen Soni is a member of the design staff at BLT Architects. Her breadth of experience includes full service interior design, from conceptual planning to the development of detailed design ideas and the creation of overall design vocabulary.




Doug Soehl is a member of the design staff at BLT Architects. He has over a decade of experience ranging from single homes to large casino resorts. Over the past several years, Doug has been involved with numerous hotel renovation projects, involving guest rooms, public space and guest amenities.




Russell Anderson is a member of the design staff at BLT Architects. He has been with the company for ten years working exclusively on hospitality projects encompassing guest rooms (both standard and ADA) public space, dining,meeting, pre-function space and back of house.



Eric M. Rahe is a principal and member of the executive leadership team at BLT Architects. Eric's thirty years of practice span the hospitality, residential, retail, commercial office, and educational sectors with a special focus on large-scale hospitality and resort projects. Mr. Rahe has led projects at more than 17 hotels, ranging from limited service hotels to large-scale, multi-billion dollar resorts. Having developed a strong interest in how the design process influences the success of each project and a passion for clarity in design and communication, Mr. Rahe has built a reputation for his analytical approach to understanding his clients' needs and managing large and diverse teams. Mr. Rahe can be contacted at 215-563-3900 or hmt@blta.com Extended Bio...
HotelExecutive.com retains the copyright to the articles published in the Hotel Business Review. Articles cannot be republished without prior written consent by HotelExecutive.com.