Hotels Add Health to the Menu
By Simon Hudson, Endowed Chair in Tourism and Hospitality, University of South Carolina
Hotels are increasingly responding to the demands of health-conscious travelers. A recent consumer survey found that a large percentage of travelers are seeking wellness in their travel destinations. Around 87 percent want healthier foods, 82 percent spa or massages, 82 would like some kind of nature experience, 73 percent prefer eco-conscious properties, 70 percent want gyms with cardio and weights, 54 percent would like healthy sleeping programs, and 47 percent are seeking meditation/mindfulness programming.
Even the major hotel chains have launched programs to appeal to these travelers. EVEN Hotels is a good example, a new brand from Intercontinental Hotel Group (IHC), which created EVEN after conducting research that found there are 17 million travelers who want hotels to accommodate their healthy lifestyle needs. EVEN is targeting travelers who want to maintain a holistic and healthy lifestyle on the road. There is no traditional check-in desk. Instead, guests are directed to a 'wellness island' where they are handed a cool or warm hand towel depending on the season. A bracelet serves as the room key, so guests can wear it whilst running. Near the wellness island, somewhere off the lobby, each EVEN hotel has a 1,200-square-foot athletic studio, divided into three zones for cardio, strength training and mat exercises. And if guests prefer to workout in rooms, suites have training zones with yoga mats, balance balls and other equipment. Menus feature healthy options in tapas-style portions that can be ordered via iPad or tablet, and alternatively, guests can visit the EVEN Hotels' fresh markets for healthy food and drinks.
Rather than creating completely new brands like EVEN, most other hotels entering this market are engaging in 'wellness re-branding,' offering new health programs for guests. Perhaps the most comprehensive is the 'Westin Well-being Movement' recently launched by Westin Hotels & Resorts. The $15 million brand-wide campaign is "designed to enhance the well-being of guests and associates around the world". The year-long initiative will introduce guests to new partnerships and programs that align with Westin's six pillars: Feel Well, Work Well, Move Well, Sleep Well and Play Well. Brian Povinelli, Global Brand Leader for Westin, said that Westin wanted to improve guests' well-being before, during and after their stay. "No other brand is creating a program around well-being, helping guests stay connected to their routines," he said.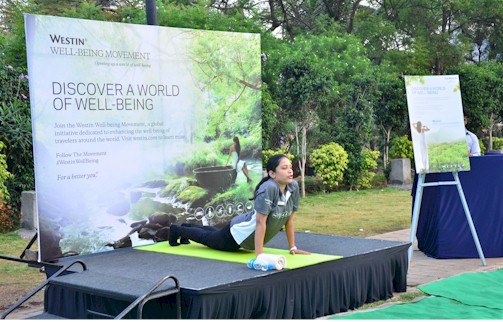 Yoga session at the Westin Pune Koregaon Park, India
Other hotels are adding fitness equipment and/or healthier menus. Omni Hotels, for example, has launched 'Get Fit Kits' and 'Get Fit Rooms' with features like treadmills in the guest rooms. Days Inn now has 'Dayfit' programming, with improved fitness centers and free healthy breakfasts, and Sheraton has 'Sheraton Fitness' that spans healthy, local 'Color Your Plate' dining, free workout kits, online fitness classes and redesigned gyms with group exercise. Swissotel has a new 'Vitality' healthy eating, business meeting and fitness programming, and Las Vegas' MGM has designed 'Stay Well' rooms with vitamin C-infused showers, wake-up light therapy and air purification and aromatherapy.
In fact Las Vegas, believe it or not, has an increasing number of hotels catering for guests seeking a healthy option. There are now seven no gambling, no smoking venues, including a couple I visited recently, Trump and Mandarin Oriental. At Trump, guests have free use of the Fitness Centre adjacent to the long lap pool, which is popular with locals as well as visitors. The spa is also a big attraction and has an unusual DIY aromatherapy bar where you concoct your own lotions with various mood-enhancing ingredients. Trump's Nourish menu lists calories as well as detailed fat/carb/protein/sugar/sodium content, and Trump's Boot Camp has joggers going along The Strip at 7:30 am on Fridays. To considerable applause from bystanders, the running is interspersed with jumping jacks, squat thrusts and anaerobic stair climbing led by an ex-military taskmaster. And for those guests who try to wriggle out of doing any exercise due to luggage limitations, Trump provides complimentary running shoes and work out gear.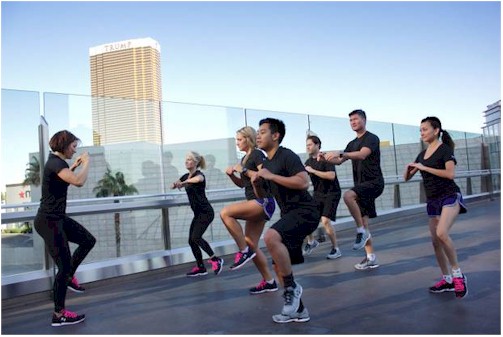 Trump Boot Camp at Trump, Las Vegas
At the Mandarin Oriental I was fortunate enough to spend some time in the spa where the exotic Eastern aromas, waterfall sounds, dim lighting and subtle color schemes all create a whisper-pitch Zen environment so soothing after the slot-machine mania and human traffic of the casino hotels. It wasn't all healthy though. Afterwards I couldn't resist the buttermilk scones, clotted cream, cupcakes and pastries at the refined Tea Lounge. You have to cheat now and again!
Like the facility at Trump, fitness centers in hotels are improving worldwide, with distinct designated areas for cardio, weights, functional fitness, and free zones for ball training. Many hotels, like the Four Seasons and Omni, are offering 24/7 access to their gyms, and some like the Oberoi properties in India, are also keeping spas open around the clock. Again like Trump, hotels are increasingly offering yoga, boot camps and menus of branded fitness classes. Yoga is getting especially creative, from stand-up paddleboard yoga at the Tides Inn in Virginia to 'Yoga with the Dolphins' at The Mirage in Las Vegas. Of course I had to try this during my recent visit to Las Vegas and it really was a unique experience. Ideal for any age and any standard, this turned out to be a marvelous mix of intense yogic concentration and dolphin disruptions when they came up to the three windows surrounding our underwater room, watching us (I think they were laughing at me) against the glass like kids at a zoo. According to instructor Willow Withy "It's the best Vegas cocktail I can offer. You get oxytocin, the bonding hormone produced by dolphins as well as the natural anti-depressant of yoga." The $50 activity includes a tour of the dolphin environment, a healthy protein shake and a luxurious day at the spa - good value I thought!
Some hotels have gone beyond simple re-branding with new programs, equipment or menus, and are positioning themselves as fully-fledged wellness destinations. Most of these facilities offer an approach to physical and personal well-being that visitors can take home when the vacation is over; the primary focus is on helping people adopt a healthy lifestyle. The California Health & Longevity Institute is a good example. Located in Westlake Village, northwest of Los Angeles, this wellness facility is a leader in what's known as science-based lifestyle rejuvenation. A certified lifestyle consultant helps the visitor create a personalized health strategy for accomplishing goals, followed by advice from a team of experts - physicians, licensed dieticians, exercise physiologists, fitness trainers, stress management experts, therapists and healthy-living chefs. The institute includes a complete medical clinic with a full range of diagnostic testing and medical assessments.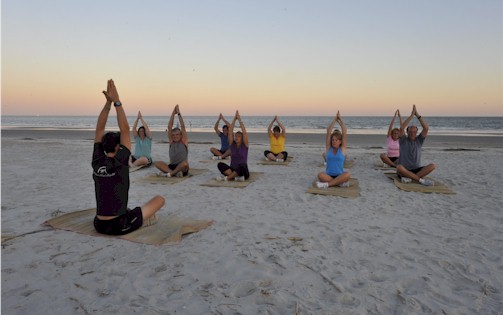 Sunset Salutations at Hilton Head Health,
Hilton Head Island, South Carolina
Such wellness centers are springing up all over the world, many differentiating themselves with unique offerings. Les Sources de Caudalie in France, for example, blends unique vinotherapie treatments designed to slow the aging process with an idyllic locale among vineyards near Bordeaux. If travelers don't fancy a Crushed Cabernet scrub or a Merlot wrap, then perhaps they might be interested in sleep diagnostics at the Grand Resort Bad Ragaz in Switzerland. On arrival guests receive a physical exam and medical consultation, including weight and BMI analysis, and, overnight, they have their sleep monitored by EEG and recorded on video for analysis of sleep habits and patterns.
At Thailand's Chiva-Som International Health Resort guests can try diagnostic techniques such as iridology, live blood analysis, bio-terrain testing and electro-dermal screening.
Research to date suggests that wellness tourists are not taking these wellness vacations at the recommendation of their doctors - more they are motivated by other forms of education such as social networking, peer pressure, the media, and access to online medical and health forums and research. We conducted a research study down at Hilton Head Health, a facility in South Carolina, where operations include a variety of spa treatments, fitness and physical activity sessions, calorie-controlled gourmet meals and self-development lectures. The benefits that guests derive from a stay at Hilton Head Health are two-fold, namely physical and psychological, although these categories clearly overlap. Brand Manager Adam Martin says that guests come with a broad range of health and fitness goals. He sees a growing number of otherwise healthy individuals visit Hilton Head Health for essentially a fun, active vacation experience along with the chance to take part in a variety of leisure activities, "to go kayaking and walking, that sort of thing" he says. These guests say they are hoping to "do something good for myself - to rejuvenate." Other guests visit Hilton Head Health intending to jumpstart a healthier lifestyle or get back on track in terms of health and fitness.
Whether or not this trend towards healthy hotels and wellness destinations will continue remains to be seen. Over the years many new diets have come and gone, with obesity gradually winning the race. However, with raised awareness of the health and longevity implications of over-indulging, there are increasingly more guests who feel like the one I met at Hilton Head Health, who said: "We can now go on vacation and come back rejuvenated - instead of the way we normally come back which is exhausted, broke and fat!"
Simon Hudson is a tourism aficionado, exploring the world, spreading his passion for travel, and enlightening audiences on every kind of travel research from winter sports to film tourism. He has written eight books, and over 60 research articles, many of them focused on tourism marketing. He is the Endowed Chair for the SmartState Center of Economic Excellence in Tourism and Economic Development at the University of South Carolina. Dr. Hudson can be contacted at 803-777-2705 or shudson@hrsm.sc.edu Extended Bio...
HotelExecutive.com retains the copyright to the articles published in the Hotel Business Review. Articles cannot be republished without prior written consent by HotelExecutive.com.