Sharing the Sustainability Responsibility
LíAuberge Del Mar Inspires Associates, Guests, Vendors and the Local Community to Support Hotelís Environmental Initiates
By Michael, J. Slosser, Vice President & Managing Director, L'Auberge Del Mar, by Destination Hotels & Resorts
The hotel industry has been making great strides toward more environmentally sustainable business practices. It is a trend based on sound economic principles as well as the obvious concern for the environment. At the corporate level, hotel management companies like Destination Hotels & Resorts have developed comprehensive sustainability programs that each of its properties can use as guidelines to formulate the specific initiatives that are implemented all the way down to individual hotel rooms, meeting spaces and hotel offices.
But no matter how well-designed and well-intentioned corporate and hotel specific sustainability initiatives are, ultimately most environmental programs come down to the active participation or "buy-in" of individual people and groups on the ground at the hotel and within the local and regional surroundings. Hotel associates, guests, suppliers and local community all have to take an active role, on a daily basis, in performing the tasks necessary to make any green initiative successful. These four different groups in essence form a partnership to consciously, positively impact the way each hotel reduces its environmental footprint.
Hotels must constantly educate and remind partners about the consequences almost every action people and organizations take has on the environment. Throughout the purchase, use and disposal cycle, there are few items people create, buy or consume that don't in some way impact the Earth.
Identifying ways to lessen environmental impact and educating people about the steps needed to make these policies effective are only part of the equation for success with sustainable practices. Each partner in the process must also be sufficiently motivated to make the extra effort, and sometimes, the extra expenditure, to choose the most earth-friendly course of action.
That's where hotels like L'Auberge Del Mar, by Destination Hotels & Resorts have a distinct advantage in receiving buy-in from these four sustainability partners. The hotel is located on one of California's most scenic stretches of Pacific Ocean coastline and people can't help but be motivated to look after the environment when nature's astounding beauty is on display each and every day. Dolphins take daily excursions along the coast within eyesight of hotel guests. For six months of the year, whales can be spotted as they travel between Alaska and Mexico. This spectacular ocean stage serves as a constant motivator to work toward cleaning up the planet.
In contrast to the beauty of the beach and ocean, the highly visible negative impact of humans on this idyllic setting also serve as a strong motivator. Trash along the beach adversely impacts people and makes them much more conscious of their waste disposal. The beautiful, sunny, rainless days drive home the fact that water is a precious resource that needs to be conserved and protected. When the rare rainstorm does hit the Del Mar area, storm water runoff can be seen entering the ocean up and down the coastline. Watching the manmade debris that flows along with the rain water pollute the ocean is enough to sadden even the most hardened of humans.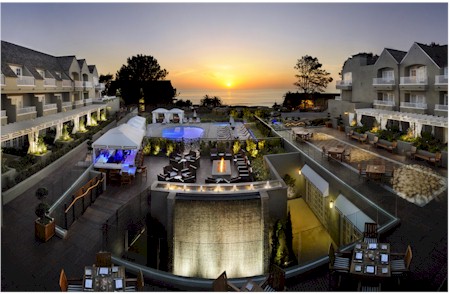 Courtyard at Night
The magnificent framework that Mother Nature has provided inspires and motivates the partners in L'Auberge Del Mar's sustainability programs to do everything they can to reduce human impact on the environment. The hotel's sustainability policies and procedures take on a stronger sense of urgency when the consequences of irresponsible behavior are on display daily along the beach and in the ocean. And understanding that nature touches people and stirs them to action, the hotel can be bold in asking as many people and entities as possible to join its efforts to make positive changes in how they conduct business and interact with the environment.
The hotel's efforts to share the sustainability responsibility with their four environmental partner groups began to take shape in 2008 when Destination Hotels & Resorts developed its first corporate-wide program to embrace environmental practices throughout its entire portfolio. This initiative is called "Destination Earth" and L'Auberge Del Mar has embraced the program starting with a highly motivated Executive Team using a management style that strives to be on the cutting edge of environmental issues. A special Sustainability Task Force was formed within the hotel and is comprised of environmentally-conscious staff who work to engage all the other associates in the Destination Earth campaign.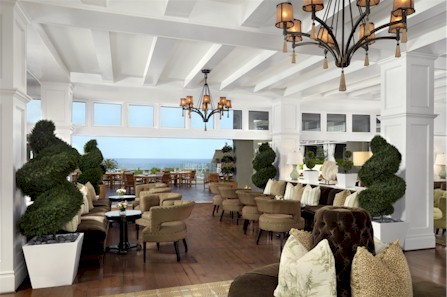 Main Lobby
The property's environmental footprint is brought into every business decision. The resort encourages its guests and employees to participate through in-room recycling, linen reuse programs, food and beverage sustainable selections and green meetings. Vendors and contractors are asked to continually research local, sustainable, fresh products and services that take the environment as seriously as the hotel does.
Reaching out to the local community is an essential component of the hotel's sustainability partnership. A recent example is L'Auberge Del Mar's Earth Day Paddle Out in honor of ocean preservation. Members of the community and employees were invited to participate in a very Southern California-style event. Participants brought their own boards or had the hotel concierge arrange for a board rental and then paddle out as a group through the waves in front of the hotel. Guests and the local community were also invited to take part in eco-friendly dining, cocktail and spa specials that were offered in conjunction with the Paddle Out.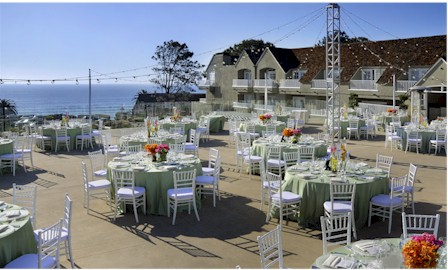 Barbeiri Wedding Terrace
The message to the community sent via the Paddle Out event was, "At L'Auberge Del Mar, we strive to incorporate earth-friendly practices into our daily business wherever possible. Celebrating Earth Day helps to remind us of the importance of our recycling, energy saving and other on-going green initiatives. We invite our guests and the local community to share in our mission and to be a part of these efforts." The hotel used the local community event to showcase one of the backbones of the hotel's environmental efforts for its associate, vendor and guest partners - the Waste Reduction Plan, which is comprised of the following sections:
Goals:
To REDUCE waste

To REUSE items were possible

To RECYCLE what remains
Executive Order
Under this order, a goal has been set to decrease overall waste at L'Auberge Del Mar at a rate of 7% per year and recycle 27% of all waste produced. As a best management practice, the hotel strives to exceed this number.
Top 10 Ways to Conserve Energy
Avoid disposables whenever possible.

Choose vendors that ship with less packing or take packing away with them for recycle/reuse.

Print and copy double-sided and phase in double-sided machines.

Look for ways to reuse equipment. Consider repairing rather than replacing machinery.

Use bulk dispensers wherever possible.

Choose quality and longevity over the lowest price.

Use washable rags rather than paper towels and disposables.

Department memos, schedules and communications should be emailed rather than printed.

Employees should use personal food and beverage containers whenever possible.

Ask customers if they would like a bag when they purchase items from retail outlets.
Reuse What You Can
Reusing products saves money and benefits the environment:
Reuse boxes, bags and packaging whenever possible.
Unused products in guest rooms should remain until used by guests or the expiration date is reached.
Employees should reuse personal drinking cups and other food containers when possible.
Reuse old furniture by repairing and improving.
What to Recycle
Newspaper
Magazines, catalogs, phonebooks
Plastics (rinse clean)
Paper bags
Cardboard
Mixed paper, junk mail and paper
Glass (rinse clean, labels ok)
Electronics quarterly
What Isn't Recycled
Packaging
Plastic cups, plates & silverware
Food-contaminated items
Tissue paper
Waxed paper
Snack food bags
Frozen food boxes
Styrofoam peanuts and rigid packing pieces
Recycling Tips
If a load of recyclables is more than 5% contaminated with non-recyclables or other items, the load will be thrown in with the garbage and NONE of it will be recycled, so try not to mix.
Pay attention to labels. Be sure the correct recyclable and non-recyclable items are being placed in the correct containers.
Work with employees and guests to maximize effectiveness of the recycling program.
Another L'Auberge Del Mar employee initiative involves a recycling program with the profits contributed to Clean the World. Clean the World recycles soap and shampoo and sends it to needy countries. It hits home when disasters like the Philippine typhoon struck, resulting in the death of an associate's father. She took a degree of comfort knowing that Clean the World was providing products in the aftermath of the typhoon. Another program geared for associates as part of Destination Earth's projects is called Read and Reuse. Each February, used books are donated by staff members and guests and then donated to local charities for distribution among needy children and adults.
Another critical sustainability element for L'Auberge Del Mar's staff, vendors and guests are the following suggestions circulated to any group considering a meeting at the hotel:
The Destination Hotels & Resorts Green Meetings Program brings the attributes of Destination Earth to events, conferencing and meetings held here at L'Auberge Del Mar. Our environmentally responsible program, driven by the needs of serving our customers, considers the effects of toxics, energy management, water conservation, waste management and recycling. These offerings will enable corporate clients, meeting planners, wedding planners and others to make informed choices about the environmentally sensitive options available at L'Auberge Del Mar.
Standard Meeting Offering
In support of our Destination Earth environmental commitment, L'Auberge Del Mar has developed the following suggestions/standards to raise our groups' awareness of where we can partner to reduce our waste, water, and energy usage when conducting meetings and events.
Meeting Room and Supplies
Recycling stations/bins in meeting room

Bins for paper, cans, plastics, etc. outside in the coffee break area

White boards if available instead of flip charts
If flip charts are used, use of post-consumer recycled content paper is standard
Leftover conference supplies donated or reused until depleted (paper, pens, etc.)
Recycled/reused packaging used for shipping
Recycling of handouts left behind
Reuse or donation of left over binders
Collection and reuse of nametags
Use minimum 30% post-consumer recycled content paper for pads
Encourage the use of any on-property green space for the event and event activities
F & B Operations
Elimination of disposable items through use of washable plates, cutlery, glasses, mugs, and cups
Use of washable napkins and table cloths
Use of unbleached boxes for to-go meals
If paper napkins are required they will be unbleached napkins with a minimum of 30% post-consumer recycled content
Centerpiece preferences in private functions under the control of the property are non-living items. If living, they must have a long life/multiple uses (e.g., rocks, bamboo)
Menus printed on recycled paper with a minimum of 30% post-consumer recycled content
F & B Sourcing
Condiments (such as cream, milk, ketchup, etc.) offered in service vessels, instead of individually packaged. Not applicable to sweeteners and sugar
Vegetarian options are available
Local and in-season regional cuisine is served where possible
50% of tea selection to be organic
Banquet/Catering wine list to offer one sustainably grown (organic or biodynamic) red wine by the bottle, and one sustainably grown white wine by the bottle
All wine lists specifically identify/specify sustainable wines
Property starts an herb garden for the culinary team Messaging
Delegates receive a welcome and/or thank you email explaining L'Auberge Del Mar's Green Meetings program (where email lists are available/applicable)
Educate attendees about public transportation and walking routes
Paperless Services
L'Auberge Del Mar is currently evaluating E-Butler, a mobile device based application that enables guests to book meals, spa appointments and perform other tasks without having to create a paper trail, minimizing the total use of paper at the property
Hotel contracts and reservation confirmations are e-mailed whenever possible Waste Management
Collect paper and recyclable beverage containers in meeting areas for recycling
Collect cardboard and paper in exhibit areas for recycling
Encourage participants to leave materials at the event they would like to be recycled Water Conservation
Refillable water glasses through water coolers and/or pitchers instead of bottled water (except on request)
Any bottled water to be sourced from the United States and from within 750 miles from the hotel's location
Energy Management
Digital thermostat to control meeting room temperature based on capital resources
Meeting room lighting and HVAC audited for default settings at conclusion of all events Purchasing
Use your leverage to encourage contracted services to go Green (example - request fish to be sent in take-back packaging instead of Styrofoam)
Encourage contractors to look for products that:

Have recycled content (especially post-consumer)
Use little or no packaging or packaging that contains recycled or reused material
Are recyclable or compostable on site or in a community program
Optional: Additional Environmental Enhancements
The following elements are options to enhance the environmental impact of a meeting or conference. These items will generally translate to a higher cost which the client should be aware of, and are important and significant elements to those clients seeking a more aggressive Green Meeting, which properties should charge accordingly. All services may not be available at all properties.
Organic Food and Beverages
Organic beverages (coffee, juices)

Organic food available as option

Sustainable meat, fish, pork and chicken available as options

Bio-based flatware and recyclable/biodegradable plates and cups to be used instead of plastic items, stir sticks
Carbon-Neutral Event
Emissions from the event can be offset through the purchase of Renewable Energy Certificates (RECs or Green tags). Example: Carbon Fund (nonprofit)
Provide alternative fueled airport shuttles
Property offers free parking/charging stations to overnight guests arriving in hybrid vehicles
Eco-Friendly Materials
Use items that are made from recycled products http://www.recycledproducts.com/?cid=4
Recommendations for Meeting Planners/Event Organizers
Create a "Lessen our eco-impact together" introduction letter to meeting planners and event organizers.
Basic Operations
Use your leverage to encourage contracted services to go Green
Make 2-sided copies
Use minimum 30% post-consumer recycled content paper
Create signage that can be used for future events
Use memory sticks instead of paper for meeting/conference materials
Attendees
Attendees receive environmentally friendly in-room welcome amenities or gifts
Communicate via email rather than mail or memos
Use an online registration system
Publish the registration brochure online only
Make presentations available online
Exhibitions
Natural light is used for exhibits wherever possible to minimize lighting
Reusable materials used for the exhibition displays and decorations
Have exhibitors promote their own environmental initiatives
Create signage that can be used for future events
Guidelines and procedures like these have helped L'Auberge Del Mar convert its efforts with sustainability partners from theory to practice. The four groups working together have many examples of tangible success including:
Associates recycle 5,000 lbs. of glass, cardboard, paper and plastic every month.
The hotel safely recycles fluorescent lamps, batteries, ballasts and mercury devices using Waste Management's WasteTracker program which provides certifications and online documentation for every load that the resort generates.
The food and beverage department converts used cooking oil into bio fuel.
The housekeeping department converts 100% of our used linen such as bath towels, sheets and pillow cases into rags for cleaning.
The hotel buys sustainable seafood and sources most produce locally within the State of California.
The hotel's signature restaurant, Kitchen 1540, has a vertical garden on its patio growing organic fruits, vegetables and herbs.
Guest room lighting has been converted to energy saving fluorescent and T8 fixtures
The property offers car charging stations for electric vehicles.
The hotel provides organic coffee and tea.
The hotel has been recognized in third party evaluations such as TripAdvisor and istay.com for their success with their sustainability programs.
These examples demonstrate what happens when a management company like Destination Hotels & Resorts makes a portfolio-wide commitment to sustainable practices and individual properties like L'Auberge Del Mar engage associates, guests, vendors and community as partners in the process. It is the hope of each individual within the partnership that someday there will be no more trash on the beach, that the dolphins and whales don't have to swim through human debris in the ocean and that we leave the planet in better shape for the next generation.
Micahel J. Slosser has an extensive background in hotel and resort operations where he has managed in excess of 15 different assets at the executive level. Over the course of his career, Mr. Slosser has developed, built, renovated and repositioned many properties across the United States. He is most recognized for his achievements in envisioning, branding, designing and changing hospitality assets and thereby improving the financial performance for investors. Mr. Slosser can be contacted at 858-259-1515 or mslosser@destinationhotels.com Extended Bio...
HotelExecutive.com retains the copyright to the articles published in the Hotel Business Review. Articles cannot be republished without prior written consent by HotelExecutive.com.