Analyzing Healthy Hotels for the Wellness Traveler
By Dan Pierotti, Vice President Spa Development & Operations, Noble House Hotels & Resorts
With the concept of wellness tourism continuing to infiltrate the ideals of travel, it is revolutionizing the psyche and re-creating tourism as we know it and the Wellness industry right along with it.
As our society has increased its fascination, interest and necessity for complementary and alternative therapies, where the paradigm shift in healthcare has been slow and combative, the spa industry has exploded! Spas all over the world have taken advantage of this trend and have accelerated to the forefront of the Wellness Industry - promoting the benefits of services previously just thought of as "luxurious" as a necessity for establishing balance and well-being and travelers - have taken notice. Where the typical image of vacation or a hotel stays used to be about some lazy R&R; the picture has evolved into an experience of personal exploration, education on healthy living and a new lease on life.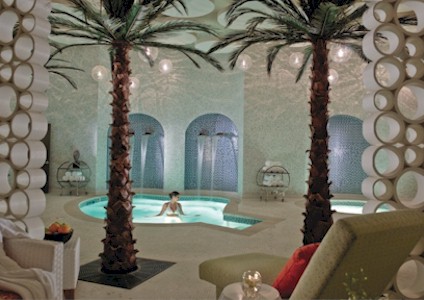 This new type of tourist has proven that wellness conscious travel is here to stay and this has been instrumental in the rise of the "Healthy Hotel" - the lodging industry's answer to this new beat. Following the suit of spas all over the world, the healthy hotel adopts wellness modalities and concepts to reflect the changing of the times and this trend should be better described as a transformation of what "vacation" means. In fact, the "Healthy Hotel" was named the number one spa trend by SpaFinder two years in a row (2013 and 2014) and the number of resorts, hotels and other lodging marketing Wellness concepts has grown exponentially in the past few years. With a $438.6 billion dollar Wellness Tourism Global market, of which, $93.4 billion dollars is linked to lodging, it is no wonder why hotels and resorts are getting on board with the Wellness traveler.
Who is the Wellness Traveler?
With the changing of the perception of what a vacation is, an image of what the person who seeks this type of service has evolved as well. In the Global Wellness Tourism Economy Study released by SRI International and the Global Spa & Wellness Summit, the wellness traveler is described as a "high-yield tourist, spending 130% more than the average tourist." The domestic wellness tourist is reported to spend 150% more than the average domestic tourist and international wellness tourists 65% more than the average international tourist. Middle-aged, wealthy, educated and from Westernized and/or industrialized countries are also reported depictions of the wellness traveler. Wellness traveling is beginning to emerge as more than just a trend, but an opportunity to capture a new dimension of travel that is on the rise and not fading anytime soon, in fact, this segment of travel will only grow as each generation develops their ideal of travel and wellness.
All Aboard
With the Wellness ideology booming in the spa industry, this new found appreciation and market for wellness is now including multiple dimensions of travel, with entire airports, hotels and resorts evolving their atmosphere with the wellness traveler in mind.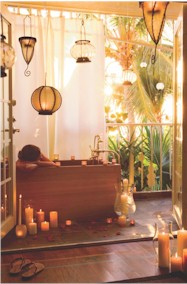 Healthy Hotels are creating entire environments dedicated to Wellness and Health as more individuals are seeking eco-friendly, healthy vacations and shifting from the "all you can eat, I'll go on a diet when I get back from vacation" mentality. Hotels are offering Wellness Education Classes that incorporate everything from cooking classes and tastings to family meal plans to digestive health. No longer the perception of torture, or a "fat farm" of yester year, these locations are empowering their guests to take responsibility for their own health through education and support to help the individual implement a healthful lifestyle~ all in an up-scale and enlightening environment using their personal vacation time as a catalyst for change.
But it doesn't end with education or walks in nature; there are upgrades and renovations taking place in the hotel rooms to include healthier beds, more health conscious food (both preparation and source), greener cleaning supplies and even in-room educational programs dedicated to health and wellness, all as a way to appeal to the Wellness Traveler.
The US Invasion
Wellness Tourism is reported to be growing faster than the tourism industry as a whole. While other countries throughout the world have been part of the wellness tourism industry for decades, the trend in the United States is now starting to become mainstream and the movement is massive. These changes include not only the implementation of Wellness programs in spas or yoga at resorts, but major hotel chains are making changes to recognize the importance of the wellness movement in travel as well.
Last year for the top 10 spas for luxury wellness travel the list was dominant with European Spas, primarily from France and Italy, with only 3 from the US, all from Miami FL. As this trend increases and hotels will need to recreate their branding to capture these travelers, I anticipate the hotel and spa industry in the US wil grow rapidly in this arena, creating the luxury experience that will compete with our European counterparts and we will begin to see an increase in wellness tourism within the US.
Wellness travel isn't just for those seeking the high-end luxury experience either, there a lot of Wellness programs already in place in the United States with various types of adventures and activities to appeal to any kind of traveler. Retreats like that of Life Hiking Spa in Killington, VT which offers healthy meals, hiking, fitness classes and spa treatments start at $259/night and offer an affordable way to ignite an exercise routine, eat healthy and get some meaningful relaxation. From NH to Hawaii more and more lodging options and styles are popping up for those seeking these wellness experiences for all budgets or style.
Get a Room
Even if a retreat or Wellness Program isn't your first priority for a vacation, or if you find yourself traveling for business, many will be surprised to find that even these experiences will be filled with the well-being of the traveler in mind to ensure that staying healthy will be part of the trip, even at major hotel chains.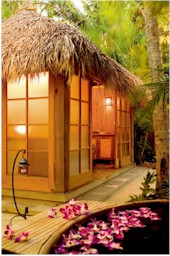 Westin Hotels, a brand of Starwood Hotels and Resorts was one of the first groups to initiate wellness modalities into its lodging, as early as 1999, with their Heavenly bed experience. Now they are starting a new well-being initiative that will be offered to not only guests, but their employees worldwide as well, which is a huge undertaking and commendable gesture. Called the Westin Well-Being Movement, all its programs and partnerships will be based on the "Six Pillars" encompassing "feel well, work well, move well, eat well, sleep well and play well." But Westin is not alone, in February 2012, the InterContinental Hotels Group (IHG), launched EVEN™ Hotels, the first mainstream hotel brand focused on wellness and fulfilling the demand for healthier travel. Their concept aims to help the traveler, "keep active, rest easy, eat well and accomplish more." Even in Las Vegas, where wellness isn't necessarily the first word that comes to mind, MGM grand has worked with the Cleveland clinic on "Stay Well" rooms that contain comforts designed to encourage deep sleep and overall well-being. With such amenities as: a dawn simulator, HEPA-filter air purifiers for guests with allergies and Wake-Up Light therapy, it's no wonder that the original 42 rooms grew to 171 due to increased demand. These are all wonderful examples of changes we can expect as we embark on a new era of travel.
Where Should I Go?
There are so many options for healthier traveling that where you decide to go solely depends on your interests; whether it be a detoxification or cleanse program, yoga retreat, cooking classes or an adventurous kayaking excursion along the California coast, there is virtually something for everyone and though a trip to Europe, South Africa or Dominica maybe the trip of a lifetime, it isn't necessary to leave the states to find a wellness retreat or resort geared towards your interests and passions.
What Does it Mean for the Wellness Conscious Traveler?
With the ever-increasing demand for healthier options while traveling, I think we all will be exposed to healthier food, better environments and an increased access to all things Wellness with an overall better approach to life on the road. Leaving home no longer means leaving health and well being behind, but rather, leaving home can be a huge step in self-awareness, healthy living and a proactive versus reactive approach to health.
As the overall perception on vacations change and are viewed more as a time for personal growth, connecting with nature and the initiation of healthy changes, the market is going to make these offerings more accessible to all travelers. Health minded changes that are difficult to adhere to in a busy lifestyle, these hotels make available and allow you the opportunity to then implement your new routine into day-to-day life. Making subtle shifts in your routine or dietary intake may seem slight, but once implemented, it is a positive change and a step in prevention with profound affects which is supporting this momentum and keeping the wellness traveler coming back for more.
This market is going to create more jobs, increase awareness of the importance of overall well-being and hopefully be part of the solution to the epidemics plaguing our society and healthcare system.
References:

- Wellness Tourism and Medical Tourism: Where do spas fit? Global Spa Summit LLC 2011
- The Global Wellness Tourism Economy Study. SRI International and Global Spa & Wellness Summit 2013.
Dan Pierotti, Vice President of Spa Development and Operations for Noble House Hotels and Resorts, joined the company in 1999. His extensive spa management experience has given Noble House the most unique and distinct world-class spas. Noble House selected Mr. Pierotti in 1999 to lead the development and operations of the new spa on Little Palm Island Resort. After the overwhelming success of the Island Spa on Little Palm Island Resort & Spa, Mr. Pierotti was promoted to his current position and continues to lead the SpaTerre development efforts for Noble House Hotels and Resorts. At the present time he has created fifteen world-class spas with Noble House. Mr. Pierotti can be contacted at 425-827-8737 or dpierotti@noblehousehotels.com Extended Bio...
HotelExecutive.com retains the copyright to the articles published in the Hotel Business Review. Articles cannot be republished without prior written consent by HotelExecutive.com.