Igniting the Spirit to Serve at the Renaissance Harbour View Hotel Hong Kong
By Simon Hudson, Endowed Chair in Tourism and Hospitality, University of South Carolina
Hong Kong has long been known as an international business hub, frequented by wealthy businessmen and tourists with the requisite high-end hotels, restaurants and retail. With over 225 hotels and approximately 70,000 rooms, there is considerable competition in the city for visitors and so hotels rely on a variety of differentials to attract and keep their clientele. One of those differentials is customer service. Customer service is more important than ever before, especially during difficult economic times, when customers are looking to increase value for money and are less forgiving of mediocre service. A 2011 study found that seven in ten Americans are willing to spend an average of 13 percent more with companies they believe provide excellent customer service. Three in five would try a new brand or company for a better service experience.
Benchmark hospitality organizations spend considerable time and money teaching a culture value system so that when a situation with a customer arises that is not discussed in the training manual or can't be done by the book, the employee who has learned the culture will know how to do the right thing at that moment, will want to do the right thing, and will be empowered to do so by the organization. These companies know that there is a clear link between training and levels of customer service. Hans Loontiens is General Manager for the Renaissance Harbour View Hotel Hong Kong - a Marriott property on the island. Loontiens understands the critical importance of training, and brings in outside experts - Bob Brown and Cynthia Goins - to enhance customer service training at the five-star hotel which houses 805 rooms and 52 suites over 42 floors. These experts 'provide the icing on the cake' says Loontiens.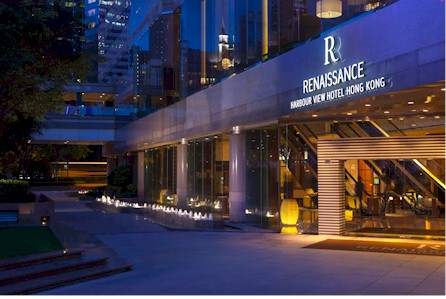 Hotel Driveway
As well as working as a seminar leader and management consultant for restaurants and hotels, Bob Brown is a leading keynote speaker and author. His book, Little Brown Book of Restaurant Success, is an international bestseller which outlines the strategies, tools and techniques he advocates to high-powered customers such as Disney, Ritz Carlton and Hilton as well as Marriott. He was influenced in his early days while working in top restaurants in the US. Cynthia Goins' firm, CJ Goins & Associates, has been working in hospitality for over 30 years. Their mandate is 'passionately exceeding expectations' in order to differentiate a destination with wow factors and emotional connections with customers.
These service experts help Hans Loontien's team develop the real passion and 'Spirit to Serve'. Frontline ambassadors review each day's arrivals in advance, check on any previous comments and react accordingly. 'For example, if a particular female repeat guest needs more recognition - she needs to be given more face - therefore she is met by a senior manager and escorted to her room,' says Loontiens. If any of the arrivals are Platinum members, they will receive their guaranteed room type, access to the Club Lounge and a Platinum gift - all intended to make them feel special.
Wow factors for Renaissance clients include cold bottled water in their valet-parked cars on hot days and coat hangers placed in their cars to hang up jackets. It's like having 'Mom' look after you. If there is a group booking, staff members make efforts to find out about favorite snacks, the boss's beverage of choice and any birthdays in the party - for which they provide cakes. It is not just the managers who can implement this.
All front line associates - who Loontiens calls 'high guest contact personnel'- are empowered as ambassadors. These extras are all covered by the hospitality budget as well as within the training budget.
Although this kind of hospitality is pre-planned, there is also considerable flexibility for ambassadors to react spontaneously to a guest's needs. 'The structure is formed from the corporate guidelines and the internal and external training. We then empower ambassadors to make decisions according to the specific needs of each guest,' Loontiens explains. As well as job satisfaction, frontline ambassadors who provide the little extras for their guests are rewarded with monthly 'Spirit to Serve' certificates at the quarterly 'Town Hall Meetings'. 'Gifts are also given to the top performers, who are lauded in the daily meetings, plus photos in the heart of house areas and a personal note from the General Manager,' Loontiens adds.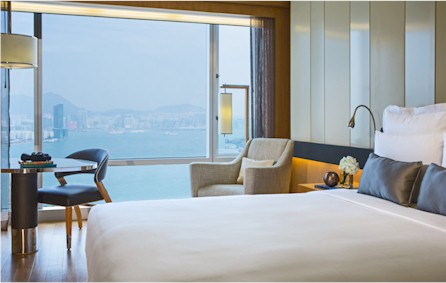 Club Level Room
Careful customer research via Guest Satisfaction Surveys (GSS) has led to these honed hospitality garnishes. Loontiens also works with 'Guest Voice' who analyze online postings from blogs and social media platforms like Trip Advisor. Social media monitoring has always been a priority for Marriott, using the platform to solve customer issues. Marriott is now one of the leading brands on Twitter with nearly 3,000 followers. Continually on the lookout for innovative ways to wow customers, Loontiens says he and his staff also look to airlines and other hotels for inspiration as well as newsletters such as ehotelier.com. 'Yes, we sit in the lobbies of other hotels and observe whilst drinking tea,' Loontiens quips.
The Renaissance customer service training is also designed to help counteract and prevent problems. Good damage limitation can even turn a complaint into a compliment. For example, a room was flooded once after a bathroom leak. The American customer who was a hotel loyalty card member asked to speak to the manager. None of his belongings were damaged but the incident made him late for an appointment and he was avidly taking photos of the leak in case of future legal proceedings. He was also threatening not to pay the previous night's room charge and moving to another hotel. However, when he was offered an upgrade to Club Lounge access he accepted the offer. 'He eventually apologized for his bad temper earlier and said he would pay for the room charge of last night. He also wrote a note before he left the hotel to the Guest Service Manager for the great assistance,' says Loontiens. He stresses, however, that surprising and cosseting guests is routine for all customers and not just for those who experience a problem.
Repeat elite loyalty members are particularly appreciated at the Renaissance. 'Their stays are more personalized with handwritten notes from the General Manager, escorted to their room without having to check in at Front Desk, given practical gifts, upgraded to the best room possible, and flexibility accorded for check out time,' says Loontiens.
The Renaissance brand has developed three 'Live Renaissance Values' which are 'Intriguing, Indigenous and Independent'. 'To sum it up, when a guest goes back to a Marriott they expect to find that everything is the same as their last visit. When a guest returns to a Renaissance they expect to find something wonderfully new. The guests have different desires. 'Renaissance guests are discoverers' Loontiens explains. Staff members purvey these values by engaging with clientele and touching emotions through common interests, giving the guests stories to take back home with them. They are trained to 'watch, listen and ACT', seeking clues from the guest. Emphasis is placed on anticipating needs. For example, says Loontiens, if a guest is reading a map at breakfast time then staff are trained to assist them and recommend off the beaten track discoveries revolving around savor, sip, shop and see. They will then be armed with wow stories to return home with rather than the cookie cutter tourist guide activities. Although aware of cultural differences between different nationalities staying at the Renaissance, Loontiens believes that differences are even more specific than ethnicity. 'Each individual from each culture is also different. You need the skills to quickly evaluate and ascertain what the guest needs,' he insists.
Service consistency is furthered through mystery shopping. This is intended to 'determine the real status of emotional engagement of ambassadors with guests,' says Loontiens. 'Then we conduct training based on that hotel's needs - training which should cover the importance of first impressions, body language, use of guest names, offering active assistance and thanking the guest.' He maintains that attention to this kind of detail leads to a 'higher intent to return, higher average rate and higher profitability - it increases the value proposition'.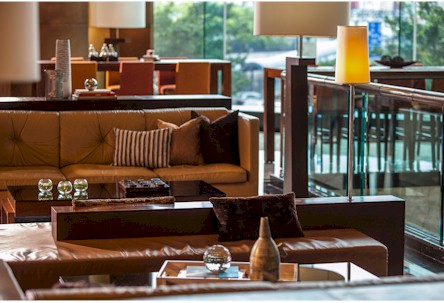 Hotel Lobby
Simon Hudson is a tourism aficionado, exploring the world, spreading his passion for travel, and enlightening audiences on every kind of travel research from winter sports to film tourism. He has written eight books, and over 60 research articles, many of them focused on tourism marketing. He is the Endowed Chair for the SmartState Center of Economic Excellence in Tourism and Economic Development at the University of South Carolina. Dr. Hudson can be contacted at 803-777-2705 or shudson@hrsm.sc.edu Extended Bio...
HotelExecutive.com retains the copyright to the articles published in the Hotel Business Review. Articles cannot be republished without prior written consent by HotelExecutive.com.