Connect Your Guests With Your Sustainable Initiatives
Travelers receive a memorable experience, and by doing so helps preserve the destination
By Rauni Kew, Public Relations & Green Program Manager, Inn by the Sea
Sustainability is a prerequisite for the continued growth and profitability of the hospitality industry. Most hotel companies today have integrated operational practices to reduce their carbon footprint, realizing economic and marketing benefits. Efforts to reduce water, waste, energy and chemicals are now an industry standard. However, for long and short term financial success the industry needs to go beyond these reductions and create sustainable initiatives and programs that support and preserve local communities and traditions, and regional icons as well as the natural environment.
Lodging properties committed to sustainability on all levels can provide today's guests with the unique, localized travel experiences they want, while supporting local economies, now and in the future. Surveys show travelers today prefer green businesses. To be truly sustainable a business must support their surrounding communities and celebrate and preserve the uniqueness or heritage of the destination as well as the environment. Vendors who collaborate with hotels to offer guests an authentic local travel experience and benefit economically and are more likely to also take an interest in preserving regional icons or cultural traditions for future generations.
Travelers are more informed about green travel alternatives and there has been a consumer shift toward making what is understood as the responsible choice. According to Travelocity, in 2010, in the first quarter after the launch of their green hotel website, bookings for green hotels were 65% higher than for their non green counterparts.
Trip-advisor's 2012 eco-friendly travel survey of more than 700 U.S. travelers stated 71% of travelers plan to make more eco-friendly choices in the next 12 months, and 41% percent would believe a hotel's claim to be eco-friendly if they experienced or witnessed green practices first hand.
"Green initiatives are an increasing priority for hospitality businesses that are trying to reduce their environmental footprint," said Jenny Rushmore, director of responsible travel for TripAdvisor. "Our survey shows that TripAdvisor travelers are interested in eco-friendly practices, but hungry for more information about which green plans and policies are actually in place."
Green Certifications can help inform guests about properties' green policies if they choose to research them. However, with the proliferation of global certifications very few are recognized by travelers. With over 350 different certifications available to travel and tourism operators it is no wonder that knowledge of a properties' third party verification rarely educates or creates an emotional connection between the guest and the location. Why not inform a guest of your commitment to sustainability by immersing the traveler in a sustainable hotel program that adds value to their visit and exposes them to insights only that very location can share. By exposing a guest to the soul of the region with rich, memorable experiences that are unique to that destination, the traveler can also gain an understanding of that property's support for their community and regional heritage.
Travelers are moving away from commodization and looking for destinations that offer insight into history, culture or simply an unusual experience. Capturing that sentiment, terms inviting travelers to 'eat like a local', or 'tour like a local' are common. Travelers are looking for insider experiences that educate and inspire… or are at least unique enough to be Instagram or facebook worthy.
In Conde Nast Traveler's Perin Post, Travel Predictions for 2014, the author talks about the ongoing interest in fresh local food, and how consumers are willing to go to great lengths to connect to both locals and authentic experiences around food.
"Our obsession with authentic regional cuisine and the origins of its ingredients will grow, with more travelers wanting to take local cooking classes, go with chefs to food markets, meet farmers and cheese makers and winemakers, even stomp grapes."
Hotel programs that connect the guest to local people, unique experiences and the destination suit travelers who place a high value on cultural and regional authenticity. This type of marketing and packaging on the part of the lodging property creates new economic opportunities for local vendors and can help fund, preserve and protect regional icons, cultural traditions or historic sites for future generations. Localized, guest centric programming defines sustainable tourism: working to preserve and protect local environments while helping communities be profitable now and in the future. For hotel properties this programming not only ensures a great guest experience, but very often garners media attention, which helps drive profit.
People, Planet, Profit
Inn by the Sea is a luxury resort located on a mile of unspoiled sand beach on the coast of southern Maine. Inn by the Sea has been a leader in green hotel operations throughout every department with green cleaning, solar panels and bio fuel, dual flush toilets, recycled cork floors, rubber floors and recycled sheet rock walls, farm to fork dining , composted food waste, and indigenous landscapes. The Inn has both Maine DEP Environmental Leader® and LEED® Silver certifications. But of far more interest to the guest, the Inn has programs that involve the surrounding community to create authentic local experiences for travelers.
Most will agree, Maine and lobster are almost synonymous. Inn by the Sea partners with a local lobsterman to send guests out onto Casco Bay to join the crew of an authentic 27 foot fishing boat. Guests don yellow slickers, bait traps, haul lobster, measure the catch, toss back lobsters that are too small and learn about sustainable fishing practices in place in the lobster industry for over 60 years. Captain Tom Martin and his crew describe to his crew for the day the difficulties of obtaining a license to lobster, Maine's fishing apprentice program and discuss the complex fisheries' management practices of the Gulf of Maine. Guests learn Maine history as they float by the historic Portland Headlight, commissioned by George Washington, and one of the United State's oldest lighthouses. Guests return to the ocean view Sea Glass restaurant at Inn by the Sea in the evening to enjoy a five course Lobster tasting menu with fresh, delectable local fare.
Guests at Inn by the Sea benefit from connection to place and a truly unique Maine experience. They enjoy meeting, talking to and working with local fishermen and getting insight into their life on the ocean. They later experience dining on fresh Maine lobster in Sea Glass restaurant and have a greater appreciation for the source of the food they are consuming. The Inn benefits from public relations and media attention, as well as having a compelling package to offer. By sharing revenue and creating a tourism experience with a local fisherman, a long standing Maine tradition, lobstering, is profitable today and is preserved for future generations.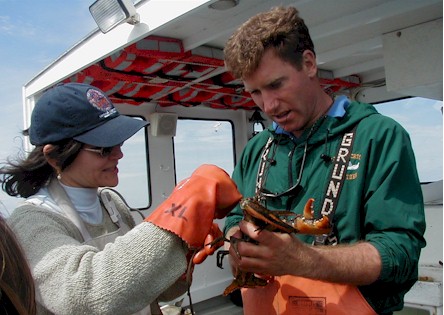 Captain Tom Measuring Lobster
Taste of Maine
On Thursday nights from spring until late fall Inn by the Sea invites local vendors and producers to offer their guests a taste of Maine at manager's cocktail events. Guests are invited by the vendors to try vodka produced from Maine potatoes, to enjoy a locally baked whoopee pie by the baker, to talk with Maine fishermen about the importance of eating underutilized seafood fresh from the Gulf of Maine, or to chat with artisan cheese makers about their Maine products. This simple event helps market local businesses and support the local economy, while connecting guests to local people and local products. Today's travelers look for destinations that have unique characters. Bringing travelers and local vendors together benefits the vendor financially. Having benefited, vendors are more likely to work to protect local heritage and traditions for future business opportunity.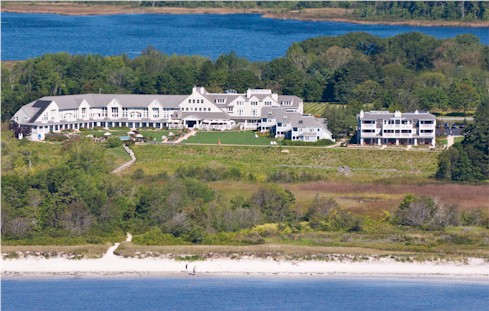 Inn by the Sea, on Crescent Beach, Cape Elizabeth, ME
Preserving Regional Icons
Inn by the Sea collaborates with the Portland Museum of Art. Winslow Homer, America's preeminent artist, lived and painted just minutes up the coast from Inn by the Sea. The Portland Museum of Art has preserved the Homer studio and has tours of the artist's home and Cannon Rock where he painted his most famous oil. The Portland Museum of Art has several Homer paintings on view as well as a large collection of drawings and etchings. By packaging with the Portland Museum of Art the Inn broadens the museum's marketing efforts, helps preserve a historic regional icon for future generations and connects guests to one of the area's unique architectural and historical artifacts. The Inn benefits from being connected to an ongoing and very popular media story.
Show me the Green
Travelers are more aware of sustainability, and prefer to patronize lodging properties that make an effort to reduce their carbon footprint as well as preserve and celebrate the distinctive characteristics of the destinations they want to visit. To be truly sustainable, a hotel's policy must include preservation of the natural environment, as well as heritage protection and the well being of locals. By creating programs that connect guests to local experiences travelers benefit from new insights, and will talk about their experience to others, generating more revenue for the destination. Guests will also have a better and more lasting understanding of the hotel's commitment to sustainability.
Rauni Kew's background is in marketing and public relations. Currently working in hospitality, she manages Public Relations & Green Programs for Maine's luxurious Inn by the Sea, and Public Relations for The Maine Innkeepers Association. Ms. Kew served on the Maine Tourism Commission, has been a board and executive member of the Greater Portland CVB for 7 years and was the immediate past Chair, and is the Greater Portland Regional Representative for the Maine Office of Tourism. She frequently has published articles on sustainable hospitality in industry journals. Previously Ms. Kew was Marketing Director for a Chemical Process manufacturer. Ms. Kew can be contacted at 207-799-3134 or rkew@innbythesea.com Please visit http://www.innbythesea.com for more information. Extended Bio...
HotelExecutive.com retains the copyright to the articles published in the Hotel Business Review. Articles cannot be republished without prior written consent by HotelExecutive.com.