Converting Hotel Guests into Apostles
By Simon Hudson, Endowed Chair in Tourism and Hospitality, University of South Carolina
Well-publicized research shows that hotels can increase profits from 25 to 85 percent by retaining just five percent more of their customers, But merely 'satisfying' customers is no longer enough to ensure loyalty. There is little or no correlation between satisfied (versus highly satisfied) customers and customer retention. This means that it is not sufficient just to please customers. Each customer should become so delighted with all elements of their association with a hotel that staying with a competitor is unthinkable. In a sense these customers become 'apostles' for their favorite hotels. A popular model that explains these behavioral consequences of customer service is the Apostle Model, developed at the Harvard Business School. Based on satisfaction and loyalty, this approach segments customers into four quadrants: Loyalists, Hostages, Mercenaries, and Defectors (see Figure 1 below).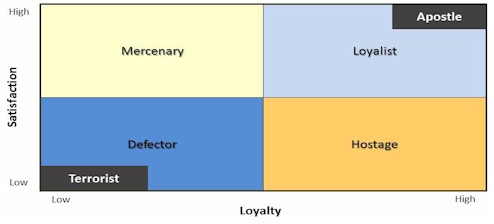 Figure 1. The Apostle Model. Adapted from Jones and Sasser (1995). "Why satisfied customers defect." Harvard Business Review, 73, 88-99.
Defectors are those who have low satisfaction and low loyalty. A sub-segment comprises the Terrorists, with the lowest satisfaction and loyalty scores. In addition with the costs associated with losing them, these customers are so unhappy that they speak out against a brand at every opportunity. Hostages are customers who have low satisfaction, but still report high loyalty. This typically is due to lack of competition or high switching costs. Customers in this category feel 'trapped.' Hotel brands in this category often win business simply due to their location (when no suitable alternatives are nearby) or, because of the strength of their loyalty club. However, these customers exhibit 'false loyalty' - acting loyal even when they are just waiting for a chance to jump ship. Mercenaries are those who have high satisfaction, but low loyalty. These customers are often price-sensitive and will switch easily when they have the opportunity.
Loyalists are customers who have high satisfaction and high loyalty. Sub-segments of loyalists are Apostles, who have the highest satisfaction and loyalty scores. Some 80 percent of Starbucks' revenues come from Apostles who visit their stores an average of 18 times a month. These customers are loyal because they love a business. But how do hotels create apostles? The key seems to lie with customization. In the travel industry in general, requests for customized and personalized vacations are rising sharply, aided by technology and increasingly expectant and discerning consumers. So, leading hotels are attempting to customize the experience for guests to make individual customers feel unique and to make them believe that the hotel has singled them out for special attention.
The remainder of the article profiles several hotels from all corners of the world who are creating Apostles out of their guests by customizing their experiences.
At the HUB Porteño in Buenos Aires, Argentina, this customization begins well before a guest arrives at the hotel. HUB recently launched a selection of curated city experiences for hotel guests to maximize their stay in the city. Working with a team of Ivy League professors, liberal arts experts and interesting locals, the hotel creates customized adventures that "offer a new way of living the city like a local, in style". Prior to arrival, guests take part in a detailed consultation with a member of the HUB Porteño team about what they want to see and experience, and then the team creates a personalized itinerary based on the guest's tastes and interests. Experts will then personally escort guests through the city's history, music, architecture, literature and politics. "In my opinion taking care of the activities of the guests in the city plus personal attention in house maximizes guest loyalty", says Founder Partner & CEO Gonzalo Robredo. Opened in October 2012, the hotel is an 11 room, all-suite palatial retreat in a converted private mansion on one of the most elegant blocks in Buenos Aires, designed to encapsulate the elegance of Buenos Aires's Belle-Époque era. Each room is individually decorated with hand-crafted pieces from highly skilled Argentine artisans, antiques and a collection of Argentine artwork.
Other hotels similarly recognize the importance of anticipating guest's needs. At the Renaissance Harbour View Hotel in Hong Kong, frontline ambassadors review each day's arrivals in advance, check on any previous comments and react accordingly. For example, if a particular female repeat guest needs more recognition she is met by a senior manager and escorted to her room. If any of the arrivals are Platinum members, they will receive their guaranteed room type, access to the Club Lounge and a Platinum gift - all intended to make them feel special. If there is a group booking, staff members make efforts to find out about favorite snacks, the boss's beverage of choice and any birthdays in the party - for which they provide cakes.
At the Sheraton Suites Eau Claire in Calgary, Canada, such frontline ambassadors are called Guest Relations Officers, employed for the sole purpose of coordinating the 'It's Our Pleasure' program, and a room is not ready for a guest until this officer has ensured all preferences are taken care of. Similarly, at the Lopesan Hotels in Gran Canaria, Spain, hotel guests find televisions in the room already tuned into the correct language channel for them. Later, if they order a particular drink on their room key card, the waiters are trained to remember for the next time. And if guests return more than three times, they are considered 'repeaters' and will be greeted in their rooms with their favorite drinks 'on the house'.
In Colorado, Vail Resorts are always looking for ways to exceed expectations and drive loyalty. "We have a program called Epic Wishes", says Ashley Lowe, Senior Manager of Communications. "Staff are empowered to seek out guests who mention on social media that they're coming to visit, and we find a unique experience to offer them to enhance their Epic Vacation. Examples include providing birthday cake, giving rides in grooming cats to kids, and offering a woman who injured herself on her fist day of skiing a free spa treatment and dinner." Lowe acknowledges that these initiatives need to come from the top. She points to one General Manager, Jonathan Fillman, of Mountain Thunder Lodge in Breckenridge, who routinely writes hand written notes to his guests, and encourages his staff to as well. When a recent guest commented on TripAdvisor that it was his seventh stay at Mountain Thunder Lodge and he loved it, Jonathan sought him out, discovered he was still staying at the property, and asked him how he could make his stay better. "The gentleman said he was going to hike a 14'er the next day and asked Jonathan if he knew how to get there. Jonathan replied, "Do I know how to get there? I'll take you there!" Jonathan picked the guest up at 4am the next morning and did the full hike with him."

Mountain Thunder Lodge Breckenridge
A recent visit to Utah showed me that Salt Lake City and the surrounding ski hills have a fair share of quality hotels working hard to customize experiences for guests to win their loyalty. At the Grand America in Salt Lake City, Director of Guest Experience, Annie Fitzgerald says that creating loyalty starts with each individual employee. "We ensure all employees are empowered to make each guest's stay exceptional and a personalized experience. If our employees learn something about our guests that will enhance their stay, we will recognize and deliver. For example, if we learn upon arrival that a couple is celebrating an anniversary, we will deliver a cake and card wishing them a Happy Anniversary, likewise with honeymoon couples who receive chocolate covered strawberries and a card. We recognize birthdays and we love taking care of guests who bring their children. We often provide balloons or small welcome toys for the little ones."
The Grand America also has a 'Grand Ambassador' whose role is to ensure that all repeat guests are recognized appropriately. "Our operating system will track all of our guest preferences, and our Ambassador then reviews all reservations and prepares for these requests," says Fitzgerald. Requests can range from a preference for a special room or view, to the type of linens a guest requires to be comfortable. "All of these things make the Grand America truly a home away from home and ensure the retention of our guests".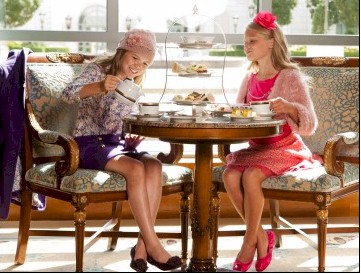 Girls tea party at the Grand America
Another hotelier in Utah, Dan Howard, Director of Public Relations at Montage Deer Valley also believes that delivering highly personalized service is critical to retaining customers. "We collect information on our guest preferences so that we are able to customize their stays," he says. Even children receive a personalized experience. "Our Paintbox department invites guests ages 5 - 12 for half-day and full-day enrichment activities - 'science day,' 'arts day,' 'culinary day,' etc - and all children receive a personalized, painted Paintbox sign welcoming them by name when they check into their rooms. They also are asked to select a native Utah stuffed animal out of a sleigh so they will have a new 'friend' that they can take home with them as a memento of Montage Deer Valley," Howard explains. The Montage's culinary teams also collect copious notes on dietary restrictions so that associates can address the guests in advance of their orders when they come to the tables, helping reassure guests that they are recognized and that their dietary needs are being taken to heart in preparing their meals. "We consider every meal custom to order," says Howard.
Similarly, Spa Montage has a signature treatment called SURRENDER in which the first 45 minutes of the treatment is a conversation between a dedicated therapist and the guest to review health, exercise, diet and hereditary factors prior to being prescribed with a very specific spa 'diagnosis regimen' that is specific to the guest. All of the notes are maintained in the Spa Montage database so that guests traveling to other Montage properties can continue their Spa Montage regimen without needing to repeat themselves or start from the beginning. "These types of actions in the culinary and spa departments provide such a highly personalized level of service that guests are most eager to return to a hotel where they are known and recognized and where their needs are anticipated," says Howard.
Just along the road, at the Stein Eriksen Lodge, Deer Valley, the staff use every bit of personal information they can as an opportunity to create a memorable experience for guests. "Every guest receives a personal escort to their room", says Hotel Manager Dan Bullert, "and this enables the staff to develop a personal contact with the guest and possibly obtain information for which the hotel can then take the experience a step further. For instance, a guest made reference to their favorite TV show Downton Abbey, the team then felt inclined to put together a nice card in reference to the show along with the times and where to find it on the channel lineup. Along with the card was a chips/salsa amenity to enjoy while watching the show."
Finally, at the Alta Lodge at the foot of Alta Ski Area, CEO Marcus Dippo takes guest loyalty to heart, and encourages employees to make every effort to place an emphasis on personal attention from the time a guest arrives until he or she departs. Making visitors feel like friends is one of niceties that keeps hotel guests returning to Alta Lodge. The lodge has one 88-year-old female guest who has been coming every year with her family, children and grandchildren since 1951. Another guest comes from Santa Barbara for one week every month, and for him the lodge will throw a birthday party once a year.
But is such customization enough to create 'apostle-type' guests who are so satisfied that they want to convert others to share their experiences? One company in Canada, Canadian Mountain Holidays (CMH) operator of eight remote 44-bed lodges believes that its greatest marketing vehicle is 'encouraged word of mouth'. Ninety percent of the marketing budget is spent on customer service, in order to encourage repeat bookings, and loyalty runs at about 65 percent. CMH does very little advertising, although an increasingly important ingredient of CMH's marketing strategy is social media, according to former Media Manager, Sarah Pearson: "This is an increasingly integral and important factor in our marketing strategy. The more we can drive traffic to our website and convert those viewers into active leads, the more successful our marketing strategy is. Engaging both our potential and existing guests through social media is a very powerful tool for increasing referrals, retaining guest connections, and spreading the culture of CMH."
CMH also hosts marketing events called 'An Evening with CMH' throughout North America, Europe, Japan, and Australia. These are invitation-only evenings at which CMH staff and guides entertain and provide information to past guests and their friends. These events are very successful, generating high conversion rates. Pearson feels these events are well worth the investment: "It's hard to track the conversion rate to bookings right away as that really spans a two year period. But we feel it is very worth doing as it builds customer loyalty in the markets we're going into and we see an immediate pick up on bookings from those regions. Over time, where we put a lot of energy into events, they continue to grow and we get more names in the system and more people in the marketing funnel."
Finally, from the customer's point of view what is it that turns a hotel guest into an advocate? I recently witnessed this transformation first-hand. I was staying at The Sanctuary on Kiawah Island and was with friends from the UK - Simon and Vanessa Plant - who were visiting us in South Carolina as part of their honeymoon. As we all checked in to the 5-star hotel, the receptionist overheard that this was a very special occasion for the couple, and that night Simon and Vanessa found a wreath of flowers on their bed in the shape of a heart accompanied by complimentary champagne and chocolate strawberries. They were absolutely blown away! They haven't stopped talking about it since and have even booked to come back next year. Said Vanessa: "When you return home from such a special holiday you ache to have the experience again. You share your experience with friends and family to keep the memories alive. I had no knowledge or expectation of the beauty of the South Carolina coast and the luxury of The Sanctuary. I now want to share that experience with the world."
Simon Hudson is a tourism aficionado, exploring the world, spreading his passion for travel, and enlightening audiences on every kind of travel research from winter sports to film tourism. He has written eight books, and over 60 research articles, many of them focused on tourism marketing. He is the Endowed Chair for the SmartState Center of Economic Excellence in Tourism and Economic Development at the University of South Carolina. Dr. Hudson can be contacted at 803-777-2705 or shudson@hrsm.sc.edu Extended Bio...
HotelExecutive.com retains the copyright to the articles published in the Hotel Business Review. Articles cannot be republished without prior written consent by HotelExecutive.com.