Rants & Raves: A Hotel's Roadmap to Getting on the Right Track
By Benjamin Jost, Co-Founder & CEO, TrustYou
In my last article we took a look at the trends evolving in the online review space in terms of review volume, management responses and the like. There were some interesting points drawn from the data and key takeaways for hoteliers on what they might expect moving forward (declining review volume if you sit back without a strategy to collect them, fewer five-star reviews, management responses are on the rise, etc.). This time around we have taken a deeper dive into what comments stand out in reviews; for better or for worse.
These "Rants & Raves," as we call them, can be a rich road mapCompanies (beyond the travel industry) spend countless hours, dollars and dedicate resources to learning more about what their customers want, what they like and what leaves them less than satisfied. From focus groups to surveys, they mine for information they feel will help them improve upon whatever product/service/offering they are selling. While no one ever said hospitality professionals had it easy (great rates, free rooms, fabulous food and upgrades aside), there is a silver lining in this industry that others do not necessarily get to enjoy: FREE FEEDBACK. That's right, in the form of online reviews.
Yes, you read them (most of the time). You even respond to them (sometimes). And you pat yourself and your team on the back when those glowing ones come through (if and when you have time). Do you compile the trends? Do you look at what guests love? What they loathe? The common themes? We did in our annual TrustYou Rants & Raves report, representing a global picture from over 250 sites around the world across 23 languages.
Singing your praises or seething mad are typically polar opposites. Yet when it comes to hotel feedback there is a common thread between the two. We scoured over a million sentiments from online reviews and discovered, once again, that travelers' top compliments and complaints are often mirror images of one another. TrustYou's second annual Rants & Raves report covered hundreds of thousands of reviews with over one million sentiments spanning a 12-month period to find out what guests were saying most often about their hotel experiences. Service, food, room size, price, bed, bathroom and cleanliness (or lack thereof), took the place in the top 10 spots on both the positive and negative lists (based on one million randomly selected review comments in a 12-month period).
Here's a closer look, which will also help to guide hoteliers for what they should be looking at.
Good News: Positivity Wins Out
The good news for hotels is that the number of positive comments outnumbers the negative by a considerable margin. Mentions of friendly/professional/efficient service, for example, have nearly 11 times the number of comments than bad service (last year the good outweighed the bad by nearly nine times the volume). Your guests want to like you, for the most part. So don't let the few who complain for the sake of complaining or to get a freebie sour the pack.
Clean Trumps Dirty; Clearly a Hot Button
Clean rooms outweighed dirty rooms by more than four times the feedback. Let's be clear that this is a hot button and appeared on both in the top compliments and complaints. People are taking note of whether or not the cleaning practices of your property are meeting their expectations and standards. When is the last time you checked the top of furniture or a frame not necessarily in plain view? Keep an eye out because guests are.
WiFi Whining Doesn't Take Top Spots
While there seems to be lots of talk surrounding hotel Internet (free vs. charging for it, good connections vs. poor), that did not make the top 10 rant or rave (it came in at number 15 for bad connection and number 18 for pricing as a rant with just over 3,000 total mentions, minimal compared to other categories such as good service with 100,000+ mentions). Whether you are charging or not, make sure it works well.
Do These Four Things Right (Or Level Set Expectations)
The top four compliments remained in the same positions year over year: service, location, room and food/restaurant.
Yes, service is a broad area to cover. So break it down. What are the "WOW" moments that come through in the comments? Who are the employees standing out? Try and duplicate these moments and applaud these staffers so there are more noteworthy service sentiments.
Location, location, location. You have no control over your location. So if you have an amazing location, good for you. If you are not in a prime spot, don't pretend to be. You've seen the hotel websites that claim to be near it all with a laundry list of attraction. Be honest and you will manage expectations. You are not in the right spot for everyone.
Room; another broad stroke area here and one that is unavoidable the focal point of a guest's stay. During the check-in process there are things to do to help level set expectations if you are not checking a guest into a swanky suite. Are they in corner room that is more spacious? Point that out. Do they have a smaller room, but it boasts all new furniture and free WiFi? Tell them that. Help guests notice what they might comment on and write about. As we spoke about earlier, and is worth repeating, make sure the accommodation are sparkly clean.
Your food and restaurant is part of your hotel, regardless of who owns it runs it manages it. Good news is that positive food feedback beat out bad food by more than seven times in comment volume. Again, if it made both the top pros and cons list, it's something travelers are taking note of and sharing when they tell the world what they think about your property. Your restaurant reviews are intertwined with your hotel feedback. That item that you never order because you don't love it? Looks like it might be time to take it off the menu. The item everyone raves about? Send it to up to the guests celebrating a milestone occasion.
Bottom Line
The bottom line is that reviews impact the bottom line. Hotel reviews, like them or not, are valuable, complimentary feedback that can be used to your advantage, regardless if they are gushing love letters or gut wrenching to read.
The commonalities between the Rants & Raves show what guests are most focused on when staying in a hotel. The comments provide tremendous value for both consumers and hoteliers. Travelers are able to get a first-hand take on hotel experience from someone who actually experienced the property. And hoteliers can take advantage of people publicizing their positive experiences, while address the negative thoughts or misperceptions in a public forum. This has brought an entire new level of transparency and accountability to the industry.
My advice is simple: Don't just read them. Look at the commonalities. Do more of the positive and address the negative. As I said before this is a rich roadmap to informing your strategy and creating opportunities that will improve everything from service to operations. Also worth repeating: Common sense is not so common. Addressing the issues brought forward in reviews, ones your competitive set might be glossing over, will put you ahead of the pack.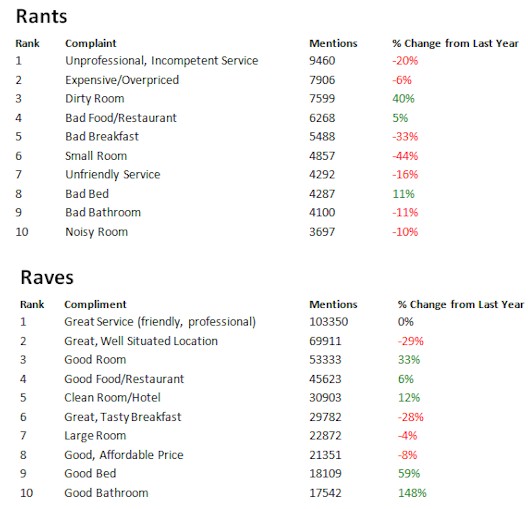 Benjamin Jost is co-founder and chief executive officer of TrustYou. Benjamin is an expert on social semantic search and is leading the big data revolution in hospitality. Prior to TrustYou, he spearheaded the Southern European M&A team for one of the worldís leading renewable energy providers and oversaw hundreds of investment cases covering a profusion of renewable technologies. He started his career in venture capital at Siemens Venture Capital and Xange Capital. Mr. Jost holds a MsC in engineering from the University of Technology in Munich and conducted research at the ENST Paris and the University of Washington Business School, Seattle. Mr. Jost can be contacted at 011 49 89548 02925 or benjamin.jost@trustyou.com Extended Bio...
HotelExecutive.com retains the copyright to the articles published in the Hotel Business Review. Articles cannot be republished without prior written consent by HotelExecutive.com.