What Will it Take to Overcome the Challenges in Total Revenue Management?
By Ally Dombey, Managing Director, Revenue by Design
Much of revenue management's focus to date has been applied to rooms revenue optimization, with RevPAR (Revenue per Available Room) being the principal benchmark for the revenue manager to measure success.
However, over the past decade the industry has seen a proliferation in channels to market dominated by online travel agents with huge customer databases and sophisticated consumer marketing techniques, and rising operating costs, principally in the area of energy and food. However, using RevPAR as the only benchmark provides an incomplete picture of a hotel's operation since it is unable to expose underlying trends in costs that significantly impact profitability.
Commenting on the trend, Pablo Alonso, General Manager of benchmark company HotStats said, "Historically, RevPAR has been an effective and trusted indicator of overall hotel performance, however, rising operating costs and undistributed expenses plus the changing trends in customer booking behavior is widening the gap between revenues and profit and weakening this historic correlation, making it more necessary than ever to understand the underlying relationship between revenues, costs and ultimately how those revenues flow through down to profit."
RevPAR as a benchmark focuses on top line revenue generation and using this benchmark in isolation will favor pricing strategies that drive room revenues over profitability. TRevPAR (Total Revenue per Available Room) and GOPPAR (Gross Operating Profit per Available Room) are two benchmarks used to monitor performance beyond RevPAR, giving a more complete picture of the success of an operation and its overall profitability.
Alonso comments on the use of the two benchmarks; "TRevPAR is defined as Total Revenue per available room, so it is basically an extended version of RevPAR to include all other sources of income including F&B outlets, Conference space, health club and even the Golf course. It is important to remember that in the Full Service hotel space, other profit centers may account for 25% to 45% of total hotel revenues, so in any scenario, it is a very relevant piece of the cake to which we are not yet actively applying data driven, revenue management principles in order to optimize these other sources of revenue".
Says Alonso, "On the other hand, GOPPAR reflects the actual profit generated by each available hotel room after deducting all the departmental operating costs, as well as undistributed expenses (Administration & General, Sales & Marketing, Utility costs…) from the total revenues generated. This makes hotel management directly responsible for the overall profitability of a hotel and provides the ultimate measure of not just how effectively we are maximizing our revenues but how effectively we are optimizing them."


The Growing Gap Between RevPAR and GOPPAR: June 2005-2013
(HotStats Trend Report)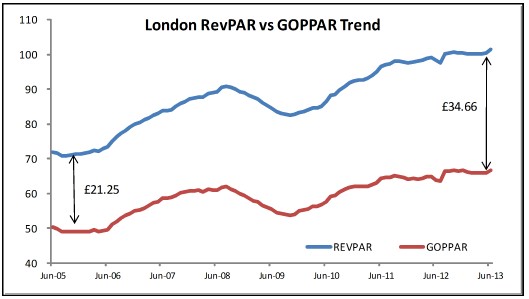 Figure 1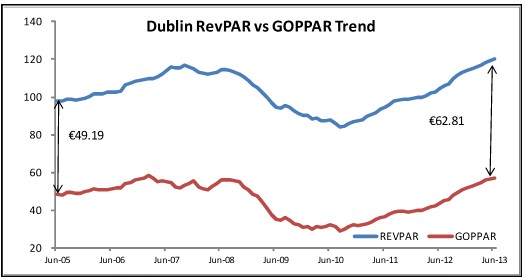 Figure 2
Figures 1 and 2 show the growing gap between RevPAR and GOPPAR over the past 9 years for London and Dublin. The gap between RevPAR and profit per room has been steadily increasing over the period, with the time around 2008 showing the greatest disparity where increasing operational costs outpaced the decrease in demand for hotel accommodation. Headline performance measures show an increase in London profit per room of 33% in 2013 over 2005, however the gap between two measurements has increased by 63%.
Dublin trends show GOPPAR suffered significantly from 2008 through 2010, with headline performance measures only beginning to show an improvement as of 2012 to reach an overall improvement in profit per room between 2005 and 2013 of 16%. However the gap between the two measurements show an increase of 27.6% or €13.62.
Profit performance has been affected in both cities by rising food costs, and, where minimum wage increases come into play, an increase in staff costs. Undistributed operating expenses (UoEs) have also been impacted principally in the form of costs of utilities and especially energy, and credit card commissions driven by the shift of consumer buying patterns towards web-based transactions. However distribution costs, part of an operation's variable costs, have also played an increasingly significant role in the decrease of GOPPAR.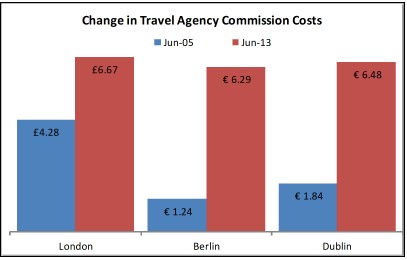 Figure 3 Change in travel agency distribution costs 2005-2013 Courtesy of HotStats
Figure 3 shows the change in distribution costs per room sold for London, Berlin and Dublin, 2005 - 2013, showing how the influence of customer acquisition costs through travel agents has shifted over the same time period. Customer acquisition costs in Dublin increased dramatically over the period by €4.64 per room sold from €1.84 to €6.84 per room sold reflecting the combined impact of growth in room stock and aggressive use of intermediaries throughout the recessionary period. Berlin exhibits similar high growth in commission costs of €5.05 from €1.24 to €6.29 per room sold with the city's growth in room stock also having a significant impact on distribution strategies and associated costs of customer acquisition. The combined effect of increases in both undistributed and distributed operating costs puts a greater emphasis on the importance of managing visibility on GOPPAR alongside RevPAR.
Managing the Shift from RevPAR to GOPPAR
Whilst measurement of GOPPAR offers a clearer picture of operational performance, for many hotels the operational transition to measuring GOPPAR and implementing revenue optimizing processes across all profit centers and departments (Total Revenue Management) is proving tough. The required business intelligence is either not available or technically inaccessible, isolated in multiple business applications. The relevant departments frequently operate in silos, resulting in conflicting performance goals, and tracking the success of strategies across functions can often require a complete re-assessment of business processes.
Typically there are three areas that create operational barriers to implementation:
1. Managing what's measured - aligning performance targets
2. Measuring what's most relevant - creating an ideal set of performance benchmarks
3. Creating the technology framework for measurement
Managing What's Measured: Aligning Performance Targets
Hotel management looking to optimize revenues across all Food & Beverage (F&B) profit centers may find they are working to any one of a multiple of targets based on either fixed gross profit percentages, total spend, revenue per customer or customer satisfaction levels. None of these performance targets consider the outlet's true profit performance.
Defining restaurant revenue management is based on selling the right seat, to the right customer at the right price for the right duration. RevPASH (Revenue per Available Seat Hour calculated as total revenues divided by number of seat hours) offers a clear insight into monitoring revenues into a unit based on the revenues generated per customer, the number of customers seated per hour and the length of time each customer remains in their seat. Because RevPASH measures both the length of time a customer stays, and the revenues generated during that time, management can gain an insight into the performance of the kitchen, and barriers to flow, either from table turns, covers or capacity management can be identified and strategies put in place to eliminate them. An outlet enjoying a busy lunchtime trade may work to reduce peak time queues by promoting dishes that are quicker to prepare (and ideally more profitable). Revisiting table configuration to reflect a different customer mix between lunch (more singles) and dinner (more families) can provide quick uplifts in revenues with minimal cost implications.
RevPASH will go a long way to identifying operational optimization opportunities, however similar to RevPAR, using RevPASH alone will not provide all the answers. Getting to the core of profit performance in F&B requires a blended focus on capacity management, managing demand and supply, menu engineering techniques, menu mix analysis, and pricing methodologies.
Menu Mix and Menu Engineering Techniques
Menu mix, the food items chosen by a customer in a seating, and menu engineering techniques which look at the profitability and popularity of food items are two strategic levers used frequently in the restaurant industry but not as frequently by revenue managers in hospitality. Menu mix reflects the fact that it is the guest that determines the average selling price within a unit. Any one menu will offer multiple menu combinations and since the guest chooses their menu combination, the overall menu mix is difficult to predict in advance. It is a key factor in the determination of the guest average spend and as such manipulation of menu mix in favor of more profitable items, or in the case of a busy outlet those that are quicker to prepare, can have a significant impact on overall profitability. Menu engineering techniques look at the combination of both profitability and popularity. Accurate assessment of recipe costs, and tracking of menu items sold allow an outlet to determine and keep those menu items that are both popular and profitable, those that are unpopular and unprofitable can be removed. Items that are popular but unprofitable can be re-assessed for an opportunity to remove cost and increase profitability, whereas items that are unpopular but profitable can be creatively re-engineered to make them more popular whilst still keeping up required levels of profitability.
Getting the Right Performance Blend
Stephen McManus, former MD of contract catering and integrated facilities management company Sodexo Prestige now works closely with operations to optimize F&B profitability.
"Typically an F&B outlet may have reached its price ceiling but is still not achieving its full profit potential. With no further room to increase prices the outlet must find other ways to improve profit potential," says McManus. "This may take more than simply reviewing pricing policies. In reality a diagnostic of the operation is likely to uncover multiple factors contributing to the current status quo."
McManus cites a recent project at a large hotel property with multiple food and beverage outlets. "We found the unit was operating at flat F&B revenues, average spend was stagnant, with declining revenues in some areas. There were a higher number of customer complaints than expected, principally reflecting issues in value for money and menu fatigue. There was no headroom for further price increase. The solution required a re-assessment of the operation's pricing moving away from percentage based gross profit targets, a program to refresh the menus on a regular basis and evaluating the barriers to flow. By working with the sales teams to implement upsell strategies in the restaurants and using targeted active selling techniques, the operation was able to improve capture ratios and optimize capacity management across peak periods."
The results were impressive leading to improvements in average spend of over 7.9% in a four-month period. The ratio of guests staying at the property with no allocation to a restaurant was reduced from 48% to 18% and is still improving. And more importantly, the project created a sales team hungry for success and an increase in overall hotel revenues of 4.4%.
In this case the solution required strategies that crossed multiple departments, using a series of benchmarking and optimization tools and needed the entire team on board, with an open mind on re-assessing targets. Previous performance targets were not robust enough to support the business objectives of the operation. Devising new performance targets allowed the operation to forge a strategy for improvements without which it would have been difficult to see a way through to profitability.
Measuring What's Most Relevant: Using the Most Relevant Benchmarks
Revenue management of meeting and event space is a complex area, requiring consideration of group accommodation revenue, meeting room hire, and additional revenue contribution gained from food and beverage sales, all of which combine to impact the profit potential per customer. For those properties that operate a significant transient segment, potential displacement of transient revenues also needs to be factored in to assessing which business to accept and which to deny. Benchmarks used are based on per square meter of space and occupancy of meeting rooms and include RevPAS - revenue per available square meter and RevPOS - revenue per occupied square meter.
Measuring revenues based on meeting space performance alone won't always give a complete picture of the metrics needed for the entire team. Enhancing these benchmarks to track revenue or ideally profit per delegate in addition to space-related benchmarks can offer a better measure of performance since they take into consideration the delegate total spend and can also net out the impact of meeting room size which can sometimes skew figures based on inappropriate room assignment - for example where the meeting room offered is based on availability rather than by suiting the size of the group, or where a client purchases more space to accommodate specific activities resulting in higher room hire revenues but lower revenues per meter.
Reporting on group revenues often requires creating bespoke reports, which draw on data from multiple systems. The cross-departmental sale of food and beverage, meeting space, and rooms drives the need to constantly evaluate profit potential and optimize revenues. Typically meeting and event sales teams will sell meeting space from a dedicated sales tracking solution, whilst accommodation data is pulled from the property management system for individual properties, or central reservations system for hotel groups. TRevPAR data will also pull together sleeper: diner capture ratios, and business by channel and source. All of this data combined will then give an operation visibility on the business, provide opportunities to optimize revenues and identify where to target sales activity for future support. Participating in benchmark reports will help streamline the added complexities of optimizing revenues in the group segment
Creating the Right Technology Framework for Measurement
A third consideration for on-going measurement of profit performance is creating the optimal configuration of cost allocations across departments in the property management system. This is the primary system of tracking distribution of revenues across each department from all department and minor operated department sales, and needs to mirror the set up of operational targets and performance benchmarks to ensure all departments are aligned and all benchmarks can be effectively reported upon.
Hitting the Target Without Missing the Point
Managing the profitability of the entire asset, or total revenue management, is nothing new, and has always been a requirement of hotel owners in their need for return on investment. The challenge for revenue managers in terms of benchmarks and performance is to shoot for the right targets. This requires focusing on three areas; creating the right departmental performance metrics that hit the point in terms of driving operation profitability, participating in benchmark reports that cover rooms, food and beverage and meeting rooms performance, and combining these metrics with reporting tools and technology that are relevant to the business and give a suitable level of visibility, with systems that are set up to track allocate and report on figures in the correct configuration.
These are by no means the only challenges faced by revenue managers in the implementation of total revenue management, and since there is not yet an ideal way of approaching a solution, taking the first steps to align targets and benchmarks will provide a good foundation on which to base a strategy.
Ally Dombey has traveled the world, creating and developing marketing, distribution and revenue management strategies focused on driving profit for independent hotels, hotel groups and the tourism industry. As Managing Director of Revenue by Design, she leads a team of revenue management specialists focused on delivering business transforming revenue management and distribution solutions within the hospitality sector. Known for her ability to simplify the communication of complex business processes, Ms. Dombey is the principal author of the Revenue by Design revenue management training programs. Revenue by Design's delivery of training, outsource revenue management services and consultancy has established the company as an industry leader. Ms. Dombey can be contacted at 44-0-20-7635-6810 or ally@revenuebydesign.co.uk Please visit http://www.revenuebydesign.co.uk for more information. Extended Bio...
HotelExecutive.com retains the copyright to the articles published in the Hotel Business Review. Articles cannot be republished without prior written consent by HotelExecutive.com.