Checking Out the Competition
How Do You Find Out What Your Competitors Are Up To?
By Simon Hudson, Endowed Chair in Tourism and Hospitality, University of South Carolina
Every business needs to know what its industry rivals are up to in order to meet customer expectations, stay current, charge competitive prices and be ahead of the game. For hoteliers, this can involve discreet mystery shopping with visits to local establishments or checking out the websites and social media initiatives implemented by direct competitors. For those serious about being the best in their industry, though, the search for new ideas and customer service excellence can go further than the hotels in the same town, to other countries and even other industries.
Visiting competitors seems to be the most popular method of gathering competitor intelligence. Todd Felsen, General Manager of the Cheyenne Mountain Resort in Colorado Springs, visits both neighboring hotels and hotels nationwide to gain insight into the competition. "We do many 'blind' visits of other properties and we also conduct business meetings off-site at competitors'," he says. "Both ways give us great insight. When we meet with our competitive set personnel, the focus is more on destination objectives and lifting the entire region." Other hoteliers are doing the same kind of field research. When Michael Papierno travels he is always on the lookout for areas other hotels are excelling in: "If it something that I can do myself with my team, I will bring it to them and implement it right away," he says. Papierno - General Manager of Viana Hotel and Spa in Westbury, New York - also notes any negative situations and looks at these from the guest's perspective. "I say to myself, is my team doing the same thing? If so, I change it and start training those individuals that might be providing the bad experience," he explains.
Tim Peters, Senior General Manager of The Nautical Beachfront Resort in Lake Havasu City, Arizona, visits local competition monthly, specifically looking for nuances on staff interaction with guests. "I am looking for changes in sense of arrival, communication to guests whether by a personal concierge or via information boards etc," he says. Peters is also vigilant about checking out the competition in different locations whenever he finds himself in resort destinations. "You can never learn enough and I am always looking for ways to bring new ideas back to my resort that I may not find in my immediate market," he says. "Someone is always coming up with new ideas to improve the guest experience and your competition or similar hotels and resorts can provide some great direction in this area. You can never be too old to learn new things from just about anyone."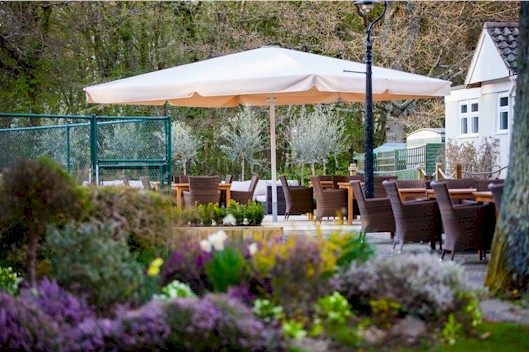 Wickwoods Country Club, England
Lee Goossens is Director of Wickwoods Country Club in the South of England, and considers competitive intelligence to be critical to his business. "We have heads of department for all key areas of our business - the hotel, food & beverage, spa, and fitness - and they are all tasked with keeping tabs on industry trends," he says. "We also subscribe to all major trade-related magazines." Goossens encourages his head chefs to dine on him once every three months in any restaurant they want - "as long as they bring back what they have learned to improve our business," he explains. Goossens wants Wickwoods to be the premier boutique country club, hotel and spa in that part of the world. One of the trends he is noticing is that people are increasingly conscious of the importance of maintaining a fit and healthy lifestyle, seeing it as a necessity rather than a luxury. They also want to be able to socialize and relax with other like-minded friends and family. With that in mind he has invested over $2m in the last year to expand the health facilities in the club.
Managers at the Renaissance Harbour View Hotel in Hong Kong will often visit other hotels for inspiration. "We sit in the lobbies of other hotels and observe whilst drinking tea," jokes Multi-properties VP and General Manager, Karl Hudson. His co-managers regularly visit rival hotels to see what they are doing well. "By drinking tea my meaning is that we are spending money and not taking up potential revenue-generating space of our competitors," he explains. The service focus at Renaissance is on surprising and delighting the guest, therefore it is up to management to devise ever more creative ways to do this.
Social media is another useful tool for hoteliers to check on the competition. Hudson uses Brand Karma for tools and tips on how to leverage social media to improve his five-star hotel's hospitality and service ratings and keep customers coming back. Brand Karma aspires to take the hard work out of collecting and analyzing social media data so that hoteliers can then get on with acting upon the collective results. The Renaissance goes one step further by employing two professional customer service consultants, Bob Brown and Cynthia Goins to help 'provide the icing on the cake'. Wow factors for Renaissance clients include cold bottled water in their valet-parked cars on hot days and coat hangers placed in their cars to hang up jackets. "It's like having 'Mom' look after you. If there is a group booking, staff members make efforts to find out about favorite snacks, the boss's beverage of choice and any birthdays in the party - for which they provide cakes," says Hudson. It is not just the managers who can implement this. All frontline staff - who Hudson call 'high guest contact personnel' - are empowered to be ambassadors.
For Bill Lacey, Hotel Manager at The Sanctuary on Kiawah Island, South Carolina, checking out the competition is not so easy. "When I worked for the bigger groups, we would get regular updates on what other hotels in the franchise were up to, and we would implement any new ideas or services that we liked the sound of. But with an isolated private hotel it is more difficult to keep up to date with trends and to find out what the competition is doing," he says. Lacey relies heavily therefore, on the internet and social media to source new ideas, and his managers regularly send him articles on any hotel doing something new. "We also look at publications and magazines, and I ask my management team to come up with two new ideas every quarter. But I do still keep my eyes open when I stay in another hotel," he says. "I was just at the Ritz Carlton in Charlotte and I had a good look around."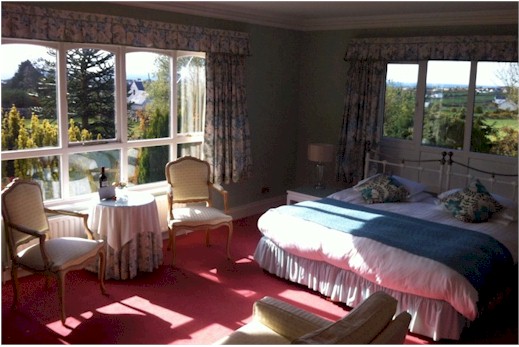 Glassdrumman Lodge, Northern Ireland
The Ritz Carlton provides the inspiration for service innovation for another hospitality entrepreneur. Ben Hall runs the Glassdrumman Lodge in Northern Ireland with his family. Nestled in the foothills of the majestic Mourne Mountains, the original property in the form of a farm was purchased by the Hall family in 1980, and five years later was converted into a 10-bedroom country house to accommodate golfers, walkers and holidaymakers alike. After more than 25 years of guests, from leading politicians to iconic sports personalities, the Hall family's single aim remains to create an enjoyable environment for relaxation and reflection, with good food and great service. Ben likes to visit hotels like the Ritz Carlton that have a reputation for top-notch customer service training, and consistent high standards. He then takes back ideas that the family can adapt with an individualized spin. "We don't want our customer service to appear systematic," he says. "We prefer it to come across as a genuine personalized relationship between our staff and the guests."
For Paul Hudson, Operations Director at Luxury Family Hotels, the art of checking out the competition takes many forms. "We look online at similar products and the prices charged, we sign up to get newsletters from two or three of our key competitors, and we monitor the PR and advertising they do. Keeping an eye on pricing is critical as the market is very price sensitive." The company, however, finds is quite hard to identify competitors because they have a narrow target market - families with children 10 or under looking for luxury. "We consider overseas package holidays provided by companies like Mark Warner and Neilson as competition - we all compete for family spend," he says. "Although we actually do some joint marketing with competitors like Neilson - promotions in each others websites and newsletters for example."
On the service aspect, Hudson and colleagues will visit competitors, look at menus, and try and find out what guests are saying. "Tripadvisor is a great way to look at how customers perceive the service of competitors. We also ask our customers how they perceive competitors in our guest satisfaction surveys." Hudson also encourages a healthy competition amongst his eight hotels, asking managers to consider the other hotels as competition. "We also like to employ managers from the competition that we respect - pay them a bit more and persuade them to work for us. They then bring all their skills and experience over to us. Observing is fine but it is much better to see how the competition actually implement their service and training etc."
What these examples show is that competitor intelligence is important to all these hoteliers: if they want to keep track of competition, they need a sound understanding of who the competition is, as well as knowledge of how they are doing in comparison to these competitors. The methods they use to gather this knowledge does vary - from monitoring media releases, brochures and advertisements to participant observation to benchmarking on guest satisfaction scores. But checking out the competition is clearly a critical part of day-to-day management in the hospitality industry.
Simon Hudson is a tourism aficionado, exploring the world, spreading his passion for travel, and enlightening audiences on every kind of travel research from winter sports to film tourism. He has written eight books, and over 60 research articles, many of them focused on tourism marketing. He is the Endowed Chair for the SmartState Center of Economic Excellence in Tourism and Economic Development at the University of South Carolina. Dr. Hudson can be contacted at 803-777-2705 or shudson@hrsm.sc.edu Extended Bio...
HotelExecutive.com retains the copyright to the articles published in the Hotel Business Review. Articles cannot be republished without prior written consent by HotelExecutive.com.