Distribution Challenges: Perspective From Hotels
By Michael McCartan, Managing Director Europe, the Middle East, and Africa, Duetto
We live in the age of information. The internet explosion has touched upon nearly all areas of human life, and infiltrated nearly every country and culture worldwide. With information of any sort being available through a simple Google search, emergence of new technologies, empowered customers and superior connectivity has fundamentally altered the way of doing business. More so for the hospitality industry!
In the last 18 years since the launch of Expedia, the exponential growth of online booking has been un-nerving for the industry. From a mere 4% in 2000, online sales have come a long way to contribute over 32% of revenue of the lodging industry (Forrester Research). With the continuous shift to online business coupled with changed consumer behavior pattern, hotels are finding it difficult to cope up with the challenge not restricted to competition with the neighborhood properties anymore, but far beyond that - to capture and retain the attention of the consumers who would spend an average of 20 to 29 days researching their trip before hitting the 'Book' button. For hotels, online sales channels have become a potential threat, trying to disturb the equilibrium they used to enjoy before the advent of internet.
The e-commerce landscape has leaped ahead in the last decade. From traditional OTAs to discounted sites to same-day booking channels to mobile - online distribution for the hotel industry has expanded beyond the capabilities of most hotels, leaving them struggling with complexities of finding the optimal distribution mix.
In a market research study with revenue managers conducted in association with Ecole Hoteliere de Lausanne (EHL), Switzerland we have seen that while discussions in the press and at hospitality conferences have moved onto new topic areas of social media, flash sales and mobile, revenue managers are still fumbling with the basics. The economic downturn has taken a huge toll on the industry's confidence level, with price replacing value as the key strategy for filling beds. Hotels have been forced to expand their sales and distribution networks and thereby surrendered their marketing into the hands of third parties. This has resulted in complex revenue strategies and pricing structures that are preventing hotels to achieve their full product value.
We interviewed those responsible for managing distribution channels of both independent properties and large chain hotels in France, Germany, Spain, UK and USA to understand the key challenges faced in distribution and sales management. While in parts the interviewees acknowledged that technology has delivered capabilities to meet the new demands in the sales landscape, many revenue managers continue to struggle with and comprehend some of the essential strategies to maximize bookings and revenue.
Instead of developing strategies to drive maximum value from new channels of social media, mobile, GroupOn, eBay, Travelzoo etc, hotels are trying to gain control of rate parity. The retail sites are continuously monitoring rate, and any breach has a serious impact on the hotel's ranking on the OTA site along with a hefty penalty. For hotels, the key challenge is to lower costs of distribution while raising rates and occupancy with rate parity.
Another emerging factor is the comprehensive and intelligent reports that provide hotels with measurements and comparison of different online distribution channels in terms of effectiveness of sales and volume of reservations per channel, revenue and products. Hotels will spend more time analyzing production and this in essence is driving them to look at easier ways to manage their third parties.
CHALLENGES OF A REVENUE MANAGER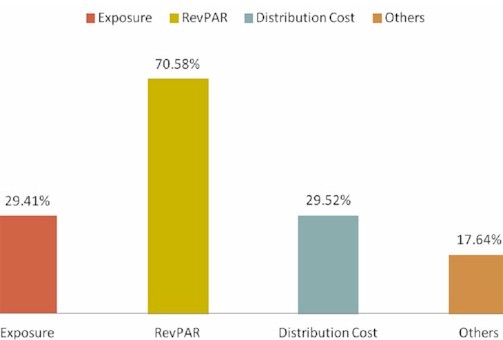 Still reeling under Eurozone crisis, many revenue managers are in a Catch-22 situation over how to increase rates without putting off the guest, increase exposure without paying too much and keeping all sales partners happy. Add to this the increasing commission levels and shorter booking windows - it is no wonder that revenue managers are left wondering how to get the best value from cash strapped travelers.
The Rise of the Channel Universe
New distribution channels like HotelTonight, Tingo and RoomKey are unveiling themselves in the marketplace every day. Search trends are also changing rapidly and customers are no longer satisfied with a generalized search for their travel inspiration. At a time when all big players are investing heavily into meta-search with Priceline's acquisition of Kayak, Expedia's investment in Trivago, and finally TripAdvisor's mega launch of hotel price comparison search, hotels must be available at all touch points to grab customer attention. Revenue managers are grappling with the supposed innovative distribution and social media opportunities while continuing to negotiate deals with the big players and evaluating the myriad of specialist sales channels vying for their attention. There is a huge potential to improvise existing revenue management strategies simply by addressing the channels that can drive bookings.
There is no doubt each channel has its own USP, and can be a valuable asset. For revenue managers, adding another channel to the distribution mix can be only done after assessing the potential over and over to gain full control over sales and distribution. However, hard pressed to reduce cost of distribution, it is no surprise that hoteliers are pushing to increase their direct sales - that will offer them a better profit margin and take market share from third parties.
REVENUE MANAGERS' STRATEGY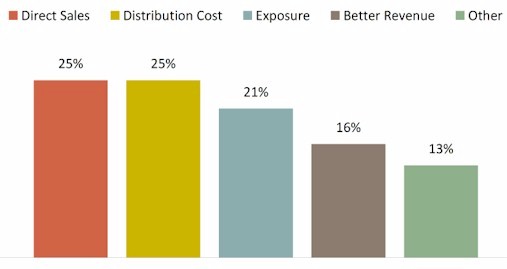 This leads us to the question that's there in every hotelier's mind - what is the value of online travel agents and how can they be used to increase revenue?
Understanding the value of OTAs
Hotels measure the effectiveness of distributors by increasing the use of and accessing more frequently channel management reports. They regularly compare the mix of online channels in terms of booking volume, costs, prominence and ranking on the site, e.g. Booking.com or HRS.com. Some chain hotels are also assessing the number of new customers to open out its reach, but the most important measure of success for a third party is the volume of reservations, the RevPAR being only marginally mentioned.
OTAs offer market access, greater exposure and marketing that would not be possible to achieve for any property on its own. However, there is a clear cost to each booking it generates; and that is making hotels wince. It is evident from our market research, that revenue managers still treat OTAs as necessary evil, which they have to include in their distribution mix, but not by choice.
This is a fall-out of their constant struggle to understand the complexities of distribution mix and the long-term impact it has on the overall revenue. Hotels need to identify channels which are bringing in results. Instead of treating OTAs as a competitor, they need to partner with these sales channels to reach out to newer audience and drive more bookings to their brand site by taking advantage of the 'Billboard Effect'. Hotels need to recognise too that one size doesn't fit all and products need to be differentiated for strong market positioning to encourage higher value bookings.
The first step is to identify its most important value proposition, and build their product offerings accordingly. It's important to map guests according to demographics and create customized promotional campaign in sync with customer profile. But this can happen only when the revenue management team works hand in hand with the sales and marketing department. By working with selective channels that target consumers to the key values of the hotel, the revenue and marketing managers can together create packages that will capture attention while also yielding maximum revenue.
Google, Facebook and more
With Google's emergence as a serious travel sales channel, it's important to ensure digital campaign reaches to customer at any point of search. Even as the industry discussion has moved on to So-Lo-Mo and semantic search, hotels are still relying on Google AdWords and PPC (pay-per-click) to bring guests to the direct website. Social media is directly linked SEO as it has the capability to expand the reach of content quickly, improving the chances of attracting wider audiences and more conversion.
By now, most hotels have accepted the power of social media including Facebook, Twitter, Pinterest and YouTube and recognized social communication as essential part of digital marketing strategy. Social engagement is directly related to hotel reputation, which in turn has a positive correlation with overall rate and revenue. With Facebook Graph Search taking on Google+, it is clear that social search and personal preferences would have a direct link with organic listing of the brand. As Google, Bing and major OTAs implement semantic search analysis to improve result accuracy by intelligently deciphering what people are actually looking for, hotels need to include social component with localized and topical information into the website content for improved visibility.
Technology, the savior
One thing that all hotels agree is the omnipresent importance to embrace technology. Having struggled to manage the tides of sales change with the emergence of online travel sales agents during the first wave of internet, hotels are keen to implement robust technology system environment with different partners and solutions that can be scaled to varied demand.
This greater flow of information now incorporating more purchase points both on and offline has introduced tight data protection regulation that in turn has increased paperwork. Multiple systems and various sales channels have pushed hotels to purchase a number of technologies to handle this data - hotels are constantly looking for simplified technology to make faster and more effective real-time decision for product distribution.
Superior, real time data transfer is the order of the day. And hotels have opened up to form two-way XML connection between their in-house Central Reservation System, Property Management System and Sales Channels through a distribution gateway. Systems are also integrating with channel managers to offer customers more functionality like rate and inventory management, live pricing data and reservation delivery directly into the hotel PMS.
There is a wider world waiting for distribution that will need a new skill in a revenue manager and a bigger scope of work for revenue management. Small hotels are beginning to play alongside the big boys with a diverse portfolio that is challenging the consumer's choice. Technology needs to begin grasping the impact that consumer behaviour has on the sales process; hotels need to consider offline, social networks, digital media, television, radio, print, booking processes, customer service, product offerings and most of all target marketing.
The value that information can bring on reservations, productivity, sales trends, customer opinions and market movement is enough to give room for hoteliers to be innovative with their product to remain competitive. The approach to sales and distribution needs to become more holistic and this requires the technology expert, the revenue specialists and the marketing guru to work in synergy and fathom out what the consumer is thinking - once we achieve that we would have caught up. Until then early-adopters need to take a step back and help hoteliers piece it together.
An expert in the fields of hospitality and electronic distribution, Michael McCartan joined Duetto as Managing Director for Europe, the Middle East and Africa in 2014 to spearhead the rollout of the company's products and development of Customer Success teams throughout the EMEA region. Since joining Duetto, he has grown the European headquarters of Duetto in London, as well as establishing teams in Germany and Dubai. Mr. McCartan is adept at engineering creative solutions and then executing their delivery, understanding the exact needs of the client and the challenges surrounding the market. He is a valued member of the HSMAI Europe Revenue Management Advisory Board, contributing to articles and leading seminars and keynote sessions for the association. He is also a frequent speaker and panellist at major travel industry events across EMEA. Mr. McCartan can be contacted at +44 7557968806 or michael.mccartan@duettoresearch.com Please visit http://www.duettoresearch.com for more information. Extended Bio...
HotelExecutive.com retains the copyright to the articles published in the Hotel Business Review. Articles cannot be republished without prior written consent by HotelExecutive.com.