Defining LEED Certification on a Global Scale
By Lawrence Adams, Principal, ForrestPerkins
Ecotourism is reported by the World Tourism Organization to be the fastest growing market in the tourism industry. Research shows that a large majority of US, British and Australian travelers feel strongly that it is a hotel's responsibility to be proactive in the protection of the environment. Hotel developers, operators and designers in the US, seeking to demonstrate their progress in taking environmental responsibility, have come to regard Leadership in Energy and Environmental Design (LEED) certification as the one legitimate benchmark for sustainable development, when in fact a plethora of green rating systems exist around the world. The rapid growth of rating systems globally has created a need for a universal standard that would permit developers to accurately compare the sustainable ratings of properties in different countries.
Though dominant in the US, LEED is neither the oldest nor the most widely used rating system globally. Building Research Establishment Environmental Assessment Method (BREEAM) was introduced in the United Kingdom in 1990, fully 10 years before LEED was introduced by the United States Green Building Council (USGBC), and has assessed and certified far more buildings than any other green rating system. Also preceding LEED, the French developed their own environmental assessment system in 1992 called Haute Qualité Environnementale (HQE), but it is the BREEAM model that has had the strongest influence in the growth of sustainable development standards around the world. Notwithstanding the success of BREEAM, LEED certification provides a robust assessment methodology and has itself been the model for a number of international green rating systems. Canada, India, Mexico, Brazil and the United Arab Emirates, for example, have all adopted their own versions of LEED certification based on the US model.
Many countries have developed rating systems designed specifically for their unique climates, building technologies, regional economy and cultural values. Regional variation in rating systems is appropriate when differences in these qualities occur. The Green Star environmental rating system, for instance, was launched by the Australia Green Building Council (AGBC) in 2002 and includes a strong emphasis on water conservation to address the country's ongoing drought problems. By contrast, the northern region of the United Kingdom enjoys a much higher annual rainfall. Water economy is therefore not as much of an issue in the UK, so logically a BREEAM assessment does not score it as high as a Green Star assessment.
Hundreds of projects in countries outside the US have acquired LEED ratings and thousands of projects outside the UK have earned BREEAM ratings. This is in large part due to the rating system being familiar to a parent company in the US or UK respectively. In the hotel industry, LEED or BREEAM ratings are often coveted because they carry market cache and are familiar to international travelers. For example ITC Hotels, a luxury brand in India with an affiliation to Starwood's Luxury Collection, operates eight LEED Platinum certified hotels, the most LEED Platinum rated properties of any hotel company in the world.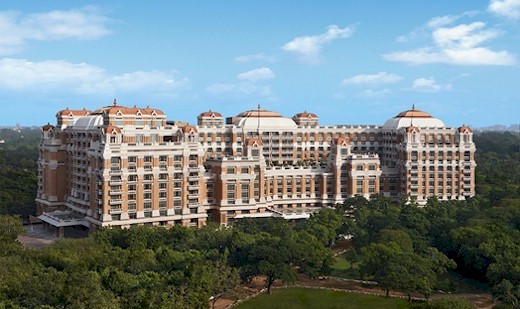 ITC Grand Chola Hotel, designed by SRSS Architects
A LEED Platinum Certified property in India
Photography courtesy of M/s ITC Limited
LEED Certification Outside of the US
Most of the major hotel companies in the US have mission statements expressing their corporate responsibility for reducing their carbon footprint and mitigating their impact on the natural environment. For example, Marriott's Environmental Public Policy Statement offers the following: "We aspire to be the global hospitality leader that demonstrates how responsible hotel management can be a positive force for the environment as we expand our portfolio and create economic opportunities around the world. By our example, we hope to inspire personal action in the communities where we live and work. Our environmental goals, established in 2007, are to: Further reduce energy and water consumption by 25 percent per available room by 2017; Create green construction standards for hotel developers; green our multi-billion dollar supply chain; educate associates and guests to support the environment; and invest in innovative environmental initiatives including rainforest protection and water conservation."
Starwood Hotels and Resorts proclaimed that all of its Element branded hotels will be LEED Certified: "Element has made a brand-wide commitment for all Element Hotels to pursue the USGBC's LEED Certification, the nationally accepted benchmark for the design, construction, and operation of high performance green buildings. The Element philosophy is to satisfy guests' needs while keeping the environment in mind." The brand's first European hotel, being built to merit LEED certification, will be the Element Frankfurt Airport Hotel, due to open in 2014.
Loyal customers of major US hotel companies such as Starwood, Hilton and Marriott are accustomed to seeing LEED certification on their domestic properties and are more likely to understand and appreciate the company's good environmental goals when they see LEED certification on a hotel or resort abroad. Examples include the LEED Gold Certified Sheraton Incheon Hotel in South Korea; the LEED Gold Certified JW Marriott Pune in India; and the LEED Gold Certified Hilton Garden Inn Istanbul Golden Horn in Turkey. Starwood's Luxury Collection resort, Tambo del Inka, Valle Sagrado, located in the Peruvian Andes near Machu Picchu, is the first hotel in Peru to earn LEED Certification.
A number of international hotel brands such as Jumeirah and One & Only also find it beneficial to certify their environmental responsibilities with LEED assessments for many of the same reasons that American companies do. The LEED Gold Certified Jumeirah Port Soller Hotel & Spa in Mallorca was built perched on a cliff overlooking a fishing village and surrounded by the Tramuntana mountains. The One & Only Royal Mirage Hotel in Dubai achieved its certification using the LEED Emirates assessment program through the Emirates Green Building Council (EGBC). A LEED Emirates assessment is based largely on the USGBC model with local modifications such as higher points for water conservation to accommodate the region's arid climate. EGBC adopted the LEED model in large part due to its internationally recognizable label.
The Naked Stables Private Reserve in Moganshan, China is an excellent example of a five-star eco-resort that achieved the highest rating of LEED certification from USGBC. The LEED Platinum Certified resort features Tree Top Villas and Earth Huts for accommodations. There are no motor vehicles permitted inside the forested valley resort. The developers of Naked Stables aimed to achieve superior sustainability in each of LEED's five key areas of human and environmental health, namely Site Development, Water Efficiency, Energy Efficiency, Materials Selection and Indoor Environmental Quality. They accomplished their goals through a number of broad and innovative sustainable initiatives including a program for collecting, treating and recycling grey and black water, use of fuel pellets made from locally harvested bamboo, construction of highly insulated walls, doors and windows including use of double Low-E glazing, use of solar powered electric golf carts for transportation, extensive use of locally sourced and recycled building materials, use of rammed earth building technology and maximization of natural light and ventilation.
In contrast to American and international hotel companies that use LEED certification to demonstrate their sustainability, some US companies have opted to use regional rating systems to certify their international properties. Designed by Jestico + Whiles, Starwood's 252-room Aloft London ExCel achieved the second highest BREEAM rating of BREEAM Excellent. The hotel achieved its high rating utilizing sustainable features such as highly insulated exterior walls, ceramic frit insulated glazing, maximum day-lighting, tri-generation cooling, heat and power and ground-source heat pump technology.
Only in recent years have we found a significant number of hotels in the UK that are achieving BREEAM ratings. There is not a separate category for hospitality as a building type under the BREEAM assessment method so hotels that apply must do so in the category of "Other Buildings." Examples of hotels in the UK that have achieved BREEAM Excellent ratings include the Ibis Hotel in Gloucester, the Radisson Blu Hotel at East Midlands Airport and the Orchard Hotel in Nottingham. The Orchard achieved its high rating by using energy efficient lighting, a green roof, solar panels, smart building management systems and an innovative energy efficient ventilation system that included earth duct passive cooling, using the thermal mass of surrounding earth to provide cooling and preheating of ventilated air.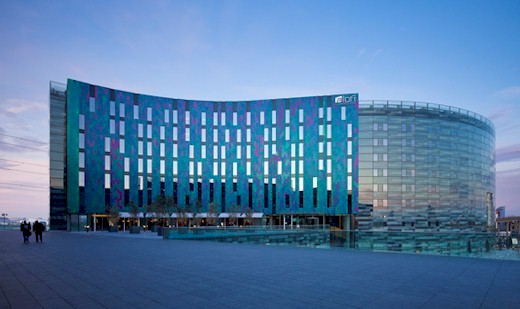 Aloft London ExCel achieved a BREEAM Excellent rating
Photograph by Tim Crocker, courtesy of Jestico + Whiles
Gaining Multiple Sustainability Ratings
Many hotels boost their green credentials by acquiring more than one environmental rating. The Holiday Inn Express Hong Kong SoHo, designed by Chau Ku & Leung Architects & Engineers Ltd., incorporated rooftop solar collectors, site vegetation, building orientation, recycled materials, rain water irrigation and energy efficient elevators in achieving multiple ratings: LEED Platinum by USGBC; BEAM Plus Platinum by Hong Kong Green Building Council (HKGBC) and Green Mark Platinum by Singapore Building & Construction Authority (BCA).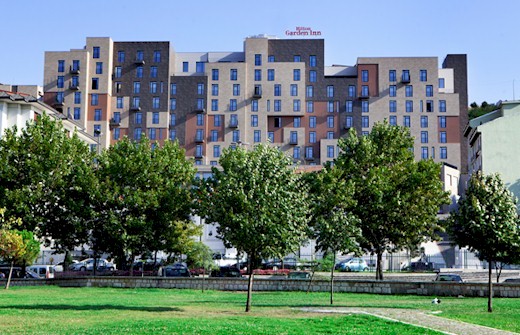 The Hilton Garden Inn Istanbul Golden Horn is LEED Gold Certified
Photograph courtesy of the Hilton Garden Inn
The number and variety of international green rating systems is enormous. In addition to LEED in the US, BREEAM in the UK, Green Star in Australia and HQE in France, there is Comprehensive Assessment System for Built Environment Efficiency (CASBEE) in Japan, VERDE in Spain, the German Sustainable Building Council (DGNB) in Germany, Green Building Assessment System (GBAS) in China, Sustainable Built Environment Tool (SBTool CZ) in the Czech Republic, Minergie in Switzerland, Protocollo Itaca in Italy, The Hong Kong Building Environmental Assessment Method (HK-BEAM) in Hong Kong, Green Mark in Singapore and PromisE in Finland. At least 35 countries with at least one unique environmental rating system exist and each with nuances and assessment methodologies specific to that country's climate, economy, building technology and culture. It has become environmental Babel. International hotel developers need a common environmental benchmark to evaluate properties. One that tells them if a LEED Gold rated property possesses the same sustainable qualities as a CASBEE B+, or if a BREEAM Very Good rating is equal to 3-Star Green Star. The development of standardized international rating tools and metrics is a critical next step in the maturation of environmental assessment.
Lawrence Adams, AIA, Principal of ForrestPerkins, is a global authority on hotel and resort design. Mr. Adams has managed and directed the design of large-scale development projects at major architectural and planning firms for the past 35 (thirty-five) years. With a specialty in hotel design, Mr. Adams served as adjunct faculty at New York University for nine years teaching Master's Degree courses on Hotel Design and Development. His most significant projects include collaborating with I.M. Pei on the New York Four Seasons Hotel, partnering with the Rockwell Group to design the Chambers Hotel, and contributing to the RIGHA Royal Hotel (now called The London). Mr. Adams can be contacted at 214-953-2210 Ext 1115 or ladams@forrestperkins.com Please visit http://www.forrestperkins.com for more information. Extended Bio...
HotelExecutive.com retains the copyright to the articles published in the Hotel Business Review. Articles cannot be republished without prior written consent by HotelExecutive.com.