How to Use Social Media to Engage Customers at Every Stage of the New Consumer Decision Journey
By Simon Hudson, Endowed Chair in Tourism and Hospitality, University of South Carolina
The Internet and the use of social media have fundamentally changed the consumer decision process. In the past, marketers worked on the assumption that consumers started with a large number of potential brands in mind and methodically narrowed their choices until they had decided which one to buy. After purchase, consumer relationships with the brand typically focused on the use of the product or service itself. This traditional purchase funnel is depicted in Figure 1.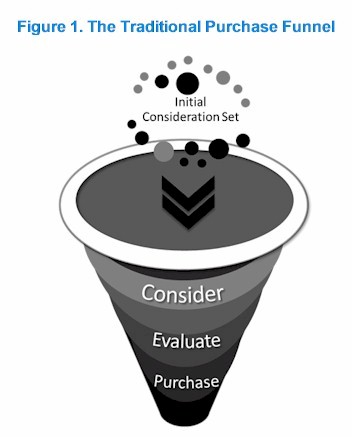 McKinsey etal(1) have introduced a more nuanced view of how consumers engage with brands (see Figure 2). They developed their model from a study of the purchase decisions of nearly 20,000 consumers across five industries and three continents. Their research revealed that rather than systematically narrowing their choices until they had decided what to buy, consumers add and subtract brands from a group under consideration during an extended evaluation stage.
After purchase, they often enter into an open-ended relationship with the brand, sharing their experience with it online through social media. The four stages of the consumer decision journey are: 1) consider; 2) evaluate; 3) buy; and 4) enjoy, advocate and bond. This article applies the new model to the tourism and hospitality sector, and shows how some marketers are using social media to engage with consumers at every step of this consumer decision journey.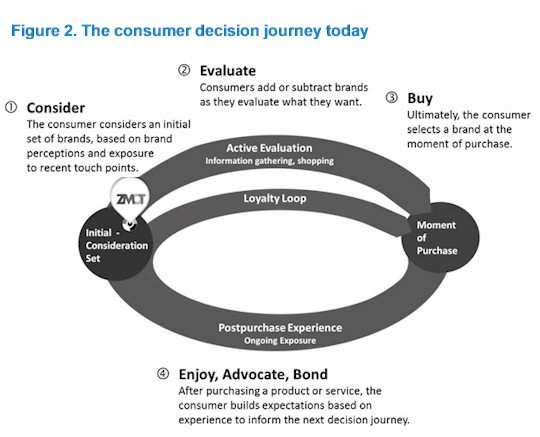 (based on Court et al. 2009)
Stage 1: Consider
The consumer decision journey begins with the consumer's top-of-mind consideration set: products, services or brands assembled from exposure to ads, a store display, an encounter at a friend's house, or other stimuli. In the funnel model, the consider stage contains the largest number of brands; but today's consumers, assaulted by media and awash in choices, often reduce the number of products they consider at the outset. Off-line channels such as television advertising, in-store browsing and direct word of mouth are at their most influential at this stage, but as the consumer moves from consider to evaluate, the Internet plays an increasingly important role. The model proposed by McKinsey has been modified slightly here to include the "Zero Moment of Truth" (ZMOT), a term recently coined to describe the new reality where marketers have to compete for shoppers' attention online long before a purchase decision is made. At this stage, consumers' outreach to marketers and other sources of information is much more likely to shape their ensuing choices than marketers' efforts to persuade them.
Social media campaigns are increasingly being used at this early consideration stage to drive traffic to websites. An example was earlier this year, when Hilton Hotels and Resorts joined forces with The Onion, the satirical news website, to attract young professionals to its hotels, with a unique social media campaign. Onion Labs, the creative services arm of the publishing company, helped Hilton create a website, vacationcarecenter.hilton.com, that allowed users diagnose their vacation needs and receive customized prescriptions for visits to Hilton hotels to cure what ails them. Onion Labs also created cartoons to be shared by social media that represented humorous ailments that afflict workers in need of a vacation. The site contained a "global vacation alert level," a real-time, interactive map that showed differing levels of need for vacations in respondents' home countries, as well as vacation research by Hilton, dating from 1989 to 2013. The new Hilton Web site was promoted to The Onion's 4.5 million Twitter followers and 2.2 million Facebook fans, and was also featured on the in-room television channel in the brand's hotels, and in brief Hilton ads on Facebook and Twitter.
Twitter itself is increasingly being used as a stand-alone marketing tool to generate awareness for a tourism product or service. The Virginia Tourism Corporation (VTC) won a marketing award in 2009 for a wine tourism promotion called "Vintage Tweets" - a cutting-edge public relations effort that utilized social media to promote wine tourism in Virginia. VTC organized Vintage Tweets in September of 2009 in Arlington to kick off October Virginia Wine Month. The state tourism agency used Twitter to target media, bloggers and consumers who were passionate about wine travel, live in and around Washington, D.C., and had significant number of Twitter followers. VTC used Twitter to invite 40 of those consumers to a wine reception, featuring six different wineries from across the state. The guests tweeted about their wine tastings and also took part in Virginia Wine Travel Twitter trivia. In total, Vintage Tweets was able to reach over 43,000 consumers in just 24 hours, providing key facts and travel ideas to potential visitors from across the country.
Stage 2: Evaluate
At the evaluation stage, consumer outreach to marketers and other sources of information is much more likely to shape their ensuing choices than marketers' efforts to persuade them. Companies are no longer the unrivaled experts on the attributes or quality of brands and products. Online reviews of hotels or cruise lines, for example, play an important role during the evaluation stage. Where they appear directly on travel company websites, they represent an opportunity for the company to address negative comments and mitigate the impact, while positive reviews represent cost free, compelling advertising.
Such customer to customer communication also takes place indirectly on blogs such as travelblog.org or review sites that link to social media such as Tripadvisor.com. In fact, blogging websites can be an effective tool to reach consumer during this evaluation stage. Tourism Queensland capitalized on the popularity of blogs in 2009 when they embarked on a global search to find an Island Caretaker to explore the Islands of the Great Barrier Reef in Australia and report back to the world about their experiences via a blogging platform. The campaign was called the 'Best Job in the World.' With a salary of AUD $150,000 on offer, over 34,000 would-be caretakers from Azerbaijan to Zimbabwe and everywhere in between uploaded a 60-second video showing their creativity and skills. The job went to a charity worker from England, who was still, in 2011, reporting via blogs on his adventures. The campaign generated $80m of global publicity for an investment of just $1m.
Having a presence in an online virtual world is another social media opportunity for marketers to showcase their services. An example is Second Life, an online world with a million active users and a thriving virtual economy. Second life allows its users to create a new, and improved, digital version of themselves. Retailers have set up shops to sell digital as well as real world versions of their products, and even musicians can promote their albums with virtual appearances. Starwood Hotels and Resorts created an elaborate digital prototype for a new chain of hotels called Aloft before the first real hotel opened in 2008. Projects like Aloft are designed to promote the venture but also to give its designers feedback from prospective guests.
An online brand community can be another effective social media tool for marketers to leverage at this evaluation stage. Research on brand communities has found that commitment to a brand can be influenced (positively) by encouraging interactions with groups of like-minded customers and identification with the group in social context offered (and sponsored) by the firm and the brand, but controlled and managed primarily by the consumers themselves. A good example is the Walt Disney World Moms Panel. This is a forum where online "Moms" answer questions and offer advice about family vacations to Disney. The "Moms" are selected to be panelists because they have demonstrated an excellent knowledge of Disney products. Being familiar with the parks, resort hotels, dining and entertainment, shopping, and recreational activities, they can offer the help and tips consumers need when planning their vacations. Panelists receive a trip to the Walt Disney World Resort for their participation and in 2012 the Panel boasted 43 panelists whose expertise spanned Walt Disney World Resort, Disney Cruise Line, Disney Vacation Club, Adventures by Disney and Disneyland Resort offerings. The Moms Panel offers guests vacation insights on a variety of platforms including exclusive "How-To" videos from panelists and celebrities, dedicated Facebook content, personal Disney Parks Blog posts and in-park meet-ups.
Stage 3: Buy
Point of purchase - which exploits placement, packaging, availability, pricing, and sales interaction - is an ever more powerful touch point. For hospitality marketers, this 'buy' stage is often likely to occur online, given that the travel sector accounts for around a third of all global e-commerce activity. It has been suggested that companies should avoid hard selling on social media sites, but for many tourism marketers, social media platforms are fast becoming more than a customer relationship tool. Many hotels for example, now offer room-booking technology on their Facebook pages, which is leading to incremental sales. Westin Hotels & Resorts for example, introduced in 2011 a 'Shop' tab on its properties' Facebook pages. The shopping widget serves as a fully contained shopping transaction, instead of working as a link from Westin's website. Bolongo Bay Beach Resort in St. Thomas, U.S. Virgin Islands also sports a unique, free-standing booking engine on its social-networking site; an engine that has proved to be very successful.
Stage 4: Enjoy, advocate, and bond
Interestingly, after purchase, a deeper brand connection begins as the consumer interacts with the product and with new online touch points. For example, McKinsey found that more than 60 percent of consumers with facial skin care products conduct online research about the products after purchase - a touch point not entirely captured in traditional purchaser funnel models of communication. Vail Resorts have capitalized on this 'enjoy, advocate, and bond' stage with their new EpicMix social media campaign for skiers. The idea of Vail's EpicMix is to track activity on and around the mountain via radio frequency scanners installed at the 89 lifts across Vail, Beaver Creek, Breckenridge, Keystone and Heavenly. The scanners interact with the RF-enabled chip embedded in season passes and daily tickets, listing lift rides, vertical feet skied and days on hill. Special accomplishments - like clocking up 10,000 vertical feet - are recognized with collectible digital pins which can be instantly flaunted on Facebook after downloading the EpicMix app. Users can also create colorful collages, mixing professional photos with their own snapshots, any pins they have won and snow reports or resort stats - effectively designing their own promotional postcard to commemorate their holiday. This gaming option won Vail a Webby award in 2011.
One relatively new social media platform that is helping tourism and hospitality businesses engage with consumers in this enjoy, advocate and bond stage is the emergence of geo-location sites such as Foursquare, Gowilla and Loopt. Foursquare encourages consumers to broadcast their whereabouts (or 'check-in') in exchange for discounts or coupons etc. Foursquare recently hit one billion check-ins. People use the Foursquare app on their smartphones to check in to places like music festivals, restaurants, pubs and hotels, and just about any other type of physical and even nonphysical location. Once they check-in, users often share that information with friends, families and followers on Facebook and Twitter. Foursquare users compete for badges, points, and "mayorships," awarded to those who check in to a place most frequently. Business owners claim their venue on Foursquare (for free) and reward people simply for checking in, for checking in a certain number of times, for checking in with friends, or they reward the person who checks in the most (the "mayor"). For example, Chili's Grill & Bar, a national restaurant chain in the U.S., rewards its customers with free chips and salsa every time they check in. Chili's makes money on the deal because customers don't walk into Chili's just for free chips and salsa and leave. They order appetizers, entrees and drinks.
Dutch Airline KLM used Foursquare as part of an innovative social media campaign that focused on random acts of kindness. The airline's 'How Happiness Spreads' campaign of 2010 employed a 'Surprise Team' to give passengers tailored, unexpected gifts at the airport. When passengers checked in at KLM's Foursquare locations, the KLM Surprise team used social networks such as LinkedIn, Twitter, and Facebook to find out information about the passenger. The KLM Surprise team then used this information to come up with a personalized gift to surprise the passenger with. The team followed up after surprising a passenger by monitoring the conversation generated on social networks by that person and their friends. They also took photos of the people they had surprised and posted them to the KLM Facebook page. KLM has previously proven its social media savvy with a popular Facebook application allowing users to create luggage tags using their Facebook photos.
Brand communities were mentioned as an important influencer in the evaluation stage of the consumer decision journey, but because brand community members have a strong interest in the product and in the brand, they can also be a valuable source of innovation.
Virgin Atlantic Airways uses social media opportunity to gather insights to drive continual incremental improvements. For example, in response to online-community suggestions, it launched a system to arrange taxi sharing on arrival with passengers from the same flight. Fresh insights from social media also reinforce the innovation aspect of the brand. Facebook interactions helped the company appreciate the extensive planning that goes into a big trip, so they launched Vtravelled, a site dedicated to inspirational journeys. Customers moderate the conversation and exchange information, stories, and advise. The site leads to some sales, but its main benefit to VAA comes from brand reinforcement and new customer insights.
Other tourism organizations are using social media at this final stage to respond to consumer complaints. Southwest Airlines for example, who has 1.2 million Twitter followers, has a team of 10 staff from communications and customer relations that monitors the account from 5am to 11pm, hours in which the airline operates (Holmes, 2011). At least one person from each unit monitors the account, fielding questions about lost baggage, delayed flights and misplaced drink coupons. If someone tweets a complaint to @SouthwestAir, the reply may come from the team: "So sorry to hear about your lost luggage. Have you filed a claim? Any progress yet?"
So what we see is that as consumers progress through the four-stage decision journey, consumer driven marketing - word of mouth, online research, offline and/or print review - has increasing impact. Social media therefore make the 'evaluate' and 'advocate' stages increasingly relevant. Organizations profiled above like Hilton, Disney, Vail Resorts, Virgin and KLM are embracing social media to good effect. However, social media still accounts for less than one percent of an average marketing budget, and research to date suggests that the majority of tourism and hospitality companies are not engaging consumers in a meaningful way using this platform. Perhaps instead of focusing on how to allocate spending across different media (television, radio, online etc.), marketers should be targeting the various stages in the decision journey. A large proportion of the marketing budget is usually spent on the 'consider' and 'buy' stages, yet insight from this article suggests that consumers seem to be influenced more during the 'evaluation' and 'enjoy-advocate-bond' stages. Marketing efforts therefore that help consumers navigate the evaluation process and then spread positive word of mouth about the brands they choose can be as important as building awareness and driving purchases. Those companies that do engage with consumers on a consistent basis using social media will find that such engagement can be used to reinforce strength and durability for a brand - and eventually lead to increased sales.
References:
(1) Court, D., Elzinga, D., Mulder S., & Vetvik, O.J. (2009, June). The Consumer Journey. McKinsey Quarterly. Retrieved November 17, 2011, from https://www.mckinseyquarterly.com/The_consumer_decision_journey_2373
Simon Hudson is a tourism aficionado, exploring the world, spreading his passion for travel, and enlightening audiences on every kind of travel research from winter sports to film tourism. He has written eight books, and over 60 research articles, many of them focused on tourism marketing. He is the Endowed Chair for the SmartState Center of Economic Excellence in Tourism and Economic Development at the University of South Carolina. Dr. Hudson can be contacted at 803-777-2705 or shudson@hrsm.sc.edu Extended Bio...
HotelExecutive.com retains the copyright to the articles published in the Hotel Business Review. Articles cannot be republished without prior written consent by HotelExecutive.com.