Hotel Design: Can it still capture the essence of a place?
By Pope Bullock, Principal, Cooper Carry
Today's hotel customer has more brand choices than Crest has in toothpaste options. The U.S. hospitality marketplace, in terms of branded market segmentation, is nearly fully developed. From luxury to select service and long-term stay, industry leaders have covered the spectrum with brand and sub-brand alternatives.
One thing that each brand has in common is that every different kind of hotel product is defined by brand standards, which are used by all the major hotel companies to ensure a standard experience. The details, which define a hotel company's particular product, have become specific criteria describing in detail the requirements for the design of the brand. Brand standards often include exterior color pallets and almost always control the size, shape and location of graphics. They will include details for the design of the lobby including the front desk. Hoteliers employ design directors who routinely rethink, reinvent and redesign their brand standards. Owners, developers and design professionals are then required to work with these standards.
The intention of all these efforts is to differentiate the design of one brand from another; however, the brand standards are all derived from the same process. All the efforts to define a brand by design standards can result in commercial hotel environments without true distinction. How can the hospitality industry use design to create more distinctive properties that are truly differentiated in their markets?
Before the 1950s, post-war American architecture bore a relationship to place. A postcard of a grand hotel in South Florida, say the Breakers, could be easily distinguished from a postcard of The Waldorf Astoria on Park Avenue in New York City. The Biltmore in Phoenix could only be found in Phoenix. During that era, hotel design captured the spirit of a place.
Today's industry-wide insistence on brand standards and brand consistency is antithetical to what evolved naturally for centuries before. Disney World and Las Vegas gave us permission for design to be transportable and to have no relation to a place. The development of hotel brand standards that control design options can make it more difficult to design hotels that seem to fit and connect to a city or region. Hotel Brand A's design is the same in Pittsburg as in New Orleans. And yet, those cities have remarkable different characteristics and qualities. Can we create brand distinction by designing buildings that respond to the environments and the social context in which we build them?
Historically the term "genius loci" meant the spirit of a place. Today the term refers to a location's distinctive qualities. Those qualities include: the physical context and the social and historical context that contribute to an overall spirit of a place.
Cooper Carry's hotel design process includes a focus on how a hotel can connect to place. Hotel design begins with understanding the physical environment. In cities we study ways to connect to the city's fabric. In resorts we look for connections to the land and natural environment. The immediate urban context can set rules for the exterior design, for mass and materials, as well as details. Historical and present day cultural factors can inform the design of the exterior and interior of buildings.
Our design process takes place in workshops with owners, stakeholders, neighbors and local representatives who all serve to help define the characteristics of place. We document the process graphically and with written narratives. This process should not be confused with theme based design. The idea is to discover the identifying qualities of a place and use those as the basis for design. This process serves to build hotels that have a unique quality, a sense of belonging, and of being authentic. After all, authenticity is a sought quality in the world of homogenous commercial design.
In the past several years, Cooper Carry Architects has been engaged to design hotels that, while in some cases are well branded, they still create a sense of place and respond to the context around them. The firm has embraced the concept of placemaking: designing hospitality projects that really connect with their surroundings, engaging the people to the place. Our specialty is creating active and energetic places that connect to their users and context: our medium is hospitality, hotels, resorts, conference and convention centers.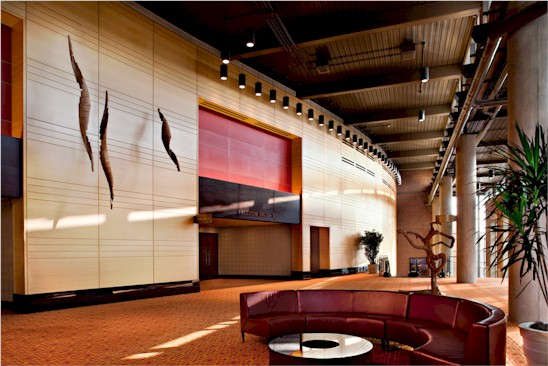 Lancaster Marriott and Convention Center. The history of the city
was used in the design of the public spaces.
One such property is the Lancaster Marriott Hotel and Convention Center in historic Lancaster, Pennsylvania. City leaders, along with the property's developer, envisioned a project that would serve as a catalyst to spur growth and development in a "walkable" downtown. Our design team sought to listen to all the stakeholders by sponsoring numerous design charettes, hosting small group meetings and investing an enormous amount of time researching the marketplace. The team's goal was to design a building that would connect with people. That could only be realized if the design team had a deep understanding of the "place" around the development site. All the while, we maintained the integrity of the brand for which we were designing. Because Marriott had been a long term client, we already had a broad understanding of their corporate interest in maintaining brand integrity. What we were successful in creating was a truly unique place that served to further elevate the brand without making significant design sacrifices along the way. The local market responded very favorably to the final design because it served to accentuate the locale and the culture. It celebrated "localness". The hotel and convention center have become the iconic identity for downtown Lancaster.
When thinking about the idea of placemaking, some will most likely equate the ability to do so with the size of the project. At Cooper Carry, we do not place limitations on the concept. In essence, we believe that every project regardless of how small or how large, should embrace the philosophy of "connecting people to place". For instance, we are currently designing The Marriott Marquis Convention Hotel in downtown Washington D.C adjacent to Mt. Vernon Square and the Washington D.C. Convention Center. The existing historic Plumber's Union (American Federation of Labor - AFL) building will remain on the corner of Massachusetts Avenue and 9th Street and become a separated guestroom tower connected at the lobby and at the 4th floor of the building.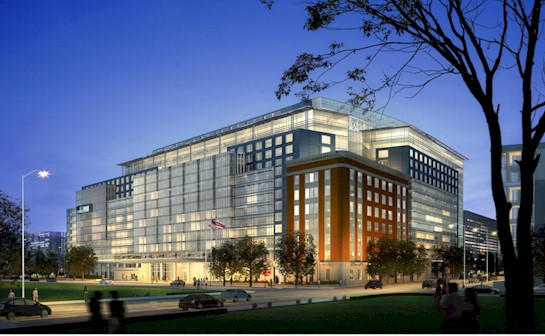 DC Marriott Marquis. The design of the building elevations is based on a
pattern found in the scale of the neighboring town homes.
The project consists of a number of subterranean floors housing meeting and assembly spaces accessed through a main hotel lobby located at grade. 1,166 hotel guestrooms will occupy 13 levels above the lobby with additional meeting and amenity space at several levels. The roof will house mechanical equipment in a penthouse. The exterior materials and the architectural character of the building will be compatible to the area and to other newer buildings on and around Massachusetts Avenue. Although glass, the glass walls' design is derived from the scale and pattern of surrounding townhomes. The guestroom tower begins at level two, which will provide an executive conference area within the domed atrium space. The guestrooms are planned with full Marriott Marquis amenities and services. A full service health club "ultra-lounge" is planned within the guestroom tower with views to the atrium and to 9th Street below. Parking for 400 vehicles is to be located underground.
Even though this is the largest Marriott under construction, our design team has taken every opportunity to implement our placemaking thought process. From the outset, we did not expect to forego the fundamental philosophies that have served our clients so well over the years. Just because this was to be one of the largest Marriott Hotels ever built did not mean that it could not connect with the nature of the neighborhoods and with the people who would encounter it.
Because of strict zoning guidelines in the District of Columbia limiting the height of buildings, the majority of meeting and conference spaces will be located below grade. These spaces are designed so that natural light is filtered down to the meeting levels by large openings in the floors above. The project will provide 100,000 square-feet of conference and meeting space including a 30,000 square-foot ballroom. A direct connection to the Washington Convention Center will be achieved by way of an underground connector which passes under 9th Street and emerges directly into the convention center lobby. This controlled connection allows conventioneers and guests a conditioned and secure passage and "connectivity" between the two buildings. Also, given the importance of the location in the neighborhood and of Massachusetts Avenue, there are no secondary façades or "backdoors" around the building. A unique solution to address this urban condition included the placing of service and loading facilities 60 feet below grade and making them accessible through the convention center loading entrance, four blocks from the hotel. This will activate the sidewalks with active uses, further creating a sense of place, instead of succumbing to service and support functions.
Good architecture serves to make the experiences of life better. Like art, architecture should lift the spirit while beautifying its surroundings. At Cooper Carry we know that architecture can play a civic role as well. Modern life is complex and stressful. Great architecture can serve to make daily routines more enjoyable and efficient. We strive to create sensitive, functional structures which connect the larger public and private realms in ways that make communities more whole and erase the divisions which can often fragment them, all the while maintaining a high level of sensitivity to the presence of a brand or the opportunity to form a brand that will enhance our client's brand and be a successful project within the context of its surroundings.
Development Trends: Dual Brands
An emerging trend in hotel development is dual brand hotels. Across the United States developers are planning and building properties known as dual brand hotels. These properties are two brands from the same company sharing infrastructure and operational staff. In some cases they share uses such as meeting space, and health clubs.
In U.S. cities many of the prime development sites are developed. The remaining land and urban redevelopment sites are expensive. For developers, dual brand sites provide the density to offset the expensive land development cost.
These are just a few reasons dual brands are gaining momentum in today's marketplace. The dual brand offers many advantages whether you are a developer, operator or architect.
During the recent recession, large hotels, those between 300 and 600 keys, became difficult to finance. They also present operational challenges in times of slow travel. It has been found that two smaller hotels that add up to the key count of one larger hotel are more attractive to lenders. They also make more economical sense to developers. In the recession condominiums, office and retail development almost completely fell out of the lenders' interest. Dual brand hotel projects were able to secure financing.
Dual brand sites' efficiencies allow developers to reduce overall development cost and they create operational efficiencies. Operators can reduce staff to service the two hotels.
The dual brand properties have a broader market reach. Two hotels with different price points and services result in higher occupancy rates. People can select two differently priced brands.
"For groups such as sports teams or family reunions, people can chose from two differently priced experiences and still stay under the same roof," said Glenn Haussman, Editor-in-Chief of Hotel Interactive to USA Today.
For architects, dual brands provide the challenge of designing two brands with significantly different standards. Each hotel is required to have its own identity.
Cooper Carry addressed these issues in the design of Capital View in Alexandria, Virginia. It is a dual brand hotel incorporating two Marriott brands. A 300 key Renaissance Hotel and a 325 key Residence Inn. The property opened in the Spring of 2011.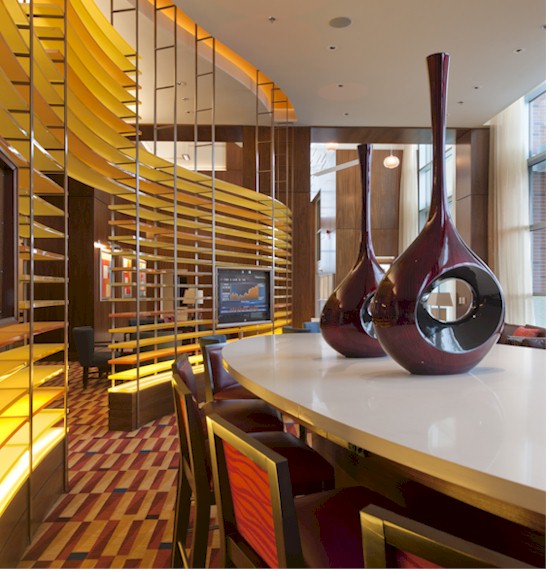 Capital View: Renaissance and Residence Inn. Dual brand with
individually designed identities.
The JBG Companies, the owner and the developer, hired Cooper Carry to design the 14 story, 440,000 square foot building, which included retail and below grade parking for 526 cars. In order to provide brand identity for each hotel on the same block, we developed different architectural characters for each hotel. Renaissance uses "adventurous" and "exciting" to describe its image and look. The extended stay Residence Inn uses "comfort and familiarity". We used those words to help design an appearance appropriate to each brand.
Having a total of 625 rooms provided the opportunity for a highly efficient central HVAC system that has lowered the project's energy use. On an annual basis, the building uses 50% less energy than the average hotel in the Owner's portfolio.
Infill real estate is not going to get cheaper and dual brands will continue to make more financial sense for hotel developers and owners. Cooper Carry currently has three dual brand hotels in the design phases. Dual Brand hotels have become a significant industry trend.
Pope Bullock joined Cooper Carry in 1981 and was named a Principal in 1988 and vice president 1992. He served as executive vice president from 1998 to 2008. Mr. Bullock is the founding principal of the hospitality studio. His works have earned numerous awards including five design awards from the American Institute of Architects; three Awards for Excellence in 1983, 1987, and 1995, for hotel projects, and two of Merit, including his work on the Emory University Mathematics and Science Center in 2002. Mr. Bullock can be contacted at 404-240-9506 or popebullock@coopercarry.com Extended Bio...
HotelExecutive.com retains the copyright to the articles published in the Hotel Business Review. Articles cannot be republished without prior written consent by HotelExecutive.com.