What is the Future of the World's Food and Drink Rating Systems?
By Erik Wolf, Executive Director, World Food Travel Association
Three stars? 30 points? 5 diamonds? When it comes to rating food and drink experiences, how do we know which of these is best? Are 3 stars equivalent to 5 diamonds, for example? There are quite a number of rating systems around the world, and almost every industry seems to have its own type of rating system. It's no wonder that consumers and trade alike are confused. The time has come for a new global food and drink experience accreditation system for the food, drink, travel and hospitality industries.
There is plenty of room for improvement in current assessment systems for food and drink experiences. Consumer-oriented systems are confusing and/or incomplete, with stars, points, diamonds, forks, cups, dollar signs, and more. Trade systems are often arcane or relate to specific organizations or programs (like Oregon Tilth- or Marine Stewardship Council-certified). While many of these systems rate worthwhile criteria, the serious food lover is still left largely in the dark when it comes to assessing the suitability of a new restaurant, winery, cooking school, culinary tour operator and other food and drink experiences.
The Early Days
The act of hospitality rating is at a crossroads. Until recently food critics were quite influential in helping to influence consumer opinion about certain restaurants. A restaurant critic would have to conceal his or her identity when visiting certain new restaurants, often booking a table under a pseudonym, complete with a credit card in the fake name and a disguise or other costume designed to conceal their true identity. When all was said and done, the rating that the restaurant received was still the opinion of just one person, which hardly seems fair in the current era of the power of the people. During this same era, we witnessed the proliferation of restaurant reviews in newspapers and magazines.
The Michelin Guide was the first company to rate hotels and restaurants. The company maintained an elitist stance, and still does so today. An arcane 3-star rating system that applies to gourmet-oriented restaurants only further narrows its usefulness today. With the advent of mass air travel in the 1960s and 1970s, the guidebook business boomed. Publishers like Forbes, the American Automobile Association (AAA) and similar companies began using their own rating systems. Soon we had 5 diamonds, a rating system of 1 to 5 (is 5 best, or is 1?), and an entire litany of colorful, fun, and even confusing icons that included wine glasses, forks, spoons, knives, plates, feathers, figs, and of course the ever popular gold, silver and bronze. And much to the offence of non-Americans, the pervasive dollar sign ($) became a universal indicator (in the USA at least) of the cost of a restaurant. Why wouldn't the rest of the world want to use the same indicator, after all?
Zagat was the first publishing company that was really dedicated to the restaurant industry. The company even branched out into ratings for hotels, nightclubs and more. Many struggled with its 30 point rating system, but that didn't stop Google from buying Zagat in 2011. The 30 point system remains.
A number of different rating systems are used by a variety of publications around the world. For example, in Sweden the White Guide is the go-to resource for restaurant ratings throughout the country. In Australia, the Australian Good Food & Travel Guide uses a system of 1 to 5 spoons crossed with forks. Good luck with websites in languages you don't speak - not exactly a welcome mat for visitors.
Online Rating Websites
The Internet brought a voice to every consumer, with just as many opinions toppling the review scale over with the heavy, unbalanced weight of consumer opinions.
Ask a dozen people what they thought of a new restaurant and you'll have a dozen different opinions. There are just as many different restaurant rating systems as there are consumer opinions. Yelp, UrbanSpoon, TripAdvisor - the list is almost endless, and the services and options that each provide can be quite confusing. The Internet has given consumers a new-found power: to research endless reams of information; and to publish endless reams of information. This can overwhelm all but the most hardcore foodie.
Online rating websites have their own benefits and challenges. First and foremost, they are websites and not rating systems. It is easy enough to implement a 5 star rating system, but who oversees the quality control?
Such websites usually focus on one sector (e.g. restaurants or hotels). This is fine for restaurants, but the food tourism industry comprises nearly 20 sub-sectors.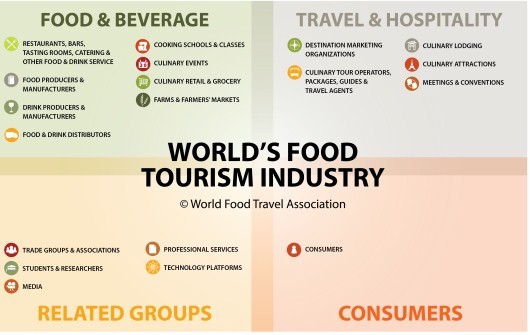 There is no global rating system for wineries, breweries and cooking schools, just to name a few of the neglected business types.
For some websites like Yelp and UrbanSpoon, their primary market is the USA with little uptake elsewhere. Others like TripAdvisor are global but suffer from image issues caused by too many ads, pop-ups, and so on. Like foreign language restaurant websites, some review websites are only available in English, while others are only available in the language of the publishing country, making them all but useless to the world's English speakers.
A common complaint of consumer review websites is that it is easy to falsify reviews, which is true. Pick a fake name, write what you want, and as long as you avoid foul language, the review will most likely be published. The finger has been pointed often to competitors as the source, but we also must add the prima donnas, the control freaks and many of the world's privileged Platinum credit card holders to the mix. If one person doesn't get their way, the restaurant stands to suffer from a scathing review that could decimate future business. It also seems to be the case that scathing consumer reviews far outweigh the positive reviews. The people can indeed be quite influential, both positively and negatively, but consumer opinion is only one facet of the overall review process.
Trade Rating Systems
Throughout the tourism industry, the trade has developed assessment systems to suit its needs, usually for marketing purposes, and often demarcated by geographic boundary. For example, Scotland has a Quality Assurance assessment system that rates and ranks hotels, restaurants and other hospitality experiences. Its assessment system is expensive to operate - with a budget well into the 7 figures (Source: Scottish Government). Its army of assessors - by some accounts up to 100 people - is not only hard to manage, but consistency with such a large labor force can vary widely.
New Zealand's Qualmark system is even more complicated, with ratings up to 5 stars, but wait, there are also half stars. Qualmark offers "Star-Rated Categories", "Endorsed Categories" and "Enviro Awards", the difference between which is not apparent to the busy web surfer. The bigger question for systems like these is whether travelers even know this rating system exists before they leave home. Consumers need a global rating system - and a brand that they can trust and look to before they leave home.
The Future
It's no wonder that consumers and the trade alike are confused about which rating systems to trust. Furthermore, rating systems tend to evaluate only restaurants or hotels, and almost never any other kind of food or drink experience. Of course there are also systems to rate food and drink products, such as Robert M. Parker Jr.'s famous wine ratings. The problem with these ratings is that they are designed to evaluate the quality of the food or drink product, or are the opinion of one allegedly professional reviewer. Who certifies the reviewers? An extensive survey performed by the World Food Travel Association in 2011 revealed that there is no system to rate food and drink experiences comprehensively and impartially, and which is suitable for use in more than one country. Our industry needs to unite behind a food and drink experience rating system that is comprehensive, impartial, in suitable for use in any language or culture. And most importantly, the new rating system needs to be built into a brand that consumers can grow to trust.
A new system would need to be comprehensive in the criteria it evaluates. Consumers now show increasing interest in a wide variety of corollary, but influential factors like commitment to sustainability, buying locally, recycling, use of healthful ingredients, position on fair trade, and so on. Popular opinions such as those found online on consumer review websites are of little use to the serious foodie.
A new rating system would need to serve all types of food and drink experiences in the food, drink, travel and hospitality industries. In addition to restaurants and lodging, foodies want to know ratings of cooking schools, cookbook stores, breweries and wineries, and more. Consumers are trying to evaluate their food and drink experiences, not individual businesses per se, although often the lines between the two blur.
No rating system can be perfect. Ideally, all subjectivity should be removed from the system. Subjectivity can be minimized, but at some point, someone has to make a human decision that gets factored into the rating.
A new rating system would need to be free of linguistic and cultural cues that could bias an opinion. For example, it is considered quite the honor to be served the eye from a large serving bowl of fish eye curry soup in an Indian restaurant in Singapore. However, such an experience may not be appetizing to the unadventurous and they might be inclined to rate the experience poorly for no other reason than it is something they just "wouldn't do".
A new rating system would need to propose a final score based on a 100-point numeric rating system, which is the only system that is easily and instantly understood by consumers everywhere in the world. An 80% score in the United States would be understood in the same way as an 80% score in Sweden or South Korea, for example.
Criteria
Our perception of the rating of food has evolved into a more precise rating of the food experience. It is no longer enough to simply put food on a plate and present it to the customer. So much more goes into food purchase decisions made by foodies.
Since 2012, the World Food Travel Association has been working on identifying criteria that could be used in a new food and drink rating system. How your customers experience your business can involve many different criteria, from the quality of the products you use, to the service orientation of the staff, knowledge of local area & ingredients, the overall value provided or smaller things such as the cleanliness of the toilets. Even the healthfulness of food preparation or what coffee you serve can affect customer experience.
One pillar of a new system could be the memorability of the experience. We frequently say in food tourism that our industry is about the "unique and memorable". What aspects of your business are unique and memorable for the visitor? The answer may not be the food. It could be service, venue, view, history, architecture or a number of other things.
A second pillar of the new system could be popularity. There is no arguing with consumer opinion, but do we make choices based on informed opinions, or are we the victims of large marketing budgets? People either like a place or they don't. But do they like a place because the food or drink is actually good? Not necessarily. In coffee-loving Portland, Oregon, this author saw a line of customers literally out the door of a large national coffee chain, while a locally-owned café with superior locally-roasted coffee (by accounts of fellow foodies) literally next door to this national chain was only half as busy, with no line to place an order. How do we account for this difference? Marketing muscle may be to blame. That said, both cafes are popular, but for different reasons. Popularity needs to be included.
A third pillar that cannot be ignored is the actual food and drink itself. Is the food or drink truly remarkable? How do we measure how it is remarkable? Are locally sourced products of higher quality and more desirable than imported products, for example? Is the food/drink prepared healthfully or not?
Other pillars could include consistency of the experience over time; your sustainability practices; the integrity of you as a business owner; peer review; and the authenticity of the experience if authenticity is appropriate.
The Future
It's no small task to build a global brand with which consumers can identify in any country, culture or language. The first steps have been taken. What criteria would you want to be included when considering a new food and drink experience rating system? How would ratings need to differ for the nearly 20 different sub-sectors of our industry?
A larger question is, how would the criteria be measured? The answer is most likely, in a way that has never been measured before. For example, when a business posts its information online, it will want to present its best possible image. A business owner is going to give his or her own business a high rating. That said, a business owner also knows his or her business best. If I own a cooking school that focuses on Italian cuisine, I am not going to give my cooking school high marks for Chinese cuisine (or at least I shouldn't). Popular opinion is also important. Even with the problems that plague online review websites, if 3000 people like a place and only 500 do not like it, the overwhelming majority approves. That counts for something. However where is the quality control, and how do we even define "quality"? There is something to be said for the assessor model provided that assessors could be trained in a consistent manner. However, to leave subjectivity out of the equation as much as possible, the assessors would need to rate on a pass/fail or low/medium/high basis. Trying to decide if something is really worth 3 or 3.5 stars could drive one crazy, and would that rating be consistent every time? However, discovering if a business owner buys a certain percentage (or higher) of his or her produce locally, the answer is a simple yes or no. Pass or fail. That can be assessed with ease.
The game is afoot, and a new rating system is in the works. The playing field is about to change, and for the better. Foodies everywhere will rejoice.
Erik Wolf is the founder of the world's food tourism industry, and of the World Food Travel Association. He is a highly sought speaker, thought leader, strategist and consultant, in the US and abroad, on all aspects of food and drink tourism. Mr. Wolf is considered the go-to food tourism industry resource for media outlets. He has spearheaded projects for world-class brands. While Executive Director of the Association, Mr. Wolf launched several innovative products for our industry, including the annual Food Travel Monitor, including the Monitor's PsychoCulinary profiling tool for food travelers; the Certified Culinary Travel Professional program; Business Readiness Training in Food Tourism; and Food Travel Talk TV. Mr. Wolf can be contacted at (1) 503-213-3700 or erik@worldfoodtravel.org Please visit http://www.worldfoodtravel.org for more information. Extended Bio...
HotelExecutive.com retains the copyright to the articles published in the Hotel Business Review. Articles cannot be republished without prior written consent by HotelExecutive.com.