How to Preserve Architectural Detail and Effectively Transform a Historic Building Into a Modern Hotel
By Robert Habeeb, President & Chief Executive Officer, First Hospitality Group, Inc.
At a time when uncertain economic circumstances, a competitive marketplace, and a lack of prime urban locations make securing opportunities for new builds in high-impact locations difficult (and sometimes financially unfeasible), adaptive reuse-transforming aging or historic structures into memorable and engaging new facilities-is an increasingly popular tactic.
Taking a turn-of-the-century space and remaking it into a 21st-century facility requires more than hoteliers wanting to add this type of project to their portfolio-it takes careful consideration and expertise. Such a strategy requires a nuanced understanding of how to blend the old and the new, a sophisticated technical and architectural skill-set, and an in-depth appreciation of how to accommodate cultural and community context. While every project is different, and requires its own blend of compromise, creativity and craftsmanship, there are key elements shared by every successful historic renovation, as well as a consistent set of best practices that developers can apply to preserve architectural detail and effectively blend history and hospitality.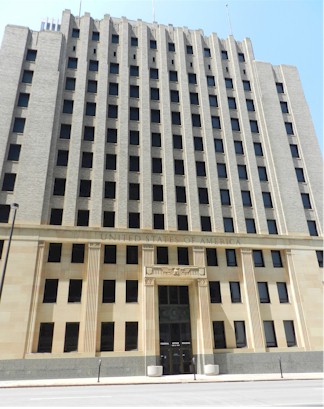 First Hospitality Group Inc. is in the process of transforming the historic Federal Building in Omaha, Neb. into a Residence Inn by Marriott which is set to open in the summer of 2013.
Understand the Technical Challenges
Successfully addressing the structural and functional deficiencies in an aging building is certainly a prerequisite for any historic hotel renovation. Doing so in a way that retains the character of the space while providing a facility complete with the modern amenities that today's demanding guests require gets at the fundamental tension between old and new that makes these projects both challenging and rewarding. The reality is that while people love the ornate architecture and period décor of historic buildings, however, this aesthetic appreciation ends if it doesn't come with the comforts and amenities today's travellers have come to expect. Guests want to admire the artwork while enjoying their spacious and comfortable modern rooms. Because of the design and construction flexibility it affords, it often makes the most sense to renovate and reuse historic buildings that were not formerly hotels: the floor-plan flexibility and wall-to-wall renovation potential often more than makes up for the added expense involved with a more extensive renovation.
The list of items that must be addressed to make these spaces safe, functional and comfortable extends well beyond new floor plans and finishes, however. The structural liabilities of aging buildings can be extensive, and everything from dangerous or dated materials, to plumbing and electrical issues will typically require a full makeover. Introducing the technical infrastructure required to support must-have conveniences like wireless high-speed internet poses its own set of challenges. When selecting a site and planning a project, it is essential to understand the full range of technical and construction challenges that await you before renovation work begins. All of the history and character in the world will not be enough to overcome suboptimal functionality or compromises in guest comfort.
Assemble the Right Team
The average design and construction team for a run-of-the-mill hotel is not likely to have the experience and expertise necessary to execute a historic renovation or adaptive reuse hotel project. These are large-scale endeavors, and they require specialized skill sets to complete successfully. While technical expertise and an understanding of the challenges that are a part of any historic renovation is important, hotel developers are wise to assemble a diverse team that includes not only renovation specialists and technical and historical experts, but also professionals who understand the building and the community. Selecting the right architectural firms and construction/development partners with relevant experience in their space can be a vital asset. An established local firm is more likely to appreciate the history of the building and acknowledge the community's appreciation of it, as well as invest themselves in doing a great job. Historical experts are another important component of a hotel renovation team, as they can not only provide essential counsel with respect to aesthetic details, but can also help to apply for and secure historical tax credits and other cost-saving programs.
Be Strategic and Thoughtful
While no hotel can fully compromise comfort and convenience for visual appeal, blending iconic architectural elements is essential for developers, owners and operators that want to maximize the unique appeal and place-making value of their property. While obvious grand features-a massive vaulted ceiling or distinctive exterior stonework, for example-are an easy preservation decision, the key here is oftentimes to find creative ways to preserve the essence of the design without compromising its functionality. Replacing old gas lights with electric lights is a must, of course, but by preserving the original antique fixtures, much of the aesthetic and historical value is retained.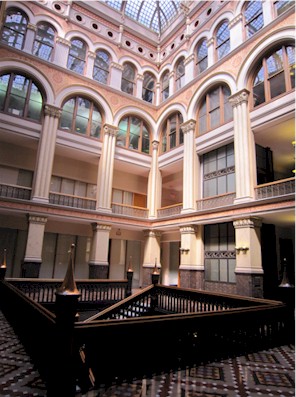 The six-story atrium of First Hospitality Group's Hilton Garden Inn Milwaukee Downtown still features the original granite & limestone facades, marble stair treads and wainscoting of the 19th century Loyalty Building.
A thoughtful and creative approach often works best in these circumstance, taking what the existing infrastructure "gives" you and honoring your commitment to restoring integrity of the space by prioritizing the preservation of essential architectural and design elements wherever possible. The best historic hotel designs do not just maintain those elements; they also integrate them into the visual and experiential fabric of the new space. It is important to remember that a working hotel is not a museum: preservation without context can seem forced or disjointed. On some level, the architectural and design detail should be telling a story. The Hilton Garden Inn Milwaukee Downtown is a prime example of this kind of "storytelling." While the 127-room hotel, which opened its doors in November 2012, features modern amenities like 24-hour fitness and business centers, complimentary high-speed Internet and 4,500 square feet of meeting and event space, the building required a wholesale transformation of the Loyalty Building, one of the city's architectural treasures. One of the original headquarters of Northwestern Mutual Life in the late 19th century, the Loyalty Building is featured on the National Register of Historic Places and the hotel redesign acknowledges that iconic status by retaining many of the distinctive and original features. The building's magnificent six-story atrium, original granite and limestone façades, marble stair treads and wainscoting, and one of the best-preserved and most celebrated 19th century commercial interiors in the state are a living testament to the history and status of the structure.
Appreciate Community Context and Respect the Past
While the period detail, historical resonance and an unmistakable sense of place often make historic buildings quite well suited to adaptive reuse, it is important to appreciate not only the aesthetic detail, but also the cultural and community context of a building. Historic buildings can have a powerful symbolic resonance within a community, and while that power can be a significant asset for developers, a heavy-handed or insensitive renovation can backfire. Restoring a historic building requires the utmost sensitivity to the fact that-no matter whose name is on the deed-historic structures "belong" to the community and are woven into the civic fabric of society in a way that newer buildings are not. Consequently, a historical renovation cannot be haphazard; understanding where and how to draw the line in preserving historical and architectural detail, and executing a thoughtful and respectful transformation requires nuance, strategy and restraint. Failure to do so can result in a project that is not only an architectural and aesthetic failure, but a public relations failure as well.
While the added burden of creating what is (at least notionally) a community asset can complicate the renovation process, the payoff is well worth it. Potentially important pieces in the urban redevelopment/revitalization puzzle, adaptive reuse hotels frequently are the beneficiaries of public funding partnerships and other financial perks such as tax credits, abatements, grants or low interest loans. While the regulatory environment for historic structures can be challenging to navigate, going the extra mile-by taking steps such as meeting with local historical groups, soliciting community feedback and researching old photographs to ensure fine-tuned historical detail, for example-is usually well worth the investment. Coordinating with local or community organizations and historical preservation societies can lay the ground for a renovation that preserves the site's cultural and architectural importance while also satisfying the technical and operational demands of a modern-day hospitality destination.
When done correctly, historic hotel renovations offer something that is not only increasingly rare, but something that is difficult (if not impossible) to replicate in other circumstances: a premium location, a unique facility and a one-of-a-kind guest experience. They are available in virtually all markets, and they provide a stand-out alternative in a crowded field of oftentimes undistinguished competitors. In optimal circumstances, the building virtually sells itself, providing an experiential and aesthetic differentiator that is literally impossible to match in other venues. At a time when "creating" a powerful and enduring sense of place is such a hospitality priority, adaptive reuse through successful historical hotel renovation presents an exciting and increasingly appealing development opportunity.
Robert Habeeb has more than 25 years of experience in hotel, resort and food and beverage management. He successfully operated hospitality businesses in virtually every aspect of the industry. He served as the chief operating officer of the U. S. resort subsidiary of London's Rank Group, PLC, where he was responsible for a multifaceted portfolio of hotel, restaurant and leisure businesses. Mr. Habeeb joined First Hospitality Group, Inc. in 1997. In 2015. He has won a series of awards, including the Illinois Hotel Association's Hotelier of the Year Award and Global Hotelier of the Year. he was promoted from president and COO to president and CEO. Mr. Habeeb can be contacted at 847-299-9040 or rhabeeb@fhginc.com Extended Bio...
HotelExecutive.com retains the copyright to the articles published in the Hotel Business Review. Articles cannot be republished without prior written consent by HotelExecutive.com.