Will Analytics be a Game-changer for Hospitality Companies?
By Kelly McGuire, Vice President, Advanced Analytics, Wyndham Destination Network
Despite encouraging signs that the recession is well behind us, revenue, costs and profits are still under close scrutiny. Achieving a competitive edge, while at the same time "doing more with less" is a daily challenge for hospitality executives. Revenue management "changed the game" for hospitality when it came on the scene 20 years ago. By applying analytics the specific problem of room pricing, hotels were able to increase room revenue without increasing room cost. It's time to change the game again. To stay ahead, executives need to build this kind of fact-based decision making into the corporate DNA.
The Challenge
Hospitality executives struggle to maintain the balance between providing that memorable experience that keeps guests coming back (and telling their friends) and meeting their revenue and profit responsibilities to stakeholders, owners and franchisors. For many companies, it feels like standing on a teeter-totter (or see-saw, if you like), as shown below. If you put too much weight on the customer experience, your revenue and profit will suffer; for example, when you give away a dinner or free bottle of wine without considering whether the room price makes up for the cost. The reverse is also true, like when you cut staff to save labor costs, but create long lines at check-in. You are constantly making adjustments back and forth to achieve that stability, and always in danger of tipping the scale. Analytics can help.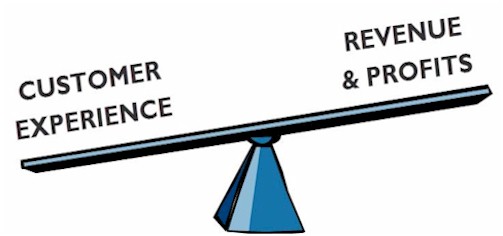 Achieving the Balance
Revenue managers have had great success in driving revenue using predictive analytics like forecasting and optimization, but by its nature, revenue management only focuses on the revenue and profits side. Without an eye to the customer experience, there is a danger of alienating loyal guests by not having rooms for them or of misinterpreting the property's value proposition, and not bundling the right experiences into a discount package. Incorporating guest preferences into room offers, or customer lifetime value into the revenue management optimization can shore up that relationship between experience and profits, restoring balance.
Optimization is not just for room rates. The marketing department can use optimization to come up with the best contact strategy for promotions, considering response rates, guest contact preferences, prevailing rates, demand forecasts, all available promotions and the cost to deploy those promotions. Using this technique, you are maximizing the return from marketing efforts while respecting your guests' preferences about how often they want to be contacted and with what types of offers. Further, you can ensure that you send out the right number of offers to fill the hotel without having to turn customers who wanted to redeem the offer away. As organizations continue to adopt analytics department by department, opportunities will continue to arise to find that balance.
Finding answers to complex problems like the ones I described above is simply not possible without analytics. While the best instincts of your most experienced managers may get it right a lot of the time, it's impossible to replicate that across the entire organization and through every one of the millions of decisions that need to be made. Take labor planning for example. Finance wants profitability through reduced labor costs. Operations wants improved customer satisfaction by reducing waits and increasing service levels. There is a balance where the labor schedule minimizes costs while maintaining services levels, but it's hard to find. It starts with an accurate and detailed demand forecast, so that you know how much work will need to get done (how many check-ins, how many covers at the restaurant). Next you must translate that labor forecast into the right number of staff that will be able to serve all the demand at the lowest possible cost, and figure out which employees should be scheduled for what shifts, considering skill sets, scheduling requests, labor laws and break requirements. This, once again, requires optimization to help find the best answer to a complex problem.
Changing the Game
The examples above illustrate how analytics will be a game changer for hospitality. Decision making within the hospitality organization must and will change. "Locally optimal" decisions made by one department based on isolated goals and silo-ed data will become a thing of the past. Departments will begin to collaborate on initiatives that are designed to benefit the entire organization. In order to break down barriers and facilitate communication, decisions will become fact-based and data-driven, off of a shared set of agreed upon metrics.
This is not, by any means, meant to imply that revenue management specialists, marketing specialists or operations specialists are no longer needed. It is certainly not meant to imply that a giant analytic black box will take over all decision making at the hotel. Rather, each set of specialists should bring their expertise to bear on a broader problem with an enterprise-focused goal. Managers, armed with a complete and accurate picture of their business, will be able to make better decisions faster. Rather than replacing management decision making, analytics increase accuracy, speed and confidence in decision making.
As the use of analytics spreads through an organization, effective presentation of analytic outcomes becomes critical. You must get executives hooked on data and analytics if you hope to sustain a proactive, integrated analytics program. Hospitality executives are simply too busy to consume analytics at the same level of detail that analysts must. In order to change the game, the data must tell a compelling story. Highly visual representations are the most effective way to communicate the story, especially at the executive level (pictures are worth 1000 words, right?). Executive buy-in is crucial to ensure organizational goals are aligned and resources are available for continued investment.
Becoming Proactive
In order for analytics to truly be a game changer, hospitality organizations need to recognize the difference between reactive decision making and proactive decision making. Using your data to create reports, drill downs or alerts helps you to keep a finger on the pulse of your business, but they only show you what happened. They will not tell you why the problem is happening or what impact it will have in the future.
Predictive analytics, like the forecasting and optimization techniques we mentioned above, can help you figure out why things are happening, show you what will happen next, or even lead you to the best alternative considering all of your operating constraints. As the diagram below shows, organizations that use predictive analytics to move from reactive to proactive decision making can change the game. They are no longer fighting fires. They cease to be "surprised". Instead, they can get in front of trends, set strategy and achieve goals. They gain advantage over the competition, increase value to shareholders, and continue to surprise and delight their guests.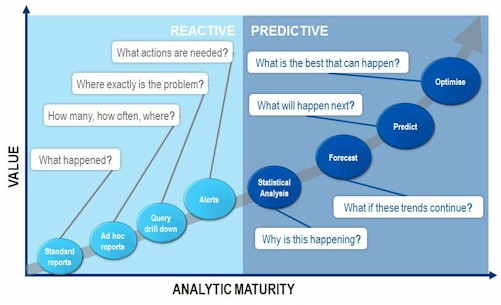 Realizing the Vision
Technology can be the glue that binds silo-ed departments together, but it will take more than a giant (and expensive) technology investment to achieve this goal of integrated decision making. In fact, a giant technology investment, without the right culture in place, might be exactly the wrong way to proceed. Instead, hotels need to be measured and thoughtful in the way that they approach integrated decision making. When most people hear discussions about integrated decision making, they immediately think they must create a massive data warehouse and layer complex analytical models on top, creating a hulking "black box" that spits out answers like a fortune teller. While a single, integrated, cleansed version of the truth is certainly valuable, the data warehouse does not have to be the first step. Manual data sharing can be an impactful way to get an organization on the journey towards automated integration. Depending on the problem you are tackling, you may not even need to move entire data sets, but rather simply provide access to select fields or specific analytic results.
Pick two departments that are already comfortable with their data and beginning to use analytics. This integrated team should start simply - identify a common business problem and then figure out what data or analytic results, generated by each department, would be useful to solve that business problem. The important first step is to understand what the data means: how the fields were calculated, which pieces of information were included or excluded, what time frames are involved. Frequently two different departments could have completely different definitions of the same basic metric. For example, there are differences in what a market segment means for marketing versus for revenue management. As the team begins to agree on definitions, they will gain a much better understanding of how the shared data can be used.
The graphic below is meant to emphasize that this will be a journey. The first step is to establish analytic competencies locally: get the right resources and systems in place, and realize (and evangelize) the benefits. Then you can think about integrating across departments at the manual level I've described above. Once everyone is comfortable with the data definitions, the business problems, and the goals of the project, you can begin to automate the integrated analytics to achieve optimization. The analysts will be comfortable with the results because they understand the data that drove them. When you hit optimization, it's time to innovate. What's the next business problem to solve? Is there another department that should be brought on board? Frequently innovation means starting over again at the establish phase, so organizations need to be prepared to continue the disciplined approach. The game may change, but it won't change overnight. Careful planning and a phased approach is the only way to ensure success.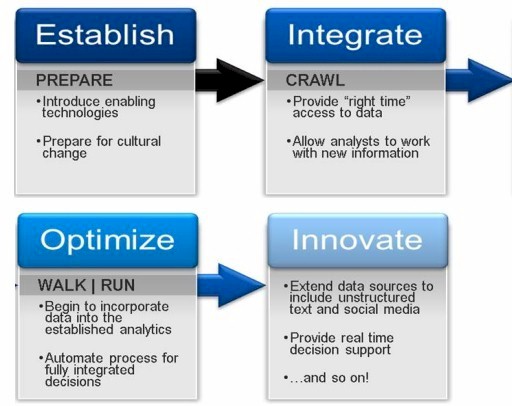 Revenue managers have begun to bring the value of analytics into the spotlight at most hotel companies. The effectiveness of these programs has garnered attention, and broadened the reach and responsibility of this group. This puts revenue managers in the perfect position to lead their organizations towards this vision of integrated decision making. It's time for hotel companies to "change the game" with analytics. Are you ready?
Dr. Kelly McGuire is Vice President, Advanced Analytics at Wyndham Destination Networks where she leads a team of scientists and developers that build custom analytical solutions for Wyndham's vacation rental business, as well as RCI's exchange market. She is an analytics evangelist, helping hospitality and gaming businesses realize the value from big data and advanced analytics initiatives, to build a culture of fact based decision making. Her first book, "Hotel Pricing in a Social World", was recently published by Wiley books. Dr. McGuire can be contacted at 973-753-6411 or Kelly.McGuire@rci.com Extended Bio...
HotelExecutive.com retains the copyright to the articles published in the Hotel Business Review. Articles cannot be republished without prior written consent by HotelExecutive.com.