The Service Recovery Paradox. Does It Really Exist?
By Simon Hudson, Endowed Chair in Tourism and Hospitality, University of South Carolina
Service delivery failure is likely to occur at some point in time for organizations in the hospitality industry. Though it is unlikely that businesses can eliminate all service failures, they can learn to respond effectively to failures once they do occur, and this response is often referred to as service recovery, defined as the process by which a company attempts to rectify a service delivery failure. One study of hotel customers found that their level of satisfaction and lasting impression of a hotel is based first and foremost on what happens when something goes wrong. Mostly, customers accept that mistakes happen; the problem begins when there is no strategy in place to rectify the situation easily.
Some researchers have suggested that customers who are dissatisfied, but experience a high level of excellent service recovery, may ultimately be even more satisfied and more likely to repurchase than those who were satisfied in the first place. This idea has become known as the service recovery paradox (see Figure 1). There are somewhat mixed opinions on whether a recovery paradox exists, but customer complaints about defective services may represent an opportunity for the company to improve its image and perceived quality, since it permits the company to make a positive correction or to resolve the complaint.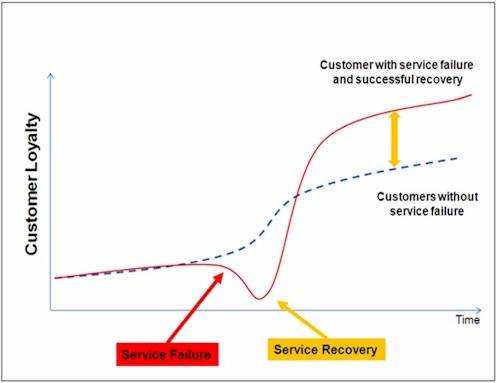 Despite the significance of the tourism and hospitality sector both economically and as a source of customer complaints, there has been little research that explicitly addresses complaining behavior and service recovery. Research that does exist is relatively recent and still evolving. Research in the tour operating sector has found that even when a firm recovers effectively from a service failure, satisfaction is not guaranteed, which is at variance with results reported by other researchers. In a study that tested the recovery paradox for airline passengers, researchers found that customer satisfaction was lower after service failure and recovery than in the case of error-free service.
A study of service failure and recovery in the UK hotel industry found that guests who were satisfied with the hotel's response to their problems, were much more likely to return than those who were not satisfied with recovery efforts. And a study in Asia looking at the impact of critical incidents of service failures and recovery efforts in a hotel, found that only complete resolution results in repeat patronage, while partial resolution and unresolved service failures served as a deterrent to the guest's return patronage. And another survey of 613 hotel guests found that guests' overall satisfaction and intention to revisit were much higher when they believed that service failure was unstable and recovery was stable.
The hotel industry involves a high degree of interaction between employees and consumers and so provides many opportunities for service failures to occur. Customers' perceptions of their experience, the so-called "moments of truth", play a major role in determining customer satisfaction and future purchase decisions. The quality of service encounters is frequently determined by the actions of front-line staff, whose experience and commitment may be limited and whose attitudes may vary from one encounter to another. Therefore, the relationship between service recovery and the different dimensions of quality perceived by customers is a topic that needs more attention.
A few years ago I (in collaboration with researchers in Gran Canaria, Spain) explored service quality in the Spanish hotel sector and in particular, looked for evidence of the service recovery paradox. The sample represented customers of 11 four-star hotels (three independent and eight belonging to chains) located in the Gran Canaria resorts of San Agustín, Playa del Inglés and Maspalomas. The Canary Islands has the greatest number of four-star beds in Spain, with the highest annual occupancy. The study focused on the hotel reception and restaurant services of the selected hotels. Those departments were chosen because they see the most direct contact with customers in service encounters with departmental staff.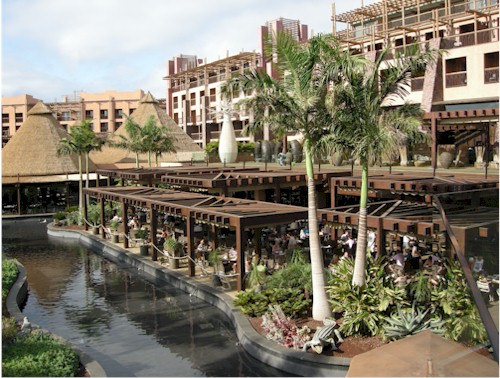 The African-themed Baobab Hotel in Gran Canaria
After the pertinent pre-tests, the questionnaires were written in eight different languages, Spanish, English, German, Dutch, French, Italian, Swedish and Finnish. Customers were questioned about service recovery encounters with operative staff. The first section of the questionnaire measured service quality at the reception and the restaurant using the SERVQUAL scale. SERVQUAL is an instrument that focuses on the notion of perceived quality and is based on the difference between consumers' expectations and perceptions of service. The scale is composed of 22 items designed to load on five dimensions reflecting service quality. The dimensions are: assurance, empathy, reliability, responsiveness, and tangibles. Each item is used twice: first, to determine customers' expectations about firms in general, within the service category being investigated; second, to measure perceptions of performance of a particular firm. These evaluations are collected using a seven-point Likert scale. SERVQUAL is a concise scale, easy to use by managers, and is now referred to as a standard by other service researchers.
Respondents were then asked if they had made a complaint, and then they were asked if an effective service recovery was made in response to this complaint. The final section asked customers whether or not they were repeat customers, along with relevant demographics. A sample for each hotel was taken.
A total of 3,607 questionnaires were handed out, of which 1,792 were completed and returned. What we found was that customers who had experienced a recovery encounter, perceived a higher level of service quality for intangible attributes, than non-complaining customers. These intangibles are assurance, empathy, reliability and responsiveness. This supports, to some extent, the service recovery paradox, whereby customers who complain, but experience a high level of service recovery, may be even more satisfied than those who were satisfied in the first place. However, there was no evidence in this study that those customers who did not complain were totally satisfied with their visit. Many customers are very passive about their dissatisfaction, simply saying or doing nothing. What the results do show though, is that resolving customer problems related to intangible aspects of the service in a hotel, has a strong impact on perceived service quality and thus customer satisfaction. The fact that many of the customers who experienced problems were loyal, also might support the contention that guests' overall satisfaction and intention to revisit is much higher when they believe that service recovery is stable.
For the tangible dimensions of service quality, recovery encounters had no influence on perceived service quality. The relative homogeneity of the tangible elements between the hotels analyzed is perhaps one element that influenced those results. Thus, tangible aspects are very likely to become commodities for the hotels competing in a particular destination, while the intangible elements are the ones that establish real differences in the quality perception of the customers.
From a practical point of view, the results show the importance of having an effective service recovery program in place. The Lopesan Group, whose hotels were surveyed in this study (the African-themed Baobab Hotel pictured is one of them), has special personnel responsible for service recovery when problems arise, trained to calm customers and negotiate compensation within already decreed limits. The group also uses the results of audits and surveys to enhance customer service. Based on customer feedback, they create a top ten problem list across the chain and then provide a fund to help solve these problems. A good solution in one hotel can then be applied across other hotels in the chain, making it more cost-effective if they have to invest in the solution.
The beneficial effects of effective service recovery suggest that there are significant potential benefits from encouraging complaints. As some researchers have commented, the benefits of creating an environment that encourages dissatisfied customers to complain may be considerable. Hotel managers should consider both the potential for effective service recovery to increase retention rates, and the risk that customers who experience service failure may simply defect (as well as the revenue implications of that defection). Finally, the fact that service recovery and loyalty had little impact on perceived service quality for tangible elements does not mean hotel managers should ignore tangibles. Firms that don't pay enough attention to the tangibles dimension of service quality can confuse and even destroy an otherwise good strategy. Customers often rely on tangible cues, or physical evidence, to evaluate the service before its purchase and to assess their satisfaction with the service during and after consumption.
In conclusion, although we found evidence that the service recovery paradox does exist, 'doing it right the first time' is still the best and safest strategy in the long run.
Simon Hudson is a tourism aficionado, exploring the world, spreading his passion for travel, and enlightening audiences on every kind of travel research from winter sports to film tourism. He has written eight books, and over 60 research articles, many of them focused on tourism marketing. He is the Endowed Chair for the SmartState Center of Economic Excellence in Tourism and Economic Development at the University of South Carolina. Dr. Hudson can be contacted at 803-777-2705 or shudson@hrsm.sc.edu Extended Bio...
HotelExecutive.com retains the copyright to the articles published in the Hotel Business Review. Articles cannot be republished without prior written consent by HotelExecutive.com.