What is a Virtual Concierge and How Can the Hotel Industry Benefit from it?
By Tom O'Rourke, President & CEO, O'Rourke Hospitality
What is a virtual concierge?
A virtual concierge can exist in any virtual realm. Your hotel could chose to develop a virtual concierge within your mobile application, on your website or as part of your television. A virtual concierge serves guests in the same ways that a typical concierge would. Hotels that use a virtual concierge often have increased loyalty, reduced turnover and an increased ROI for the medium their concierge resides on.
Common Misconception
A common misconception is that a virtual concierge makes your on-property concierge less relevant. A virtual concierge doesn't make your on-property concierge any less relevant because, although it can be used on-property, one of the biggest benefits is that it works for the guest before they even arrive at the property.
By utilizing a virtual concierge you allow your concierge to help guests more efficiently and more often because for simple problems they can now turn to their smart phone. A virtual concierge allows guests to make or change room reservations with ease by using the device they are already comfortable with. A virtual concierge allows guests to make and change spa and restaurant reservations 24/7; they will no longer have to call within a certain timeframe. For event planners and brides using the app, it can help with some of the stress of event planning. They can use the app to book blocks of rooms with their specific specifications or to submit a request for towels or room service once they arrive on property. A virtual concierge also allows guests to easily email the front desk or house keeping and also acts as a trip planner by showing guests where all of the local attractions are.
Functions and Features of a Virtual Concierge
Local Info- The scene or local information section included in many hotel mobile apps gives guests numerous ideas for local things to do: ranging from restaurants and nightlife all the way to financial services.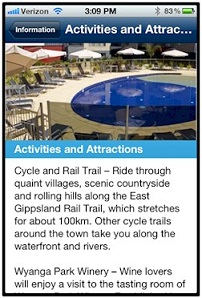 No one knows the area surrounding your hotel quite like you and your staff do. First hand knowledge of the local scene is what makes a traditional concierge so sought after by guests. The scene section of our app has incorporated the popular service Yelp as part of our virtual concierge. In the fast-paced world that we live in, people don't have time to eat at bad restaurants or visit horrible museums. Yelp and virtual concierges help take the guess work out of going out and that is one of the reasons we felt that it deserved a place within our hotel mobile app.
Trip Planning- Your virtual concierge presents guests with the unique opportunity to choose vacation activities based on your knowledgeable recommendations. As said above, incorporating Yelp is one of the ways you can customize your hotel app to help create a memorable experience for your app using guests. Some of the many popular categories included in Yelp are: Active Life, Beauty and Spas, Nightlife, Restaurants and of course shopping. If you don't want to use a third party service to provide these recommendations, you can include your own recommendations, from your team of experts, through a custom itineraries section. The type of custom itineraries you create will be unique to your guests and create a memorable trip for them. For the business traveler you could have: "Sight Seeing in three hours" or "Restaurants with Wi-Fi". For families you could have "Kid Friendly Museum Day" or "Sightseeing for Parents and Kids." You can create custom itineraries that cater to the needs of your guests no matter what those needs are. The options are endless.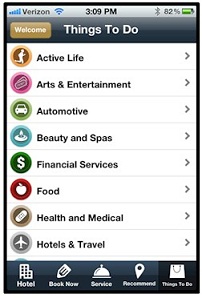 Service- An article about a virtual concierge would not be complete without discussing how it can be at the service of guests. The service section of many hotel apps incorporates all of the features that are most often asked of the concierge and makes them digital. A virtual concierge allows guests to request additional linens, a dining reservation, room service, a newspaper, a refrigerator or even to switch rooms. There is no request that a person on the phone can handle that a virtual concierge cannot.
Possibilities- Hotels and Airlines are now using apps and third party concierge companies to increase guest satisfaction. Airlines are incorporating third party virtual concierge services to make air travel easier for travelers and hotels are populating their virtual concierges with local information from other services, such as FourSquare and Yelp. Airlines that have begun utilizing virtual concierges are doing so because they are willing to do whatever it takes for their passengers to have a good trip. Virgin's VIP concierge at LAX once bought a vegetarian meal for the flight attendants to serve to one traveler. Spirit Airlines' partnership with MyAssist provides trip planning, reservations and event tickets for a fee of $9.99 per trip. JetBlues' free Concierge on Call partnership with Allianz Global Assistance is in place to help customers who book entire vacations through JetBlue, not just airfare. Lastly, Air Canada has concierges in place to provide assistance at airports and to make last-minute arrangements, but with a catch: it's only provided to first-class passengers.
Channels Where A Virtual Concierge Is Used
TV- For those of you who do not have IPTV, it's basically when a dedicated channel on your hotel TV channel is streamed over the Internet instead of through traditional satellite or cable formats. In order to know exactly how a virtual concierge would work with your IPTV you will have to talk to your provider In general a virtual concierge on your hotel's IPTV would work similar to how it works on your website, except the remote would control the clicks instead of the mouse or touch screen. During a recent resort stay, immediately upon turning on the television, I was informed of the local weather, relevant phone numbers, a rotating banner of the 15 on property restaurants and room service and movies that could be ordered.
Mobile App- Within an app a virtual concierge allows you to change or make room reservations, change or make on property spa and restaurant reservations, help to organize events, email the front desk with any needs that may arise and it also acts as a trip planner. You no longer have to wait in line to ask the concierge where the best restaurants and day trips are, all of those insider tips are put together within the virtual concierge. More advanced mobile app concierges also have the ability to send push notifications as wakeup calls and can be linked to your hotels rewards program for easy tracking.
If you position your hotel mobile application as an app for leisure travelers then it will be used more often than if you only position it as a mobile booking option. Instead of using their smartphones to check reviews of local restaurants on mobile websites, inform your guests of the trip planning options within your app that will provide them with the same information. Instead of providing printed maps and brochures about area attractions, include those as custom itineraries in your app. Make your guests' trip better with your app and you will see more results.
Website- A virtual concierge on your website can incorporate the same features as a mobile application or as the IPTV, except it will need to be designed differently. Since apps rely on touch calls to actions and the IPTV relies on the remote, the web version will need to take into consideration that it will be navigated with by a mouse. A simple way to add elements of a virtual concierge to your website is by adding them to your WiFi landing page. Adding local weather updates and nearby restaurant and attraction information to the first screen that guests see when using their laptops at your hotel will help them feel at ease.
Take Aways
Benefits for the hotel- By making your concierge services available on multiple platforms you are able to increase productivity. Instead of guests lining up at the concierge desk to get the help they need your virtual concierge is available where they want it to be and can allow your employees to be more readily available to guests. Since virtual concierges are still a new technology they also allow your hotel to stand out as an industry leader in hospitality technology.
Benefits for the guests- Your virtual concierge presents guests with the unique opportunity to choose vacation activities based on your hotel's knowledgeable recommendations. A custom itineraries section is designed specifically with your guests in mind. The type of custom itineraries you create will be unique to your guests and create a memorable trip for them. A virtual concierge allows guests to request additional linens, a dining reservation, room service, a newspaper, a refrigerator or even to switch rooms. There is no request that a person on the phone can handle that a virtual concierge cannot.
Tom O'Rourke founded O'Rourke Hospitality in 2001 and grew it into an award-winning hospitality marketing firm specializing in hotel website design and development, Internet marketing, SEO services, and mobile marketing. His innate ability to see new possibilities and generate fresh ideas, combined with his passion to bring these ideas to fruition, differentiates O'Rourke Hospitality from more traditional agencies. Prior to O'Rourke Hospitality Marketing, Mr. O'Rourke partnered in the growth and development of two successful and innovative enterprises where he honed his ability to move a concept into a reality with dramatic results by applying solid business practices and a high level of creativity. Mr. O'Rourke can be contacted at 978-465-5955 or Tom@ORourkeHospitality.com Please visit http://www.orourkehospitality.com for more information. Extended Bio...
HotelExecutive.com retains the copyright to the articles published in the Hotel Business Review. Articles cannot be republished without prior written consent by HotelExecutive.com.