Hotel Garden: Tips on showcasing your garden beds and plant design
In today's economy, it is important for hotels to find something that makes them rise above the competition and provide a unique experience; yet one of the most oft overlooked areas is the property grounds. Not only can a beautiful garden showcase your property but it can also be a simple and cost-effective way to differentiate your hotel from the competition. Careful selection of plant varieties and regular maintenance can help keep the landscape within budget while still showing the hotel's property in its best light. By choosing varieties that are hearty and that last for years, there is a cost saving benefit of not needing to replace plants with every season change. And adding varieties native to the region will ensure that the garden thrives in its local climate and environment. There are often many appropriate varieties that are colorful, tasteful and professional, and that can be nicely accented with themed features to create a motif unique.
Marrying budget and beauty can seem like a daunting task, but appearance does not have to come at the cost of practicality. Cost-savings can come from many sources in plant selection and garden maintenance and add both short- and long-term benefits to the hotel property. Simply choosing the proper major foundation pieces that have a long lifespan-such as colorful shrubs and evergreen trees-can allow for up to 15 years of life before replacement is necessary. By working around the mainstay foundations pieces, a rotation of seasonal or perennial flowers can round out the aesthetic, leaving the hotel garden with a consistently updated and well-maintained appearance.
Deciding which elements to incorporate is essential to ensuring cohesion and consistency throughout any landscape. Gardens can be regional or hotel-image specific, and can include elements such as color-specific plants which showcase the hotel's brand colors or the natural flora of the hotel's aesthetic theme. For example, Asian-inspired hotels may choose to decorate their exteriors with plants like bamboo, jasmine or lotus instead of species native to the hotel's location. For more urban properties, a sense of privacy can be created by selecting tall growing plants and denser shrubs. After specific elements are chosen, your landscape professional can help incorporate those elements to highlight certain areas, plants or features and create layers in the finished product.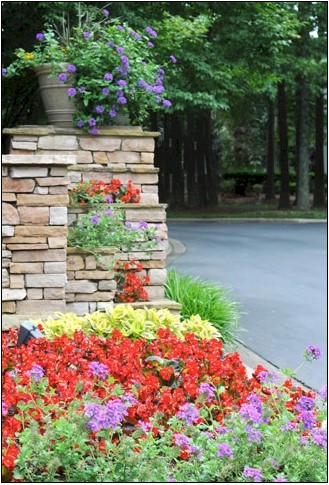 Areas to consider highlighting include pathways, fountains, seating areas or any other guest access area. Adding landscape elements such as flower beds or planters can lend a finished look to the hotel's landscape and provide a sense of serenity. It is important when planting along pathways to choose plants that won't hinder access or create hazards, such as low-lying branches or thorns.
Another way to showcase a garden in the most favorable fashion is to combine a variety of fauna that are both robust and vibrant. Mixing evergreens with seasonal flowers creates a continuously bright and floral garden throughout the year. Keeping perennials in a garden bed is a practical and budget-friendly as they bloom for years without needing to be replaced. Additionally, it is helpful to select plants that are native to the environment and that will require less care and watering than other varieties. For example, hotels with locations in the American south can choose to use irises, black-eyed susans or phlox while a hotel in the Pacific Northwest may select lewisia, columbines or camass. Native plants are less susceptible to seasonal climate changes and inclement weather and selecting indigenous varieties creates a natural and authentic looking landscape.
Using a variety of plant types, forms and colors is a clever way to bring depth to the property's landscape. These differences can help create texture in a garden while providing a more interesting presentation. For example, pairing rougher foliage with delicate flowers can bring a unique texture, but when combined with intertwining complimentary colors of blooms it can make a bold statement. Alternatively, weaving a pattern of greens can help to create a 'carpet-like' look to any exterior. Incorporating different plant sizes and heights can help build a visually pleasing and variegated appearance. Smaller trees or dwarf varieties can be excellent cornerstones to any garden and help establish a backdrop on which to elaborate with different colors and forms.
Showcasing a garden requires more than just careful plant selection and clever landscaping; it also requires the right maintenance. Proper plant and lawn care is essential for preserving a healthy and beautiful landscape. Ensuring flowerbeds and borders are properly mulched will help protect the soil from harmful chemicals and will help prevent run-off. Keeping trees and shrubs neatly trimmed will also help showcase a garden. Proper pruning allows the trees and shrubs on your property to maintain their greatest flowering potential and lends a polished look to any space. Further, shrubs can be playfully pruned into shapes including the logo or name of your hotel.
Pruning is not a one-size-fits-all process and it is essential that you tailor how much any tree or shrub is pruned to its growth habit. Although a majority of plants can handle light pruning throughout the year, major pruning should be performed according to the season and to the particular needs of your plants. For instance, diseases-causing pathogens and pest insects typically overwinter in the dead plant material. Pruning out any dead plant material in the fall can reduce the incidence of disease and insect damage in the spring and summer, ensuring a beautifully maintained property. It is also important to note that while there may be some instances where sheering will augment a more formal garden, hand pruning is the preferred method to help the plant maintain its natural beauty.
Additionally, pruning shrubs helps maintain garden health by creating airflow which wards off fungal diseases that can affect your entire landscape. Dethatching lawns by removing organic debris can be equally important in keeping a healthy and aesthetically pleasing exterior. Dethatching creates an environment more conducive to new growth, as it opens the ground area up to allow for grass to absorb more sunlight. In order to prevent harm to plants, it is important that your landscaper considers the specific needs of the property as well as the desired image when it comes to pruning and dethatching.
Other aspects of hotel gardening that should not be overlooked are aerating and weeding. Air circulation and increased access to sunlight are two of the most important factors impacting healthy plant growth. The easiest and most effective way to bring air circulation to lawns is by aerating regularly. Aerating can also help relieve any soil compaction from foot traffic which aids in the flow of water through the soil. Consistent weeding can be nearly as effective in bringing air and water circulation to any garden as it alleviates plant crowding. Maintaining a properly weeded landscape is essential in keeping an attractive and manicured garden that is healthy.
Perhaps one of the most crucial steps in maintaining a healthy garden is fertilization. Proper fertilization is key to ensuring any landscape will continue to flourish in all seasons. With the constant replanting of seasonal flowers and long-term occupation of soil space by shrubs and trees, soil can be depleted of nutrients like nitrogen, potassium and phosphorus. Flowering plants can be especially draining of soil nutrients and without continual attention blooms can become weak and sparse. The need for yearly fertilization can be avoided or lessened, however, by amending soil with restorative materials and organic matter such as compost. A combination of the two treatments is the easiest way to get a robust and vibrant arbor.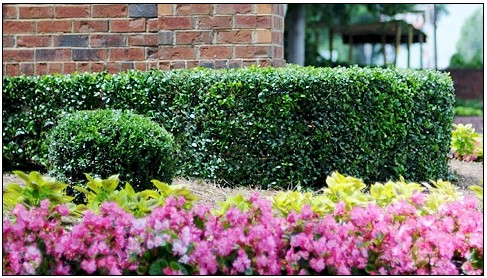 If accents and annuals are not enough to create a best-in-show garden, landscape additions may be necessary to highlight the property. If planning to add additional landscape elements, it is crucial to work with a landscape professional to select the proper plants, shrubs and trees to ensure a property- and environment-specific landscape. This will also provide an opportunity to bring fresh color and design aesthetic to your property.
The above tips above can help bring character and uniqueness to any property's exterior and provide a strong first impression. A healthy and attractive landscape can create a pleasant and welcoming environment sure to attract guests and will help hotel owners maximize the value of their properties. The partnership between a property manager and a landscape professional is the key to a long term, successful management strategy. About the Author
Ken Hutcheson is President of U.S. Lawns. He joined the company in 1995 and has grown the organization from a regional 18-franchise network to a national network of over 250-franchises in all 48 contiguous states. U.S. Lawns is nourished by the values and passion of family-owned and operated franchise businesses. Mr. Hutcheson champions an entrepreneurial spirit and a teamwork culture. He's skilled at developing employee, franchisee and customer bases that are anchored on a commitment to long-term relationships. His focus on the company's Franchise Development and Support is central to the company's steady national expansion and consistently high rankings on industry lists. Mr. Hutcheson can be contacted at 407-246-1630 or khutcheson@uslawns.com Please visit https://uslawns.com/ for more information. Extended Bio...
HotelExecutive.com retains the copyright to the articles published in the Hotel Business Review. Articles cannot be republished without prior written consent by HotelExecutive.com.