Driving Revenue Through Your Mobile App
By Tom O'Rourke, President & CEO, O'Rourke Hospitality
With every passing day, the mobile market continues to evolve into a necessary marketing channel that guests have come to rely on. Mobile applications have seen constant evolution since they were introduced (arguably with the introduction of the iPhone) and now that they have been on the market for some time, hotels are seeing solid results that prove apps are worth their time and cost. Throughout this piece we will examine how hotels are increasing their revenue with their mobile applications through mobile bookings, in app room service orders, by highlighting on-property amenities, sending push notifications and the most successful tactic - simply being in the mobile space when guests are looking.
Mobile Bookings
In most cases, mobile bookings will be your biggest opportunity for increasing direct revenue. While many of your other opportunities for revenue generation rely on mobile bookings (spa or dinner reservations for example), this section will focus on mobile room bookings. First and foremost, before you can make money with your hotel mobile application you need to put it in the palm of your guests' hands. Increase app downloads with careful planning and strategic marketing tools, and you'll be well on your way to driving revenue through your mobile app. Here's an example:
One of our clients, WorldMark South Pacific Club, added a link to their app in their email signatures and created a feature on their website with "on the go" information promoting their app. These two very simple steps directly led to 216 app downloads during the month of April. They also dedicated a section of their email newsletter to information about the app which led to an additional 207 downloads. As you can see from the charts below, the very same day the email newsletter was sent, there was a significant increase in app downloads (right) and in the days following this, WorldMark South Pacific Club experienced a steady flow of mobile bookings.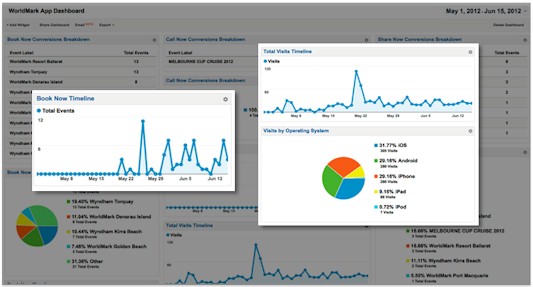 In addition to the spikes in downloads, mobile bookings and revenue our clients have seen from effective marketing, it is important to also recognize successes experienced by others. The InterContinental Hotels Group saw a nearly 1,000 percent increase in room night bookings from mobile devices in 2010 and 2011, because smart phone adoption rates had increased so significantly. The InterContinental Hotels Group also ramped up marketing efforts and increased their usage of push notifications during this time. However, as effective as good marketing can be, never under estimate the power of change. As smart phone adoption rates continue to climb, your app's downloads and mobile bookings will steadily climb as well.
In App Room Service Ordering
If your hotel offers room service, how would you like to see an 18 percent increase in orders? A study from buuteeq, a Seattle, Washington-based digital marketing company, revealed that hotels with a mobile presence have seen increases of this magnitude in room service orders. And when we think about the attitudes of app users, it makes a lot of sense. Why would a guest want to pick up the phone to order room service when they could easily use their smart phone? Ordering via mobile app eliminates several potential obstacles associated with a phone order, from language barriers and bad connections to miscommunications and background noise. Plus, the smart phone ordering system creates a new channel of communication that has already been adopted by the user. Some hotels offer room service payment options within the app, while others add room service charges directly onto the room bill; either method provides easy tracking and a seamless, efficient process for your guests.
Additional In Room App Uses
Many hotels are also using apps and their on property tablets and mobile phones for other in room purposes. Hotels are adding convenience to the guest experience by taking everyday activities and putting an app behind them. At some properties, it is now possible for guests to bypass the check-in desk and use a hotel mobile app to unlock the door of their room. Some hotels provide iPads in rooms with preloaded applications that can regulate the temperature or change the channel. These are not necessarily revenue generators but they add to the guest experience, can be highly publicized and create positive word of mouth that will eventually bring in new guests and additional revenue.

Highlighting On-Property Amenities & Services
Every hotel has something special to offer, and you can utilize your app to highlight this unique feature no matter what it is. One of our clients is known for their exceptional weddings, and as part of their app marketing strategy they inform their wedding couples about the app as a wedding planning tool. With features such as custom itineraries, room block booking capabilities, directions and maps, the bride and groom can easily help their wedding guests make travel arrangements, book rooms, find local activities and restaurants, and much more.
Another of our clients used the form feature of their application to post an exclusive contest for app users. This was simple to set up and execute, and while it did not bring any direct revenue at the start, this exciting contest added level of usefulness to app users. Within 10 minutes of the push notification about the contest being sent they received 60 entries and over the next few days they received an additional 320 entries. Those 380 users who entered the contest now feel that the app is not only convenient but it's also fun and adds to their experience.
If your hotel has a restaurant or spa, you probably already encourage advance reservations through your website or in a printed brochure, but that is a passive approach. Highlighting that you have a spa or a restaurant on property within your app will help to distinguish you from the other area hotels. A mobile app makes it possible to take an active role in pushing reservations and can help you dramatically increase reservations and revenue at your spa and restaurant.
Don't Inadvertently Turn Guests Away
This is a massive revenue generator that is often overlooked. The potential for revenue generation does not matter if you aren't seriously considering being in the mobile space. Take a look at your Google Analytics and see how much of your traffic comes from mobile devices. You may be surprised. By not offering a mobile solution to those people, you could be losing their business. If someone is visiting you from their mobile device, they most likely know exactly what they are looking for. They are also more likely to be new visitors and, statistically speaking, they will view just as many pages as visitors to the equivalent desktop website.
Hospitality is the number two industry for mobile engagement, second only to retail. This mobile audience carries vast potential to drive revenue. 64 percent of app users say they view brands with mobile apps more favorably, and mobile services have a proven record of increasing revenue. Your current and future hotel guests are already in the mobile space, and they are searching there for their favorite brands and new places to discover. Your hotel could be missing out if you aren't mobile-friendly and ready to meet the needs of these tech-savvy guests. If you are at the beginning stages of contemplating a mobile strategy, instead of thinking of it as an expense, think of all the lost revenue you are missing out on because you are lacking a mobile presence. And when you launch a mobile app, you can reach an untapped audience with limitless potential to drive additional revenue.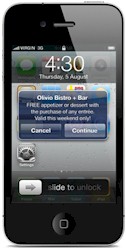 Push Notifications On average, how many rooms are vacant at your hotel every night? By offering special pricing with push notifications to last minute travelers who use your application, you can start selling those empty rooms. A slightly discounted rate offered exclusively to app users has the potential to bring in nearby guests within a few hours of your hotel. They will appreciate receiving a special offer just for them, and perhaps this offer will prompt those who were contemplating a last-minute getaway (or those spontaneous travelers who hadn't even considered a trip yet) to stay with you. This type of marketing will not only serve to help you fill empty rooms, but also builds guest loyalty.
The evolution of the mobile marketplace is only beginning and will continue to grow and change. Mobile applications are a necessary marketing channel that guests have come to rely on. Don't miss out on a great opportunity to stay in front of potential guests and build additional revenue by developing and using a mobile app to effectively increase sales. This article covered a broad range of marketing tactics to increase revenue with an app, however there is much more to learn and several myths about mobile apps to be dispelled. To learn more about the myths around mobile applications please visit our original blog post on the subject (O'Rourke Blog). In addition to the post you will also find a recording of our webinar on the same subject.
Tom O'Rourke founded O'Rourke Hospitality in 2001 and grew it into an award-winning hospitality marketing firm specializing in hotel website design and development, Internet marketing, SEO services, and mobile marketing. His innate ability to see new possibilities and generate fresh ideas, combined with his passion to bring these ideas to fruition, differentiates O'Rourke Hospitality from more traditional agencies. Prior to O'Rourke Hospitality Marketing, Mr. O'Rourke partnered in the growth and development of two successful and innovative enterprises where he honed his ability to move a concept into a reality with dramatic results by applying solid business practices and a high level of creativity. Mr. O'Rourke can be contacted at 978-465-5955 or Tom@ORourkeHospitality.com Please visit http://www.orourkehospitality.com for more information. Extended Bio...
HotelExecutive.com retains the copyright to the articles published in the Hotel Business Review. Articles cannot be republished without prior written consent by HotelExecutive.com.