Health Care Reform Update
By Kathleen Pohlid, Founder and Managing Member, Pohlid, PLLC
On June 28, the Supreme Court settled the debate looming over the constitutionality of the Affordable Care Act, upholding the individual mandate scheduled to go into effect in 2014. Since enacted on March 23, 2010, the Act continues to phase-in significant reforms many of which impose requirements affecting employers. Although legislative attempts and political discussions continue to swirl for repeal of the Act, the time-line for full implementation of the Act continues. Businesses, including those in the hospitality industry, should be in compliance with those provisions that have gone into effect and ready for those remaining to be phased-in.
The Affordable Care Act has initiated comprehensive reforms of private and public health coverage, with many of those reforms directly affecting employers. The Act phases-in its reforms, several of which have already gone into effect. Employers in the hotel industry should be aware of those provisions and the obligations and decisions they may pose for their business. Below is a synopsis of several provisions that have already gone into effect, and those which will be implemented in the future.
Currently In Effect
a. Health Coverage for Adult Children Until Age 26. Insurers that offer dependent coverage are required to extend the availability of coverage to children of the insured until the child reaches the age of 26. This provision applies even if the child is married. However, adult children who are eligible to enroll in an employer-sponsored health plan (other than their parent's) are not covered under this provision until 2014.
b. Prohibition of exclusions for children with pre-existing conditions. Children under the age of 19 cannot be denied health coverage for pre-existing conditions.
c. Pre-Existing Condition Insurance Plans (PCIP). States have the option of running a PCIP to provide new coverage options to individuals who have been uninsured for at least six months due to a pre-existing condition. For states that opt not to run a PCIP, the Secretary will establish a plan in that state. PCIPs will continue until 2014, when discrimination against pre-existing conditions will be prohibited for all individuals.
d. Prohibitions for Coverage Rescissions. Health coverage may not be rescinded except for fraud or intentional misrepresentation.
e. Reimbursement Coverage for Early Retirees. A limited pool of $5 billion was provided until 2014 to reimburse employers who offer retiree health plan coverage to retirees between the ages of 55 to 64. Although this limited funding pool has been exhausted, the Secretary of Health and Human Services advises that requests received will be held in the order of receipt, pending the availability of funds that may become available as a result of overpayment recoupment activities.
f. Small Business Health Care Tax Credit. Small businesses, households and tax-exempt employers who pay at least half the cost of single coverage for employees may be eligible for a tax credit. In order to qualify: (1) the employer must have fewer than 25 full-time equivalent employees for the tax year; (2) the average annual wages of employees for the year must be less than $50,000 per full-time equivalent; and (3) the employer must pay the premiums for each employee enrolled under a qualifying arrangement, which includes payment of not less than 50% of the premium cost.
g. Excise Tax on Indoor Tanning Services. The Act imposes a 10% excise tax for indoor tanning services. However, the tax does not apply to certain physical fitness facilities that offer tanning as an incidental service to members without a separately identifiable fee.
h. Breaks for Nursing Children. Employers are required to provide unpaid reasonable breaks to employees to express milk for a period of one year after the child's birth. The employer must also provide employees with a place shielded from view and intrusion for this purpose. Bathrooms are not acceptable locations. Employers who have fewer than fifty employees may be exempt from this requirement if compliance would pose an undue hardship.
i. Prohibitions on Rescinding Coverage & Imposing Limits. Insurance companies are prohibited from rescinding coverage except for reasons of fraud or intentional misrepresentation. Lifetime dollar limits on essential benefits are also prohibited.
j. Free Preventive Care. Job related and individual health policies created after March 23, 2010 must comply with requirements for certain no-cost preventive services including:
Blood pressure, diabetes and cholesterol tests
Many cancer screenings, including mammograms and colonoscopies
Counseling on topics such as smoking cessation, weight loss, healthy eating, reducing alcohol consumption and treating depression
Routine vaccinations against diseases such as measles, polio or meningitis
Flu and pneumonia shots
Counseling, screening and vaccines for healthy pregnancies
Regular well-baby and well-child visits from birth to age 21
k. Anti-Retaliation Provisions. Employers are prohibited from retaliation against employees who report suspected violations of the Act to include denial of coverage for pre-existing conditions and discrimination employees for receiving health insurance subsidies.
2012 - 2013
a. Employer Reporting of Sponsored Health Coverage - W-2. Employers are required to report the aggregate cost of employer sponsored health coverage for tax year 2012. Below is a chart of additional information provided by the IRS to facilitate this reporting requirement.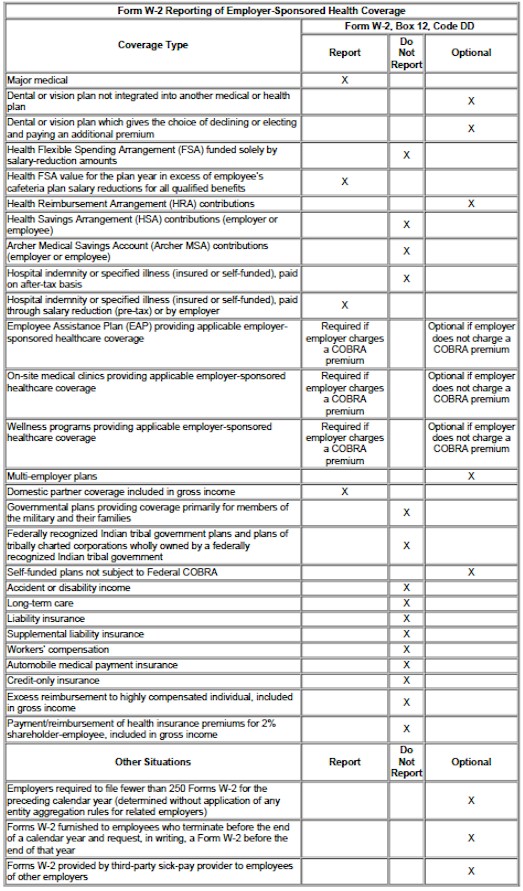 Source: http://www.irs.gov/uac/Form-W-2-Reporting-of-Employer-Sponsored-Health-Coverage
b. Summary of Benefits Coverage (SBC). Under Section 2715 of the Act, health insurance plans are required to provide a summary of benefits coverage (SBC). This requirement is separate from the ERISA requirement to provide a summary plan description. The Secretary of Labor has issued additional guidance on this requirement at http://www.dol.gov/ebsa/faqs/faq-aca8.html.
2014
a. Minimum Essential Coverage. Effective January 1, 2014, persons who are not exempt from the individual mandate must have minimum essential coverage either through qualifying government sponsored programs, an employer sponsored plan, plans in the individual market offered within the person's state, grandfathered health plans, or other qualified plans recognized by the Secretary. The Act provides for the operation of health care exchanges in each state to offer federal tax credits and subsidies to the uninsured.
In order to qualify as an employer sponsored plan and or a plan in the individual market, the plan must provide an "essential health benefits package" which: (1) limits the insured's cost-sharing; (2) provides for cost sharing at either the bronze (60% of the insured's costs); silver (70%); gold (80%); or platinum level (90%); and which provides the following minimum services: ambulatory patient services; emergency services; hospitalization; maternity and newborn care; mental health and substance use disorder services; prescription drugs; rehabilitative services and devices; laboratory services; preventive and wellness services and chronic disease management; and pediatric services including oral and vision care.
b. The Individual Mandate. The individual mandate goes into effect on January 1, 2014, assessing a shared responsibility payment to persons who are required, but fail to obtain minimum essential coverage. The mandate does not apply to: (1) persons who are members of a health care sharing ministry; (2) persons who are not legally in the country; and (3) persons who are incarcerated. Additionally, the following persons are exempt from the shared responsibility payment: persons who cannot afford coverage; persons with a coverage gap of less than 3 months; persons who the Secretary of Health and Human Services has defined to have a hardship situation; and members of Indian tribes.
The shared responsibility payment is assessed according to each month the person does not have coverage and is made with the person's annual federal tax payment. The amount varies and is the greater of either a flat dollar amount ($95 in 2014; $325 in 2015; $695 in 2016; and thereafter adjusted for inflation) or a percentage (phased in at 1% in 2014; 2% in 2015; 2.5% in 2016) of the excess of the person's household income above the filing threshold.
c. Employer Penalty. Effective January 1, 2014, a penalty will be imposed upon employers (defined as "large employers") who have 50 or more full-time equivalent employees if they do not provide coverage for each of their full-time employees. For 2014, the number of employees that an employer had during 2013 will determine whether an employer is a "large employer." Employees who work 30 or more hours per week are full-time employees. The number of full time equivalent employees includes both full-time employees and the monthly hours of part-time employees divided by 120. Seasonal employees who work under 120 days a year are excluded from the calculation of part-time employees. Large employers will also be assessed a penalty if they provide minimum essential coverage which is unaffordable or which does not provide 60% of cost coverage (bronze level) and at least one of their full-time employees receives a premium tax credit through an Exchange. The large employer penalty is determined on a monthly basis as follows:
Penalty If Employer Does Not Offer Coverage:
(Total number of full-time employees) - 30 x (the applicable monthly payment amount (for 2014, $2,000 divided by 12) = Penalty

Penalty For Each Full-Time Employee Receiving a Premium Credit from an Exchange:
The lesser of the amount determined above or (Total number of full-time employees receiving a credit) - 30 x (the applicable monthly payment amount (for 2014, $3,000 divided by 12) = Penalty
d. Wellness Programs. In 2014, employers will be allowed to offer premium discounts and other financial incentives up to 30% of the total premium to individuals who satisfy a health standard. Additionally, employers who have under 100 employees may be eligible for grants for establishing wellness programs.
e. Automatic Enrollment. Employers that offer health coverage and who have over 200 employees must automatically enroll new full-time employees with such coverage, providing them with the option to opt out of such coverage if they desire.
2018
In 2018, a 40% excise tax will apply for "Cadillac Plans" which offer coverage in excess of $10,200 for individuals, or $27,500 for families.
Although there have been many attempts to repeal the Act since 2010 - the latest occurring on July 11, 2012 - employers should not count on a repeal or delay consideration of the impact of the Act on their business. Employers and businesses should be aware of and ensure that they are in compliance with their current obligations under the Act and make plans to ensure for compliance in the future.
Kathleen Pohlid is the founder and managing member of the law firm of Pohlid, PLLC in the Nashville, Tennessee area. She advises business clients in matters including employment, occupational safety and health, Americans with Disabilities Act (accommodation & discrimination) and regulatory compliance. Her goal is to enable clients to comply with the myriad of state and federal laws to succeed in their business, mindful of the challenges facing businesses and the importance of cost effectiveness. She has advised and represented businesses in a variety of industries including restaurants, hotels, and other entities in the tourism and hospitality industries. She has over 20 years of combined federal government and private sector experience in employment law and litigation. She holds an AV® rating from Martindale-Hubbell (highest for professional competency and ethics), a B.S. degree from the U.S. Naval Academy and a J.D. from Samford University. Ms. Pohlid can be contacted at 615-369-0810 or kpohlid@pohlid.com Please visit http://www.pohlid.com for more information. Extended Bio...
HotelExecutive.com retains the copyright to the articles published in the Hotel Business Review. Articles cannot be republished without prior written consent by HotelExecutive.com.