Macro Global Trends Impacting the Hotel Industry
By Marc Glasser, Managing Director, RM LLC
This article is "global" (intentional pun) in nature as we discuss macro global trends and significant associated information. There are numerous macro global trends, directly or indirectly, impacting the hotel industry. While most of the article content does not identify specific Macro Global Trends Impacting the Hotel Industry this in no way detracts from the critical importance of the identified global trends below. Please pay particular attention and emphasis to the identified global trends below. Their importance and management are enhanced by this article's supplemental information. Before we identify global trends impacting the hotel industry it is important to emphasize there is a direct correlation between macro global trends impacting your company and company valuation. Value impact can be in terms of such quantifiable indicators as: company stock price and company value (including privately held corporations); market share and room rates. Additionally, harder factors "to quantify" include: company reputation and your customers' feeling of safety and security. There are certainly a lot of details associated with global trends, company valuation, awareness and action. This article will concisely address some of the significant details. First we will discuss macro global trend awareness.
As a hotel executive you have a responsibility to your stakeholders to be aware of current macro global trends and "Black Swan" events (discussed below) impacting the hotel industry including your company. Further, you need to be aware of and be able to assess less significant global and local trends to determine the likelihood they may indeed progress to significant macro events impacting your hotel operations. It is important to note that "stakeholders" include equity shareholders, privately held/company owners, senior executives to include your company's Crisis Management Team as well as customers, employees, vendors, regulators and the media. This list is by no means all-encompassing. Additionally, in smaller companies senior management and staff often wear "multiple hats". For example, in a smaller company the Crisis Management Team, whether officially designated or not, may consist solely of the CEO (or appropriately titled individual fulfilling the typical CEO responsibilities) and/or executives already having responsibilities for multiple business functions.
Crisis Management Teams, Global Trends and Company Value
Up to this point in this article, we have utilized the term "Crisis Management Team" a few times. Let's explain further. A company's Crisis Management Team considers strategic and tactical responses to a significant crisis affecting the company and provides direction to, among others, c-suite, emergency management, business continuity, supply chain, security and public relations company personnel. A company's Crisis Management Team's (or those serving this role) response, or lack thereof, to a macro global trend or significant regional or local event can further have a "macro" impact on your hotel operations, positively or negatively. The response can range from comprehensive mitigation, response and recovery plans to"nonexistent" awareness and lack of preparedness. If your company is lacking the Crisis Management Team function, it may be because senior company management:
is unaware of potential or impacting macro trends;

is aware of the significant trends but is not adequately aware of likely ramifications affecting company hotel operations and bottom line; or

understands how relevant global trends could affect the company's operations but based on resource constraints and/or low probability of occurrence has not allocated sufficient global trend management resources.
In response to the above, to justify and establish and/or maintain (for already functioning Crisis Management Teams and newly created ones) an adequate global trend management program including Crisis Management Team function integration, it must be communicated to senior management that your company's value is significantly influenced by global trends and appropriate proactive (pre-impact) or mitigating (pre or post- impact), response (post- impact) actions are cost-effective and ROI positive.
In summary, and worth repeating although rephrased a bit, your company's value can be significantly related to an effective global trend management program utilizing current and accurate information, including monitoring changes and appropriate planning, resulting in cost-effective risk reducing measures and sustaining or increasing a company's value.
Macro Global Trends Impacting the Hotel Industry
Now that we have established the importance of understanding global trends and impact on a company's value and ways to justify, initiate and sustain a global trend management program, including monitoring and planning, now we will identify specific macro global trends in the table below. As you surmise, the macro global trends listed below can impact hotel companies differently, as well as specific company hotel venues. When perusing the table below, identifying the trend and possible ramifications, think in terms of how it can affect your overall company, individual business functions as well as "location specific" hotels. Further, it is important to note many of the trends identified below can be associated with other trends and "cascading effects". The term "cascading effects" refers to one trend or event initiating or causing another event or multiple events. For example, the effects of the Great Recession leading to loss in company revenues, leading to company layoffs, leading to reduced personal income, leading to reduced discretionary income, leading to fewer family vacations, leading to lower hotel demand and occupancy, leading to reduced hotel room rates…and so on. Another "cascading effects" example is the 2010 Icelandic Katla volcano eruption which significantly disrupted air traffic causing cancellation of many flights resulting in trip cancellations and associated hotel room cancellations and vacancies and loss of income.
Macro Global Trends Impacting the Hotel Industry trends listed below are general and best considered at the global, regional and local levels and in terms of possible applicability and variations. Additionally, these trends are not listed in any specific order.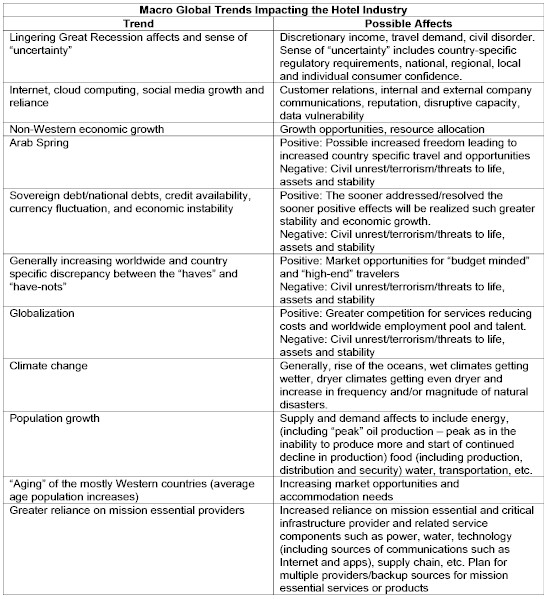 Now that we have identified numerous macro global trends, directly or indirectly, impacting the hotel industry, it is important to discuss "undefined" trends or catastrophic events. "Undefined" trends or catastrophic events are significant events that surprise the vast majority of us, including the subject matter experts and discipline related practitioners. The world has a lot of intelligent and aware people. Many times significant macro trends are identified in their infancy by these intelligent and aware people. However, it is important to realize, there are significant macro trends and events that no one or only a few people in this world predict. Even when a few people predict these "undefined" events, often these predictions are unnoticed by the mainstream mass media and subject matter experts. Such events include the fall of the Eastern European "Iron Curtain", the terrorist attacks of 9/11, real estate derivative implosion significantly contributing to the Great recession and the Arab Spring. How many predictions did you hear of the aforementioned? These types of events have been described as "Black Swans" as introduced by Nassim Nicholas Taleb in his book The Black Swan: The Impact of the Highly Improbable. The term "Black Swan" is now utilized in risk management and other disciplines.
The fall of the "Iron Curtain" and its effect on Eastern Europe, the terrorist attacks of 9/11 and other Black Swan events share the following three characteristics:
they lie "outside" the realm of most predictions (also identified as statistical outliers) often because they have no historical precedent;

the transpiring events have extreme impact; and

once these events occur individuals, including discipline related experts, come up with plausible explanations - it is important to reemphasize these explanations are - after the event has occurred.
Global Trend Awareness and Preparedness
What does all this mean for known, highly probable macro global trends and Black Swan events and the hotel industry? It means that you as a hotel executive must be aware of the known or highly probable global trends affecting your area of responsibility. Area responsibilities include individual hotel properties, geographic/regional management and business departments and unit functions. In addition to understanding the most likely global trends for your area responsibilities you must be prepared for global macro Black Swan events. Preparing for the effects of a likely global trend is difficult enough without having to prepare an unknown event. How does one concurrently prepare for likely and unknown possible global trends affecting hotel operations without glaring looks, or worse, from the Chief Financial Officer?
The following answer will satisfy most CFOs who are ensuring that money is wisely spent and expenses are minimized. The cost-benefit approach to preparing for or minimizing the effects of macro global trends is to utilize the crisis and emergency manager principle of the "all-hazards" approach where crisis management plans follow a one common framework plan, eliminating the need for redundant planning, and only deviates where necessary for a particular identified global trend threat or other risk. This common framework plan allows for partial plan deviation for known and "unidentified" or Black Swan events while retaining effective plan actions. As hotel executives you are aware of, but worth highlighting, that often many of the best laid plans require minor to considerable "plan variations" and as smart and nimble executives often you have to modify a plan "on the fly". This "on-the-fly" experience will be most beneficial when responding to the impacts of global trends and other emergencies when implementing the all-hazards plan and modifying accordingly. The all-hazards approach requires fewer resources, including time, because common elements or retained and utilized when possible.
As we have identified, many hotel executives are under significant time pressures. How does a hotel executive stay aware of global trends and business unit or hotel-specific factors without adding additional significant time pressures? Short of delegating the responsibility, one can utilize specific media sources that concisely report and identify global trends. Such resources include this publication, professional hotel associations (local, national and international), weekly The Economist publication which has a one-page summary discussing global "Politics" and "Business" trends and events. Additionally, the U.S. State Department, and its equivalent in most countries, often called the Foreign Ministry, issue geographic or sector-specific travel alerts and warnings.
In the case of the U.S. State Department (http://travel.state.gov/) "Travel Alerts" refer to "…short-term conditions, either transnational or within a particular country, that pose significant risks to the security of U.S. citizens. Natural disasters, terrorist attacks, coups, anniversaries of terrorist events, election-related demonstrations or violence, and high-profile events such as international conferences or regional sports events…" and "Travel Warning" refer to" …long-term, protracted conditions that make a country dangerous or unstable lead the State Department to recommend that Americans avoid or consider the risk of travel to that country." Additionally, the U.S. State Department's Overseas Security Advisory Council (OSAC) (www.osac.gov) provides regular "Global Security News & Reports" e-mails to members (application submitted through www.osac.gov) as well as related website information identifying trends and incidents worldwide.
Global trends can also start locally or occurring elsewhere can be the impetus to occur locally. Establishing liaison with local, credible, information source providers is vital to your company's effective global trend awareness and management program. Whether located in the U.S. or elsewhere, liaison entities include local: media sources; governmental executives and officials; professional associations, industry executives, chamber of commerce, safety and security, and if operating internationally, your country's embassy or consulate located closest to your specific hotel property and/or operation.
It is important to note, even if current global and local trends do not significantly impact hotel operations, you ask "what if" the particular situation threatened my hotel operations. Additionally, when asking "what if" questions, think in terms of cascading effects, "all-hazards" management, mitigation, response and recovery planning, including crisis, security, business continuity and supply chain management.
Once you have addressed possible impacts related to current global and local trends you will have a significant advantage over competitors which have not done so. Not only will there be positive ramifications for your company's value but you even have the opportunity to increase market share and goodwill associated with your effective global trends management initiative.
Sources Used in Assessment
LLOYD'S RISK INDEX 2011

Worldwide Threat Assessment of the US Intelligence Community for the Senate Select Committee on Intelligence (Unclassified/open source)

U.S. Department of State

CIA -The World Factbook

The International Consortium for Organizational Resilience (ICOR)

Disaster Recovery Institute (DRI) International

ASIS International

The Economist

The Wall Street Journal

BBC
Marc Glasser is the Managing Director of RM (Protection Risk Management) LLC. RM LLC provides security, business continuity, and emergency management services spanning the protection of life, operations, assets and stakeholder value. He directs risk management, security, and business continuity programs (including business impact and supply chain analysis) to mitigate vulnerabilities, including natural (e.g., floods, earthquakes, hurricanes), technical (e.g., utility service disruptions, hazardous materials incidents), and intentional (e.g., terrorism, theft, espionage). Mr. Glasser can be contacted at 702-809-3434 or mglasser@rmllc.com Extended Bio...
HotelExecutive.com retains the copyright to the articles published in the Hotel Business Review. Articles cannot be republished without prior written consent by HotelExecutive.com.