Green Hotel Amenities on the Rise
By Michelle Millar, Assistant Professor Hospitality Management, University of San Francisco
As hotels continue to add green services and practices to their operations, hotels guests are taking note. In fact, more than ever, travelers consider themselves environmentally conscious and are seeking hotel products that meet their personal values about protecting the environment. A hotel that provides green services to guests is in line with those same values. Green services may include linen re-use practices, eco-friendly activities, or extensive recycling policies, to name a few. Another growing part of that equation, however, is green amenities in the guest bathroom. Green amenities are now on the top of many hotels' green to-do list.
Hotel Amenities
While guests expect certain amenities in their hotel rooms, more and more of them are also demanding that the amenities are green. Amenities include those little extras that hotels provide, but green amenities are created with a focus on some aspect of protecting the environment, or, at the very least, causing less harm to the environment. Hotels are meeting the demand for green amenities by providing linen and towel reuse policies, which have become the norm for most hotels; recycling bins in the guest room, compact fluorescent or LED lighting, and low-flow water fixtures. Other green services might include food that is purchased locally, or local activities that are geared towards the environment. In addition, what is becoming more prominent in hotel rooms today, are other in-room amenities that are meant to both reduce waste, and minimize the negative impact they may have on the environment.
When traveling, hotel guests like and expect amenities in their rooms, especially those that sit on the bathroom vanity. Travelers have come to expect them even when staying at budget hotels. At the very minimum they expect a bar of soap. At the other extreme, when staying at luxury properties, they expect luxury bathroom amenities, including shampoo, conditioner, soap, lotion, mouthwash, sewing kits, shower caps, and more. The problem with such amenities, however, is that they can create a lot of waste. More waste not only adds to the ever-growing landfills, but it translates to higher trash removal costs, and also makes it difficult for hotels to meet green standards they may have set for themselves.
Recycled Amenities?
Partially used bottles of shampoo, or partially used bars of soap, cannot be redistributed to guests and therefore are thrown away. To help avoid the amount of waste going into the landfill, hotels may choose to donate leftover soaps and shampoos. In some instances, hotels can donate these unused products to companies that will sterilize and distribute them to homeless shelters, or send them to other parts of the world to those that are in need of such amenities. For example, Clean the World accepts partially used bars of soap that they then sterilize and send to communities around the world. They recently shipped over 10,000 pounds of soap to Stop Hunger Now, who will include the soap bars in hygiene packets sent to Kenya and other countries. However, that is only possible if there are resources in a hotel's community that can provide those services. So, the partially used items get thrown away, thus adding to the waste stream. What is a hotel to do?
Hotels can choose to combat the problem by eliminating amenities altogether, or reducing the numbers that are provided. A lack of, or fewer amenities, however, impacts star and diamond hotel quality ratings. Hotels offering a plethora of sink-side amenities, along with various other hotel attributes, usually receive higher ratings. For example, the Diamond Rating Guideline published by the American Automobile Association requires four-diamond hotel properties to have a seven-piece personal care package in the guest bathroom that includes two large bars of soap, three bottled items and two additional items. Removal of the two additional items and one of the bottled items lowers the ratings to three diamonds. Hotel managers work too hard to achieve certain star or diamond ratings, for them to change their amenities in order to reduce waste and be green. Guests also expect certain amenities when staying in rated hotels. What is a hotel to do?
Refillable Dispensers
One option is for hoteliers to use refillable dispensers. The use of refillable dispensers helps to reduce waste by using the dispensers for soap and shampoo instead of using individual plastic bottles that are eventually thrown into the landfill. According to the American Hotel and Lodging Association, more than half a million little shampoo bottles end up in the landfill every day. More than 800 million slightly used soap bars are thrown out each year. Dispensers can reduce that waste by up to 70 percent, and also save staff the time that is costs to replace amenities on a daily basis. In the past, however, there has been some resistance by both hotel guests and hoteliers to using refillable dispensers. As a result, according to the American Hotel and Lodging Association, very few properties use them. Hotel guests have concerns about what's actually in the dispensers, how clean they are, and dispensers tend to remind them of showering at the gym. In addition, hoteliers complain that dispensers are unattractive looking and do not fit with room decor.
Suppliers of dispensers are listening to hoteliers and are now providing a wide range of dispensers that look very stylish compared to those that most people are accustomed to seeing when they go to gym. Hoteliers are responding by incorporating the dispensers into their room design, and educating guests about the benefits of using them. All Element by Westin hotels, a relatively new brand, Four Points by Sheraton, and Aloft use dispensers in hotel rooms "rather than wasteful multiple mini-bottles". Several boutique hotels in the West have recently signed on with Tommy Bahama to provide Tommy Bahama products in specially designed dispensers. Despite the growing use of dispensers, hotels that use them are still in the minority. What is a hotel to do?
Large Containers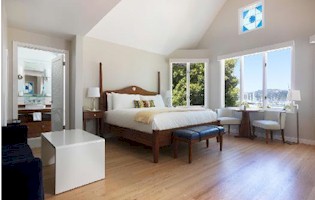 Casa Madrona Sausalito A second option is the use of larger sized amenity bottles. Some hotels, in lieu of dispensers, are providing large-bottled versions of their amenities. The Casa Madrona Hotel in Sausalito, California provides "normal" sized bottles with pump dispensers, similar to what might be used at home, of their spa shampoo, conditioner, and bath and shower gel. They do not provide small bottles of any of those amenities, so hotel staff does not need to throw away partially used bars of soap or shampoo. Waste is reduced, but the hotel will still meet its diamond or star rating requirements. Some of the other hotels using larger bottles include The Greenwich Hotel in New York, as well as the SLS Hotel Beverly Hills and Avalon Hotel Beverly Hills Hotel. It remains to be seen what guest's reactions are to these larger bottles. They may still question what is in them, although the same question could be posed about the smaller bottles. Many guests also like to take the amenities with them. Large bottles make it inconvenient for them to do so, and all of the aforementioned hotels using larger bottles say they may charge hotels guests anywhere from $20 - $30 if they do take the bottles home. And, according to one hotel executive, the purchase of larger containers is cost neutral compared to the smaller bottles. Good new for hoteliers.!
Created with the Environment in Mind
Finally, other hotels may not be using bulk containers or dispensers, but they are providing amenities that are created with the environment in mind. In addition to seeking larger sized amenities, or using dispensers, hotel managers are seeking vendors that provide bathroom amenities created with a green philosophy. For example, small shampoo and lotion bottles may be created that are biodegradable. Hilton, Doubletree by Hilton and Embassy Suites all use bottles that are biodegradable. All Hyatt Hotels and Resorts use products from Portico Home and Spa, which provides organic amenities in biodegradable packaging, in addition to environmentally friendly-produced linens. All of Kimpton Hotel's bathroom amenities are housed in environmentally friendly packaging. The contents of the biodegradable packages also incorporate safe and healthful ingredients that are oftentimes organic. The also avoid using harsh chemicals, and typically do not conduct any sort of testing on animals.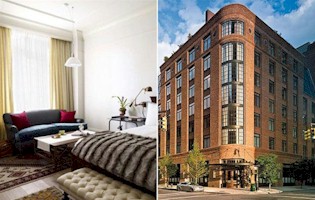 Robert De Niro's Greenwich Hotel
Finding such amenities is fairly easy too. Concept Amenities provides Environmentally Responsible Products™, which are 1) Biodegradable in landfill conditions; 2) Recyclable, where possible, to maximize usage; and, 3) Friendly to our natural environment in the long term, to many hotels. Pineapple Hospitality is one of the premier companies offering all types of green services and amenities - everything from dispensers to bathroom products, and food and beverage products to green marketing services. The Green Hotel Association also provides a list of green vendors, including those that provide eco-friendly bathroom amenities.
Hoteliers have several choices if they want to provide their guests with green bathroom amenities. It is always important for hoteliers to know what their customers want and need in a hotel. Green amenities such as dispensers, large containers, or those that are eco-friendly, are one avenue a hotelier may use to fulfill those needs and wants, especially for the eco-conscious traveler and especially if hotel guests are demanding them.
Michelle Millar is an Assistant Professor in the Department of Hospitality Management at the University of San Francisco. She received her undergraduate degree from UC Davis, her Masters of Tourism and Hospitality Management degree from Temple University in Philadelphia, and her doctoral degree in Hospitality Administration from the University of Nevada, Las Vegas. Ms. Millar has worked as a travel consultant in various types of travel agency settings for many years, and from 1998 until 2005 operated her own travel agency. She has extensive knowledge in vacation planning, meeting planning, corporate travel planning, and general business operations. In addition, she has worked in a small hotel, which provided her the opportunity to work in all departments of the operation. Her work experience has proven invaluable when teaching at the University of San Francisco. Ms. Millar can be contacted at 415-422-2498 or mmillar@usfca.edu Extended Bio...
HotelExecutive.com retains the copyright to the articles published in the Hotel Business Review. Articles cannot be republished without prior written consent by HotelExecutive.com.