The Importance of Hotel Loyalty Programs
Everyone in the hotel and hospitality industry knows that, more often than not, travelers book a hotel room based on two factors: price and location. Of course, there are travelers that would choose amenities over price any day, or those who are willing to drive a bit further to their destination to save a buck or two. But one factor that many hotels disregard is the importance of their customer loyalty program - also know as the frequent guest program (FGP) - in motivating customers' purchasing decisions.
We are all familiar with the basics of a hotel frequent guest program: customers earn points for staying with a particular property or chain, which are redeemable for anything from discounts, upgrades, to a free stay. While most hotels have loyalty programs, most place very little importance on their loyalty programs as a driving factor for increasing consumer bookings. But the truth is that loyalty programs can be a very important decision-maker, especially for frequent travelers, often hotels' highest-earning customers.
Don't believe me? Let's look at the stats:
In 2010, Epsilon Strategic & Analytic Consulting Group conducted a study of 400 travelers asking about their recent hotel bookings and found that, in addition to price, location, good reviews and recommendations from others, loyalty programs were absolutely a motivating factor in booking. In fact, the study showed that more than eight in ten program loyalty members consider the hotel's loyalty program and rewards before booking their hotel(1).
A more recent study by Market Metrix has proven that hotel loyalty programs now rank fourth in the top deciding factors when booking a hotel. In 2009, 32.7% of customers said a hotel's loyalty program influenced their decision on where to stay and that number has increased by almost 2% in the past two years(2).
What Makes Hotel Loyalty Programs Effective?
Though many hotels possess loyalty programs, they are not using them effectively. On average, only 20 to 40% of FGP members actively accrue points and work towards redeeming them. That means that hotels are losing on the opportunity to earn income from approximately 60% of their loyalty program members(3), equally a huge financial loss for hoteliers.
One of the major impediments to the success of hotels' loyalty programs is either the lack of desirable rewards or the high level of points needed to earn rewards. One of the most effective formats for loyalty programs is a ladder system, with rewards improving at each step of the way. The ladder system ensures that there are rewards available to all consumers, no matter how frequent their stay or their point level. Of course, as members earn more points, they are able to redeem their points for higher-value rewards, making the ladder system an effective one at incentivizing loyalty. The members with the highest number of points are referred to as "elite members". Overall, elite members of loyalty programs feel more satisfied, are more likely to recommend the hotel to their friends and are even willing to pay up to 17% more at a hotel where they receive membership points and benefits.
Another very important factor in determining whether or not a hotel's loyalty program will be successful is the medium in which customers can interact with the program - either to check their point balance and/or redeem rewards. According to a 2010 survey by Loylogic, 58% of travelers prefer the Internet, followed by mobile (20%), in-store (11%), SMS (4%) and Facebook (3%). This statistic shows that the most effective loyalty programs will be available on- and offline, and will offer multiple mediums for obtaining info and redeeming points to ensure that it is quick and easy for each consumer to redeem their points.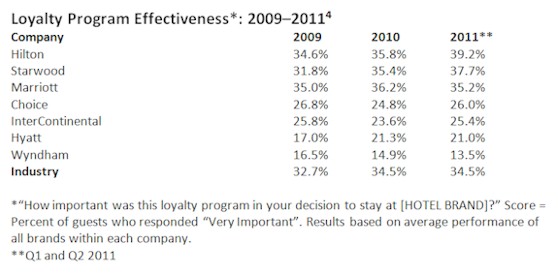 The Importance of Redeeming Early
While the most sought-after rewards vary per program, customers like rewards that are easily redeemable because consumers enjoy instant gratification. A study by Mintel showed that 47% of consumers were more motivated to join a loyalty program if the program provided instant gratification rather than offering travel units that could only be earned over time with repeated stays(5).
Even more importantly, after a customer's first redemption, they are more motivated to continue to earn points towards other rewards; in fact, after the first redemption, customers' earn rates can increase by 8 times when compared to their previous accrual patterns(6).
Some instantly redeemable rewards to consider: offering free rooms with low point requirements, upgrades, promotions and downloadable content (mP3s, movies, e-Books, etc.). Again, by setting up your property's loyalty program as a ladder system, you are offering consumers the ability to redeem for lower value items immediately or save their points to earn more valuable rewards over time. This flexibility ensures that your members will be more engaged to participate in your program over the long-term.
Points + Pay
By making it easy for customers to redeem their points for low-level rewards, hotels are able to drastically increase participation in their FGPs. Another very effective way for hotels to increase their redemption rate is to offer consumers the ability to redeem for rewards using a combination of points plus currency. Ideally, the program would allow consumers the flexibility to use as few or as many points as needed, and make up the difference with a dollar-value payment. For example, consumers could choose to pay with as few as 1 point with the remainder in cash, or in as little as $1 with the remainder in points.
By giving consumers the ability to redeem whenever, wherever, using whatever payment method is most convenient to them, you will ensure the long-term success of your property's loyalty program.
Start your Loyalty Program Today
According to the Market Metrix study, the redemption of hotel loyalty points in the hotel industry is currently increasing and it is expected to influence even more consumers over the next year, so if your property hasn't implemented an FGP, now is the time to do so.
Loyalty programs can be designed for hotels of any size - even the smallest boutique properties. Many smaller properties are often concerned about the ROI of implementing a FGP but in fact, statistics show that some of the smaller hotel chains have a better success rate with their loyalty programs than some of the global chains(7).
So no matter how many rooms your property offers, Implementing a loyalty program will influence guests' booking decisions, encourage repeat customers, provide word of mouth marketing and keep your property's highest-earning guests satisfied.
Remember that the most effective loyalty programs include instant gratification rewards, as well as accrual benefits. And lastly, be sure to create a loyalty program that works for your specific hotel type, your destination and your target customer.
Your bottom line will thank you for it!
AT A GLANCE: Top 10 Global Hotel Loyalty Programs (as of December 31, 2010)
InterContinental Hotels Priority Club ® Rewards: 52 million members (currently, 56 million)

Marriott Rewards ®: 33 million members

Hilton HHonors: 26 million members

Starwood Hotels Preferred Guest ®: 25 million members

Hyatt Gold Passport ®: 10.2 million members

Best Western Rewards ®: 11 million members

Choice Hotels Choice Privileges ®: 10 million members

Wyndham Rewards ®: 8 million active members

Carlson Hotels Goldpoints Plus ®: 5.5 million members

Accor A-Club ®: 5 million members in 2 years
References:
(1). Price, Location and Reviews Drive Decisions about Where to Stay; Loyalty Programs Effectively Engage Members: http://www.epsilon.com/download/epsilon-study-checks-consumer-attitudes-and-preferences-about-hotel-marketing-programs
(2). Barksy, Jonathan. Hotel loyalty programs offered by chains and independents are growing in popularity: http://www.marketmetrix.com/en/default.aspx?s=research&p=HotelLoyaltyProgramsGrowingPopularity
(3). Gupta, Ritesh. Offering consumers the opportunity to redeem meaningful rewards in all areas of their life: http://www.eyefortravel.com/news/hotels/offering-consumers-opportunity-redeem-meaningful-rewards-all-areas-their-life
(4). Market Metrix: http://www.marketmetrix.com/en/default.aspx?s=research&p=HotelLoyaltyProgramsGrowingPopularity
(5). Mintel: http://www.bizreport.com/2010/12/motivate-loyalty-program-participation-with-instant-rewards.html
(6). Loylogic report - Engagement: The Golden Moment. http://www.loylogic.com/index.php?option=com_docman&task=doc_download&gid=40&Itemid=
(7). Barsky, Jonathan: http://www.marketmetrix.com/en/default.aspx?s=research&p=HotelLoyaltyProgramsGrowingPopularity

Jennifer Nagy, President at jlnpr, is a public relations pro with a passion for the hospitality industry. Jennifer's work with high-profile national and international clients in the travel and tourism, airline, lodging, cruise and meeting/event sectors has focused on crafting coherent messaging and creating wide-scale media exposure with the end result of creating new business opportunities and increasing revenues. Ms. Nagy is widely recognized as an expert in hotel and hospitality marketing by her ongoing columns in leading industry publications Ms. Nagy can be contacted at jenn@jlnpr.com Extended Bio...
HotelExecutive.com retains the copyright to the articles published in the Hotel Business Review. Articles cannot be republished without prior written consent by HotelExecutive.com.