Resorts: A Unique Security Challenge
By Richard Hudak, Managing Partner, Resort Security International
Security is not a "one size fits all" tradecraft. Unlike fire safety codes which are very specific and require local compliance, security programs (applications, technology, protocols, procedures and staffing) vary depending on the industry, location, risk, vulnerability and tolerance for inconvenience.
The lodging industry requires a higher level of care from a liability perspective due to guests sleeping over, dining and paying for a recreation experience. The lodging industry varies from bed & breakfasts, inns, hotel casinos, business and convention centers, and remote resorts. Each property is unique-the primary reason why lodging standards are difficult for industry associations to promulgate. Although, brand security standards have been in effect for years.
The premise of this article is that due to the unique nature of resorts, resort security programs differ from typical hotel security. To be fair, this premise is a generalization and based upon experience with isolated resorts around the World, not necessarily applicable to resorts that are concentrated in areas like Cancun, Honolulu or Miami Beach which are more characteristic of business hotels in resort areas.
It is widely agreed by lodging security professionals that prevention should be the objective of hotel security and that deterrence is the key. Both factors require situational awareness which is usually achieved by hotel security management through situational awareness with staff, vendors, service providers, guest knowledge and external intelligence. Physical security requires effective environmental design. Design that incorporates access controls from the perimeter to the guest room door. Access Controls must be monitored to be effective. Monitoring can be achieved by hotel security officers (or contract security), closed circuit television (CCTV) or electronics.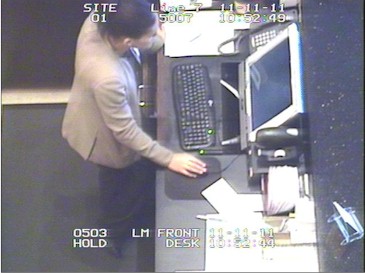 Front Desk Cam
Security, by its nature, means inconvenience. Certain industries tolerate inconvenience more readily than others (e.g. banks, defense contractors, manufacturers). Other businesses traditionally lack tolerance for security protocols and controls. Since September 11, 1991, the airline industry and airports have transitioned to a higher level of security and tolerance for additional inconvenience. A similar trend is occurring in hospitality/lodging as more hotels and resorts are being targeted by criminals and terrorists. During the past five years, the media has reported incidents ranging from rapes, robberies, distraction theft, breach of hotel guest data bases, to violent assaults, assassinations and bombings. These reports have had a decided effect upon public opinion, raised the desirability for enhanced hotel security and along with greater tolerance for some inconvenience.
Resorts are often different than hotels. Resort owners, executives and security directors encounter circumstances that are unique when planning and creating their safety and security programs. Here's why:
• Resorts are usually isolated (remote from airports, hospitals, and embassies). They are located in areas where law enforcement and public service resources are limited, undermanned and inadequately trained (adversely impacting police, fire and emergency response).
• Resort locations are often near unique geological or natural sites--mountains, oceans, jungles or desserts (natural phenomena with inherent risk).
• Most resort hotels are low-rise horizontal structures rather than the vertical high rise types seen in urban locations (horizontal structures have many access points into the building, and often have outside doors through which guests enter their rooms).
• Resorts typically emphasize luxury, privacy and service (celebrities and political notables are prime targets of terrorists and hotel thieves).
• The landscape at resorts is usually lush (enabling cover and concealment) and the interior is designed for relaxation and privacy (lower lighting and reduced visibility).
• Contrary to the police looking uniforms worn by security staff at urban hotels, resort security are dressed in relaxed, even sporty attire that is indistinguishable from service staff (lacks deterrence).
• Security technology is more difficult to purchase and maintain given the remoteness of the locations and difficulties in distribution networks (requires extra spare parts and special training to service).
• Resort technology and equipment is subject to corrosive salt air and water, high or low humidity, altitude and extreme temperatures (impacts lighting, locks, CCTV and gates making maintenance challenging).
• Hotels typically employ one (or less) hotel employees per room; resorts staffing can exceed two, three or more staff per room (significantly greater human and security issues).
• Hotels located in urban locations draw staff from a larger labor pool; resorts usually staff from the local community (frequently unaccustomed to different cultures, languages, and hospitality sensitivities).
With so many factors working against traditional security protocols, how can resort owners, executives and security management provide adequate safeguards for guests, patrons and staff, and protection for guest data and resort property? With so many contradictions, how can resorts create an effective security program that will assure the reputation of the resort?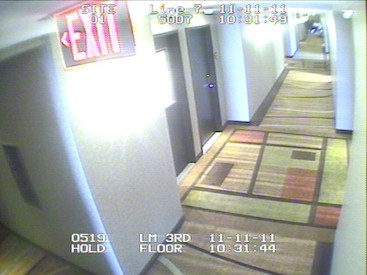 Hotel Floor Cam
Hotel and resort management frequently perceive the security department as a second, or third priority, the security manager or director is seldom appointed to the Executive Management Team or included in strategic decisions. Guest surveys, however, report that safety and security are essential to guest satisfaction. From a liability perspective, the overwhelming number of negligence law suits filed in the lodging industry base the litigation upon "negligence,""lack of foreseeability" and "inadequate security" which is a direct reflection upon the General Manager, who is ultimately always responsible for safety and security.
In my experience as the Director of Corporate Security for both ITT Sheraton and Loews Corporation, the most qualified and competent hotel/resort Directors of Security in the portfolio were true "problem solvers" for the their General Managers, were appointed to the Executive Management Team, regularly contributing to strategic decision making.
Comment: Hire Security Directors or Security Managers who are competent, pay a competitive salary package, and appoint them to the Executive Management Team.
Many resort security departments are undermanned, poorly trained and equipped, and are dressed in casual or sports clothing to blend into the relaxed atmosphere of the property.
Comment: Resort security officers should be selected for their experience, integrity, ability to communicate and appearance. They are emissaries of the Owner, Brand and General Manager and must be trained with emphasis on "hospitality sensitivity." Resort Security should be uniformed in comfortable, yet distinctive clothing that can be easily recognized and has a deterrent effect. Resort security officers should communicate as they patrol. Guests and employees like to be recognized, criminals do not!
Resorts are often "open campuses"with minimal barriers and multiple access and egress points spread over acres of property, often near expanses of beach, water, jungle, mountainous terrain and varied geological features. The Crime Prevention Through Environmental Design (CPTED) concept incorporates geological features into the overall security plan. Through the use of natural features-- boulders, water, trees and landscape, a skillful landscape designer can create approaches into the perimeter that can be channelized, monitored and controlled. An effective design creates avenues of vision for monitoring and "standoff" from the main structures if necessary. When engineered with man-made barriers (fences, gates, walls, etc.) and lighting, resort property can achieve an appropriate balance offering pleasant park-like surroundings with effective security.
Resort landscape should be carefully maintained to avoid cover and concealment especially near access points to guest entrances and guest rooms. Use of ground cover, colorful flowers and less"leafy" shrubs permit better visibility and is preferable to thick hedges and larger plants. Many tropical resorts remove coconuts from their palms prior to hurricane season for safety reasons. Often cactus plants (similar to prickly pear) and ornamental shrubs with thorns (similar to pyracantha) are located to shield restricted areas or to block access and deter voyeurism around guest room windows.
Comment: Consider the CPTED concept when re-thinking the security program.
Guests and patrons are usually allowed to park their vehicles as close to the entrance as possible for convenience. Under Normal Security conditions, this is acceptable. When the risk level increases to an Elevated Security condition, "standoff" is necessary. Resort Security should validate all vehicles and pedestrians entering the perimeter entrance. Parking areas should be zoned away from resort building entrances. In addition, side entrances to the lobby should be secured requiring all guests to enter and depart through the main entrance, and all staff through the employee entrance. All service deliveries, mail/UPS/FedEx, and outlet (stores on site) activity must be carefully monitored. When the General Manager places the resort in the Highest Security condition, only guests and their visitors should be permitted access through the perimeter, excluding all others. Visual searches should be conducted on all vehicles entering the perimeter. Critical staff members, including all resort security officers should be expected to remain on-site overnight. Off duty law enforcement may be contracted to provide armed patrols and extra protection, keeping in mind that off-duty police may be activated during a crisis and forced to leave. As an alternative, security or police resources from outside the area may be considered.
Comment: Failing to Plan, is Planning to Fail. Have written contingency plans based upon ideas and recommendations from the entire Executive Management Team ready when risk levels change. Review the contingency plans periodically. Levels of Risk may range from earthquake, tsunami, fire and natural events to a terrorist threat or civil disorder. The security condition may also be elevated by the visit of a prominent government official, a celebrity or reservations made by certain groups which could spark confrontation.
Lighting standards for hotels and resorts are promulgated by the Illumination Engineering Society (IES). However, the standards are impacted by local regulations, some based upon environmental situations affecting wildlife, and others by aesthetics. Illumination at resorts should be based upon the "5 L's" (Location, Lumens, Light bulbs, Labels and the Law). Illumination at access points, stairways and parking areas should be brighter than pathways through the landscape. Illumination should be designed in a reasonable way to ensure that guests and staff are able to avoid unsafe conditions. It is important that resort security inspect lighting daily while on patrol and report any fixture or bulb that requires replacement to engineering.
Comment: Adequate Illumination allows Guests, Patrons and Staff to avoid pitfalls, and dangerous conditions. It also provides visibility for resort security officers to detect unauthorized persons trespassing, loitering or preparing to commit a crime.
Typically resorts with low-rise, horizontal architecture are designed with sliding glass doors and easily accessible windows through which unauthorized entry is possible. These properties are more difficult to both service and secure.
Comment: In order to offer the best protection guest room doors must have a good quality frames and electronic, reprogrammable, door locks that can be interrogated to provide the time, date (activated by either magstripe keycards or the newer proximity cards. Optical viewers, privacy latches (U-bars) and door closers (or closing hinges) all work together as a system to provide adequate security. If windows can be opened, good quality locks should be installed. Finally, sliding glass doors are vulnerable. Ensure that the sliders are properly installed so that they cannot be removed from their tracks from the outside. Sliders should be secured with pins or charley bars in addition to their primary locks. All guest rooms should be equipped with good quality digital in-room safes that are secured bolted in place.
Parking lots and garages are available for guests, visitors, and patrons of resort restaurants, spas and recreational facilities, but also for staff. With the exception of valet parking, the parking areas are the most difficult for security to protect. Stolen vehicles, break-ins, vandalism and more serious rapes and robberies do occur. Parking areas are impacted by weather, landscape, oversized vehicles which block visibility of smaller vehicles, absence of security patrols and unrestricted access through the perimeter entrance allowing outsiders to approach vehicles and their passengers.
Comment: Random security patrols should be made through the parking areas throughout the day and night using marked vehicles, bicycles, segways and walking tours. The use of CCTV in a parking garage should be limited to the entrance and exit ramps recording all vehicles that enter and depart. When an Elevated or Highest Security condition is ordered, resort security should incorporate a manned post at the perimeter entrance clearing all vehicles and passengers that enter.
Instead of monitoring activity around resort grounds or parking lots using CCTV, resorts are installing visible audio intercom devices (Code Blue or Talk-a Phone). Plaintiff attorneys argue that when CCTV monitoring is in use, the prevention of a criminal incident becomes the responsibility of the resort due to a "reasonable expectation of response" to prevent the incident. The use of audio requires someone to activate the device and initiate the call for assistance. Resort security becomes responsible for responding in a timely and appropriate manner rather than preventing the incident. Use of audio devices may also lead to reports of suspicious persons or circumstances. Finally, the devices can be useful in parking areas to request assistance with a flat tire, battery jump-start, or mechanical repair.
Bell, housekeeping, engineering, and room service staff are spread out and harder to supervise or safeguard at resorts making communications via two way radio or Nextel devices critical. Health emergencies, smoke, fire, leaking gas or an attack on a staff member, require immediate response. Good staff communications and situational awareness can be a force multiplier for resort security when suspicious persons and circumstances are reported.
Comment: Job descriptions for all resort staff should reflect active participation in the resort safety and security program. Orientation should emphasize that security works just as hard to safeguard staff as for guests and patrons (posters printed with "If you see something, say something!"are popular at hotels and resorts).
Housekeeping should work behind closed guest room door for their safety and protection of guest and resort property. This procedure requires both guests and staff to use their keys to enter and are documented on the lock memory. At no time, however, should a housekeeper be in a guest room behind closed doors, when the guest or another staff member is present.
Many resorts equip small emergency response carts with AED's (defibrillators), first aid kits and fire-fighting equipment for emergency response situations. Some resorts are so remote that fire trucks are purchased and security officers cross-trained as fire fighters and emergency medical technicians.
Construction of helicopter landing pads, configured with aviation lighting and communications are being constructed at five-star resorts, not only for medical evacuations, but also to provide convenience to guests transferring from the closest airport.
Resorts seldom have adequate CCTV systems to monitor access points and critical infrastructure. If a resort has cameras, they are typically poorly maintained, near obsolescence, and consequently provide poor resolution. When CCTV does exist, the security officer assigned to monitor the cameras at security control is often assigned other responsibilities (key control, ID's, report writing and bag checks) that preclude constant monitoring.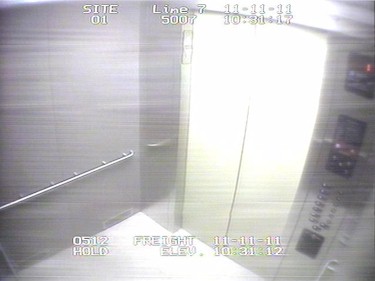 Freight Elevator Cam
Comment: Consider upgrading to digital cameras focusing on all access points and fire escape doors into the resort's main structures. In addition to access points, include coverage on the porte cochere, front desk, lobby, bell closet, cash counting room, high value storage, wine and liquor storage area, and elevator landings. In as much as continuous monitoring is unlikely, avoid installing cameras in parking garages (limit to entrance and exit), nurseries, game rooms, bars and lounges, spas and on swimming pools where immediate response is required. Avoid cameras on guest floors for privacy reasons. An active CCTV maintenance program should be scheduled with replacement allocations included in the security budget.
Resorts are different than hotels. Resort security is no longer a second or third priority. Real dangers exist which have resulted in loss of life, destruction of property and ruined business reputation. Guests, patrons and public opinion fed by the media, expect reasonable safety and security measures at resorts where they vacation. Executive management must revisit their priorities and provide additional budgeting and organizational support for security. If the existing Security Manager or Director is not qualified for appointment to the Executive Management Team, a replacement should be considered. Finally, resort security officers, their appearance, ability to communicate and how professionally they respond, reflect the reputation of the resort and the competency of resort management. The consequences of inadequate security and negligence should not be underestimated.
In his current capacity as Managing Partner, Resort Security Consulting Inc. (RSC), Mr. Hudak provides security expert witness testimony and litigation support for several national law firms. RSC also works with architects and developers during construction of new resorts and hotels to create a practical and cost effective approach to security. RSC conducts security surveys and audits, and provides consultation for existing hotels and resorts, marinas, golf clubs, equestrian and ski operations to ensure that they have reasonable protection and safeguards in place. Finally, RSC provides valuable security expertise to selected vendors of security equipment, technology and services. Mr. Hudak can be contacted at 516-381-5252 or hudak@resortsecurity.com Extended Bio...
HotelExecutive.com retains the copyright to the articles published in the Hotel Business Review. Articles cannot be republished without prior written consent by HotelExecutive.com.