Understanding the ADA Compliance Changes
By Clara Rose, President & Creative Director, Creative Alliance
Understanding the ADA compliance laws can seem like a daunting task. As the March 2012 deadline approaches, having a grasp on the new ADA compliance changes is becoming critical. The Attorney General, the head of the Department of Justice, takes ADA compliance very seriously. The ultimate goal of the DOJ is to provide equal access for all, without regard to their ability. To this end, they often impose severe fines for non-compliance.
Lawsuits brought against violators, by the Attorney General, can include monetary damages and civil penalties; however the civil penalties may not exceed $50,000 if it is a first time violation. Subsequent offenses may bring civil penalties up to $100,000 per violation.
Recently a large hotel chain was cited in 900 of its hotels and a large convenience store chain was required to establish a $1.5M compensatory damages fund for potentially aggrieved individuals who MAY someday file a claim with the Attorney General. Clearly it is prudent to be proactive with a plan toward compliance.
If there is a compliance plan in place, a simple review of the policies and procedures should be sufficient. If a compliance survey was not a part of that process, having one done might be a good course of action for some peace of mind.
Establishing a plan
• Utilize the services of an ADA renovation specialist, an ADA Attorney and an Insurance Risk Manager; get a complete comprehensive compliance survey.
• Establish a "Compliance File", to document your compliance efforts. Document audits, trainings, workshops, meetings, barrier removal, etc.
• Review company policies for potential discrimination.
• Review job descriptions and employee policies for potential discrimination.
• Establish a plan to remediate any identifiable compliance issues.
• Video and digitally archive all projects from start to finish; this ensures accurate historical documentation.
A written compliance plan will act as a guide through the process. As with most endeavors, a solid plan of action makes any daunting task seem much more achievable. Having an understanding of any deficiencies is a reasonable place to start when creating a compliance plan. The amount of remediation necessary and the associated costs, will of course determine if there is a need for a phased plan.
The good news is - properties and businesses are not expected to become ADA compliant overnight; rather, they are encouraged to evaluate their facilities and create long-term plans for barrier removal and compliance. The goal of the DOJ is to ensure that everyone - regardless of their different abilities - has an equal opportunity to enjoy services and facilities… not to cause distress or hardship to businesses.
The DOJ offers technical assistance and a full range of publications to explain the laws, including a series of question and answer publications. In addition to the DOJ technical assistance there are a number of professionals that specialize in ADA compliance issues and remediation, who also offer an ADA compliance survey which will help you identify any deficiencies.
The newly identified changes are extensive, there are almost 1,000 new regulations to read and understand. There is no way to cover the extensive list in this format so let's focus on four of the major recreational elements that hospitality properties need to be aware of.
Exercise Equipment
With a growing number of properties offering amenities such as exercise facilities, this category is often overlooked when it comes to ADA access issues. An assumption should not be made about the ability or lack of ability of an individual regarding a workout facility.
For each type of exercise machine provided, there must be at least one that has an accessible route to it and enough clearance around it, to enable complete access for those with mobility aids - such as wheelchairs, walkers, crutches or
Golf Facilities - Regular and Miniature
Newly constructed or altered golf facilities must have an accessible route or golf cart passage with a minimum width of 48 inches that connects all elements within the facility. This includes the golf cart rental area, bag drop off and other elements outside the boundaries of the golf course. Miniature golf courses must have ADA accessible routes to at least half of the holes on the course. These holes must be consecutive and offer accessible routes to the facility.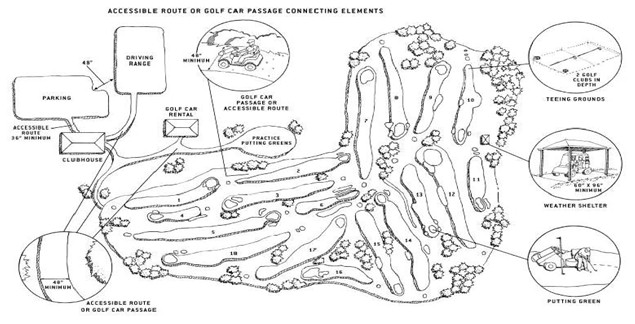 Pools and Spas
Enjoyment of a water feature at a facility can be a challenge for those with different abilities, so the DOJ has established some new guidelines to help ensure access and enjoyment by all.
To be in compliance with the new regulations, the property must provide accessible means of entry for pools, wading pools, spas and other water features.
A sloped entry, that allows roll in access, may be used on some pools and wading pools, in place of transfer devices. Transfer walls and transfer or lift systems are acceptable devices for ADA accessibility compliance.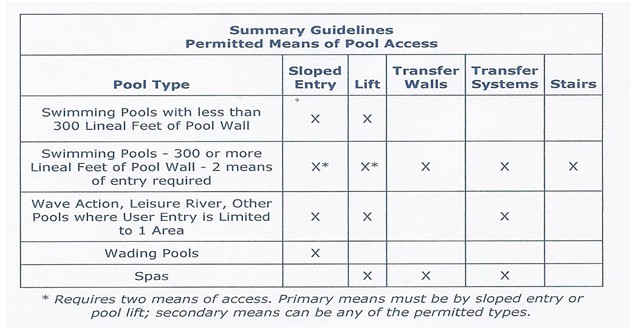 Play Area
Play areas designed for children that are two years of age or older, must be compliant to the new ADA standards. This includes all newly constructed or newly altered play areas.
Within the play area a number of ground level and elevated component must have accessible routes, ramps and transfer systems in place. Compliance requirements are based on the size of the play area and the overall number of ground level and elevated components.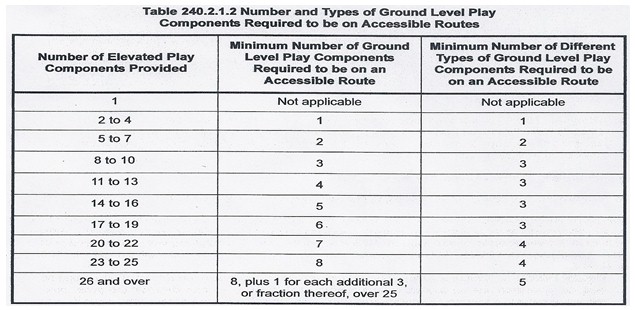 Aside from the recreational elements discussed here, there are other areas of importance when it comes to ADA compliance.
Service Animals
Beginning on March 15, 2011, only dogs are recognized as service animals under titles II and III of the ADA. A service animal is a dog that is individually trained to work or perform tasks for a person with a disability. Generally, service animals must be permitted to accompany their owner in all areas where members of the public are allowed to go.
In addition to the provisions about service dogs, the DOJ revised ADA regulations have a new but separate provision about miniature horses that have been trained as service animals. Facilities must modify their policies to permit miniature horses where it is reasonable to do so, as assessed by the following four factors:
Is the miniature horse housebroken?
Does the owner have control of the miniature horse?
Can the facility accommodate the miniature horse's type, size and weight?
Will the miniature horse's presence compromise safety requirements and operations?
An animal whose sole function is to provide comfort or emotional support does not qualify as a service animal under the ADA.
Hotel Reservations
March 15, 2012 is the compliance date for provisions governing hotel reservation policies. Reservation staff will be required to identify accessible features in guest rooms and other amenities, in sufficient detail for the individual to make an independent assessment about the level of accessibility for their own personal needs.
Construction Issues
The same date applies to compliance for using the 2010 Standards for new construction, alterations, program accessibility and barrier removal. Although certain circumstances permit the use of the 2010 Standards before the compliance date of March 15, 2012 - entities are not required to comply with them until the deadline date.
The specific clearance measurements and turning radius requirements for parking spaces, walkways, public restrooms, guest rooms and facility amenities are all listed in the Revised ADA Regulations Implementing Title II and Title III that was published in the Federal Register, September 15, 2010.
Disclaimer: this is not an exhaustive list of the new ADA compliance changes and this writer is not an attorney.
A good way to start down the road to ADA compliance is with good educational resources. The U.S. Department of Justice, Americans with Disabilities Act (ADA) website (www.ada.gov) and the U.S Equal Employment Opportunity Commission (EEOC) website (www.eeoc.gov), both have vast amounts of educational information. As always, consult a professional for assistance in understanding the ADA compliance changes.
Clara Rose is the founder of Creative Alliance and co-founder of Nationwide Compliance Alliance. She believes that business success is not accidental, merely the implementation of a sound strategy and the correct tools. Ms. Rose finds great reward in equipping entrepreneurs and business owners with the tools and pieces for business success. As a professional speaker, trainer and author; Clara works with teams to help them create a culture of understanding and sensitivity in the workplace and equips professionals with tools and insights. Additionally, she speaks and writes about the different forms of communication that are an integral part of business life with Customers, Colleagues and Co-workers. Ms. Rose can be contacted at 941-284-8640 or Clara@ClaraRose.com Extended Bio...
HotelExecutive.com retains the copyright to the articles published in the Hotel Business Review. Articles cannot be republished without prior written consent by HotelExecutive.com.