Green Hotels = Energy and Waste Efficiency through Sustainability Management
By Scott Parisi, President, EcoGreen Energy Solutions
Since the earliest days of Thomas Edison's vision of city-wide electrification, there has existed the need to ensure the conservation of power in order to prevent "blackout," grid failures. This same challenge exists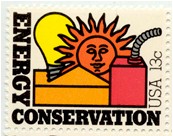 today as much as it did then - to do more with less, to save without compromising. The hotel industry is one of the major consumers of electric, natural gas and water. Today, saving energy is easier and more cost effective than ever before. All major hotel brands have implemented strategies to address their carbon footprint and reduce their energy load to become more responsible stewards of the planet. Energy reduction is major component of transforming or building a property to be recognized as a "Green or Sustainable" building. Support tools and programs to assist hotels in reducing energy load have also been introduced over the past few years with availability of financial incentives beyond the simple net savings like federal, state, and local utility rebates.
In the US alone, hotels represent more than 5 billion square feet of space, nearly 5 million guest rooms, and close to $4 billion in annual energy use. US Green Building Council describes a green hotel to use 26% less energy, emit 33% less carbon dioxide, use 30% less indoor water and send a minimum of 50% less solid waste to landfills compared to their pier buildings without a sustainable strategy in place. Green hotels can also encourage the use of alternative transportation such as walking, mass transit, and low-emission, fuel-efficient or alternative fuel vehicles.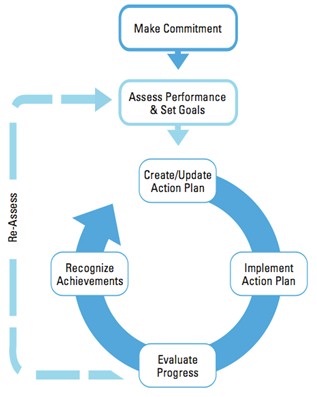 Many hotels have taken advantage of the ability to fund energy reduction projects through local utility rebates and state funded programs. The results have been reduction in energy spend by tens, and even hundreds of thousands of dollars a year. Multiply this reality over an entire portfolio and it results in a solid business strategy that cannot be ignored. These changes are not "your parents" energy efficiency improvement measures" by solely changing the lights to the CFL spiral bulbs. Rather, these cutting edge efficiency conservation measures (ECMs) have improved the guest experience through better aesthetics and more comfortable indoor environments. Whether you operate an 80-room select service hotel, or a portfolio of hundreds of hotels the basic steps of energy conservation are the same. First, have a reputable professional conduct an energy and waste analysis. Next, create a plan to implement the recommendations; finally, monitor energy and waste use to evaluate successes.
The current focus on energy and waste reduction makes this an ideal time to take action and improve net operating income. Incentive programs have been put out by local utilities, state governments and the federal government to improve building efficiencies and promote renewable energy. In fact, the American Recovery and Reinvestment Act of 2009, better known as "the stimulus," allocated over $55 billion for "green initiatives" with $6.3 billion of that going towards state & local grants for energy efficiency programs.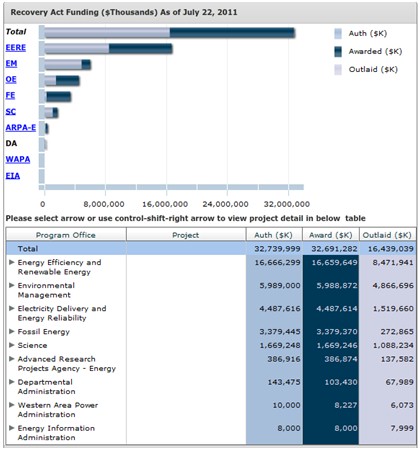 Source: http://www.energy.gov/recovery/data.htm
When building a sustainability strategy, here are a few things to keep in mind to yield the biggest benefits. First, benchmark the property to determine your current energy usage. There are two primary ways to establish baseline data. Either utilize an energy accounting system to analyze historical energy use taking into account any changes in operations, extreme seasonal weather or other factors that might affect the site intensity or energy costs at a building or property, or model current energy use in the building known as a calibrated simulation. A calibrated simulation involves the use of complex computer software to predict energy use in a building. The EPA's Energy Star Portfolio Manager is an excellent tool for benchmarking and is widely used by hospitality groups like Marriott International. Benchmarking is often included in an energy analysis. According to the American Society of Heating, Refrigerating and Air-Conditioning Engineers (ASHRAE) they have indentified three levels of energy analysis:
Walk-though Assessments: energy bills are analyzed and, possibly, a brief visual survey of the hotel is conducted. The subsequent report identifies no-cost and low-cost opportunities. This is the least costly of the three levels.
Energy Survey and Analysis: a more detailed analysis is conducted, including a breakdown of how energy is used within the hotel. Recommendations consider an owner's operations and maintenance, constraints, and economic criteria. Potential capital-intensive opportunities are identified in the final report for further research and analysis. This is the typical level of audit.
Detailed Analysis of Capital-Intensive Modifications (Investment-grade Audit): this analysis focuses on capital-intensive opportunities and provides higher degree of monitoring, data collection and engineering analysis. The report includes detailing cost and savings information with a high level of confidence sufficient for major capital investment decisions, and may include a reasonable timeline for implementation of each recommendation.
After the energy analysis is completed properties must establish specific measurable and achievable goals for reducing their utility expenses. This can be done at the property level, or the corporate level for an entire portfolio to supplement brand goals. Of course, someone must be accountable for these added goals, so the appointment of a "green team" or sustainability manager to oversee the plan has proven to be an essential part of success.
This "Sustainability Manager" position is gaining popularity and is quite reminiscent to the "Revenue Manager" position in the 1990's. As before with the revenue manager position, once hoteliers recognized that a dedicated position would drive revenue and profits well beyond the competitor without the resource in place the adaptation of this expertise became somewhat mandatory. For a large portion of the industry energy, waste and overall sustainability responsibilities are still incorporated in existing positions such as a facility or property manager. The reality is, as it was with the revenue manager position that the emergence of a dedicated "specialist" is dawning. As globalization continues to advance, prices for energy and waste removal will continue to escalate along with the concurrent mandate to conserve. In the future these forces will exert significant influence over one's business strategies. With this in mind, there is little doubt that the justification for a Sustainability Manager will evolve in similar ways to the Revenue Manager. The latest generation of managers and emerging work force, have grown up with conservation interwoven throughout their education and core values. This new generation is often the first to push for reduction, reuse and recycling programs. Despite the majority of enterprise lacking adoption in this regard, there are many companies that have been infiltrated with this generation's outlooks and have come to understand the financial impact sustainability has to their bottom line and have begun to react accordingly.
With the three major systems for on-site energy consumption in a hotel being lighting, HVAC, and hot water production - here are some energy conservation measures commonly implemented to mitigate expenses associated with these systems. First and foremost, hotels consume around 30% of their electricity on lighting. By making the latest CFL & LED lighting upgrades in guestroom, common areas and the back of the house, hotels are realizing immediate and consistent savings, without any impact on overall guest experience. Because lightening upgrades can usually be done in-house as part of routine maintenance, the investment costs are limited to the selected products' costs and do not necessitate a detrimental impact to guests due to contractor presence. A hotel might choose to upgrade lighting gradually as part of a maintenance schedule, or as an all-at-once re-lamp; nevertheless, replacing all the fixtures at once streamlines the process of collecting rebates and incentives.
Large areas such as lobbies, ballrooms, conference rooms and restaurants are often lit by inefficient incandescent or halogen lighting mainly because dimability is an essential function of these areas. Today, the combination of rebates and incentives along with technology improvements LED lights cannot only satisfy, but in many cases exceed the aesthetic requirements with favorable simple payback periods. The saving is largely due to the replacement of fixtures with twenty-four burn periods. Lighting controls such as photo sensors combined with dimability motion sensors can optimize systems to reduce energy usage and ensure compliance with lighting standards building codes and provide optimal guest experience. LED 4'x2' and 2'x2' lay-ins are at a price point which provides excellent opportunities in the back of the house areas especially in new construction.
Occupancy based HVAC Energy management systems and building automation systems have proven to save 15-30% of heating and cooling cost, but also now can go well beyond HVAC regulation to control lighting, TV, golf tee time alarms, and draperies. While all these "bells and whistles" aren't necessary, it is useful to point out that there is a system for everyone from the most basic which can be implemented for under $300 per key to the most advanced for $1100+ per key. As with lighting, there are rebates and incentives available for EMS and other parts of the HVAC system including: premium efficiency motors, variable frequency drives (VFDs), and heat pumps. Other opportunities in HVAC are: UV systems, energy recovery wheels, and re-commissioning which some utility companies will cover up to seventy-five percent of the costs.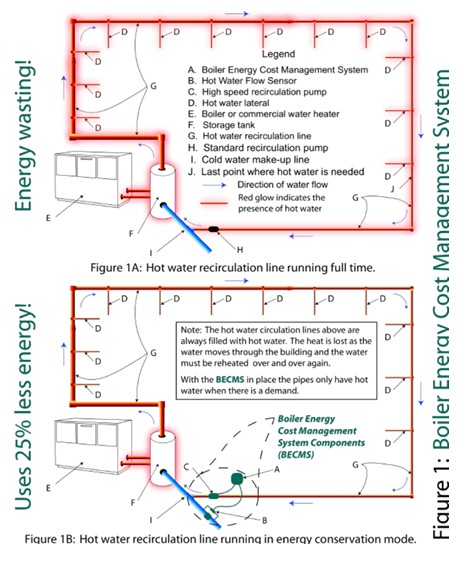 Source: US Energy Solutions
Lastly, the heating of domestic hot water in a hotel is another area for savings. Hot water for showers, F&B, and laundry can be up to 50% of the natural gas expense for a hotel! The Hampton Inn and Suites Knoxville East and the Holiday Inn Express Clinton TN are two of many hotels that have installed a Boiler Energy Cost Management System (BECMS). BECMS essentially automates the operation of the hot water recirculation loop in a building. The BECMS controller, in simplistic terms, turns on the circulation pump when the flow sensor indicates a demand and turns it off when the demand no longer exists. This solution helps minimize the energy being expended to constantly heat and reheat the same circulating water throughout a building, only heating up water replenishing the water leaving the holding tank. With this system in place, the subject hotels realized a simple ROI in the 1.5 years range.
Taking this concept a step further, The Hampton Inn Tupelo Barnes Crossing has gone, as far as, eliminating the traditional tank style hot water heater. Instead, opting for an On-Demand Hot Water heating system, this property is anticipating saving 15% annually compared to the traditional system. Demand water heaters heat water directly without the use of a storage tank. Therefore, they avoid the standby heat losses associated with storage water heaters. When a hot water tap is turned on, cold water travels through a pipe into the unit. Either a gas burner or an electric element heats the water. As a result, demand water heaters deliver a constant supply of hot water on an "as needed" basis.
Other hot water energy conservation measures quickly gaining popularity across the country are: Ozone Systems for the laundry, solar thermal systems, heat recovery from HVAC and refrigeration systems. These ECM's combined with the towel and linen reuse programs, low flow shower heads, and low flow aerators are quickly reducing costs and site energy intensity attributed to hot water production.
In addition to these "technological" systems, assessing the building itself is also an important component to one's energy plan. Cool roofs and green roofs are popular concepts today and are constructed simply by applying special coating or surfaces like roof gardens to reflect solar radiation. Reducing roof surface temperature heat can greatly impact cooling equipment and overall building HVAC performance. Additionally, roof gardens can capture some of the property's rain runoff and help offset its carbon footprint. Next, window and door efficiencies are another area of concern when examining the building's envelope. Obviously, these points of entry allow a multitude of environmental exchanges to occur. While curtain walls and other glass design features have become increasingly popular with architects to introduce natural light, it also introduces solar thermal gain. Many window films available today can reduce solar thermal heat gain with a clear film product. Older doors and single-pane windows pose an additional problem as they are less energy efficient than today's incumbents. These inherent inefficiencies can render even the most superbly insulated and environmentally controlled properties to still suffer from excessive heat transfer and thus higher energy costs.
To reiterate and underscore the ease around capital constraints, rapid ROI, and rebate incentives, one must only look as far as the current-gen efficiency products available today on the market. It is entirely possible to "tally up" ECMs from one's energy action plan, determine the total cost (with and without financing), and determine the total savings to arrive at an ROI figure below five years with positive cash flow. It is no secret that energy improvement upgrades require significant capital investment, but the industry as a whole is also realizing the substantial returns these investments yield. With all the tax and rebate incentives available today, this type of capital endeavor becomes ever more appealing. Finally, if lowering the expenses isn't enough, hotels that have clearly defined energy reduction plans and actions will see the results on the top line as well. More and more corporations are defining green requirements in the RFP process for both their transient travel programs as well as their group business. A comprehensive sustainability plan could ultimately land an account that has been eluding the sales team for some time!
Scott Parisi , President/Owner of EcoGreen Energy Solutions, a firm that develops energy and sustainability projects within the hospitality industry including new construction projects and renovations. Mr. Parisiís team is currently an owner agent overseeing the development of multiple new midscale branded hotels developments. Mr. Parisi founded EcoGreen to motivate hoteliers into contributing to meaningful conservational measures by reducing operational expenses through Green Initiatives. EcoGreenís brand was developed and launched in 2008 with a sole focus on reducing the energy and water usage within the hospitality industry. Today EcoGreen manages the use of energy and water for hundreds of hospitality facilities. Mr. Parisi can be contacted at 888-229-0213 x801 or sparisi@eg-es.com Please visit http://www.eg-es.com for more information. Extended Bio...
HotelExecutive.com retains the copyright to the articles published in the Hotel Business Review. Articles cannot be republished without prior written consent by HotelExecutive.com.