ADA Compliancy Toward Hotel Parking
By Kathleen Pohlid, Founder and Managing Member, Pohlid, PLLC
Parking lots reveal much about the attention and emphasis an establishment gives to compliance with the accommodation requirements under the Americans with Disabilities Act. Since parking areas are highly visible to customers, potential guests, governmental authorities, and are under the scrutiny of advocacy groups, it makes sense for hotel establishments to take proactive measures to ensure for ADA compliance.
Additionally, the Department of Justice, which enforces compliance of the ADA, has set accessibility of parking spaces as a first priority for facilities in barrier removal to accommodation. The recent amendments to the ADA regulations, together with the current options of compliance with the 1991 Standards for Accessible Design (1991 Standards) or the 2010 Standards for Accessible Design (2010 Standards), necessitate an audit and review of parking to identify issues and the standards which are to apply to the facility.
In general, the ADA accommodation requirements apply to most inns, hotels, and places of lodging as places of public accommodation. Under the ADA, places of public accommodation must be "readily accessible to and usable by individuals with disabilities." See 42 U.S.C. § 12183(a)(1). The Attorney General of the United States has promulgated revised regulations, the 1991 Standards, and the 2010 Standards which are available via the DOJ website at www.ada.gov. Both the 1991 and 2010 Standards include very detailed ADA accommodation specifications for parking. Although the scope of this article addresses general requirements under the ADA, remember that state and local requirements may also apply.
The ADA accommodation requirements recognize an exception for structural impracticability. However, the burden is upon the establishment to demonstrate that it is structurally impracticable to meet the requirements. DOJ regulations recognize such instances in "rare circumstances when the unique characteristics of terrain prevent the incorporation of accessibility features." In such cases where compliance is structurally impracticable for a facility, portions thereof are requirement to "be made accessible to the extent that it is not structurally impracticable."
The requirement to make places of accommodation "readily accessible" includes removal of architectural barriers when it is "readily achievable" to do so. This standard applies to parking lots in addition to other elements within a facility. Readily achievable means "easily accomplishable without much difficulty or expense." In most cases, this means facilities will be required to comply with the applicable standards for design.
Until March 15, 2012, places of public accommodation (including hotel establishments) have two options for compliance with the ADA standards for design: the 1991 Standards for Accessible Design or the 2010 Standards for Accessible Design. The option selected must apply to the entire facility. Therefore, if a hotel facility opts to comply with the 1991 Standards, it cannot choose to have its parking lot comply only with the 1991 Standards and its guest rooms compliant with the 2010 Standards.
Effective March 15, 2012, the 2010 Standards will apply for barrier removal, new construction and renovation. Therefore, if a hotel complies with the 1991 Standards, it may continue to base compliance upon the 1991 Standards after March 15, 2012 until such time as elements that were in compliance with the 1991 Standards are renovated or altered. After March 15, 2012, once the hotel makes alterations to those elements, the safe harbor no longer applies. For example, if a hotel repaves and re-stripes its parking lot, it will have to comply with the 2010 Standards.
DOJ regulations set barrier removal and accessibility of parking lots as a first priority for places of public accommodation. 28 C.F.R. 36.304(c)(1). Examples of such measures include providing accessible parking spaces. Hotel facilities should carefully review the requirements of both the 1991 Standards and 2010 Standards to determine which standard it opts for compliance and ensure that it is fully compliant prior to March 15, 2012.
Below are some of the most common issues involving parking accessibility which facilities should consider when evaluating their spaces for compliance and for determination as to which standards they want to apply:
1. Insufficient Number of Accessible Parking Spaces.
Both the 1991 Standards and the 2010 Standards impose requirements for accessible parking and for van accessible parking. However, the 1991 Standards require one van accessible space for every eight accessible spaces, whereas the 2010 Standards require one van accessible space for every six accessible spaces. Hotel facilities that comply with the 1991 Standards, will not be required to add additional van accessible spaces to meet the 2010 Standards until or unless they make renovations after March 15, 2010.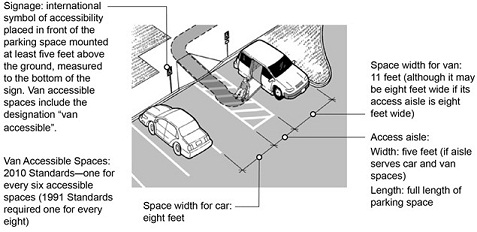 Illustration of Parking Requirements from DOJ's ADA Primer for Small Businesses
2. Standard accessible and van accessible parking spaces do not satisfy criteria set by the standard.
All accessible spaces must be at least 8 feet wide. An access aisle must be provided and may be shared between parking spaces. The access aisle must be at least five-feet wide for standard accessible spaces and eight-feet wide for van spaces to accommodate a wheelchair lift. Access spaces must also be marked to discourage parking in those areas. Van spaces must have a vertical clearance of at least 98 inches is required along the vehicular route to the parking space, at the van parking space, and along the route from the space to the exit.
Accessible spaces must be marked with the international symbol of accessibility and the words "van accessible" must be below the international symbol of accessibility for van accessible spaces. The signage should be mounted at a height so that it is not obscured. Note that the 2010 Standards contains an exemption from the signage requirement for facilities which have four or fewer parking spaces. However, at least one of those spaces must be accessible. Although the DOJ received some objections to the practice of allowing automobiles other than vans to park in van accessible parking spaces, the 2010 Standards do not prohibit this practice.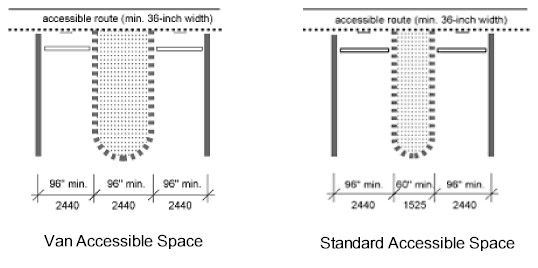 3. Accessible spaces are not properly dispersed.
At least one accessible route shall be provided at hotel facilities from accessible parking spaces and accessible passenger loading zones; public streets and sidewalks; and public transportation stops to the accessible building or facility entrance they serve. Under the 1991 Standards, at least one accessible route shall be provided where levels in a parking garage have direct connections for pedestrians to another facility. The 2010 Standards require all such access routes to be accessible.
Facilities should disperse accessible parking spaces so that some of those spaces are the nearest to the lobby and to other accessible hotel entrances. However, all accessible spaces in a parking garage may be grouped on one level of the structure. DOJ advises that accessible routes are not required between site arrival points and a building entrance if the only means of access between them is a vehicular way not providing pedestrian access.
Additionally, DOJ states accessible parking spaces and routes should be located where individuals with disabilities do not have to cross vehicular lanes or pass behind parked vehicles to have access to an accessible entrance. If it is necessary for an accessible route to cross a vehicular lane, then DOJ advises that it should be a marked running perpendicular to the vehicular route.
4. Slope and parking surface problems.
The accessible space and route should have a level surface free of cracks, debris and obstructions. This is particularly necessary in view of the addition of the wheelchair definition and provisions in the ADA regulations, revised on September 15, 2010. The revised regulations which went into effect on March 15, 2011 define a wheelchair as "a manually-operated or power-driven device designed primarily for use by an individual with a mobility disability for the main purpose of indoor, or of both indoor and outdoor locomotion." The regulations require facilities to permit individuals with mobility disabilities to use wheelchairs and manually-powered mobility aids, such as walkers, crutches, canes, braces, or other similar devices in any areas open to pedestrian use. Hotel facilities should be mindful that this will include parking lot areas and accessible routes to hotel entrances.
5. Passenger drop off points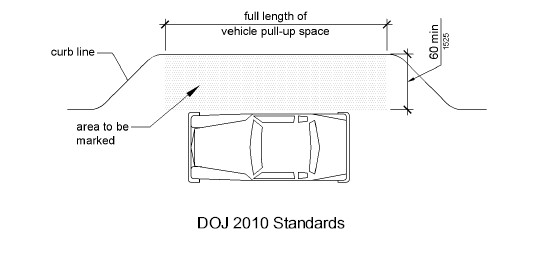 Both the 1991 and 2010 Standards include requirements for passenger loading zones: (96 inches wide minimum and 20 feet long minimum for vehicle pull-up space). The 1991 Standards require continuous passenger loading zones to provide one accessible passenger loading zone in every continuous 100 linear feet of loading zone space. Accessible passenger loading zones must have an access aisle that is 60 inches wide minimum and extends the full length of the vehicle pull-up space. Although the 1991 Standards permit the access aisle to be on the same level as the vehicle pull-up space, or on the sidewalk, the 2010 Standards require it to be on the same level and to be marked so as to discourage parking in the access aisle. Both standards also require valet parking services to have an accessible passenger loading zone, with the 2010 Standards extending this requirement to mechanical access parking garages. Although the 1991 Standards exempted valet parking facilities from providing accessible parking spaces, the 2010 Standards eliminate this exception.
The above is a general summary of requirements involving ADA parking accessibility. Hotel facilities should conduct a thorough audit and review of their parking areas to identify areas of not compliance and to determine whether they want to adhere to the 1991 or 2010 Standards. If compliance with the 1991 Standards is chosen, facilities must ensure that all compliance is achieved before March 25, 2012. Otherwise, the 2010 Standards may apply.
Kathleen Pohlid is the founder and managing member of the law firm of Pohlid, PLLC in the Nashville, Tennessee area. She advises business clients in matters including employment, occupational safety and health, Americans with Disabilities Act (accommodation & discrimination) and regulatory compliance. Her goal is to enable clients to comply with the myriad of state and federal laws to succeed in their business, mindful of the challenges facing businesses and the importance of cost effectiveness. She has advised and represented businesses in a variety of industries including restaurants, hotels, and other entities in the tourism and hospitality industries. She has over 20 years of combined federal government and private sector experience in employment law and litigation. She holds an AV® rating from Martindale-Hubbell (highest for professional competency and ethics), a B.S. degree from the U.S. Naval Academy and a J.D. from Samford University. Ms. Pohlid can be contacted at 615-369-0810 or kpohlid@pohlid.com Please visit http://www.pohlid.com for more information. Extended Bio...
HotelExecutive.com retains the copyright to the articles published in the Hotel Business Review. Articles cannot be republished without prior written consent by HotelExecutive.com.