Leveraging the Customer Lifecycle for On-site and Post-departure Marketing (Part 2)
By Robert King, General Manager, Travel & Hospitality, ClickSquared
As a follow-up to my last article, "The Lifecycle of Guest Relationships" this is the promised sequel. Part one of the article focused on the key stages of the customer lifecycle that occur before your customer arrives on your property and the communications opportunities that they present. (If you missed it, Click Here). Today, I'll focus on the communication opportunities that exist once a guest has arrived at your property and even after they've gone home. Developing a marketing program that addresses guest needs while on-site as well as post-departure enables you to engender deeper engagement, and ultimately, increase return visits.
In part one of this series, I discussed the fact that relevance begins with a keen understanding of the travel and hospitality guest lifecycle. To refresh your memory, a basic model is presented below in Figure A.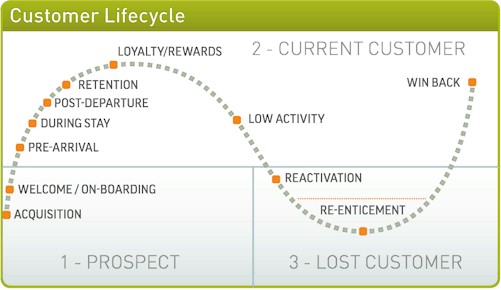 Figure A
Handle Your Guests with Care
Hope you're enjoying your stay. While marketers routinely focus on pre-arrival and post-departure communications, there is a huge opportunity to capture guests' attention on-site, while they're starting to decompress and shift their focus to their vacation (or work) plans.
Historically, on-site communications have been viewed as an "operational" responsibility -- a view that has been rendered obsolete with changes in technology. Statistics show that as much as 30-40% of email communications are first read on a mobile device. Wireless access is ubiquitous -- guests are rarely "out of touch" while on the road. As such, it is important to integrate an on-property communication plan into your cross-channel marketing strategy.
First, think about the messages that are appropriate for the guest who just checked-in. This is a great opportunity to leverage pre-arrival information you may have gathered on your guests, such as an updated guest profile or email click-through data that provides insights into their likes and dislikes. Consider sending a note reinforcing your desire to make their stay as pleasant as possible, and encouraging them to allow you to assist them during their stay.
These communications are not aimed at solving operational issues - most travelers know what to do to remedy an issue with the room - but rather at enhancing the guest's stay. Is there something unique about the property (or the surrounding area) that they might find interesting? Is there a featured restaurant on the property for which they may like a reservation? Would they appreciate an offer to make reservations for the spa or golf course for which they've shown prior interest? What about sending them an update on the health club enhancements and hours of operation? How about a selection of cultural happenings in the area? If you're not sure about what information to send, tap your concierge for suggestions. Communicating property and surrounding area information -- tailored to individual guest preferences -- will make your messages that much more relevant, and your guest's stay more enjoyable.
On-property is also the lifecycle stage where text messaging (SMS) is the most applicable. Think stay-enhancing, just-in-time communications regarding topics that might otherwise not be top of mind. For example, you could send a timely invitation to a complimentary happy hour in the lounge, or push out a reminder to schedule activities that have limited availability; these offer the perfect opportunity to leverage SMS messaging. Your ability to incorporate text communications into your overall messaging strategy is dependent both on your tools, as well as your ability to obtain mobile phone numbers and specific SMS permissions from your guests. Even if you're not ready or able to send text messages, you should start requesting this information during the reservation process, in your guest preference center, and even at check-in. Doing so allows you to establish the foundation for future communications.
When Elvis Has Left the Building…
Thank you! Hope to see you again soon. The post-departure stage of the customer lifecycle might be one of the most opportunity-rich for travel marketers.
This is when we want to start turning satisfied guests into repeat guests, build loyalty and even create brand champions. In addition, this can also be an opportunity to prevent a less than ideal stay from endangering a loyal guest relationship.
No one ever tires of hearing a "thank you," so if your guest takes one thing away from your communication, make sure they know you appreciated their visit. Even better, if he is a repeat guest, let him know it was great to see him again. Just a few differentiating words within otherwise identical emails can make the difference in creating more impactful communications.
If your hotel offers a membership-based loyalty program, a post-departure communication for non-members should include an invitation to join, whereas the same communication for members gives you the opportunity to reinforce the value of their membership, including any "earnings" accrued on that stay, and what they've earned toward their next stay.
Understanding your guests, and tailoring messages to their known likes and desires, will make the most impact in post departure communications. If your guest is a business traveler, and is likely to book an additional stay soon after departure (either at the same property or an affiliated property), then an invitation to "book your next stay" is an appropriate post departure message. On the other hand, a leisure traveler returning from her Hawaiian vacation may be unlikely to re-book soon, so reminding her of the pleasure of her recent stay is much more relevant than trying to get her to come back within the next 90 days.
And the Survey Says…
Tell us about your stay. Surveys can be one of your most valuable marketing tools. Unlike hearing "thank you," however, most people tire of being asked to complete them, so make survey requests judiciously. Designed correctly, the post-departure survey is an opportunity to gather information for both immediate and future use. Survey responses can then be synthesized and used to augment the guest's record in your marketing database. For example, if a respondent's intent to recommend score is high, trigger a communication to that guest with a link to a testimonial site such as TripAdvisor, or an invitation to "refer a friend". On the other hand, if the intent to recommend score is less favorable, a phone call from guest services can go a long way towards re-establishing trust and increasing the likelihood that the guest gives your hotel another chance. In addition, if you know that that respondent is in your top lifetime value segment, an immediate call from the general manager can be an even better action.
Survey responses can also be leveraged to make future marketing messages more relevant. For example, if the survey respondent rated the spa services or golf course as "exceptional" and this guest's profile data is updated accordingly, the imagery or offer used in a future communication should be personalized to reflect this known interest.
Turning a Visit into a Relationship…
"Thought you might like..." As direct marketers, your goal is to help turn one-time guests into repeat guests, repeat guests into loyalists and loyalists into brand evangelists. At each stage of the lifecycle, I've discussed how to solicit and gather self-reported customer interest and preference information and how to infer preferences and interests by monitoring guest behavior to create a robust customer profile.
Customer profiles can help travel and hospitality organizations identify what, where and when a customer is most likely to book. Triggered communications based on "next expected booking date," personalized with dynamic content based on interests and preferences, can significantly improve relevance and overall campaign effectiveness.
Sound intimidating? It doesn't have to be. For many guests, annual travel cycles can be quite predictable - the ski trip or beach vacation tend to happen at the same time each year. Absent a sophisticated predictive model to determine the next expected booking date, build an "anniversary campaign" triggered eleven months after the last booking date. Utilize dynamic content based on previous activities, expressed interests and the feedback you've been able to glean from surveys. This will improve the relevance of your campaigns and will also far surpass the traditional results that come from mass email blasts.
A Few Parting Words…
As you strive to improve the relevance of your marketing messages, focus on tailoring communications to the travel and hospitality guest lifecycle. In this two-part article, I've explored best practices for each lifecycle stage. While not every suggestion will fit every situation, these best practices can be a springboard to plan a communications strategy unique to your brand and your guests. By doing so, your direct marketing efforts will pay larger dividends in terms of guest engagement and return on your marketing investment.
With more than 20 years of experience in the travel and hospitality industry, Robert King has held marketing, sales and senior management positions at a variety of organizations. Mr. King works with ClickSquared clients throughout North America, Asia and Europe to develop and implement highly targeted, timely, interactive customer relationship programs that result in increased ROI. Mr. King can be contacted at 480-603-9403 or bking@clicksquared.com Extended Bio...
HotelExecutive.com retains the copyright to the articles published in the Hotel Business Review. Articles cannot be republished without prior written consent by HotelExecutive.com.