New Disability Access Rules for Hotel Recreational Facilities
By Kathleen Pohlid, Founder and Managing Member, Pohlid, PLLC
Co-authored by Soy Williams, AIA, Soy Williams Consulting
Recent changes to the Americans with Disabilities Act regulations require many hotels and resorts to make significant changes to their recreational facilities by 2012. The new ADA rules include specifications for recreational boating areas, exercise machines, golf facilities, play areas, swimming pools, saunas, steam rooms, and court sports facilities. Legal compliance is not the only reason to take note of these new rules. Since one out of every ten persons today has a disability, these accommodations make business sense, providing an opportunity to increase sales and services by expanding the hospitality market to travelers with disabilities and their companions.
Disability access to recreational facilities at hotels and resorts is becoming increasingly important. Recent changes to the regulations implementing the Americans with Disabilities Act add supplemental requirements for recreational elements including boating areas, exercise machines, golf facilities, play areas, swimming pools, wading pools and spas, saunas, steam rooms, tennis and other court sports facilities. With U.S. Census reports that 12% of Americans have a disability, this poses a significant potential demand for access.
Although the new regulatory requirements present legal compliance obligations to establishments in the hospitality industry, these changes also provide opportunities to broaden the market base. The Census reports that over 40% of adults 65 and older identify themselves as having a disability and projects that the number of people 65 years and older will more than double from an estimated 35 million in 2000 to 71.5 million by 2030. These trends likely translate into a growing demand for disability accommodation within the hospitality industry.

The ADA, enacted in 1990, prohibits discrimination against individuals with disabilities and their companions. Title III of the ADA requires places of public accommodation and commercial facilities to be designed, constructed, and altered in compliance with ADA rules and for architectural barriers in existing facilities to be removed when it is readily achievable to do so. The 1991 ADA Standards for Accessible Design set forth the specifics for such accommodation requirements. On July 23, 2010, Attorney General Eric Holder issued amended ADA regulations, including among other changes, supplemental requirements for recreational elements which were not addressed or scoped within the 1991 standards. The 2010 ADA Standards for Accessible Design, which have been approved and become effective on March 15, 2011, require compliance by all Title II (Public Entities) and Title III (Public Accommodations and Commercial Entities) by March 15, 2012.
The ADA applies to places of public accommodation to include inns, hotels, or motels or places which provide guest rooms under conditions and with amenities similar to a hotel, motel, or inn. Some Bed & Breakfast establishments may not be required to comply with Title III requirements. Facilities which have not more than five rooms for rent or hire, and that are actually occupied by the proprietor of the establishment as their residence, are excluded. The ADA standards apply to timeshare establishments which provide rooms under conditions similar to a hotel, motel, or inn. However, they do not apply to guest rooms owned and controlled by persons other than the entity that owns, leases, or operates the overall facility.
Places of public accommodation also include recreation facilities such as, gymnasiums, health spas, bowling alleys, golf courses, or other places of exercise or recreation. The ADA regulations do not apply to private clubs, except to the extent that the facilities of the private club are made available to customers or guests as a place of public accommodation.
In addition to the supplemental requirements relating to recreational facilities, the new ADA regulations include changes for accommodation requirements of elements scoped in the 1991 standards. The new regulations provide an "element-by-element" safe harbor provision so that elements which were addressed in and comply with the 1991 standards do not need to be modified to meet the new standards until or unless these elements are altered. However, since the 1991 standards did not include requirements for the recreational elements, those elements for which there are supplemental requirements in the 2010 Standards must be modified or retrofitted to the extent readily achievable to comply with the 2010 Standards.
Below is a brief summary of these additional recreational elements which are scoped within the 2010 Standards, available through the U.S. Department of Justice website at www.ada.gov:
Recreational Boating Facilities. Facilities that provide boarding piers at boat launch ramps must ensure that at least 5% (but no fewer than one) are accessible. The standards also include requirements for accessible boat slips, their location and accessible gangways that are part of a required accessible route.
Exercise Machines and Equipment. Facilities that provide exercise machines and equipment must ensure that at least one of each type is on an accessible route with clear floor space positioned to enable an individual with a disability to use the equipment.
Fishing Piers and Platforms. Accessible routes, subject to the same exceptions permitted for gangways, must be provided for facilities with fishing piers. The standards include specific requirements for guardrails, clear floor or ground space at accessible railing, edge protection, and turning space on the pier. These accessible elements must also be dispersed throughout the fishing pier or platform.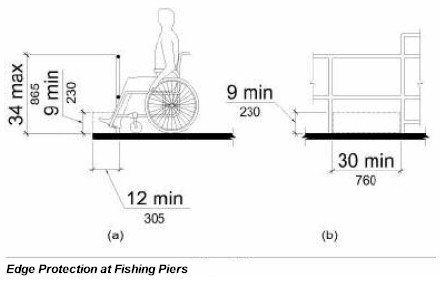 Golf Facilities. Golf facilities must comply with accessible route or golf car passage requirements. Additionally, an accessible route must be provided to the golf cart rental area, bag drop-off areas, and other elements that are outside the boundary of the golf course. One or two teeing grounds (depending on the total number provided) per hole must be accessible. Golf carts must be able to enter and exit weather shelters as provided. The standard also sets requirements for the number of accessible teeing grounds, practice teeing stations at driving ranges, and putting greens.
Miniature golf. At least fifty percent of the holes must be accessible. The accessible holes must also be consecutive and on an accessible route with the last accessible hole on an accessible route connecting to the course entrance or exit without going back through other holes. Clear ground or floor spaces must also be provided at the start of play, and the last accessible hole on the course must connect directly to the course entrance or exit.
Play Areas. The new standards include accessibility requirements for play areas designed, constructed, and altered for children ages two and older. These requirements address accessible ground and elevated play components, routes, ramps, transfer systems, and ground surfaces.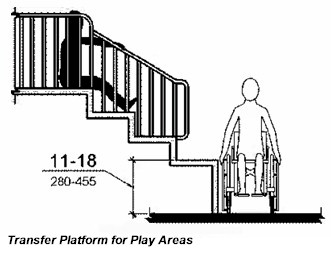 Swimming Pools, Wading Pools, and Spas. The new standards address accessible means of entry/exit including a pool lift or sloped entry, and either a transfer wall, transfer system, or pool stairs. Wading pools must provide a sloped entry, and spas must provide a pool lift, transfer wall, or transfer system. Wave action pools, leisure rivers, and sand bottom pools where user access is limited to one area are not required to provide more than one accessible means of entry, either a pool lift, sloped entry, or a transfer system.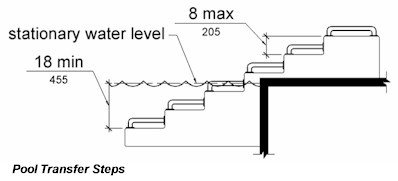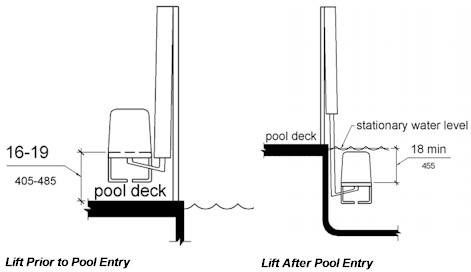 Saunas and Steam Rooms. Where provided, saunas and steam rooms must be accessible, with appropriate turning space and doors that do not swing into the clear floor space. A readily removable bench which obstructs the turning space and the clear floor space is permissible if clear floor space is provided when the bench is removed or stored. Where benches are provided, an accessible bench must also be provided.

Court Sports Facilities. The 2010 Standards require at least one accessible route to directly connect both sides of a court. Player seating areas serving areas of sports activity must include at least one wheelchair space.
These supplemental requirements in the 2010 Standards must be applied when facilities are newly constructed or altered. In addition, hotels and resorts must further evaluate their existing facilities using these supplemental requirements to identify barriers in existing facilities and remove them to the extent readily achievable.
The impact of 2010 Standards extend beyond recreational elements to associated facilities such as restrooms, showers, locker rooms, and parking. The 2010 Standards include scoping or technical changes affecting these and other elements that were addressed in the 1991 Standards.
Although establishments are not required to comply with these provisions until March 15, 2012, facilities should be evaluated as soon as possible to determine if compliance is readily achievable. In some cases, significant expense and architectural changes may be minimized with effective advance planning. Accessibility may also benefit and provide a positive impact to guests without disabilities. For example, sloped entries into swimming pools allow may be more attractive to guests who prefer ease of access to the pool without having to negotiate underwater pool steps. Effective advance planning can enable establishments to consider ways to make facilities more accessible to individuals with disabilities, while enhancing the attraction and benefit to all.


This article was co-authored by Soy Williams. Ms. Williams is a registered architect with more than 25 years of experience in disability-related issues. Ms. Williams specializes in accessibility requirements of federal civil rights laws spanning six decades as well as model, state and local accessibility codes and standards. She was involved in the revisions to the Americans with Disabilities Act (ADA) accessibility guidelines in 1993 and was appointed by President Clinton to the U.S. Architectural and Transportation Barriers Compliance Board in 2000. During her tenure she saw the completion of the revisions to the ADA guidelines which are now the U. S. Department of Justice 2010 Standards for accessible buildings and facilities. Ms. William brings uniquely balanced experience and understanding to her practice of providing accessibility consulting services to private and public entities throughout the United States. She can be contacted at soy@soywilliamsconsulting.com or (305) 238-9450.
Kathleen Pohlid is the founder and managing member of the law firm of Pohlid, PLLC in the Nashville, Tennessee area. She advises business clients in matters including employment, occupational safety and health, Americans with Disabilities Act (accommodation & discrimination) and regulatory compliance. Her goal is to enable clients to comply with the myriad of state and federal laws to succeed in their business, mindful of the challenges facing businesses and the importance of cost effectiveness. She has advised and represented businesses in a variety of industries including restaurants, hotels, and other entities in the tourism and hospitality industries. She has over 20 years of combined federal government and private sector experience in employment law and litigation. She holds an AV® rating from Martindale-Hubbell (highest for professional competency and ethics), a B.S. degree from the U.S. Naval Academy and a J.D. from Samford University. Ms. Pohlid can be contacted at 615-369-0810 or kpohlid@pohlid.com Please visit http://www.pohlid.com for more information. Extended Bio...
HotelExecutive.com retains the copyright to the articles published in the Hotel Business Review. Articles cannot be republished without prior written consent by HotelExecutive.com.