Creating a Small Hotel Operating Plan that Fits Your Objectives and Budget
By Jed Heller, President, The Providence Group
Strong communications between an owner and general manager are vital to the success of any property. The general manager needs to share the owner's vision while clearly understanding business strategy, objectives, accountability and metrics for success. In many cases, the owner and general manager will have already developed a broad based business plan that documents the goals and objectives of the property. Once these goals and guidelines have been established, it is incumbent upon the general manager to create a detailed operating plan to fulfill the vision.
The operating plan acts as a highly detailed roadmap that outlines very specifically the course of action that will be taken to achieve stated objectives over an agreed upon period of time. In general terms, an effective operating plan explains in detail what needs to be done, when, how, and by whom - essentially, it defines how the hotel will be managed on a day-to-day basis and sets a standard for hotel employees. The operating plan also serves as an outline of the capital and expense requirements for daily operations.
For small hotels, a sound operating plan will help managers address inefficiencies, operate more productively, and be better prepared for unforeseen market situations, all of which directly impact the bottom line.
Creating the Plan
In developing the plan, managers should include measurable details, but not to the level that it may restrict creativity. It should be written in a manner that enables measurement of progress toward specific operational goals and objectives, and should be consistent with the overall strategic goals of the hotel.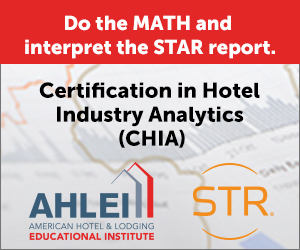 A well thought out operating plan is flexible and must be readily adaptable to new situations. The operating plan should also include contingencies for best case, expected case, and worst case scenarios. Potential risks should be identified and the plan should describe how those potential risks can be mitigated. For instance, how will the hotel maintain a high level of customer service if one of its key employees leaves? What external resources are readily available that can quickly address severe maintenance problems, like heating or plumbing, that will allow you keep your guests satisfied? A well-executed operating plan helps managers maximize profit in high and low seasons, anticipate swings in business and plan for staff and resources accordingly, so that the customer experience remains consistent.
Budget Considerations
The hotel operating plan needs to be mapped to a budget and include capital equipment needs, marketing tactics, cost controls, employee training, and preventative maintenance and safety issues. Standards need to be established in each operational area and supported by clearly defined staffing requirements, staff expectations and policies and procedures for reaching objectives. The plan also identifies inadequacies in staffing or other areas and how those inadequacies will be addressed. Formal operating procedures are designed to assist the hotel managers in the daily operation of the hotels as well as provide reporting and review controls. These procedures detail the standards for operations, human resources, payroll, accounting, computer systems and maintenance.
General managers need to regularly check their operational expenses against the budget so they can identify trends and make adjustments in the operating plan as necessary. Just as an accountant would report and compare monthly financial statements against a budget, the operational goals and objectives identified in each functional area should be reviewed on a regular basis and compared to the plan as well. This ongoing analysis provides a clear picture of overall hotel performance.
Addressing Key Functional Areas
Key operational areas that should be addressed in the operating plan include maintenance, housekeeping, front desk operation, and food service, if appropriate.
In the maintenance area, the plan should address maintenance contracts, costs, and schedules; work to be done by electricians, plumbers, painters, and carpenters; heating, ventilation, air conditioners, and refrigeration; security, telephone, water, waste, fire protection, and smoke control systems; and maintenance of food service and laundry equipment.
Housekeeping considerations include cleaning techniques, procedures, and schedules for rooms, bathrooms, and public areas; inspections; cleaning materials and supplies; inventory of guest room supplies and amenities; cleaning floors and carpets; supplying clean linens, textiles, bedding, and laundry supplies, and facilities; heavy cleaning; selecting, maintaining, repairing, refurbishing, and replacing furnishings; assuring safety, handling fire prevention; and keeping records.
Clear policies and procedures for the front desk hosts are critical in creating a friendly guest atmosphere. Policies and procedures should be outlined that set expectations for customer satisfaction - listening to guests, fulfilling guest requests, telephone skills, efficiently registering guests, processing payments, and handling complaints and correspondence. Training programs should be built into the plan that will help your employees develop and refine the necessary skills to present the most pleasant guest experience.
If the hotel provides food service, the operating plan should address food storage and preparation policies, sanitation and waste disposal. The plan should also map out state sanitation and food handling regulations and any associated costs or resources required to meet regulations.
Build Marketing Activities into the Plan
Marketing is also an integral part of the operating plan. The market plan outlines the programs that will attract guests and differentiate the hotel by delivering a unique customer experience. Goals should be established to measure the success of all marketing and sales programs to determine if the activities are generating the planned return on investment. If an incentive program is not generating the expected results, the general manager will be able to quickly adapt to a contingency strategy as mapped out in the operating plan. Fully realized marketing plans help managers define the customer segments most important to their financial and strategic goals and enable them to leverage these areas to achieve the greatest success.
Motivate Employees
Finally, the operating plan should be communicated to hotel employees. Incentives and recognition programs, for example, help sustain staff energy and morale so that customer service levels are maintained over the long-term. In fact, if you bring your employees into the planning process, they will feel more accountable for its success. Each employee should understand the objectives and expectations in their specific area and how their role plays an important part in the hotel's success. Creating team incentives will motivate and build a sense of camaraderie with your employees. ** **
Tying it all Together
In summary, the operating plan is a critical success factor, particularly for small hotels, where any missteps can have a dramatic impact on the bottom line. The most successful hotels will know where they are going and how they will get there, while being prepared for any market situation. The operating plan is the living document that will keep managers on track and in touch with every aspect of the hotel.
Jed C. Heller is CEO of The Providence Group LLC, which provides management services to hotels and timeshare resorts. Heller has managed all phases of three start-up ventures, two as the operating partner. He was the president of Goodmanagement, vice-president of The March Company Inc., and president of Premier Hotel Corp., He began his career with Winegardner and Hammons in Cincinnati, Ohio. Heller serves on the editorial board of Hotelexecutive.com and the Resort Management Committee of the American Resort Development Association. Mr. Heller can be contacted at 781-582-8785 or jcheller@providencegrp.com Extended Bio...
HotelExecutive.com retains the copyright to the articles published in the Hotel Business Review. Articles cannot be republished without prior written consent by HotelExecutive.com.