Ashish Gambhir Joins HotelExecutive.com as Contributing Editor to the Hotel Business Review
SAN FRANCISCO, CA, April 19, 2011 - HotelExecutive.com, the leading online hotel industry business resource is pleased to announce that social business intelligence expert Ashish Gambhir has joined the journal as a contributing editor to the publication's primary business journal, the Hotel Business Review. (online at http://www.hotelexecutive.com/business_review).
Mr. Gambhir is Founder and Executive Vice President of newBrandAnalytics (www.newbrandanalytics.com), the industry's only social business intelligence platform proven to help operating and marketing executives turn real-time social customer insights into actionable information. Harvesting a depth and breadth of customer feedback unmatched by other platforms, newBrandAnalytics solutions deliver the tools, research and analysis required to distill a real-time, 360 degree view of social guest satisfaction data. His company is helping leading hotel executives generate the social business intelligence to improve guest satisfaction, increase guest count and drive revenues.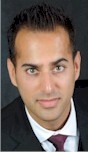 Gambhir Prior to founding newBrandAnalytics, Mr. Gambhir was a leader and top performer at Deloitte Consulting in the Strategy & Operations practice where he focused on new media projects. Post Deloitte, he incubated the social business intelligence idea with his hospitality and business intelligence co-founders while earning his Master of Business Administration at the Johnson School at Cornell University, where he also collaborated with several leaders from the School of Hospitality.
"I look forward to serving as a contributing editor to the Hotel Business Review and bringing to its readers my expertise in social business intelligence," says Gambhir. "Since a hospitality company's results are so highly influenced by consumer generated messaging and feedback online, I trust my insights will add a new resource to the valuable and timely industry information the publication provides."
"We are delighted that Ashish will be providing cutting-edge information on turning social guest satisfaction feedback into actionable data to Hotel Business Review readers." said Benedict Cummins, CEO and Founder of HotelExecutive.com, the publisher of the Hotel Business Review. "newBrandAnalytics is a leader of social business intelligence solutions for the hotel industry and we are excited to connect Ashish with our readers through the Hotel Business Review. The social media platform is constantly changing, and with a plethora of social media experts providing information online it's important to recognize the key players and have confidence that their advice is golden. newBrandAnalytics is one company hoteliers need to follow." he concluded.
About newBrandAnalytics
newBrandAnalytics is the leading provider of social business intelligence solutions. It's flagship offering, Social Guest Satisfaction, is the first solution that mines credible guest feedback from social media and synthesizes it into the richest customer insight to equip brands, regions, and units with the actionable insight needed to improve guest satisfaction and loyalty, increase revenue, and drive sustainable bottom-line results. Social Guest Satisfaction was built directly with leading hospitality companies. Hundreds of customer satisfaction-focused hotels, restaurants, and other hospitality organizations rely on newBrandAnalytics for the comprehensive intelligence needed to drive guest count, improve customer experience, and increase revenue. The newBrandAnalytics suite of industry-specific solutions is currently available to hotels, restaurants, spa & fitness, and food & beverage companies. The company will be releasing industry specific solutions to other service-intensive industries, including retail and healthcare. The scope of the firm's social business intelligence platform includes Social Guest Satisfaction, Social Marketing Intelligence, Social Advertising Intelligence, and Social Competitive Intelligence. (www.newbrandanalytics.com)
About the Hotel Business Review
For nearly 15 years, the Hotel Business Review journal has been a leading online resource for hotel executives, providing white papers on best practices in hotel management and operations. With a dedicated board of more than 300 contributing editors - some of the most recognizable names in hotels - the Hotel Business Review maintains a progressive flow of exclusive content every week, so that owners, operators, senior executives, investors and developers can stay informed on the constant changes in the hotel industry. To subscribe click on http://www.hotelexecutive.com/subscribe
Contact:
Cindy Kazan
President
Communi-K Inc
414-352-3535
ckazan@communik-pr.com

Contact:
Dan French
HotelExecutive.com
800-626-1057
http://www.HotelExecutive.com