How to Turn the Well-Being of Your Guests into a Viable Indicator of ROI
By Robert Vance, Managing Director, Well & Being Spa, Fairmont Scottsdale Princess
Wellness tourism not only drives revenue, it is a required service for any luxury property. Total revenue for the spa industry surpassed $16 billion in 2015 and is anticipated to exceed $20 billion by 2020. Further encouragement, a recent ISPA study showed that 56% of millennials have visited a spa within the last year; never have we seen a demographic so involved in wellness. Guests are savvier when it comes to healthy hotel concepts and hold higher programming expectations. Thus, as the hospitality industry commits to developing wellness platforms, the rewards of investing in guest health far outweigh the risks.
Investing in Wellness Programming, Technology and Education
Through wellness tourism, the intangible concepts of physical and mental well-being have become trackable and quantifiable indicators of ROI. To determine whether an investment in wellness is sound, the developer must understand the associated costs of the wellness platform. These associated costs are often incurred before the spa even begins to offer the first guest service, and will require the justification with key decision makers. Some costs can be capitalized, but most are going to hit the business' profit and loss statement. Therefore, it is essential to complete a full analysis of your proposed wellness offering before committing to the specific services.
The Costs
Training your staff in the proper protocol for a spa offering can incur numerous costs. Some of the costs to consider include the travel expenses for the trainers, room and board at your property as well as food and beverage while they are on-site. Staff payroll will need to be incorporated while the spa team undergoes training, which is often a fixed hourly rate established as "training pay." Depending on the complexity of the offering, you may need to anticipate multiple days in the training. Another cost to be considered is the necessary technology for the offering. For example, Well & Being Spa at the Fairmont Scottsdale Princess offers the BodPod, which is a Gold Standard machine that determines a guest's body composition including fat and lean-mass ratio. The actual unit has a proprietary computer system that requires training on how to perform the service, constant upgrades to the software and regular system support, which translates to added costs for the property to offer the service.
Another significant cost to consider is spa and fitness equipment. Often, the smaller the equipment, the more expensive it runs. Proprietary technology is typically more expensive and doesn't allow for sourcing from a third-party supplier. When it comes to equipment needs, you must also identify if there are fixed monthly expenses that you will incur and include those costs in your analysis. For instance, if you are required to pay a rental or licensing fee of $950 on a monthly basis, consider how many sessions or services featuring this equipment will be needed in order to break even. Additionally, are there any consumable products or collateral that will incur regular costs, such as printed menus, samples or VIP gifts? It's also worth considering how the payroll be influenced for certain services. Some specialized services will require a higher commission for the technician because of additional qualifications or training. It's easy to see how decision makers would be hesitant to commit after an initial analysis of the costs associated with a single service, but before dismissing the offering, we assess the potential returns.
Measuring the Potential Return
When looking at the potential return for an offering, properties should take into consideration both the tangible and intangible indicators of the investment. Direct revenue potential can be determined through a simple analysis using historical data of a similar offering. By looking at this data we can determine a few key points:
What do we plan to charge for this offering?
How many of these offerings do we plan to book during the initial launch and ramp-up?
How many do we anticipate booking after the ramp-up?
How long do we anticipate the initial ramp-up will take?
By making some initial assumptions based upon the data we have available, we can determine a potential first-year gross return for this offering. Oftentimes with new offerings you must allow a three to six-month ramp-up window after the initial launch to truly see the sales potential of the service. A full year of monitoring is ideal before a full analysis of the offering's success can be determined.
To determine the true ROI of the investment, we need to determine not just the gross revenue but also the net revenue of the offering, and whether it can be profitable. By using the information you have already collected regarding your associated costs, you should be able to calculate you cost per service and ultimately, your profit per service. A helpful tool in forecasting the number of services sold is to determine where in the menu-analysis grid the service will live. Will this service be a "Star" or a "Dog" for your menu of services, and is that the balance you need? As shown in the chart below, "Star" services are in high demand by guests and are at a low cost to the property, while "Dog" services are in low demand by guests and are at a high cost to the property. In an ideal scenario, a property is offering a high amount of "Stars," middle amount of "Plow Horses," a few "Puzzles" and little to no "Dogs." Another helpful way to offset costs is to integrate your new service or technology into multiple offerings. For example, BodPod services at Well & Being Spa can be booked as part of a special fitness package or la carte through an individual session. This allows the spa to market the technology in numerous ways, sell more sessions and profit from the technology.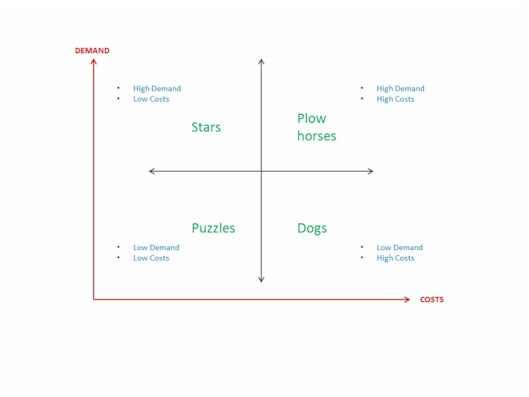 While tangible indicators are extremely important, we must also look at the intangible indicators that may require more creativity to track. These intangibles include whether an offering will be buzzworthy and exciting for your sales and marketing team to promote, and if it is newsworthy enough for writers to experience and share with their readers.
We also look to an offering's impact on consumer confidence, which can often be influenced through the introduction of a high-level professional such as a physician, life coach, psychologist or energy healer. For example, Well & Being Spa offers a roster of experts, from personal trainers and estheticians to aromatherapy alchemists, nutritionists and physical therapists that guests can engage with for personalized advice and insight throughout their stay.
Bringing these types of offerings to luxury hotels and spas invites a higher echelon of consumer who is experienced and more adventurous. These are often the guests that schedule annual visits to destination spas at a rate of $1,000 a night because they want the best offerings with the best technicians in the best environment. Integrating this wellness concept into today's modernized luxury hotel shifts guest perceptions and invites guests with a higher spending capacity to experience your property, while also retaining loyal visitors and members of the local community.
It's important to ask whether your staff, and the experience you cultivate, can affect change in your guests - creating a committed cult-following that markets itself. With the evolution of technology, these "intangibles" become trackable.
The Pitch
The leg work if finished: associated costs have been determined and potential returns, both tangible and intangible, have been calculated. While there is confidence that the investment shows a higher potential for reward than risk, the final call still comes down to the decision maker. When preparing for this conversation, play both sides of the table. What are the concerns that will be voiced, and what are the speed bumps in the proposal that may be experienced? Most importantly, how will you address these concerns? Ensure that the data shared is as solid as possible, and that all parties involved are willing to provide an ample "service test" window before a review is performed. As mentioned earlier, word-of-mouth and buzz takes time, so be sure to plan for the marathon and not the sprint when launching a new offering. Often review periods of six months and one year are ideal to determine the success of the investment before discontinuing it.
Can Physical and Mental Well-Being be a Viable Indicator of ROI?
The answer is a resounding, data-supported yes. While these "intangibles" may seem difficult or impossible to measure or track, this process of identifying, analyzing, proposing and implementing spa and wellness offerings must always include the "feeling factor." This is being recognized in the hospitality industry (which is committing significant investments in capital, staffing and time to develop their wellness platforms), but also with corporations that are developing employee wellness programs, building gyms and spas in their corporate offices or offering sleep pods and meditation classes to ensure a healthy and productive workforce. The spa and wellness industry, as with so many other industries, must remember that a great meal, resort experience or spa offering will not be successful without making the guest feel physically and mentally healthier and happier.
Robert Vance is the managing director of the Well & Being Spa at the Fairmont Scottsdale Princess. He is responsible for brand and program development and integration. Mr. Vance also has responsibility for financial management, talent acquisition and development of the 44,000 square-foot facility. Prior to joining the Well & Being Spa Mr. Vance was the spa director at Mii amo, an all-inclusive destination spa at the Enchantment Resort in Sedona, Arizona. Before Mii amo, Mr. Vance was the regional vice president of mid-Atlantic operations for Elizabeth Arden Red Door Spas, the spa and fitness Director for the Sanctuary on Camelback Mountain. Mr. Vance can be contacted at 480-585-2676 or robert.vance@fairmont.com Please visit http://www.fairmont.com for more information. Extended Bio...
HotelExecutive.com retains the copyright to the articles published in the Hotel Business Review. Articles cannot be republished without prior written consent by HotelExecutive.com.