Keeping Resort Spas Busy with Conference Attendees
By Jim Vandevender, Chief Marketing Officer, Knowland
With the hotel construction pipeline in full swing with more than 190,000 new guest rooms entering the US market over the next eighteen months, the race to fill all of those new rooms will be a continual and ongoing challenge. In addition, the hotels that already exist in those markets (many of which fall into the resort category) are bracing for the increased competition. Marketing plans, sales deployment and market segment strategies are being analyzed and in many instances reconsidered.
The challenge to fill rooms looms large for many hotels and resorts who are tasked by owners and management companies to maintain the pace that many properties have been enjoying with consistently high occupancy and ADR levels. If the rooms are not filled, available spa appointments go unreserved.
For the last few years, high occupancy rates have been driven by high demand. That is a great combination that had been buffered by a slow down in the hotel construction pipeline that started back in 2008 when banks began to hold back lending for hotel construction. That, however, changed several years ago, and the construction boom was - and is- underway. The effect of the construction pipeline is now beginning to show its effect when it comes to hotel and resort occupancy levels, and therefore spas may begin feeling it as well.
In 2016 hotel occupancy rates were almost flat showing little of the usual large increases that have become the norm over the last three years. According to STR, occupancy rates have seen year-over-year increases. These increases were fueled by demand growth's slightly outweighing supply growth. This is an important point when it comes to consideration of how to fill the room inventory that exists now. Supply rose 1.6% to about 1.8 billion room nights, while demand rose 1.7% to 1.6 billion room nights again according to STR published reports. Room supply was at its highest since 2010. Growth in demand has been, thankfully, outpacing supply growth since 2010. Occupancy levels, as a result, have been rising. The consensus among analysts seems to be, though, an expectation for this to begin changing in 2017 and into 2018.
New room supply, it is predicted, will continue to rise in 2017 and is estimated to be at a rate of about 2 %. Growth in demand will begin to ebb, according to analysts at a rate slightly less at about 1.7%. And looking at historical patterns occupancy rates will in all likelihood be affected with a slight downturn. So, what we expect is for occupancy increases to slow further as supply surpasses demand in terms of growth.
It isn't all doom and gloom by any means. Certain resort heavy markets are still seeing their numbers grow at a pace faster than non resort markets. For example, a recent article in the Sun Sentinel reported that Florida's Palm Beach County's occupancy rate was the highest in the state according to Discover The Palm Beaches, the county's official tourism marketer. Rich Basen, the senior vice president of marketing and leisure sales was quoted as saying that the destination is seeing noteworthy growth specifically in the groups and meetings market.
But that does not mean its ok to rest easy. Hotels and resorts are having to prepare to face not only the challenge of increased competition through new inventory entering the market but now have to plan on how to backfill the predicted slow down in demand. In order to keep a resort's spa full, the guest rooms have to be full as well.
The group segment has been a tried and true friend to hotels and resorts but understanding and keeping up with that turbulent portion of the industry can be a challenge due in part to a frustrating lack of data about group trend and booking patterns. The transient side has enjoyed a robust flow of big data for several years now due to self reporting into groups like STR and TravelClick, for example. The group side however, has only recently been able to shed light on what has been details buried under the covers. Emerging technology from companies like Knowland and HIS have begun to bring big data to the group side allowing booking patterns to be surfaced that help sales and revenue teams hone in on group targets with more precision. Even with more data and insight becoming available, sales efforts to fill resort rooms and meeting space with group bookings can vary greatly when compared to strategies used to fill non resort hotel rooms and space.
More and more resorts are beginning to use group data to create more targeted deployment decisions and engineer more precise sales strategies. Knowing, for example, which areas of the group market are more likely to choose resorts over non resorts for their meetings and conferences can be a safer path to filling empty rooms. A few short years ago, having this kind of intelligence on actualized meeting activity was an item on a sales director's wish list. Now it's a reality. Using actualized meeting activity provides a better foundation for predictive analysis and sales planning when booking patterns and buying behavior have been established. Relying on inbound RFP traffic as an indicator of market interest can be precariously undependable.
Resorts have to hunt for group business differently from their non resort counterparts. Non resorts can fall back on business travel guests and extended stay related bookings, for example, as a consistent contributor to a property's occupancy levels. When it comes to the group market, resorts have been hit with challenges and set backs that many non resorts have not had to endure to such an extent. The so called "AIG Effect", for example, had particularly hard hitting consequences on resorts. The "AIG Effect," named after American International Group Inc., came only days after that corporation received an $85 billion cash infusion from Congress when the recession hit, after spending $440,000 on an excursion at a luxury resort.
In addition, new requirements that came out under the provisions of the Open Payment Act (OPA), formerly known as the Sunshine Act, created a tailspin of mayhem on pharmaceutical companies, meeting planners and the resorts that were hosts to those meetings. As a result of the enactment of the OPA reporting requirements that the big pharmaceutical companies have their own policies,practices and standards and all the HCPs (health care professionals) observe them. Many pharmaceutical companies put challenging policies in place restricting venue options for the planners who booked those meetings. For awhile high-end meetings once hosted for doctors at five-star resorts as an incentive to attend were a thing of the past. Many of these meetings moved to suburban properties, airport hotels and non resort venue options. Changes to PhRMA's voluntary code clearly stated that resorts and venues with recreational facilities such as golf courses and spas were not acceptable for meetings.
Major pharmaceutical companies began booking traditional hotels and avoided properties with "resort" or "spa" in the name. Properties even began dropping the word "resort" from their name in an effort to stay relevant in this lucrative segment of group business. Many have been successful in recapturing some of that business as a result. But just because the word resort does not appear in the properties name, rest assured that their resort like amenities, including spas for instance, still are very much part of their offerings.
Resorts face their own unique set of challenges when it comes to the group market. However, resorts also have revenue generating assets that some non resorts do not typically enjoy. Spas, for example, frequently found at resorts in every market, can be a consistent contributor to revenue. As a valuable part of the resort equation, spas now are included in standard practices such as revenue management processes. For a long time, revenue management was primarily concerned with filling empty guest rooms. Today, however, the objective is no longer just about increasing guest room occupancy. Nor is it only concerned with pricing decisions in terms of just long-term implications. And it is also no longer just about guest rooms. Meeting space , recreational facilities, restaurants and spas also now influence the equation.
These resources in many instance contribute a respectable portion of a large resort's revenues. They also serve as an important part of some meeting planners venue decision making process. Certain properties without a spa, for instance, may not be considered as an option for meeting planners who book high end groups that have spouse programs attached to it, for example.
The more groups that a resort books, the more guests there are that can enjoy the spa facilities and contribute to the revenue it generates.
Therefore it makes considerable sense for resorts to realize optimal revenue management opportunities by combining some of their most valuable revenue generating attributes: rooms, meeting space and spa facilities. Together these features from a powerful income producing trifecta. And what better way to utilize all of those facets than opportunities found in the group segment.
Kerry Kuhl, national sales manager for the Kahala Resort and Spa in Hawaii is in charge of bringing the group market to that resort and depends on the spa as one of the ways to get a planner's interest . "For the corporate or incentive group traveler, when looking for a resort destination it seems the increasing trend is focusing on overall health, self care, mindfulness and stress management. It seems the resort Spa, and wellness activities is now a key factor in a majority of our clients key decision factor in selecting a resort and destination for their conference." Kuhl said . "I actively seek out ways to identify the group segments that have the best opportunity for our property and approach them. It's not enough to wait for a planner to possibly consider Hawaii, so communication with planners about features such as our spa is a great way to get their attention."
Meeting and conferences held at resorts have a unique revenue generating probability: the guests that attend the meeting do so because of the conference being held there (thus igniting the revenue from the meeting related services) and attendees also frequently use the spa facilities during their stay. In addition many bring a spouse who also partakes in those services while their loved one is locked away in one of the ballrooms being lectured to by a keynote speaker.
So groups provide lucrative opportunities for resorts and especially those with spas. But not all groups can or will consider meeting at resort properties. Some may fear the perception issues , and others may have budget or rate considerations that have to be adhered to. There are however, certain groups that show definite booking patterns and buying behavior of preferring a resort experience. Some of these groups, also, seem to not be tied to rigid location requirements. There are groups that are open to meeting in locations that may not have been a consideration if it were a non resort being considered for the conference. In other words, the fact that the facility is a resort in itself lends itself to attendees being more open to longer travel times and more complicated travel arrangements.
One meeting planner with a large financial association based in the New York City area said, "The lure of a massage and a facial are enough to make even some of our pickiest members not mind changing planes or flying an extra few hours. If that same meeting were booked in a downtown conference hotel and they had to change planes to get there, I would definitely get an earful about it . Resorts seem to put everybody in a better mood. As a planner, that is a win-win."
Knowland, a meetings intelligence company with the world's largest record of actualized meeting and group data, recently released the "Knowland 2016 Group Trend Report". Knowland tracks and researches actualized meetings and events across all industry segments in more than 5,954 hotels in 204 global markets. This data is aggregated to highlight industry trends of group booking patterns and behavior. By mapping actualized group meetings and events by market segment to the resorts in which they met in 2016, the report identified dominant resort trends in the continental US, Hawaii, and Puerto Rico. The report represents a sampling of group activity by capturing the meeting activity at over 350 resorts (of all chain scales) in major markets in the US in 2016.The report analyzed 55, 226 unique meetings and events that took place at resorts.
Some of the findings came as no surprise such as seeing upper upscale resorts in the Southwest and Southeast, respectively, holding the most number of events in 2016. With a large number of resort properties in markets like Arizona, Las Vegas and Florida, it stands to reason that those regions would rank the highest in most events held. Seasonality was also considered in the report. In looking at month to month consistency in meeting activity the number of events held at resorts in the Midwest and Northeast remained relatively static through the full year. Resorts in the Southeast and Southwest saw higher numbers of events in cooler months, but a dip in group business over the summer months.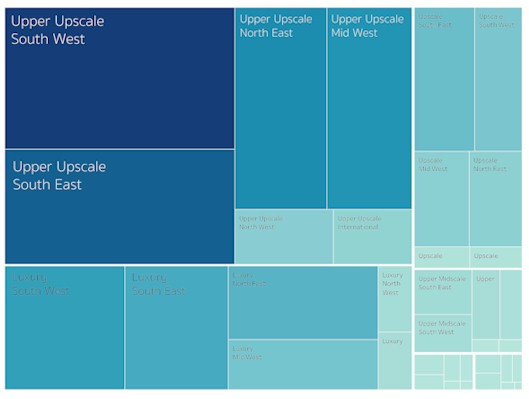 Chain scale was also considered in the report. 78% of meetings at resorts properties occurred at upper upscale and luxury properties. Coupling that result with the preference for meeting in peak seasons suggests that resort-oriented groups may be less affected by rate and budget.
Corporate groups, unsurprisingly, drove 66% of events held at resort properties in 2016. Of the corporate subsets, pharmaceutical groups met most frequently, a trend that seems to be happily reversing based on the previously mentioned array of industry meeting requirements and restrictions. It appears that actions such as removing the word "resort" from a property's name and regulation work arounds found by pharma planners have been effective. It was interesting to see that in a previous Knowland report that analyzed group activity among all hotels (including non resort properties) in six major non resort US markets, pharmaceutical bookings were not the top generator of meeting activity. Training and Education took the number one spot for many tier one non resort cities.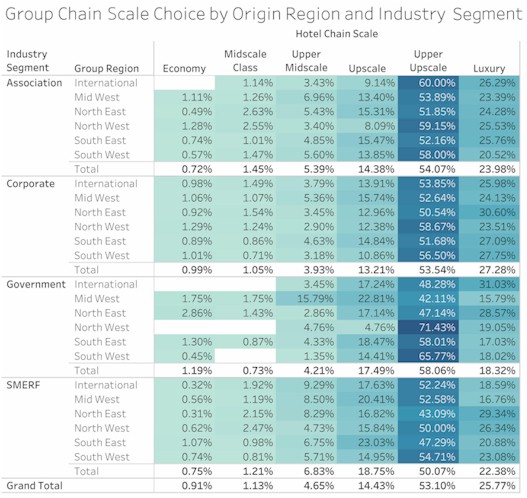 A further breakdown showed that the most corporate groups were held at upper upscale chain scale resorts , and 58% of those groups were booked by organizations that were based in the Northwest but held the majority of their meetings at resort locations in other regions such as the Southwest and Southeast.
Other top corporate subsets that favor resort properties included technology, financial/banking, and health care. One of the most interesting findings in the report was that SMERF meetings came in as the second highest contributor of actualized meetings in 2016 among the resorts used in the study. This is in contrast to association meetings being second when non resorts were included. Though corporate meetings unsurprisingly dominate the number of events, SMERF meetings showed a strong presence at resort properties, accounting for 17% of total meetings. 50% of SMERF meetings occurred at upper upscale resorts as did its corporate counterparts. SMERF groups, however, were inclined toward meeting more locally than other resort-bound groups booking properties mainly in the same region as the booking organization's headquarters. There were some exceptions to that in the case of some University groups that showed consistent patterns of booking resorts outside of their region. The SMERF segment refers to meetings that are categorized as Social, Military, Education, Religious or Fraternal.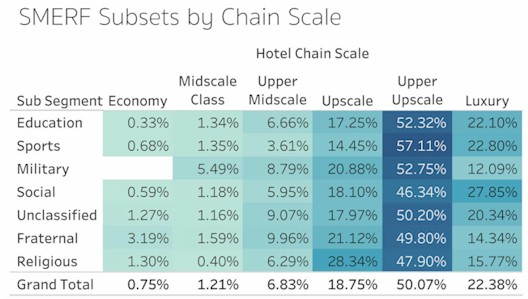 So resorts will continue to enjoy lucrative revenue streams from their spa services as long as they attract groups and meetings that prefer those facilities. Data and technology have begun making it a bit easier for those hard working sales reams to find new and better ways to capture more of that desirable group market so that the spas stay busy pampering both the leisure guest and the conference attendees. And as the meeting planner who likes using resorts for her meetings said, that is a win -win.
Jim Vandevender is Chief Marketing Officer at Knowland. Mr. Vandevender joined Knowland in 2012. He has supported various departments, including data and research and has been actively involved in supporting the development team in the redevelopment of Knowland's Insight tool and in the creation of the new Market Analytics tool. He works closely with the sales department in the areas of training and developing customer relationship skills. Currently, Mr. Vandevender manages Knowland's marketing department, including all aspects of social media, new product launches, and supporting all processes for creating, communicating, and delivering Knowland products to customers. Mr. Vandevender can be contacted at 202-351-1552 or jvandevender@knowland.com Please visit http://www.knowland.com for more information. Extended Bio...
HotelExecutive.com retains the copyright to the articles published in the Hotel Business Review. Articles cannot be republished without prior written consent by HotelExecutive.com.