Best Practices That Create Small Wins in Sustainability
By Susan Tinnish, Senior Strategist, Minding Your Business
Hotel companies prompted by rising energy costs, government pressure, consumer expectations and the competitive landscape are increasingly incorporating sustainability into developmental and operational strategies and initiatives. Deloitte's 2010, Hospitality 2015 Game Changers paper concludes that hotels must develop an environmentally responsible brand and embed a 360-degree view of sustainability within the business model (Deloitte LLP, 2010). As a result, hotel brands/management companies have actively engaged in large-scale efforts including rationalizing the use of raw materials, including water and energy; reducing the volume of wastes and improving waste management; adopting a more ecological purchasing policy and improving logistics; and improving the quality of the hotel's internal environment. This has translated into current initiatives within the industry of:
Developing green hotel buildings (LEED certification)
Offering linen and towel reuse programs
Offering green meetings services and options
Recycling and composting
Reducing water consumption
Utilizing ozone laundry (a process that uses electricity and oxygen in a unique way to replace many of the chemicals normally used in a traditional washing process)
Furnishing rooms with VOC furniture and fixtures
Donating to local charities (Ng, Quan & Moon, n.d).
However across the industry, many lodging companies have not yet deeply integrated sustainability into their decision-making process and core business strategy. This leaves a large number of additional options to consider relating to sustainability from development to operational considerations:
Green brands (e.g., Element hotels) or affiliations (Green Hotels Association)
Sustainable, structural, architectural and interior design
Purchasing
Green materials in furniture, fixtures and equipment (FF&E)
Alternative energy/technology
Integrating hotel development with the natural environment
Sustainable certification
Sustainability recognitions and awards
Marketing initiatives
Educating guests and employees
Transportation alternatives
Social responsibility programs
Philanthropic initiatives
Many significant large-scale eco-initiatives s are most easily "built" into the infrastructure and design of the building and surrounding areas. The economic benefits of these efforts often drive decisions around ¬energy efficiency, water conservation, waste diversion, land use and environmental protection programs. Even options listed above like green supply chain management through purchasing policies or purchasing green furnishings represent major shifts in policy on the brand level. Given that the adaptation of these large-scale changes into the existing asset base is expensive and disruptive, hotels must find different ways to demonstrate their commitment to sustainability and eco-friendly practices.
One way to do so is to shift the focus from large-scale change to "small wins." Typically managers are often looking for the "big win" to demonstrate their management prowess. After all, it's the big wins that demonstrate significant progress and action. Big wins represent big results. However, using small wins may present a better option for your hotel.
Karl Weick is most associated with the idea of small wins basing his concept on Tom Peters's (1977) original description of small wins (Weick, 1984, p. 41). Weick defines a small win as "a concrete, complete, implemented outcome of moderate importance" (Weick, 1984, p. 43). The idea and value of small wins has gained increasing application and popularity by people like Teresa Amabile and Steven Kramer who coined the phrase "the progress principle" or Charles Duhiggi in his book, The Power of Habits.
The concept of small wins is particularly appropriate to sustainability as Weick points out, "The massive scale on which social problems are conceived often precludes innovative action because the limits of bounded rationality are exceeded...People often define social problems in ways that overwhelm their ability to do anything about them." In order to solve social problems, he suggests recasting them into "smaller, less arousing problems" where people can "identify a series of controllable opportunities of modest size that produce visible results." (Weick, 1984, p. 40). Ultimately these small wins should be part of a "series of concrete, complete outcomes of moderate importance [that] build a pattern that attracts allies and deters opponents." Weick's analysis of social problems includes hunger, traffic congestion, and pollution.
Weick, a psychologist, frames people's response to social problems in terms of flight or fight. When people define social problems in ways that overwhelm them, it inhibits their ability to do anything about them. Further the quality of thought and action declines because people feel frustrated and helpless (Weick, 1984, p. 40). Another challenge is caused by the way the human brain responds to threats. The flight or fight response deals with immediate threats. The human brain is not wired to respond easily to large, imperceptible, uncertain, impalpable or slow-moving threats (Harman, 2014). Hotel staff and guests do not see where waste goes after it is disposed. Therefore, it is challenging for them to see waste diversion as a need. People see water flow from a faucet and cannot easily grasp the need for water conservation.
Thus, large problems, like sustainability, are best broken down into smaller ones with concrete achievable goals. The use of small wins especially when those small wins are a series of wins representing an organized strategy where each small win works directly on the problem and indirectly on its resolution in a way that "reduces fear, clarifies direction, …increases the probability of early successful outcomes, [and] boost[s] support for further action (Amabile & Kramer, 2011). Weick (1984, p. 43) notes the additional benefit of creating momentum and a large base of supporters: "Once a small win has been accomplished, forces are set in motion that favors another small win. When a solution is put in place, the next solvable problem often becomes more visible. This occurs because new allies bring new solutions with them and old opponents change their habits. Additional resources also flow toward winners, which mean that slightly larger wins can be attempted."
Hotel brands should continue to work on large-scale initiatives that can change the shape, size and policies of the industry. These changes are imperative. However, individual properties should not avoid tackling eco-friendly initiatives. Instead they should consider appropriate modest steps or small wins.
As Amabile and Kramer point out, small wins have specific benefits. Introducing sustainability initiatives is truly a change management process. Sustainability requires changing how people make decisions, changing values and attitudes, and changing behavior (staff and guests). Rick (2014) states that short-term wins serve four important purposes:
Provide feedback to change leaders about the validity of their visions and strategies
Offer those working hard to achieve a vision a pat on the back, an emotional uplift
Build faith in the effort, attracting those who are not yet actively helping
Remove power from cynics
Small wins serve six additional purposes which will be discussed in this article:
Motivator
Methodology/Process Framework
Change Management Approach
Project Management Tool
Catalyst
Renewal Source
Small Wins as a Change Management Approach
Small wins changes inertia. When projects and problems are extremely complex, it is difficult to see the steps necessary to reach the end point. Small wins remove this distortion by recommending a clear next step.
Small wins garner (possibly more easily) commitment. Taking small steps allows people to circumnavigate fear and inertia.
Small wins promotes easier buy-in. When massive change is broken into smaller, more manageable steps, the threat of resistance is minimized and it helps avoid feelings of being overwhelmed.
Small wins attend to a hotel's absorptive capacity for change. An organization's absorptive capacity varies; that is the ability of a firm to recognize the value of new information, assimilate it, and apply it varies. However, all organizations have limits on how much change they can tolerate; small wins help a hotel digest changes more easily.
Small wins encourage improvisation. Small wins stir up settings, which mean that each subsequent attempt at another win occurs in a different context.
Small wins encourage learning. These wins provide information that facilitates learning and adaptation. "Small wins are like miniature experiments that test implicit theories about resistance and opportunity and uncover both resources and barriers that were invisible before the situation was stirred up" (Weick, 1984, p.44).
Small Wins as a Motivator
Small wins align with the way the human brain is built to learn attacking new information in reasonable "chunks."
Small wins offer clear payoffs, provide more motivation and (if failed) offer less disappointment. Amabile and Kramer discuss how even seemingly small steps forward on a project can make huge differences in employees' emotional and intellectual well-being (Nobel, 2011).
Achieving small goals floods the human brain with dopamine, the brain chemical that is linked with motivation (Selig, 2012).
Small wins create momentum.
Small Wins as a Methodology/Process
Small wins promotes effective sensemaking. Sensemaking is the attempt to make sense of an ambiguous situation. More precisely, sensemaking is the process of creating situational awareness and understanding in situations of high complexity or uncertainty in order to further decisions (Klein, Moon & Hoffman, 2006). Hotel staff from housekeepers to front desk agents to F&B staff needs to have a context in which to understand sustainability and their role within the property. Thus, small wins are easier to understand.
Small wins allow people stay focused on the present. Small wins posse a problem with a reasonable scale discouraging overreaching by trying to do everything at once and/or taking shortcuts.
Small Wins as a Project Management Tool
Small wins encourage early positive feedback from customers (Churchville, 2007).
Small wins allow for early clarification of an important feature (Churchville, 2007).
Small wins provide early proof of success (Churchville, 2007).
Small wins allow effective responses to the unexpected.
Small wins allow a hotel to respond to new opportunities. Those opportunities may occur from emergent outcomes or serendipitous events that cannot be planned for, or forecasted in advance.
Small Wins as a Catalyst
Small wins promote creativity and other positive organizational side effects. Amabile and Kramer advance key concepts that of all the factors that induce creativity, productivity, collegiality, and commitment among employees, the single most important one is a sense of making progress on meaningful work (Nobel, 2011).
Small Wins as a Renewal Source
Small wins build multiple sources for future building. Like building blocks, small wins serve to create foundational efforts. Additionally, unexpected linkages may occur between seemingly two disparate small wins.
Small wins show that winning is possible. Rick's advice (2014), "If you want something to grow, don't forget to pour champagne on it." Or follow Jeanie Daniel Duck's mantra, author of The Change Monster: The Human Forces That Fuel or Foil Corporate Transformation and Change, "Confidence is success remembered" (Johnson, 2009).
Humans crave and enjoy completion of goals and projects; the completion creates a sense of accomplishment (Baker, 2011).
With this introduction to small wins, the next section offers best practices in both large-scale changes (Big Wins) and Small Wins. The differentiation between Big Wins and Small Wins is artificial and is intended to be exemplary with the recognition that hotel properties vary greatly in terms of size, layout, facilities, amenities/services offered and service levels. Also, stakeholders will have different time horizons which impact analysis of costs, budgets, and payback periods. For example, installing refillable dispensers for hygiene products in rooms could be categorized as a Big or Small Win depending on the number of rooms or numerous other differences between brands, properties, and budgeting processes.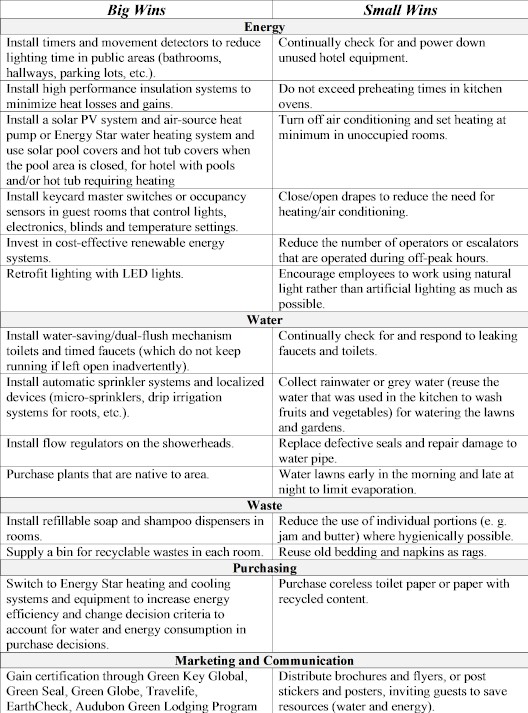 A hotel focused on sustainability needs to be agile to learn and adapt quickly. This issue of Eco-Friendly Practices: The Value of Sustainability offers many suggestions for hoteliers. However, neither management nor employees need to be stymied by the overwhelming task of "greening" a hotel. Creating an incremental change strategy is a smart approach to creating organizational and behavioral change. Focusing on small wins allow a hotel to plan for the necessary technology or infrastructure support. In addition, it allows the hotel to redesign their operating model and organizational structures to align roles, responsibilities, accountability, and authority for effective execution and decision making in parallel to the introduction of eco-friendly practices. Small wins also allow many employees to understand and to be involved in the change process. Ultimately, small wins can have a huge impact on changing organizational culture and fostering changes to the environmental footprint of a hotel.
References:
Amabile, T. and Kramer, S. (2011). Small Wins and Feeling Good, May 13, 2011. Retrieved from https://hbr.org/2011/05/small-wins-and-feeling-good.
Baker, S. (201). Small Wins for Big Gains, March 23, 2011 . Retrieved from http://www.happenchance.net/small-wins-for-big-gains/.
Churchville, D. (2007). Small Wins: Agile Psychology, March 05, 2007. Retrieved from http://blog.extremeplanner.com/2007/03/small-wins-agile-psychology.html.
Deloitte LLP. (2010) Hospitality 2015 Game changers or spectators? Retrieved from http://www.fairtrade.travel/source/websites/fairtrade/documents/Hospitality_2015_Deloitte_report.pdf.
Harman, G. (2014). Your brain on climate change: why the threat produces apathy, not action, November 10, 2014. Retrieved from https://www.theguardian.com/sustainable-business/2014/nov/10/brain-climate-change-science-psychology-environment-elections.
Johnson, L. K. (2009). Helping Employees Cope with Change, January 14, 2009. Retrieved from https://hbr.org/2009/01/helping-employees-cope-with-ch.html
Klein, G., Moon, B. and Hoffman, R.F. (2006). Making sense of sensemaking I: alternative perspectives. IEEE Intelligent Systems, 21(4), 70-73.
Ng, E., Quan, T. and Moon, J. (n.d.) Sustainable hotel INDUSTRY. Retrieved from https://courses.cit.cornell.edu/crp384/2009reports/MoonNgQuan_Sustainable%20Hotel%20Industry.pdf
Nobel, C. (2011). How Small Wins Unleash Creativity. 06 Sep 2011. Retrieved from Harvard Business School Working Knowledge, Research & Ideas, from http://hbswk.hbs.edu/item/how-small-wins-unleash-creativity.
Rick, T. (2014). Change management and the power of small wins, March 25, 2014. Retrieved from https://www.torbenrick.eu/blog/change-management/change-management-and-the-power-of-small-wins/.
Selig, M. (2012). Changepower, The Amazing Power of "Small Wins." Retrieved from Psychology Today, July 18, 2012, https://www.psychologytoday.com/blog/changepower/201207/the-amazing-power-small-wins.
Weick, K. (1984). Small wins: Redefining the scale of social problems. American Psychologist, 39(1), 40-49.
Sue Tinnish, Ph.D., is a Senior Strategist at Minding Your Business (MYB). MYB has a 20+ year proven record of organizational transformation. The work is rooted in research and evidence-based decision making. Dr. Tinnish works with clients on strategic planning, organizational change and business innovation. Formerly, Dr. Tinnish served as the dean of the Kendall College School of Hospitality Management and the International School of Business. She oversaw and managed faculty and curriculum selection, assessment and program direction. She served as a member of Kendall's academic leadership team. Initially joining Kendall as a faculty member, Dr. Tinnish taught courses on leadership, organizational behavior, sustainability, meeting management and human resource. Dr. Tinnish can be contacted at 312-870-7155 or sue.tinnish@myb.net Please visit http://www.myb.net for more information. Extended Bio...
HotelExecutive.com retains the copyright to the articles published in the Hotel Business Review. Articles cannot be republished without prior written consent by HotelExecutive.com.