Improve Profits With Renovation, Redevelopment and New Construction
By Bob Mattler, Managing Director, Pace Equity
There is a new innovative way to pay for hospitality construction projects: Property Assessed Clean Energy (PACE) financing. PACE, adopted as enabling legislation in 32 states and with active programs in about half of them, is gaining momentum as a flexible, available and creative tool in which to finance almost any technology that saves energy and/ or water. PACE can take the place of expensive loans or additional owner equity to finance construction projects that can be repaid long term from those very same energy and water savings. This article will explain Property Assessed Clean Energy, who pays for PACE, some common building systems ripe for PACE financing, who is using PACE and why. We'll take a closer look through some case studies how hospitality developers and owners are already taking advantage of this new economic development tool.
What is Property Assessed Clean Energy (PACE)?
PACE offers an innovative, affordable method to help solve the challenges today's building owners & developers face. PACE uses the financial power of long term energy/water savings to make improvements possible today, while spreading out the costs over a long period, in many instances up to 20-25 years. PACE outperforms traditional forms of financing in many ways:
Borrowing is available through non-recourse financing;
Replaces more expensive cost of capital;
Boosts property value without negatively impacting the balance sheet;
Preserves borrowing capacity for other projects or more essential business plan goals;
Obligations pass to new owners seamlessly when the property is sold;
No upfront cash requirements in most circumstances and no out of pocket costs.
PACE is a financing mechanism providing the power for building owners to recapture wasted energy and water today. PACE also allows developers to obtain low cost capital for their projects resulting in more efficient buildings, lower operating expenses and a more valuable building.
The Impact of Pace on a Recent Hospitality Project: Midest Westin.
Developers of a new Midwest Westin Hotel chose to incorporate PACE Equity funds into the project's capital stack. By doing so, plans for the hotel became a reality without adding substantial additional construction cost to the project. The project's groundbreaking became the first instance of a new development utilizing Property Assessed Clean Energy (PACE) financing.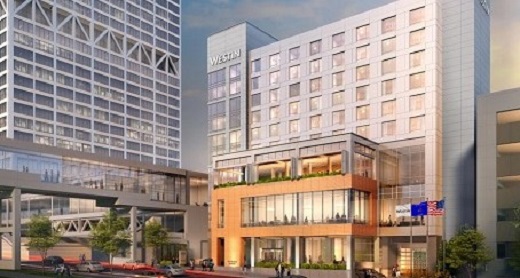 Prior to the Westin Hotel project, PACE had not been used for new construction. PACE financing had been exclusively implemented for adaptive reuse projects and all sorts of infrastructure replacement projects in existing buildings. This hotel project serves as the basis for a new chapter in the future of PACE projects for new construction.
PACE Equity, a full turnkey national PACE provider and financing entity for new construction and retrofit projects, contributed $6.8 Million or just over 10% of the total development cost for the this new Westin Hotel. PACE Equity worked with the entire development team, including architects, energy engineers and contractors throughout the design process to identify key components of the building's planned infrastructure to generate both identifiable energy and water savings. The building's completed design will make the hotel's overall operation more efficient, less expensive and add immediate value to the building.
Some of the key building systems identified for improvements included upgrades to the Westin's windows, HVAC system (including energy recovery options and advanced controls) and hot water heating. The Westin project may very well serve as a model from which other hospitality developers can learn how to maximize energy and water efficiency on hotel construction design while adding incremental cost to such design changes.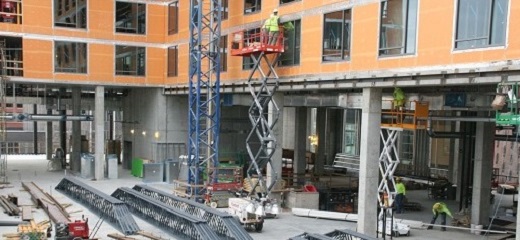 Adaptive Reuse of an Office Building
Another recent PACE Equity hospitality project was the redevelopment of an office building into a Springhill Suites by Marriott. Developers breathed new life into an underutilized downtown building with a $17 Million, 165 room hotel conversion that will serve the city's Convention Center visitors.
PACE Equity funded $2.4 Million in building improvements, which provided $8.9 Million in savings to Developers over the 20-year term, a 3.7 times savings to investment ratio for the project. The project did not involve any additional incremental costs to use PACE financing, and the measures funded by PACE Equity included: HVAC system, new windows, domestic hot water and elevators. Most importantly, the use of PACE financing met some of Developer's important objectives without interrupting the development timeline, increased cash flow and improved the property's bottom line.
Developer's objectives were met with maximization of the return on investment (ROI) in the property. Use of PACE financing also allowed Developer to reduce their outside equity requirement into this project and still meet all the underwriting requirements of their senior debt. The implementation of PACE financing into the capital stack accomplished multiple goals for the Developer while reducing their equity stake for use on another project.
How Does PACE Work?
PACE, as a public benefit law and state goal to reduce energy and water consumption, is modeled after methods used to fund other public benefits such as sewers, sidewalks, libraries and fire houses. While the above-mentioned projects are a special property tax assessment passed down to citizens of a community who pay for those public benefit projects over a long period, PACE is purely voluntary. If a building owner or developer sees the value of this economic development law for their building or project, they can use it much like a brownfield site, TIF, historic tax credit, state and local incentive or other public incentive that is repaid over an extended period. Simply put, PACE is a special property tax assessment taken out by the private owner for their specific project and repaid through an annual property tax repayment over many years. PACE financing is available for almost any property asset class except government owned buildings and single family residential properties. Residential PACE is only available in a few states including California, Florida and Missouri.
California and Connecticut were the first states to have active PACE programs. In California, PACE is primarily a public-private partnership where the financing is private and the Treasurer of a PACE community collects the annual property tax assessment and remits to the financing company who provided the funds for the project. In Connecticut, PACE legislation passed where the state created their own Green bank from which the funds are provided to worthy projects which meet the states' goal of reduced energy and water consumption. Other states have seen the value of Property Assessed Clean Energy as a public benefit. More are passing PACE legislation and setting up programs as this alternative financing tool gains acceptance and momentum.
What Building Systems Can be Used for PACE Financing?
While each state may vary slightly over which building systems may qualify for the special financing of PACE, it's generally a common feature that PACE can be used for systems that impact energy and/or water savings. In California PACE covers seismic construction and in Florida, resiliency construction against hurricane force winds.
When considering the components of a building, many systems and infrastructure directly impact the energy and water consumption of a building. Just some of the common systems that impact energy and water consumption of a project or building include: lighting, roofs, windows, doors, insulation, sensors, controls, hvac, boilers, chillers, refrigeration, elevators, escalators, solar, geothermal and wind turbines. Building owners can now obtain 100% upfront financing to replace old systems, without going into their own pockets. This almost always means increased NOI to the owner.
A National Leader in Both Large and Small Projects
In a short span of 3 years, PACE Equity has infused capital into several new construction projects, providing essential "gap financing" equity, project development and governance of the PACE process towards successful closings. PACE Equity has 17 local market leaders in the most active PACE markets around the country, a $300+ Million capital facility available for projects and principals who have been involved in over 100 PACE transactions. PACE Equity has also been involved in social impact PACE investments for community growth and development, projects that would not have been built and strengthened communities without this new source of gap financing.
PACE is an economic development tool which solves several problems upon implementation:
Property owners have an opportunity to use innovative low cost capital to save money, fill their capital stack and make their buildings' more valuable;
Existing mortgage lenders support PACE projects which increase the value of their collateral;
Contractors support PACE since it opens up new sales opportunities;
Local governments like PACE since it creates jobs, helps meet public policy goals of less pollution and most often costs local government nothing to support;
Taxpayers like PACE because the government entity takes no liability, it boosts the economy and upgrades the building stock to today's standards, raising the community's attractiveness for business and residents alike.
Property Assessed Clean Energy (PACE) financing is a relatively new law in many states designed to assist building owners and developers in upgrading new or existing buildings for energy and water savings with public benefit type financing and long repayment periods, making a compelling financial case for meeting many owners' objectives. PACE has many attractive characteristics for the hospitality industry looking to upgrade new or existing facilities for sustainability and lower energy/ water expense without adding traditional debt onto the property. Whether it's a simple cool roof replacement, led lighting, new windows or a temperature controlled room key system, PACE allows hoteliers to upgrade today and pay for these new, higher efficiency technological systems tomorrow.
PACE financing may very well allow a building owner or portfolio manager to become more competitive today and in the future without taking out expensive loans or waiting to build up sufficient reserves to cover such expenditures.
Bob Mattler joined PACE Equity in 2015 and is Managing Director of Michigan. His passion and practice involves assisting a wide variety of developers and building owners, including current representation for PACE financing of a ground up construction mixed use project, a new senior living center, adaptive reuse of an old industrial building into a modern office building and the major infrastructure upgrade of an outdated hospital in the City of Detroit. After a new economic development law in Michigan, he is helping to open up PACE financing to a variety of asset classes, for profit and non-profit entities, bankers, lawyers, brokers and the Michigan commercial real estate industry in general. Mr. Mattler can be contacted at 248-762-4370 or bmattler@pace-equity.com Please visit http://www.pace-equity.com for more information. Extended Bio...
HotelExecutive.com retains the copyright to the articles published in the Hotel Business Review. Articles cannot be republished without prior written consent by HotelExecutive.com.