Social Media Drives Engagement, but Does It Drive Revenue?
By Alan E. Young, CEO & Co-founder, Puzzle Partner, Ltd.
Today, social media is a staple in most people's daily lives. In 2016, 78 percent of Americans had a social media profile, up 5 percent from 2015. Worldwide, there are 2.3 billion active social media users - 1.7 billion on Facebook alone! And popular platforms like Facebook, Twitter, YouTube and Instagram aren't missing this opportunity to capitalize on our need to be social.
In 2016, Facebook underwent a dramatic transformation from social network to a media delivery service right before our eyes. Facebook is now the second biggest ad publisher globally behind Google, and in Q3 2016 reported record earnings of $7.01 billion in revenue.
Facebook Revenue Over the Last Two Years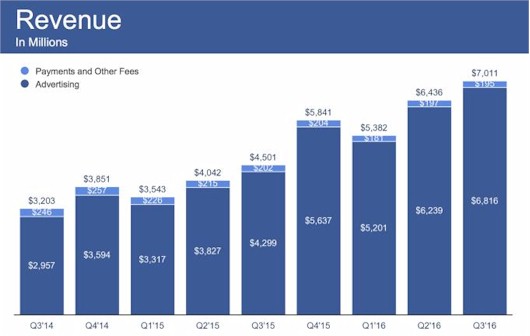 Techcrunch 2016
While Facebook and other platforms are profiting from their user base, many hoteliers are scratching their heads on how to do the same.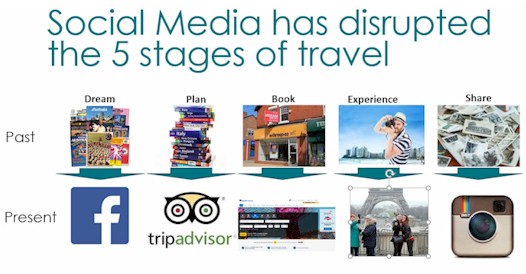 Image courtesy of Bizeez Communications
In the travel industry, social media has disrupted much, if not all, of the travel-shopping journey. A social media presence is important to help build your brand and engage with travelers, but can it also drive revenue? I believe it can. But hotels need to be smarter with how they approach their social media strategy.
Social Media Mistakes and Triumphs
One of the biggest mistakes hotels make with social media is a lack of focus. That is, they fail to clearly identify their objective for social media and remembering that their efforts should always map back to a bigger business goal (Olenski, 2014). "You need to understand what you want to achieve, who your audience is and how to measure your success" (Shirgwin, 2016).
A great example of this is Secrets Playa Mujeres in Mexico. At the Social Hotel Awards 2016, Secrets Playa Mujeres was named runner up for best Integrated Digital Campaign. With "engagement season" approaching, they launched the "Love it, Book it & Get More" promotion, giving the first 50 couples who booked their weddings at the resort perks such as fire dancers, fireworks, drone video footage, photography and more.
The campaign included a Facebook contest where participants could enter to win a dream wedding at the resort by answering which special wedding day extra they would choose, while weekly prizes helped keep the conversation going. Sponsored Facebook posts and display ads highlighting the resort's beauty shots were also used to help drive traffic to their website and contest participation.
Secrets Playa Mujeres' social media campaign tied back to the resort's bigger business objectives: to reach newly engaged couples and fill up their wedding calendar for the 2016/2017 seasons. And they did just that. The resort saw 20 new weddings booked within 12 weeks, generating US$165,360 in revenue. Additionally, the contest secured more than 500 entries with emails, as well as 33,800 Facebook impressions and engagement.
The Four Seasons New York saw similar success from a well-aligned social media strategy as well. After reviewing their bookings and demographic data, they identified new opportunities to tap into different audiences. They discovered that the majority of their reservations were for business purposes, so they launched a new campaign targeted to families looking to book weekend travel.
In the Summer of 2013, they launched an interactive 12-week campaign featuring "Maxine," a lovable fuzzy plush toy. Each week, Maxine traveled around New York to visit an iconic destination. Social media fans were encouraged to guess the location of each adventure, with a contest being held at the end of the campaign to win a $250 Four Seasons gift card. The campaign leveraged Pinterest, Instagram, Twitter, Vine and Facebook, and children visiting the hotel got a chance to interact with Maxine through photos and personalized amenities created for each family.
The campaign had the desired business result: a 5% revenue increase in weekend business, a 10% increase in Facebook fans, and 19% increase in Twitter followers, ensuring that the high level of engagement from the "Maxine campaign" would continue after the campaign closed. Four Season's campaign worked because it encouraged participation. This leads me to the second biggest mistake hotels make with social media: interaction.
Value and Reciprocity
The whole point of social media is to spark a conversation. Whether that's a direct 1-on-1 conversation, or simply establishing a relationship of reciprocity, whereby you provide relevant and engaging content to travelers, and in return they engage back with your brand.
If your social media strategy is solely focused on driving people to your website to book, then your strategy is set up to fail. It's like stopping a complete stranger in the street and asking them to buy something from you. "When someone meets your brand for the first time [on social media], you want to give as much value as you can, before going in for the right hook by delivering a call-to-action" (Murphy, 2016). A good rule of thumb is the 80/20 rule, or 4 engaging posts to 1 sales post (Shirgwin, 2016).
"The majority of your social media content…should be for your guests, not for you. If you're providing quality content that actually benefits them, they'll enjoy the odd promotional post from your brand. That's when social media content is doing its job" (Murphy, 2016).
So what constitutes as quality content? For this, it's helpful to know how traveler shoppers use social media as they plan and book a trip.
Without Inspiration, There is no Booking
Social media is used much earlier in the travel-shopping journey than most hoteliers realize. As a result, their social media messages often don't resonate.
According to a 2014 Google study, 83% of leisure travelers use social networking, video or photo sites to find travel inspiration. That is to say, they haven't even settled on a travel destination, let alone a hotel.
Content that addresses the Inspiration phase can therefore go a long way in helping your hotel stand out. High-quality images and video are naturally important, to help travelers imagine themselves visiting your destination. The Four Seasons campaign did this well by posting photos of Maxine in front of iconic New York attractions. This helped inspire mothers and fathers of what a weekend in New York with their children could look like.
While focusing on the Inspiration phase might not drive immediate bookings, it's worth investing in, as 67% of travelers are more likely to book with a travel brand that provides relevant information for the destinations they are interested in. Here are some content ideas that work well on social media and help inspire travel shoppers:
"Top 10" Lists
Top 10 lists give easy-to-digest recommendations on where to dine, places to visit, what to pack and more. This type of content is quick and easy to produce, and is both widely popular and quite useful. When promoting it on social media, accompany with photos or video.
Fun Facts About Your Destination
No one can resist a good piece of trivia. Fun facts are both relevant to visitors and entertaining, and can establish you as an expert at exploring your city.
Destination News
Be the first to tell your followers about something new in your city to establish your hotel as a destination expert. Whether it's a new brewery opening in your neighbourhood, or a new exhibit at the museum, share it first with your social media followers. Be sure to tag the local business as well, to encourage them to share it too.
Monitor Reviews, but Also be Proactive
Another common reason travelers' use social media is to read or post reviews. According to a 2014 PhocusWright study, 77% of travelers usually or always reference TripAdvisor reviews before selecting a hotel. Furthermore, 62% of TripAdvisor users agree that seeing hotel management respond to reviews generally "makes me more likely to book it" versus a comparable hotel that didn't respond to guests. Being active on review sites is important in helping influence the booking decision for many travelers.
Hotels can compliment these efforts by posting guest stories on their social media pages. One of the easiest ways to do this is through user-generated content (UGC). UGC is more trustworthy and believable than any other form of advertising. According to Stackla, 76% of people say that "online reviews from fellow travelers give them inside knowledge" about a place, and 40% of Millennials say that they depend solely on UCG to inform their purchase decision.
The benefits of UGC for your hotel are three-fold. First, you gain new content from your guests to inspire other travel shoppers. Second, you get access to a new and expanding audience (i.e. your guests' followers). And third, travelers trust other travelers, more than they trust brands. UGC is a way of demonstrating your authenticity, and backing up your brand promise.
Encourage guests to post about your hotel using a customized hashtag and tagging you. From there, you can share their posts on your own social media pages (with permission, of course). 57Hotel in Sydney, Australia is a 92-room boutique hotel that excels at UGC. Through a simple personalized welcome message on the mirror, guests are encouraged to share "selfies" on social media to their network of friends.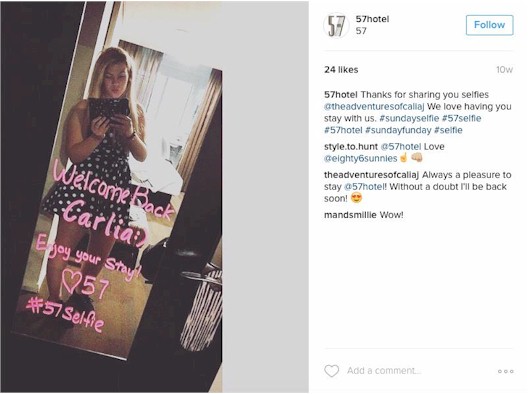 A personalized welcome message encourages guests to tag 57Hotel
Contests and promotions are another great way to influence travel shoppers and encourage them to take action. Tools like Shortstack make it incredibly easy to run contests on social media and can also be embedded into your website. When you run a contest, don't simply promote it once or twice. Build buzz and anticipation with frequent updates, reminders of what's at stake, highlight the best entries and do a countdown until a winner is chosen (Cvent, 2015).
Final Thoughts
Social media is the gateway to travel shoppers understanding what's unique about your property, how it's run day-to-day, and how they can become a part of your story. Having a social media strategy that ignores all of this is destined to fail. Social channels thrive on immediacy, engagement and authentic responses. A good social media strategy does this and is tied back to an overall business objective. Striking a balance between the two is where you will win with social media and start to see real, actionable results that drive revenue.
References
Cvent (2015). https://meetingminds.cvent.com/industry/social-media/14-social-media-post-ideas-marketing-hotels-online/
Shirgwin, T. (2016). http://bizeez.com/facebook-post-ideas-for-hotels/

Murphy, C. (2016). https://www.revinate.com/blog/2016/06/5-must-haves-successful-hotel-social-media-content/

Olenski, S. (2014). The Impact of Social Media in the Travel Marketing Industry. http://www.forbes.com/sites/steveolenski/2014/02/07/the-impact-of-social-media-in-the-travel-marketing-industry/2/#5b0b299457e8
Alan E. Young began his travel and hotel technology focused career 25 years ago in operations at the Four Seasons Hotels in Toronto. As his passion for the technology aspect of the hospitality industry intensified, he began to focus on the technologies that were going to be propelling the hotel and travel industry for many years. Today, Mr. Young is the President and Co-Founder of Puzzle Partner Ltd., a strategic and tactical marketing and public relations firm that specializes in helping travel and hotel technology companies achieve winning performance and dramatic growth. Through the implementation of proper messaging and content strategies. Mr. Young can be contacted at 705-241-5244 or alan@puzzlepartner.ca Please visit www.puzzlepartner.ca for more information. Extended Bio...
HotelExecutive.com retains the copyright to the articles published in the Hotel Business Review. Articles cannot be republished without prior written consent by HotelExecutive.com.