New Group Data Tool Defines Drivers of Meetings Business
By Jim Vandevender, Chief Marketing Officer, Knowland
As hotels head into the fourth and final quarter of 2016, sales operations and revenue management teams are beginning to look toward next year. Budgets and marketing plans are beginning to be developed that hope to capture the lucrative high demand group market, drive RevPar and meet occupancy and ADR forecasts. But questions loom. Which segments will remain robust and fruitful? Will the high demand within corporate, for example, begin to ebb with the hotel construction pipeline in full swing supplying more and more inventory in most cities? What subsets within corporate group will continue to drive demand and which ones will be the new emerging provider of group room night opportunities? And if the market softens and hotels begin to pay more attention to SMERF then which accounts within that often ignored segment are having meetings that may match a hotel's group goals and booking parameters? Up until recently questions such as these were impossible to answer. That, however, has changed. New group data tools have emerged giving us the ability to look under the covers of the once hard to define group market.
Data tools that predict trend in the group meeting segment have, until recently, not been as robust or as developed as the data and predictive analytics tools available as they are for the transient side. In fact they have been almost non-existent leaving analysis of group drivers up to hunches and guesswork. But big data within other areas, namely transient activity, has existed for years. Prior to Randy Smith and his wife starting Smith Travel Research there was very little data at all on any drivers of market performance for either group or transient . What the Smiths began setting the stage for can only be considered an explosion in market data intelligence over the ensuing decades.
Following the creation of STR, a company called Rubicon, later absorbed by TravelClick, teamed with the major brands to launch a full cross-segment, cross-channel, complete picture of market demand both historical and future. This brought a whole new level of transparency of market demand and market share to the hotel industry. The focus up until this point however was heavily slanted toward non group segments. In the early 2000's TravelClick launched Hotelligence, bringing a new level of market intelligence, focused on the GDS channel. Now, more and more light is being shed, finally, on the world of group meeting activity with tools such as Knowland's Market Analytics having been recently released. The real picture of actual drivers of group activity has, until recently, been difficult to evaluate since brands closely protected where their group business was coming from and the holistic picture of a market had to be pieced together. Where and how is group influencing current occupancy and ADR performance within US hotels? With new technology like Market Analytics, we can see that group demand is certainly still very strong but there are possibly storm clouds on the horizon. Recent reports tell us that occupancy has declined even though average rate and RevPar are holding somewhat firm.
When 2016 comes to a close, hotel sales teams will look back and examine what segments and subsets drove the group market. Will these latest occupancy reports hold true for Q1 of 2017? Knowland, a globally recognized provider of meeting and group data, recently decided to examine what the drivers of group business were in 2015 in secondary and first tier US cities so that comparisons could be made when year end 2016 results are tallied in a few months. It is interesting, again, to note that the ability to shed light on the usually opaque drivers of meeting business from a big picture holistic point of view has only been recently developed. Individual hotel brands historically have known what segments drove their own business but had no way to know how that compared to the same account's performance in their competitor brands. Without an across all brands and across all markets view of actualized group activity there was no way of knowing what segments were up in volume and which were down or which ones drove the business that did actualize. That has now changed.
In their recent findings, Knowland examined twelve major first- and second-tier cities. While the majority of these cities saw an overall increase in group business from 2014 to 2015, there were some interesting results. Pharmaceutical and financial/banking groups have typically been acknowledged as reliable drivers of group business. In the examination of these twelve sample markets, however, those two sought after segments were minor contributors when compared to other segments. In these cities, national association meetings outweighed pharma meetings 2.6 to 1. Overall, associations and technology were two of the biggest drivers of group business in 2015 in these sample markets.
For test group purposes, Knowland looked at actualized group business across all chain scales in the following first tier markets: San Francisco, Chicago, Seattle, Dallas, Orlando and Boston. The following secondary markets were then studied as well: Phoenix, Indianapolis, Tampa, Charlotte, St. Louis and Detroit.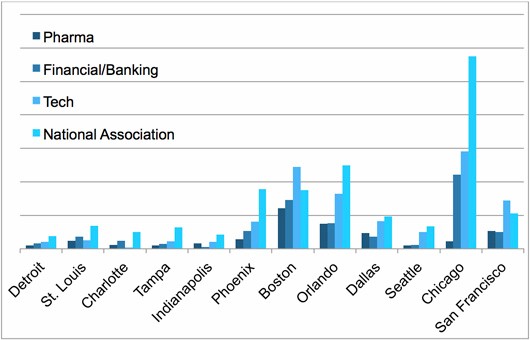 Technology groups had a tremendous impact on group bookings in almost all of the sample cities considered, providing more than double the number of groups produced by the pharmaceutical subset in most instances in 2015. That trend has, also, continued into 2016 as well. Knowland reported in July that within the top ten US meeting destinations for corporate groups, technology is , once again, the top producing subset. Companies like Microsoft, Hewlett Packard, Salesforce and Oracle continue to be big producers of meetings and events utilizing both first tier and second tier cities. And these are not all big citywide meetings. In some cases the majority of the meetings held by some of these technology powerhouses are smaller meetings , utilizing meeting rooms that are 2500 square feet or less on average. Another interesting result of Knowland's study was the booking patterns of technology companies in regard to the variety of hotel type shown in hotels booked. The majority were, not surprisingly, booked in Upper Upscale classified hotels, but a number of events went to lesser chain scale properties in the Upscale and upper Midscale categories.
It should not be too big of a surprise that the mighty pharmaceutical segment has seen a humbling of its once colossal booking power. Challenging regulations in the pharmaceutical industry such as the Open Payments section of the Affordable Care Act require medical meeting planners to disclose any "transfer of value" to their attendees of more than $10. Back in 2010 the Patient Protection and Affordable Care Act marked the beginning of a new era for pharma meeting planners with frightening penalties for failure to disclose meeting related expense. We are now seeing the results of those rules and regulations.
Despite increasing rates and rising occupancies that are causing some availability challenges for some segments that tend to be more rate sensitive than corporate groups, association remains a strong player due in part to their far out booking cycle. Many associations book years in advance so they were able to avoid the historic high rates some cities, that for now, are able to command. The effect of the booming hotel economy on the association segment will be seen in the years to come when many had to look at less expensive destinations compared to those destinations utilized in recent years. However in 2015, in looking at the first tier and second tier cities previously mentioned, Knowland found association to be one of the second biggest drivers of group business in those same markets where technology groups dominated. Traditional top accounts such as American Medical Association, IEEE and American Heart Association once again were among the top association groups that produced the highest number of meetings and events in these markets. Similar booking patterns were seen among some association accounts as were seen in the corporate technology bookings. For example, a variety of first tier and secondary cities were seen in destinations selected for meetings and events among associations. Associations were also consistent in their selection of chain scale choosing to hold meetings in Upper Upscale and Upscale properties in far greater numbers than events held in Luxury and Upper Midscale hotels. In looking at actualized association bookings in 2015 in those 12 markets, there was a fairly even distribution of bookings across all quarters, with a slightly higher number of bookings occurring in the second quarter.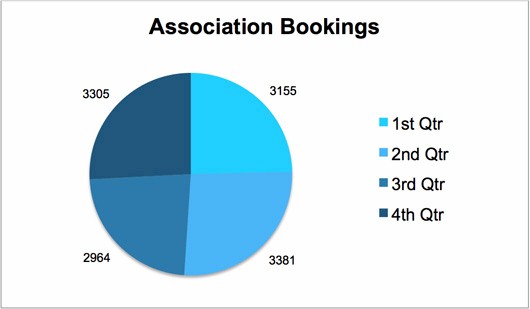 What will the end of the year wrap up for 2016 tell us? Will we see these same trends continue or will new group booking patterns emerge? Having intelligence on the big picture of meeting and group activity within a market, or a brand or in a chain scale, is a welcomed addition to for many sales operation and revenue management teams. For many years, the planning of group sales activities were mired in hunches and skewed by having only fragmented pieces of a much larger story available. The clear picture of group activity was virtually impossible to see or define completely. Now new emerging data tools such as Knowland's Market Analytics can be added to a hotel's arsenal of tools like TravelClick's Hotelligence and STR's Benchmarking Reports. Sales teams can, finally, plan more strategically and therefore sell more effectively when granular detail such as the trends noted above are included in sales planning activity. That should also make revenue management teams happy. By looking at historical booking patterns above property revenue teams can have an even greater effectiveness supporting group sales by understanding what group drivers are in actuality. When bridges such as that one is built between revenue teams and sales teams, better alignment on ideal group targets begins to evolve and hotels can become less dependent on inbound RFP traffic that has low conversion potential and higher group acquisition costs. All of the marketing plans being written now can be even more successful with big data included in their development. Whether we see the much talked about downturn in 2017, or whether the market stays strong, the arrival of detailed group data that shows what specific segments and subsets driving a market's performance will surely lead to smarter selling.
Jim Vandevender is Chief Marketing Officer at Knowland. Mr. Vandevender joined Knowland in 2012. He has supported various departments, including data and research and has been actively involved in supporting the development team in the redevelopment of Knowland's Insight tool and in the creation of the new Market Analytics tool. He works closely with the sales department in the areas of training and developing customer relationship skills. Currently, Mr. Vandevender manages Knowland's marketing department, including all aspects of social media, new product launches, and supporting all processes for creating, communicating, and delivering Knowland products to customers. Mr. Vandevender can be contacted at 202-351-1552 or jvandevender@knowland.com Please visit http://www.knowland.com for more information. Extended Bio...
HotelExecutive.com retains the copyright to the articles published in the Hotel Business Review. Articles cannot be republished without prior written consent by HotelExecutive.com.