International Investment Treaties and the Protection of Foreign Investments
"The Hotel is now in the hands of the government. It does not belong to the Hilton Company anymore." - Sri Lanka's Economic Development Minister Basil Rajapaksa, March 2011
Investing abroad may present lucrative opportunities in the form of new markets and customers. Hospitality companies, however, often face unique challenges when doing business abroad. For example, in 2009, Venezuelan President Hugo Chavez ordered the expropriation of a Hilton-run hotel on the resort island of Margarita in Venezuela to help develop tourism projects within a socialist framework. Similarly, in 2011, the Sri Lankan government declared ownership of a Hilton-run hotel in Colombo, Sri Lanka following a rent-related dispute with the foreign investor. Hospitality companies considering investing abroad thus should be aware of the tools that may be available to protect their international investments.
One such tool is an international investment agreement (IIA), which is an international treaty between two or more countries that protects international investments by creating substantive rights for foreign investors. IIAs may provide valuable leverage in negotiations with government officials and, perhaps most importantly, allow an investor direct recourse to international arbitration to resolve investment disputes. IIAs thus provide protection to international investors from political risk and even counterparty risk.
There currently is a global network of approximately 3,000 bilateral investment treaties (BITs), which are IIAs between two countries. For example, the United States has around 40 BITs, with countries such as Argentina, Croatia, Ecuador, Jamaica, and Panama. The U.S. also has a number of multilateral investment treaties (IIAs between more than two countries), including the North American Free Trade Agreement (NAFTA) between the U.S., Mexico, and Canada, and the Dominican Republic-Central America Free Trade Agreement (CAFTA-DR) between the U.S., Costa Rica, El Salvador, Guatemala, Honduras, Nicaragua, and the Dominican Republic.
In addition, the U.S. has signed but not ratified the Trans-Pacific Partnership (TPP), which is a multilateral IIA between Australia, Brunei, Canada, Chile, Japan, Malaysia, Mexico, New Zealand, Peru, Singapore, the U.S., and Vietnam, and is in the process of negotiating the Transatlantic Trade and Investment Partnership (TTIP) with the European Union.
Who and What are Protected?
Each IIA may be worded differently, but IIAs typically protect "investments" by "investors" of one country that are made in another country. Most IIAs broadly define "investments" as "every kind of asset," including shares, concessions, licenses, permits, leases, management contracts, and land. An "investment" generally will cover international investments often made by hospitality companies, including hotel ownership (Sistem Mühendislik v. Kyrgyz Republic), lease and management contracts (Wena Hotels v. Egypt), and franchise agreements (as most IIAs define "investments" to include "intellectual property").
A hospitality company also must qualify as an "investor" under the IIA. Most IIAs define an "investor" as a juridical entity, such as a corporation, that is incorporated in and/or has its seat in one of the countries that is party to the IIA. Generally "investors" are not limited to those with majority or controlling stakes in the investment, but also include non-majority shareholders and indirect corporate parents.
In the absence of an IIA, hospitality companies interested in investing abroad should consider structuring their investments through existing foreign subsidiaries to potentially gain access to IIA protections. For example, there is no U.S.-Cuba BIT, but a U.S. hospitality company may be entitled to access the protections in Cuba's BITs with Germany, the Netherlands, or Switzerland by structuring its investment through an existing European subsidiary.
What are the Protections?
Most IIAs offer several substantive protections for international investors, such as:
Expropriation - IIAs typically protect against nationalization or expropriation of an investment without prompt, adequate, and effective compensation. An expropriation may constitute the deliberate, outright taking of property as well as measures that have the equivalent effect or are tantamount to expropriation. Expropriation occurs when there is a permanent interference with the investor's use or enjoyment of its investment and the substantial deprivation of the benefit or economic value of the investment even if the investor retains legal title.

Fair and Equitable Treatment (FET) - The FET standard protects an investment from procedural impropriety, denial of justice, or lack of due process. It also protects against discrimination, arbitrary or unreasonable conduct, and abusive treatment, such as coercion, harassment, and duress. The FET standard is the most frequently and successfully invoked protection.

Full Protection and Security (FPS) - The FPS standard protects against a government's failure to protect the investment from damage caused by miscreant government officials or actions of others where the government failed to exercise due diligence. Examples of FPS violations include the destruction of property by security forces, looting by armed forces, or seizure of property by employees. Historically, the FPS standard was concerned with the government's exercise of police power and protection of investments against physical harm. The obligation, however, may extend beyond physical security to legal security in cases of intangible assets, such as intellectual property.

National Treatment (NT) and Most Favored Nation (MFN) - The NT and MFN standards ensure that foreign investors are treated no less favorably than national investors and third-country investors, respectively, in like circumstances.
How Does an Investor Assert the Protections?
In the event that a dispute arises with respect to a hospitality company's international investment, most IIAs provide that the company may commence international arbitration against the foreign government, regardless of whether the investor's contract, license, or concession agreement contains a forum selection clause requiring that all disputes be resolved in a certain forum. As opposed to litigating in domestic courts (which a foreign investor may perceive as biased in favor of the government), international arbitration offers a neutral forum, provides parties with more flexible procedures, and may be faster. In addition, international arbitration awards may be overturned only on limited grounds, and are easier to enforce abroad than domestic court judgments.
IIAs normally specify the venue for filing claims, and often provide several options. Most international arbitrations commenced pursuant to IIAs are resolved at the International Centre for Settlement of Investor Disputes (ICSID), with was established pursuant to a multilateral treaty that has approximately 160 member states and is affiliated with the World Bank. The procedures in ICSID arbitration are roughly similar to the procedures in international commercial arbitration (such as ICC, LCIA, or ICDR arbitration), but ICSID arbitration uniquely operates outside the realm of domestic courts. ICSID awards thus are subject to limited grounds of challenge before ICSID annulment committees (as opposed to domestic courts), and generally are easier to enforce than non-ICSID awards.
International arbitration pursuant to an IIA is a relatively recent phenomenon. As the chart below illustrates, the use of this form of international dispute resolution has been steadily increasing since 2000.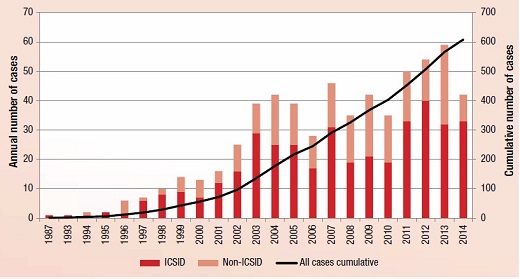 Source: United Nations Conference on Trade and Development (UNCTAD) World Investment Report
What Types of Government Actions May Violate an IIA?
There are many ways in which States can act adversely to foreign investors, such as by seizing a hotel, revoking an investment license, or expropriating land for conservation purposes. Below are some examples in which hospitality companies have recovered significant sums in international arbitrations brought against governments pursuant to IIAs.
In Siag v. Egypt, Italian investors purchased a parcel of oceanfront land from the Egyptian Ministry of Tourism for the purpose of developing the property into a tourist resort. After Egypt later seized the 161-acre parcel, the investors commenced international arbitration pursuant to the Italy-Egypt BIT alleging that Egypt had expropriated their investment and failed to provide their investment with fair and equitable treatment. The tribunal found that Egypt had violated the BIT and awarded $127 million.
In Wena Hotels v. Egypt, a British company entered into two lease and development agreements with the Egyptian Hotels Company (EHC), a state-owned entity, to operate and manage the El Nile Hotel in Cairo and the Luxor Hotel in Luxor, Egypt. After rent-related disputes arose between the parties, the EHC took possession of both hotels by force. The claimant commenced international arbitration pursuant to the UK-Egypt BIT. The tribunal found that Egypt was aware of EHC's intentions to seize the hotels and did nothing to prevent the seizures, and that the Egyptian police that responded to the seizures also did nothing. The tribunal thus ruled that Egypt had violated the expropriation, FET, and FPS protections in the BIT and awarded $20.6 million.
In Unglaube v. Costa Rica, German investors in the eco-tourism sector brought a claim against Costa Rica pursuant to the Germany-Costa Rica BIT alleging that the government had expropriated a 75-meter wide strip of their beachfront property by passing a law that established new boundaries of a national park that encompassed the investors' parcel. The tribunal held that Costa Rica had expropriated the investors' parcel and awarded $3.1 million.
IIAs are an important tool to protect international investments, particularly with respect to the hospitality industry. Generally IIAs will allow a foreign investor direct recourse to neutral and specialized international arbitral tribunals as opposed to litigating in domestic courts before generalist judges who may be perceived as being biased in favor of the government. Investors thus should consider IIAs when planning their international investments in order to identify the rights they may have under such treaties and to strategically decide how to most efficiently and effectively structure their investments.
Ashley Williams assisted in the preparation of this article.
Charles (Chip) B. Rosenberg is an attorney in the Washington, DC office of White & Case LLP, where he represents private parties and foreign governments in complex international arbitrations. He represents clients in disputes at the International Centre for Settlement of Investment Disputes (ICSID) and the International Chamber of Commerce (ICC), as well as under the arbitration rules of the United Nations Commission on International Trade Law (UNCITRAL). Mr. Rosenberg is the Associate Managing Editor of the World Arbitration & Mediation Review (WAMR) and a Regional Representative of the ICC Young Arbitrators Forum (ICC YAF). He regularly speaks at conferences and publishes articles on international arbitration related topics. Mr. Rosenberg can be contacted at 202-729-2324 or charles.rosenberg@whitecase.com Please visit http://www.whitecase.com for more information. Extended Bio...
HotelExecutive.com retains the copyright to the articles published in the Hotel Business Review. Articles cannot be republished without prior written consent by HotelExecutive.com.