How Climate Change Will Affect Hotel Procurement
While there are still US Senators who insist climate change is a hoax1 , the planet is less patient when it comes to winning or losing that argument. The effects on the ecosystem of human-driven activity to date are being felt now and will only intensify in the coming years.
There's an increasing amount of media coverage around climate change topics that all emphasize a sense of urgency and near doomsday-like outlooks for many industries and destinations: warmest winters ever experienced, faster rising sea levels, and global food insecurity.
In the private sector, we find the rhetoric is shifting towards strategically addressing climate change issues. When looking at risk mitigation, climate change is at the forefront for many companies that also believe adaptation is likely the best way forward. One particularly vulnerable aspect of businesses due to climate change will be felt within companies' supply chains. Just as companies have embraced energy efficient technologies, where tangible energy savings and GHG reductions have been reaped, supply chain sustainability is now being embraced more fully and widely across industries.
Hospitality companies have complex, broad supply chains. They face a unique challenge because hotel supply chains consist of full products (equipment, food & beverage, amenities, furniture, etc.) where it is easy to lose sight of broader global procurement issues. Hospitality firms need to consistently deliver high quality services and experiences to their guests and can't afford to have disruptions in their supply chain.
In this article, we take a look at some key commodities that will be impacted by climate change most severely in the coming years and how best to address supply chain sustainability moving forward.
Coffee
Coffee is the second most traded commodity after oil.(2) Likely one of the most consistently used food products by a hotel of any size and located in nearly any market, coffee is also one of the most susceptible crops to climate change. In particular, the Arabica coffee bean, which makes up 70% of global coffee production and consumption, is the most vulnerable to rising global temperatures. Crop yields will decrease significantly resulting in detrimental effects to local farmers in developing countries, such as, Tanzania, Brazil, Colombia, Costa Rica, Ethiopia and Kenya just to name a few.3 Coffee distributors/importers are taking notice of these growing concerns and investing in education programs around coffee production. In alliance with the farmers, incentives to utilize more sustainable farming techniques, such as shade-grown methods that help protect the land and help ensure biodiversity measures are promoted through brands, such as, Nespresso and Starbucks. But methodologies like these have to be implemented widely so that the market shifts and regulates accordingly to ensure supply can keep up with demand.
Experts in the coffee industry suggest that in order to address these issues farmers will either need to grow at higher altitudes (which is not a likely option for many coffee growing countries currently) or production will shift more east to other parts of Africa and Asia, such as Indonesia, which could devastate the livelihoods of nearly 25 million farmers. Growing coffee is also a time intensive investment to make, because it takes three years before a farmer can even harvest the crop.(4) Overall, world coffee consumption is expected to increase 25% by 2020.(5) With coffee yields already in jeopardy due to climate change, coffee prices are only projected to rise. Look out for that shift in your supply chain as well. Sourcing sustainable coffee is a more long-term solution to supply chain vulnerabilities that will need to be prioritized in the near future. Having key partnerships with coffee distributors that understand the industry's vulnerabilities and are out there fighting for wide-scale solutions is a much more strategic way of looking at your value chain.
Nespresso is one of those companies trying to innovate in this space. Nespresso established their AAA Sustainability Quality Program and the Farmer Future Program that engages and incentivizes local farmers in key regions to grow coffee more sustainably and also ensures the livelihoods of these farmers through access to a pension fund. Investing in the overall wellbeing of these farmers ensures the long term sustainability of the industry and for Nespresso, that includes all of its coffee-loving consumers.
Chocolate
Cocoa, the essential ingredient in chocolate, is largely sourced from West Africa (Ghana and Côte d'Ivoire), where about 70% of the world's supply is grown.(6) By 2020, it is expected that cocoa demand will be greater than what the industry can produce with a deficit of nearly 1 million tons of cocoa. Rising temperatures and land shortages will exacerbate this problem further; only hiking up world chocolate prices even more.(7) It is indicated that chocolate may only be a luxury good in the future. That might hit closer to home for companies that rely on that supply of chocolate to deliver on decadent experiences in food & beverage. Will only luxury hotels with higher paying guests get to experience such treats in the future? What about that signature chocolate chip cookie you get upon check-in at a Doubletree by Hilton hotel? Will Hilton be able to keep that amenity complimentary in the future? Just a thought on how global trends may affect your supply chain more starkly than you think.
Beer and Wine
Beer and Wine industries are also feeling the effects of climate change currently. Rising temperature are not great for brewing quality beer and vintages of wine. Belgium beer makers are having to delay production schedules due to unusually warm temperatures this past November, which disrupts the traditional way beer has been produced that relies on cold weather to aerate the brew naturally in a process known as, open air brewing.(8) Premium wine growing regions will see a drastic shift in availability of land to grow and will need to adapt to different grape varietals.(9) Napa and Santa Barbara may lose 50% of the land currently viable as increased drought and temperature concerns intensify in California. More alarming is that France and Italy may experience debilitating declines in wine productions by 2050. These are parts of the world with centuries of wine making cultures and known for the world's best wine.(10) Will a world without quality wines be the turning point for the developed world to understand climate change has consequences?
Beyond changing temperatures, industries are now innovating on strategic CSR initiatives as well. Stella Artois' latest Buy A Lady A Drink campaign sends a strong message about not only understanding water as a precious resource, at the crux of the company's future, but also as an opportunity to educate consumers on those most affected by climate change issues-663 million people without access to clean water in the world. Buying a limited edition chalice will provide, in partnership with Water.org, 5 years of clean water to one person in a developing nation. Through the success of this campaign, over 290,000 were provided for in 2015. A great example of raising awareness on a global issue. What if companies took these types of strategic partnerships a step further? And offered this directly to consumers? Could hotel companies incentivize guests to not only care about these issues, but essentially crowdsource global solutions?
Be Proactive Not Reactive: Supply Chain Sustainability is a Moving Target
While companies and their suppliers will certainly feel the monetary impacts of climate change on key commodities within their supply chains, it is important to remain proactive. There is a plethora of sustainability issues to rally behind when it comes to supply chain sustainability-child labor, health & safety, environmental impacts, etc. But, what if companies got ahead of the issues rather than waited for market shifts to force compliance and innovation? Hilton, Marriott and Accor have invested in research around their supply chains to gain a better understanding of their environmental and social footprints. Companies are starting to understand it is a long-term investment that often requires a level of foresight beyond the scope of their industry or expertise. In general, supply chain resiliency comes down to:
Education - How well do you know the issues within your value chain? Are you engaging your suppliers on these issues?
Transparency - Do you communicate on strengths and weaknesses within your value chain?
Traceability - Are you able to understand the true cost of how climate change will affect your supply chain? Do your suppliers understand and report on this?
Continuity - It's a continuous process of educating, re-educating and collaboration both internally and externally for companies.
It takes a concerted effort across industries to understand these factors. For instance, the Sustainable Purchasing Leadership Council(SPLC) is a non-profit advocacy group mobilizing to achieve "clarity, consistency and coordination around sustainability in the institutional procurement marketplace". Currently, Caesar's Entertainment and Hilton Worldwide are the only hospitality companies engaged as members. In short, the SPLC aims to accomplish what the US Green Building Council accomplished with LEED by way of creating principles and guidance for sustainable procurement and a certification program that will disrupt (in a good way) the ways businesses purchase goods.
According to the CDP's latest Global Supply Chain Report 2016, supply chains can be responsible for up to four times the GHG emissions of a company. This indicates that broader GHG emissions reduction goals have the potential to be met through improving a company's supply chain. Hopefully, with the onset of science-based GHG emissions targets, companies might identify supply chain sustainability as the next frontier to tackle around Corporate Responsibility. There are still a lot of unknowns that make it difficult for companies to successfully tackle supply chain sustainability, but the good news is the momentum is there and it will no longer be a topic that is side lined or generalized, because unfortunately, we're running out of time. Climate change will force industries to adapt. Where will the hospitality sector land in that process? It's high time for the industry to have a bigger seat at the table and just as the hotel industry has rallied around measuring carbon, it's probably time for industry-wide collaboration on hotel procurement.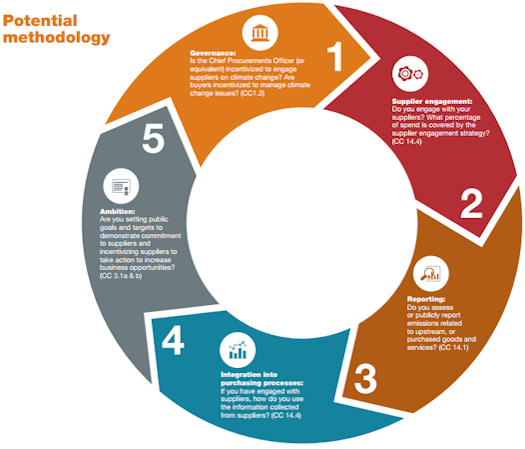 CDP Sustainable Supply Chain Methodology
References:
(1) http://www.huffingtonpost.com/2015/02/26/jim-inhofe-climate-snow_n_6763868.html
(2) http://www.theguardian.com/global-development/2015/may/01/coffee-catastrophe-beckons-as-climate-change-threatens-arabica-plant
(3) http://theconversation.com/coffee-lovers-beware-climate-change-may-affect-your-brew-42366
(4) http://www.theguardian.com/global-development/2015/may/01/coffee-catastrophe-beckons-as-climate-change-threatens-arabica-plant
(5) http://time.com/3711436/global-coffee-increase/
(6) http://www.theguardian.com/environment/2015/jun/09/no-beer-chocolate-coffee-how-climate-change-ruin-your-weekend
(7) http://thinkprogress.org/climate/2011/09/30/332951/chocolate-climate-change-cocoa-industry-study/
(8) http://www.euronews.com/2015/11/09/climate-change-warmer-weather-leaves-belgian-brewery-in-low-spirits/
(9) http://www.theguardian.com/environment/2013/apr/08/climate-change-wine-production
(10) http://www.sciencedirect.com/science/article/pii/S2212977414000222
Jennifer Moon is a manager with Greenview, a sustainability consulting firm specializing in the hospitality, meetings and events, travel and tourism industries at the organizational level. Greenview was founded in 2008 to play a pivotal role in advancing sustainability through increasing the prevalence of metrics, measurement and reporting across the travel and tourism industry. Ms. Moon has experience working in corporate ESG advisory & reporting, sustainable event services, destination reporting, and industry-wide research. She has expertise in GHG emissions calculations, corporate reporting frameworks (GRI, CDP, GRESB), water and biodiversity risk assessments for the corporate level. Ms. Moon can be contacted at 305-726-7658 or jenni@gviewadvisors.com Please visit http:/www.greenview.sg for more information. Extended Bio...
HotelExecutive.com retains the copyright to the articles published in the Hotel Business Review. Articles cannot be republished without prior written consent by HotelExecutive.com.