Hotel Garden: Snow and Ice Management
Co-Authored by Mike Fitzpatrick, Vice President, U.S. Lawns
With the winter season at the doorstep, there is nothing more important for the protection of a hotel property than proper snow and ice management. Treating walkways, plowing snow and patrolling for ice are all essential activities that will help ensure that a business will operate efficiently and safely throughout the colder months. In addition, proper snow and ice management will keep a hotel landscape looking hospitable and accessible despite inclement weather that could otherwise pose potentially dangerous conditions.
Winter weather comes in many forms, all of which present potential harm to a hotel landscape. Snow can inhibit patrons by either blocking access to buildings and driveways or by covering walkways designed to direct customers to entrances and pathways. Snow can also block employee access to parking lots. Heavy snow accumulation can cause damage to structures as it promotes cracking and leaking in building foundations. Properly clearing snow will keep a business accessible in even the worst weather, ensuring operations are able to continue and revenues will not be restricted due to weather.
Maintaining access to facilities and parking is only one of many reasons to maintain control of snow accumulation on a hotel property. Snow build-up can negatively affect the exterior appearance of a property, deterring customers and reducing business traffic. And of course, most important is the safety of pedestrians and motorists. Excessive snow and ice accumulation can be extremely hazardous. Failure to maintain walkways can lead to serious injuries from slip and fall accidents. Proper winter weather management can considerably reduce the liability and risks taken on by any commercial business.
Many landscape professionals are trained to tend to the safe upkeep of a business property in winter. Owners and managers of any business operating in a region susceptible to winter conditions should take care in choosing the right landscape professional for the job. Selecting an experienced and trusted landscape professional can ease winter worries and remove hassles for any business owner or manager. A properly equipped landscape professional should have all the necessary equipment and tools to safely care for a property and should be able to provide the expertise and experience to identify specific inclement weather care needs, and landscape professionals often track weather patterns, adjusting weather management techniques based on the immediate need.
Snow management is an important part of maintaining a business' image. For businesses that do not engage a landscape professional, it is important to remember that clearing snow can be a large task involving a significant number of man-hours to keep pedestrian and vehicle areas clear. In many cold weather areas, a snowplow is necessary to keep driveways, parking lots and walkways open. Until some experience is gained, plowing can be a difficult challenge. Heavy snow can break plows or get equipment stuck; so if a large amount of snow is expected, it is wise to plow early and often. In addition to being potentially harmful to equipment, plowing deep snow can be very time consuming and require regular maintenance throughout the day. Regardless of the amount of snow or the size of the area needing to be cleared, removing snow is a challenging and sometimes dangerous task.
To help maintain safety around a building, snow should regularly be cleared from roofs. Leaving large amounts of snow on a roof can be dangerous as chunks may slide off and fall to the ground, causing harm to pedestrians, pets or vehicles and in extreme cases cause roof collapses due to extra weight load. Care should also be taken to keep snow from accumulating around the base of buildings. Allowing large amounts of heavy snow to sit close to walls can promote leaking that could eventually lead to flooding into structure walls and basements when the snow melts.
Ice can be the most dangerous of the winter elements, posing a serious hazard for both pedestrians and drivers. Keeping ice from accumulating on walkways and driveways is extremely important as it considerably reduces the risk of an accident occurring. Unfortunately, ice can also be the most difficult winter weather element to manage. Unlike snow, ice is often best and easiest to manage before it forms. Lack of forethought and pre-treatment can mean relying on mechanical removal, which often demands considerable time and effort.
Deicing can be done before or after ice forms, but prevention remains the most effective method of ice control. It is not uncommon for commercial and private properties to use salt or salt-based solutions to prevent the forming of ice on walkways and driveways. Salt works by softening ice and breaking the bonds between ice and cement, allowing for easier removal. If ice does form, it can still be treated with salt, but will involve much more effort to remove. After applying salt or a salt-based solution to ice coverage, sidewalks and walkways will need to be scraped either by hand or with an ice shovel. Salt is not, however, necessary in every case. If the temperature is above freezing, allowing ice to melt for a short time before removing it will lessen the effort needed to break it free from the cement. Regardless of whether deicing is required, it is imperative that all guests and employees are made aware of any ice hazard so the proper caution can be exercised.
As deicing and ice management often involves the use of rock salt or a deicing solution to minimize ice coverage on sidewalks and walkways, it is important to select the right product. Some solutions contain types of salt that can be harmful to cement, animals or grass. Other products can be harmful to water supplies if absorbed into the soil or allowed to run off into sewers or drainage systems.
There are a number of commonly used products on the market today for use in deicing. The most widely available of these products, sodium chloride solutions, are often the least expensive. Unfortunately, these pure rock salt solutions can harm plant life and mar cement if left for too long on ground surfaces. Potassium chloride and calcium chloride can also be used to soften ice and make it easier to clear. These options are usually more expensive than sodium chloride but cause less damage to ground areas and may melt ice coverage quicker than pure sodium chloride.
More effective and less toxic to plant life, magnesium chloride solutions are the latest in ice management. Able to melt ice in contact with cement in temperatures as low as -22 degrees Fahrenheit, magnesium chloride is extremely useful in pre-treatment as well as removing ice after it has already formed. Unlike sodium chloride, solutions of magnesium chloride do not leave a powder trace behind after they have dissolved.
Alternatively, deicing can also be managed using solutions containing urea. As the least corrosive deicer, solutions with a urea base are widely used in high traffic locations such as airports, hotels and parking structures because they are the least harmful to metal. As urea is commonly used in fertilizers, it should not be used in areas with plant life or areas that run off into gardens or lawns as it can promote unhealthy growth in winter. Unfortunately, urea-based solutions cannot perform in colder climates and are only rated for temperatures as low as 21 degrees Fahrenheit.
Regardless of which methods of snow management and deicing are chosen for an area, it is sometimes not enough to keep walkways safe. In times of colder weather where the ground is continually freezing, the use of extra measures may be required in high traffic areas. While it is always a good idea to break up and remove ice, placing a layer of sand or gravel over areas of ice can help prevent slip and fall accidents by adding traction. This technique can also help prevent the formation of more ice build up as it does not allow ice to make contact with cement surfaces.
Leaving the snow and ice management to a landscape professional is the best way to ensure the use of proper materials, techniques and tools for every region and business landscape. Winter weather does not have to interfere with the operations of a business; in fact it should attract customers and enhance the safety of employees and the public. By promptly removing snow and using ice melt products and sand, hotel business owners can deal with unexpected and extended cold spells quickly, minimizing interruptions to operational hours. By using these key tools and techniques, every hotel business can stay safe and operational this winter.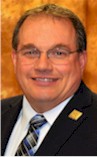 This article was co-authored by Mike Fitzpatrick. Mr. Fitzpatrick is a Vice President with U.S. Lawns and has been in the landscape industry since 1980. His experience covers market areas across the country and in all types of climates. Mike is also a Certified Franchise Executive bringing valuable experience and industry insight to U.S. Lawns. Mike can be reached at mfitzpatrick@uslawns.com.
Ken Hutcheson is President of U.S. Lawns. He joined the company in 1995 and has grown the organization from a regional 18-franchise network to a national network of over 250-franchises in all 48 contiguous states. U.S. Lawns is nourished by the values and passion of family-owned and operated franchise businesses. Mr. Hutcheson champions an entrepreneurial spirit and a teamwork culture. He's skilled at developing employee, franchisee and customer bases that are anchored on a commitment to long-term relationships. His focus on the company's Franchise Development and Support is central to the company's steady national expansion and consistently high rankings on industry lists. Mr. Hutcheson can be contacted at 407-246-1630 or khutcheson@uslawns.com Please visit https://uslawns.com/ for more information. Extended Bio...
HotelExecutive.com retains the copyright to the articles published in the Hotel Business Review. Articles cannot be republished without prior written consent by HotelExecutive.com.