Overview: Meeting the March 15, 2012 Deadline on ADA Compliance
By Soy Williams, President, Soy Williams Consulting, Inc.
It's hard to believe a year and a half has passed since the new Americans with Disabilities Act regulations were published by the U.S. Department of Justice. The deadline to comply with many new requirements have come and gone, and in two months all requirements become mandatory. The new regulations include general as well as specific provisions for lodging establishments and facilities. Read on for a list of policies, practices and procedures that should be part of every day operations along with a summary of capital improvements that might be necessary for continued ADA compliance.
By now ADA compliance should be integral to your lodging establishment daily operations as well as milestone facility upgrade or renovation projects. After all it was 22 years ago this July that ADA was signed into law by President George H.W. Bush.
Since the Department of Justice made significant changes to the law's implementing regulations (or "rules"), many new requirements became mandatory last spring. In a couple of months, two remaining components must be in place. These are changes to the reservations system and facility modifications to recreation facilities. Following a brief overview of effective dates of certain key requirements below are further discussion and lists that may be used to quickly assess whether or not these requirements have been incorporated into your lodging establishment policies, practices and procedures as well as capital improvement projects.
Compliance Dates - Overview
Compliance with many new requirements became mandatory on different dates during the past 18 or so months, starting with the publication of the new rules.
September 15, 2010
U.S. Department of Justices publishes the revised ADA regulations in the Federal Register. These include substantive changes to the Department's ADA regulations pertaining to public accommodations which include owners and operators of lodging establishments. These requirements take into consideration issues that have risen over the first 20 years of the ADA as the law of the land. These revisions also include brand new state-of-the-art design and construction standards, the 2010 Standards for Accessible Design ("2010 Standards").
March 15, 2011 Effective Date
Policies, practices and procedures must be in place for:
Service animals and miniature horses;
Use of wheelchairs, manually-powered mobility aids and other power-driven mobility devices.
March 15, 2012 Effective Date
Policies, practices and procedures must be in place for:
Use of 2010 Standards is mandatory for:
New construction and alterations;
Removal of barriers in existing lodging establishments, including but not limited to recreation facilities such as swimming pools, spas, golf courses and exercise rooms.
Policies, Practices or Procedures Checklists
Your guest and operational policies should be revised (if not already done so) to appropriately address requirements of the new rules. Following questions are intended to assist in the process.
Service Animals
What is a service animal; what is a miniature horse?
Is the service animal required to be under the handler's control?
Who is responsible for the care or supervision of a service animal?
Is the animal required because of a disability?
What work has the animal been trained to perform?
Is the animal permitted access to all areas where guests and members of the public are allowed?
What are the type, size and weight limitations of a miniature horse?
Does the handler have sufficient control of a miniature horse?
What are some legitimate safety requirements pertaining to miniature horses for facility operation?
Wheelchairs, Manually-Powered Mobility Aids and Other Power-Driven Mobility Devices
What is a wheelchair or a manually-powered mobility aid?
What is an other power-driven mobility device?
What types of mobility devices are permitted on the premises?
Can I establish legitimate safety requirements for any or all mobility devices?
Have the following assessment factors been considered in determining whether a particular other power-driven mobility devices is allowed in a specific area of the facility:
◦ type, size, weight, dimensions and speed of device;
◦ volume of pedestrian traffic in an area;
◦ indoor area vs. outdoor area;
◦ square footage of area;
◦ availability of storage if requested;
◦ substantial risk to the immediate environment, natural/cultural resources, Federal land management laws?
Can I ask if a mobility device is required because of a disability?
Reservations System
Does my reservations system permit individuals with disabilities to reserve a room in the same manner and during the same hours as individuals who do not need accessible rooms?
Does the reservations system identify and describe accessible features in the hotel and guest rooms in sufficient detail to permit individuals with disabilities to assess independently whether or not his or her accessibility needs will be met?
Are accessible rooms held for rent until all other rooms of the same type have been rented?
Is an accessible room that has been reserved blocked and removed from list of available rooms for rent?
Can a a specific accessible room be reserved through the reservations system?
New Construction and Alterations
By now there is no doubt that lodging facilities must be designed, constructed and altered in accordance with applicable ADA Standards for Accessible Design. The introduction of the revised 2010 Standards, however, added a new element of uncertainty.
For the past 18 months there were two sets of standards that could have been used in designing and constructing facilities to be ADA compliant. One set was the original, or the "1991 Standards" that have been in effect for the past 20 years and the other, the new 2010 Standards. Use of either the 1991 or the 2010 Standards are permitted but only until March. On or after March 15, lodging facilities must be designed and constructed using only the 2010 Standards. The following chart should clarify which standards should have been or should be used to comply with the ADA.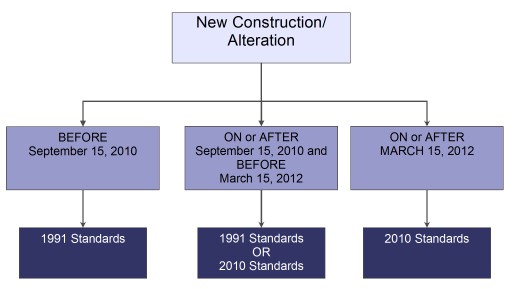 Removal of Barriers in Existing Facilities
For the first time, the Department of Justice has ruled that it would be appropriate to give "safe harbor" status to buildings on an element-by-element basis. In other words, if an element such as a parking space or the registration counter has undergone barrier removal modifications and complies with the 1991 Standards, then that element will not need to undergo further barrier removal to meet the 2010 Standards. Even if the requirement for an element (such as the registration counter) in the 2010 Standards is more stringent than that which is in the 1991 Standards, but that element complies with the 1991 Standards, no further modification of that element will be necessary.
Another example is a guest room bathroom. The 2010 Standards require bathrooms to be of a larger size due to additional maneuvering space requirements not previously included in the 1991 Standards. Even though that bathroom does not comply with the new standards, it is permitted to remain if it complies with the 1991 Standards until such time the room or bathroom is otherwise altered.
The following chart should provide additional guidance.
Recreation Facilities
Exceptions to the safe harbor rule are elements for which there have been no ADA requirement in the past and are brand new to the 2010 Standards. These include recreation facilities that are commonly found at lodging establishments. If your facility includes one or more of these covered elements or facilities, then effective March 15, 2012 you must proactively initiate construction or other measures to remove barriers in the following and other recreation areas:
Exercise room, machines or equipment;
Swimming pool, spa;
Golf course, miniature golf;
Play areas;
Recreational boating facilities, e.g., docks, slips; and
Fishing piers and platforms.
All recreation facilities that are now covered under the ADA should be surveyed, existing conditions documented, and a plan to remove barriers, if any, in these facilities should be put in motion.
Overall, it is important to track and document dates of construction or renovation projects. Such information have proven helpful in defending law suits or other enforcement proceedings. Also keep in mind that an element that does not comply with the 2010 Standards does not necessarily constitute an ADA violation.
A continuing obligation to comply with all aspects of the ADA means that barrier removal and other efforts to include guests with disabilities must span the lifetime of your lodging establishment. The new ADA requirements have individuals with disabilities approaching self-advocacy with a renewed resolve. Will your place of lodging be a disappointment to the traveler with a disability or a model of ADA compliance and an example for others to follow?
Soy Williams is a registered architect with more than 25 years of experience in disability related issues. Ms. Williams specializes in accessibility requirements of federal civil rights laws as well as model, state and local accessibility codes and standards. Ms. Williams became involved in the revisions to the Americans with Disabilities Act (ADA) accessibility guidelines in 1993 and was appointed by President William Jefferson Clinton to the U.S. Architectural and Transportation Barriers Compliance Board (the U.S. Access Board) in 2000. During her tenure she saw the completion of the revisions to the ADA guidelines. These guidelines are now the U. S. Department of Justice 2010 requirements for accessible buildings and facilities. Ms. Williams can be contacted at 305-238-9740 or soy@soywilliamsconsulting.com Extended Bio...
HotelExecutive.com retains the copyright to the articles published in the Hotel Business Review. Articles cannot be republished without prior written consent by HotelExecutive.com.